Hundreds of statues dot the Manhattan landscape, and indeed, in all five boroughs. All but a handful represent idyllic, mythic or allegorical figures, or decorative designs. In the distinct minority are statues depicting actual people.
In this ongoing Forgotten NY series, we'll show you most of the statues in NYC that represent someone who actually lived and breathed. Some, like George Washington, are known by every schoolkid, while some may have been known only by his/her immediate family, friends and the sculptor!
PART 1: WALL STREET/CITY HALL/LOWER EAST SIDE

(551-479 BC)
Location: Confucius Plaza, Bowery at Division Street
Sculptor: Liu Shih
Year installed: 1977
The great Chinese nobleman and philosopher of the 5th century B.C. is honored by this sculpture fronting Confucius Plaza, a combination apartment complex and public school built in 1976.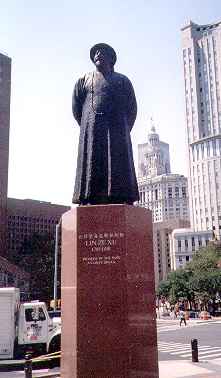 (1785-1850)
Location: Lin Ze Xu Square, East Broadway at Chatham Square
Sculptor: ?
Year installed: 1999
Lin Ze Xu was born in China in 1785. On December 31, 1838 he was appointed by the Emperor as Imperial Commissioner with the mission to eradicate opium in China. The sale of opium by the East India Company had jumped from 40,000 pounds in 1729 to three and one-half million pounds in 1832. In this position he proceeded to confiscate 2,600,000 pounds of opium and supervised its destruction during a 23-day campaign beginning on June 3, 1839 in Humen, China. This action served to ignite the Opium Wars with Britain. Three years later, China had lost the war and Lin Ze Xu lost his title. However, through his efforts he became a symbol of moral resistance to the invasion of drugs wherever their source.
Lin Ze Xu's letter to Queen Victoria
Commissioner Lin Ze Xu's fight against narcotics during the Ching Dynasty earned him the distinction of becoming a national hero in China.

(1882-1947)
Location: east side of LaGuardia Place north of Bleecker Street
Sculptor: Neil Estern
Year installed: 1994
Rather more exuberant in execution than the LaGuardia bust on the Lower East Side, this sculpture embodies the enthusiasm NYC's 99th mayor, Fiorello LaGuardia, brought to City Hall for 12 years, 1933 to 1945.
–Though he was born on the Lower East Side of Manhattan, LaGuardia grew up in Arizona.
–While still a teenager, LaGuardia worked at the US Consulates in Hungary and Trieste.
–LaGuardia spoke Yiddish, Italian, German, French and some Croatian dialects.
LaGuardia Place has been known as Laurens Street, West Broadway and South Fifth Avenue in its various incarnations.
When LaGuardia passed away in 1947, the signal 5-5-5-5 sounded in every NYC firehouse; the signal is heard when a fireman loses his life in duty.
NYC100's page on Fiorello LaGuardia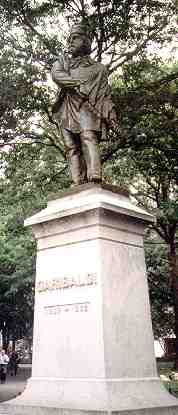 (1807-1882)
Location: Washington Square Park
Sculptor: Giovanni Turini
Year installed: 1888
LaGuardia was born the same year another Italian hero, Giuseppe Garibaldi, passed away.
After fighting in South American wars of liberation, using what today would be called guerrilla tactics, he organized and led insurgencies leading to conquests of Sicily and Naples which ultimately produced the unification of Italy in 1860.
—Abraham Lincoln offered Garibaldi a command in the Civil War, but Garibaldi asked for the post of commander-in-chief, which Lincoln was unwilling to consent.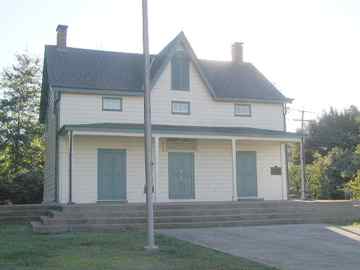 Garibaldi resided in this house on Rosebank, Staten Island's Tompkins Avenue (see Daniel Tompkins below) in Staten Island from 1851-53 with his friend, Antonio Meucci, who invented the telephone before Alexander Graham Bell received his own patent for it. The house is now used as a museum.

(1832-1882)
Location: Washington Square Park
Sculptor: John Quincy Adams Ward
Year installed: 1890
Little-known in 2001 outside the manufacturing world, Alexander L. Holley introduced the Bessemer process for manufacturing steel to the United States (Sir Henry Bessemer invented the process in Britain in 1857), and is now considered to be the father of the U.S. steel industry.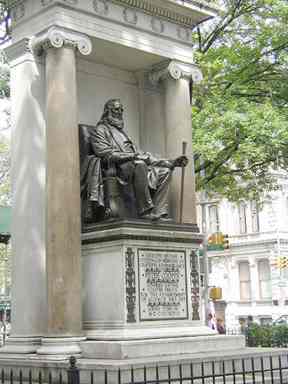 (1791-1883)
Location: Cooper Square at East 7th Street
Sculptor: Augustus Saint-Gaudens (sculpture) & Stanford White (housing)
Year installed: 1897
Inventor, businessman and industrialist, Peter Cooper foundedCooper Union for the Advancement of Science and Art, an adult education institute for working people and immigrants, in 1859. It was one of the first schools open at night and also offered the first free public library in New York.
He invented the Tom Thumblocomotive, rolled steel rails and was instrumental in gelatin processing, which also makes him the father of Jell-O.®
Oddly, his statue does not face the 1859 brownstone Cooper Union building, but rather looks down toward the Bowery.

(1732-1799)
George Washington, who is represented in more statues than anyone else in NYC, is depicted twice on Stanford White's Washington Square Park Memorial Arch, dating to 1892.
Washington the civilian President was sculpted by A. Stirling Calder in 1918. A. Stirling Calder was the father of Alexander Calder, the abstract sculptor.
The statue on the right shows Washington in full military regalia. It was produced by Hermon MacNeil in 1916.

(1831-1888)
Location: Sheridan Square, 7th Avenue South at West 4th and Christopher Streets
Sculptor: Joseph Pollia
Year installed: 1936
Sheridan's statue…is so poorly executed one might not know the subject without his name on the plinth. The sculptor was one of those whom [Hillaire] Belloc observed, "We dream in fire and work in clay, and some of us puddle in butter with our toes."–William Bryk, New York Press, August 16-22, 2000
General Philip Sheridan is regarded as the most dynamic and popular officer of the Union Army during the Civil War. In the summer of 1864, Sheridan oversaw the ruthless destruction of the Shenandoah Valley, eliminating the Confederate army's major source of food and supplies. That fall, General Sheridan rode more than twenty miles to rally his troops to victory after a surprise enemy attack.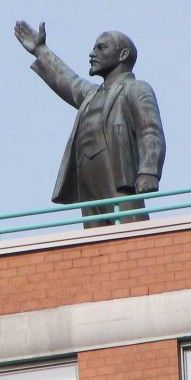 (1870-1924)
Location: Houston Street between Avenues A and B
Sculptor: Yuri Gerasimov
Year installed: 1994
A few years after Russians pulled down statues of Vladimir I. Lenin, founder of the Russian Communist Party, leader of the Russian Revolution of 1917, and architect and builder of the Soviet state, a statue of him appeared in the East Village. Note the 'crazy clock' with misplaced numbers adjacent to Lenin.
Both were part of an apartment complex called "Red Square." The clock is officially known as "Askew". The clock covers a water tower; the design is based on a watch featured in a MoMA collection.
The statue was purchased by Walker, Ursitti and McGinniss, Inc. from sculptor Gerasimov in 1993 and was placed on the roof of "Red Square" in 1994 with permission of co-owner Michael Rosen.
update, 2018: The Lenin statue has been moved a bit south, to a rooftop on Norfolk Street.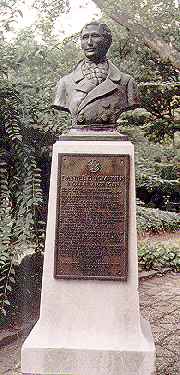 (1774-1825)
Location: courtyard of St. Mark's Church-in-the-Bowery, 2nd Avenue and 10th Street
Sculptor: O. Grymes
Year installed: 1939
Daniel D. Tompkins was the 5th vice-president of the U.S., serving with James Monroe. Born in Scarsdale, NY he became New York State governor in 1807 and was reelected three times. An abolitionist, he secured passage of the legislation that abolished slavery in New York; he also urged the wealthy to share a greater burden of the country's defense.
After his stint in Washington, Tompkins made his home on Staten Island (where Tompkins Avenue is named for him) until his death. Tompkins Square Park, between Avenues A and B and East 7th and 10th Street, also bears his name.

(1592?-1672)
Location: courtyard of St. Mark's Church-in-the-Bowery, 2nd Avenue and 10th Street
Sculptor: Toom Dupuis
Year installed: 1915
The severe Dutch colonial governor of New Amsterdam from 1653 to 1664 is remembered by two statues, one at St. Mark's and another northeast at Stuyvesant Square.
After the British sailed into New York harbor in 1664, Stuyvesant surrendered without firing a shot. He went to Holland to defend himself against charges of official misconduct, but later returned to his farm in Manhattan.
The Dutch word for farm is "bouwerie"; the main road that led to the farm is now The Bowery, while the short drive leading to the farm became Stuyvesant Street–one of the few diagonal NYC streets that were allowed to remain after the Commissioner's Plan of a gridiron street layout was adopted in 1811.
A pear tree on Stuyvesant's farm, planted in the 1600s, lasted until 1867–and only perished when two horsecarts ran into it. It was on the present-day corner of 3rd Avenue and 13th Street.

(1547-1616)
Location: courtyard of New York University off 5th Avenue north of Washington Square
Sculptor: Antonio Solá (replica)
Year installed: 1989
The statue, a gift from the mayor of Madrid, was installed in Bryant Park in 1986 and was moved here from Bryant Park in 1989.
It has been said that Don Quixote is the most published literary work in the world, second only to The Bible.
You may not know that the following familiar expressions are attributable to Cervantes…
Plain as the nose on one's face
Out of the frying pan and into the fire
Bell, book and candle
Led us on a wild goose chase
Familiarity breeds contempt
Thanks for nothing
Let every man mind his own business
Make hay while the sun shines
A bird in the hand is worth two in the bush
I smell a rat

(1813-1876)
Location: Sixth Avenue north of Canal Street
Sculptor: Nicola Arrighini
Year installed: 1978
Juan Pablo Duarte is considered the founding father of the Dominican Republic. He was born in Santo Domingo in 1813; after studying in Spain from 1828 to 1833, he returned to the island of Hispaniola and conferred with several patriots and organized a secret society, La Trinitaria, to work for independence from Haiti. The Dominican Republic achieved independence from Haiti in 1844. Duarte and his followers did not gain power, however; the Dominican Republic became a military dictatorship. Duarte moved to Venezuela, where he lived most of the rest of his life.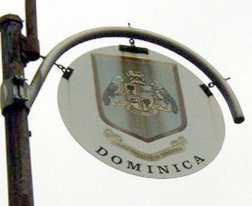 In 1945, Mayor LaGuardi arenamed Sixth Avenue "Avenue of the Americas".
The name was supposed to supplant the old Sixth Avenue name, but New Yorkers stubbornly persisted in calling it Sixth Avenue, which was, admittedly, less than a mouthful.
In the late 1950s, new lampposts were installed along the avenue, each with a medallion featuring a country from North, South or Central America.
New "6th Avenue" green and white signs were added in the 1980s, and the medallions have become fewer; they are now concentrated mainly in the Village and a couple of blocks south of Central Park.

(1764-1850)
Location: Sixth Avenue north of Broome Street
Sculptor:
Year installed:
José Artigas was a leader in Uruguay's struggle for independence. In the early 1800's, he raised an army to free Uruguay from Spain. In 1814, however, troops from Argentina captured Montevideo, Uruguay's chief city. In 1815, Artigas gained control of Montevideo for Uruguay. For a short time that year, he governed most of Uruguay and parts of Argentina. But Portuguese troops from Brazil captured Montevideo in 1817, and Artigas fled to Paraguay in 1820. Uruguay did not gain its independence until 1828.
Uruguay, like all countries in the Western Hemisphere, is represented on the Avenue of the Americas.
The remaining signs are showing their 40+ year age.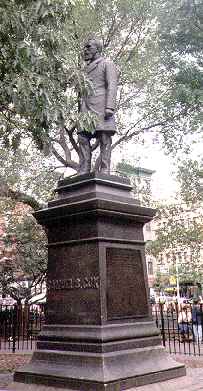 (1824-1889)
Location: Tompkins Square Park, Avenue A and East 7th Street
Sculptor: Louise Lawson
Year installed: 1891
Samuel who?
Samuel Cox was a Congressman, first from Ohio, then from New York. He sponsored Coast Guard and postal regulation giving letter carriers a raise in salary and vacations with pay, winning him the appellation "the postman's friend."
The postal workers of the U.S. sponsored Cox' statue in 1891; sculptor Louise Lawson may have been the first woman to receive a public commission.
The statue is nicknamed 'Taxi' because it looks like Cox is hailing a cab. (An actual statue of a man hailing a cab, called "Taxi" can be found at Park Avenue and 48th Street.)
Sources:
The Curious New Yorker, Daniel B. Schneider and contributors to the NY Times "FYI" column, New York Times Books, 1999
BUY this book at Amazon.COM
Manhattan's Outdoor Sculpture, Margot Gayle and Michele Cohen, Prentice Hall Press 1988
BUY this book at Amazon.COM
All Around the Town: a Walking Guide to Outdoor Sculptures in New York City, Joseph Lederer, 1975 Scribners. OUT OF PRINT.
10/6/2001. rev. 2012