PART ONE: WALL STREET / CITY HALL / LOWER EAST SIDE
Hundreds of statues dot the Manhattan landscape, and indeed, in all five boroughs. All but a handful represent idyllic, mythic or allegorical figures, or decorative designs. In the distinct minority are statues depicting actual people.
In this ongoing Forgotten NY series, we'll show you all the statues in Manhattan that represent someone who actually lived and breathed. Some, like George Washington, are known by every schoolkid, while some may have been known only by his/her immediate family, friends and the sculptor! We'll start with the first European to glimpse Manhattan Island….
GIOVANNI DA VERRAZANO (ca. 1485-1528)
Location: Battery Park (temporarily removed)
Sculptor: Ettore Ximenes
Year installed: 1909
Though it looks like Verrazano is trying to get out of a chimney, this statue is officially a bust. A stylized female figure stands on the pedestal.
Verrazano, of course, was the Italian explorer (in the service of France) who sailed to various locations up and down the east coast beginning in 1524. He got as north as Cape Breton in Canada and as far south as Cape Fear in North Carolina.
According to legend, Verrazano met a horrible end in 1528 when he made another voyage to Central or South America and was cannibalized by natives. Other reports have it that he was executed by the Spanish the previous year.
The statue was a gift to New York's Italian-Americans responding to a subscription drive conducted by the daily newspaper Il Progresso. In the early 2000s it was removed for restoration; plans called for it to return to Battery Park in the early 2010s.
JOHN WOLFE AMBROSE (1838-1899)
Location: Battery Park
Sculptor: Andrew O'Connor
Year installed: 1936
John Ambrose was the engineer who planned the channel that bears his name that reduced the distance from the Atlantic Ocean into New York Harbor by a full 6 miles. Accidents had become commonplace in the previously shallow channel that was in use before that time. The lightship Ambrose, currently an exhibit at the South Street Seaport,was also named for John Ambrose.
Normally the bust of Ambrose, by sculptor Andrew O'Connor, is at the southern end of the Dewey Promenade in Battery Park. The head of the bust was stolen in 1990 and it has not reappeared in Battery Park to date.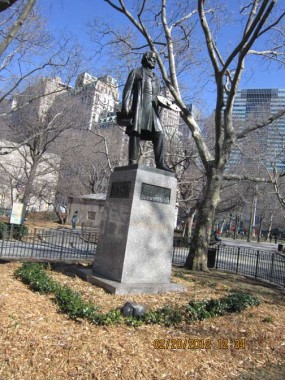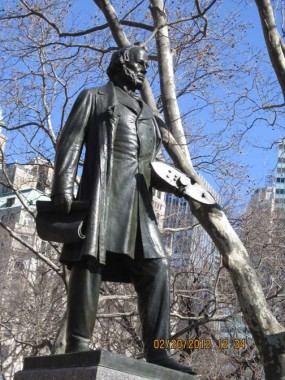 photos: Rich Melnick
JOHN ERICSSON (1803-1888)
Location: Battery Park
Sculptor: Jonathan Hartley
Year installed: 1893
John Ericsson was one of the naval industry's greatest innovators. Among his designs:
— the screw propeller
— the first armored warship, the U.S.S. Monitor
— the rotating gun turret, first used on the Monitor
Born in Sweden, Ericsson lived in New York City from 1841 until his death.
The U.S.S. Monitor was built and launched in Greenpoint, Brooklyn.
The statue shows Ericsson holding a model of the Monitor in his left hand, and mechanical sketches in his right hand.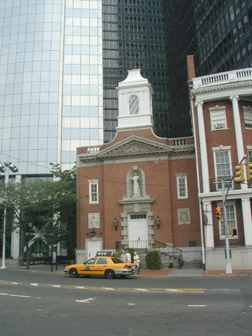 SAINT ELIZABETH ANN BAYLEY SETON (1774-1821)
Location: 7 State Street at the Battery
Sculptor:
Year installed:
The exterior of this townhouse dates to 1793. Its Federal style is certainly an anomaly on this stretch of glass-clad skyscrapers.
A statue of Saint Elizabeth Seton is outside the building, which is currently the rectory of her shrine.
Mother Seton was the first American-born person to be canonized, by Pope Paul VI in 1975.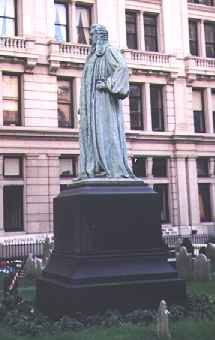 JOHN WATTS (1749-1836)
Although Alexander Hamilton, second Treasury Secretary Albert Gallatin and steamboat pioneer Robert Fulton are all buried at Trinity, only John Watts actually has a statue erected at his Trinity Cemetery grave.
Watts, a member of Congress, State Assembly Speaker, and first judge of Westchester County, had his statue erected by John Watts DePeyster, John Watts' grandson, and a descendant of NYC Dutch founding father Abraham DePeyster.
Speaking of whom…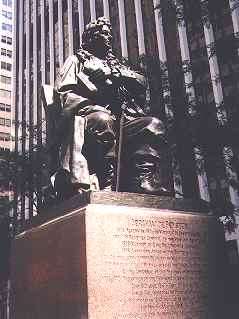 ABRAHAM DePEYSTER (1657-1728)
Location: ever-changing
Sculptor: George Bissell
Year installed: 1896* in Bowling Green; in Hanover Square 1976-2006; in 2006, moved to Randall's island in preparation for a move to City Hall Park. By 2012, Hanover Square was being remodeled as a British Memorial garden and after some years, DeP was moved to Thomas Paine Park near the intersection of Lafayette and Worth Streets. *Full disclosure: the original work was donated to Franklin & Marshall College in Pennsylvania, and a slightly smaller replica had taken its place in Bowling Green.
Abraham DePeyster was born in the Dutch colony of New Amsterdam. He became a colonial merchant, chief justice, colonial governor, treasurer, and mayor from 1691-1694.
DePeyster used to have a lower Manhattan street named for him, but that street was obliterated in 1973.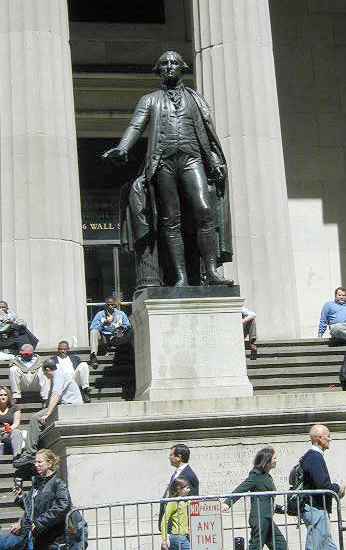 PRESIDENT GEORGE WASHINGTON (1732-1799)
Location: Federal Hall at Broad, Nassau and Wall Streets
Sculptor: John Quincy Adams Ward
Year installed: 1883
In 1789, New York City was the capital of the United States, and it was very near the spot where the present statue stands that George Washington took his oath of office as our first president.
In one sense, New York was a rather inappropriate place for Washington to be sworn in, because he didn't fare well as a general in NYC and environs. He was defeated in Harlem, White Plains, and Kips Bay, and perhaps his greatest military achievement here was his strategic retreat in The Battle of Long Island that saved most of his troops to fight on.
Washington was sworn in in front of the original Federal Hall. The present Federal Hall was built in 1833.
Bas relief of Washington at prayer is situated to the right of the larger statue on Wall Street.
BENJAMIN FRANKLIN (1706-1790)
Location: Pace University, Park Row and Spruce Street
Sculptor: Ernst Plassman
Year installed: 1872
Ben Franklin's presence on Park Row is one of the last vestiges of Park Row's former claim to fame as "Newspaper Row." At one time, the New York World, Sun, Journal and Tribune all were located on this section of Park Row, as well as the German language Staats Beitung. Most of them moved uptown after 1900. Some of their buildings, as well as this statue, are still here.
Why Franklin? Before becoming a scientist/ educator/ diplomat/ inventor, Franklin was a printer by trade. He spent a brief time in NYC as a printer's helper at age 17, but his greatest success as a printer and publisher, and later an editor, came in Philadelphia.
It was in the spirit of Frankiln's overwhelming success with the printed word (he was able to retire from the business at age 42) that this statue was placed in what was known as Printing House Square in 1872, as a gift from Benjamin DeGroot.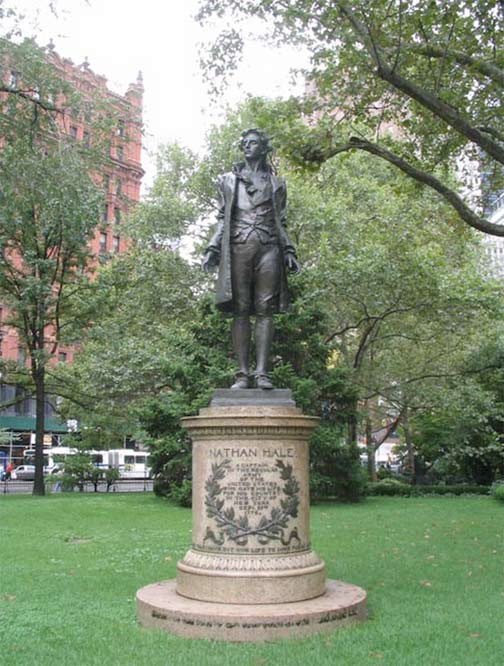 photo: bridgeandtunnelclub
CAPT. NATHAN HALE (1755-1776)
Location: City Hall Park
Sculptor: Frederick Mac Monnies; pedestal by Stanford White
Year installed: 1903
The name Nathan Hale is synonymous with American patriotism. A volunteer for a dangerous spy mission behind enemy lines on Manhattan Island during the Revolution, the young officer carried several incriminating reports including his Yale diploma when he was captured by the British and summarily executed. Many historians now agree that he did not utter the famous line, "I only regret that I have but one life to lose for my country" before his hanging. Hale, according to some accounts, was executed at what is the present corner of East Broadway and Market Street on an apple tree in Henry Rutgers' farm, though in other renderings he was killed near what is now the United Nations complex.
Hale is the second youngest person memorialized by a statue in Manhattan; Joan of Arc is the youngest.
HORACE GREELEY (1811-1872)
Location: City Hall Park
Sculptor: John Quincy Adams Ward
Year installed: 1890
Horace Greeley was a founding editor of the New York Tribune in 1841. A reformer, he opposed slavery and promoted the rights of factory workers and the unemployed at a time when such sentiments were far from universally accepted. He was once caned by a US Representative from Arkansas, Albert Rust, for opposing Rust's pro-slavery stance.
After a lifetime in journalism, Greeley, a Whig and later a Republican, was nominated as the Democratic candidate for President in 1872. He was trounced by Ulysses S. Grant and died a month after the election.
Though it's likely he didn't utter his most famous line, "Go west, young man", he did write:
"Do not lounge in the cities! There is room and health in the country, away from the crowds of idlers and imbeciles. Go west, before you are fitted for no life but that of the factory." (New York Tribune, 1841)
Abraham Lincoln's letter to Horace Greeley
A second statue of Greeley can be found in Greeley Square at 6th Avenue, Broadway and 33rd Street.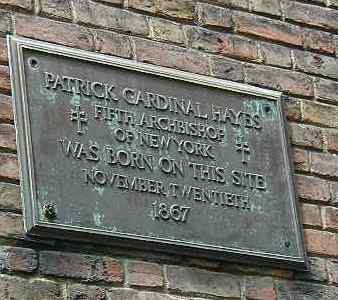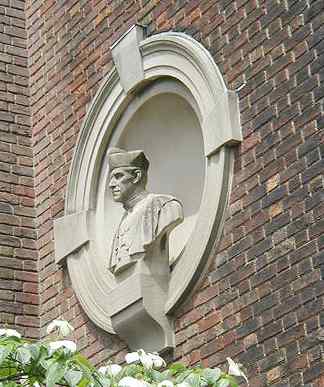 PATRICK CARDINAL HAYES (1867-1938)
Location: St. Andrew's Church, Cardinal Hayes Place near Duane Street
Sculptor:
Year installed: 1939
St. Andrew's Church, built in 1939, replaced an earlier one built in 1842. Among the parishioners was Moses Humphrey, a fireman who inspired the character "Big Mose", an urban Paul Bunyan who could toss streetlamps like javelins and swim around Manhattan Island. Mose was featured in several stage shows and penny novels in the mid-1800s.
Cardinal Hayes, NYC's 5th Archbishop, didn't have a particular connection to St. Andrew's Church, but he was born in a house that stood in what is now Cardinal Hayes Place in 1867.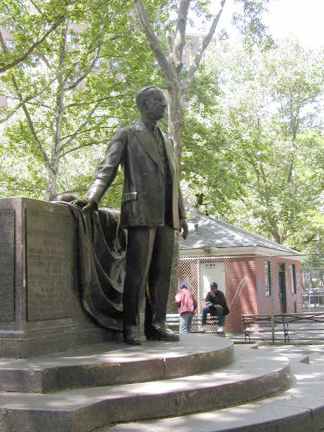 GOV. AL SMITH (1873-1944)
Location: Al Smith Playground, Monroe & Catherine Streets
Sculptor: Charles Keck
Year installed: 1950
Alfred Smith was born on the Lower East Side, worked in the Fulton Fish Market and later a pump factory. He was elected assemblyman at age 30 and later became Speaker. "The working man's friend", he championed the Workmen's Compensation Law, banning corporate campaign contributions, and women's suffrage. He was elected Governor of New York three times, the first in 1918.
He was defeated in 1928 for the Presidency against Herbert Hoover, suffering through a grueling campaign in which he suffered countless attacks, especially in the South, for his Roman Catholicism. Despite his staunch Democratic Party membership, he opposed Franklin Roosevelt's New Deal and supported Roosevelt's Republican opponents in the elections of 1936 and 1940.
MAYOR FIORELLO LaGUARDIA (1882-1947)
Location: LaGuardia Houses, Madison and Jefferson Streets
Sculptor: Jo Davidson
Year installed: 1957
The "Little Flower" has two statues in Manhattan, the bust here in the housing project named for him, and a full statue on LaGuardia Place in Greenwich Village. After serving in Congress and in the Italian military, he was elected Mayor in 1933 and was subsequently elected for two more terms. Like Franklin Roosevelt, he guided New York through a Depression and a world war.
Though this bust was produced in 1934 it was installed 23 years later when the LaGuardia Houses were built.
5/28/2001, revised 2012