Written in 2003, the last year tokens were used for revenue service….
Turnstiles, as well as tokens, have changed radically over the years. Turnstiles predated tokens; the first nickel-operated turnstiles appeared at the 1939 World's Fair station on the Flushing Line (today's #7 train.)
Tokens of varying sizes and appearances have been used for fare collection in NYC subways and buses for over fifty years, having been introduced in 1953 to replace the previous system of tickets, ticket choppers, and turnstiles that turned with the drop of a nickel. After subway fares started to rise after holding at 5¢ for decades, the subways began to experiment with a special piece that could continue to be used, remaining the same size so that turnstile slots didn't have to be changed. It didn't work out quite that way
Frequent fare increases prompted frequent token changes to prevent hoarding. Various token designs featured an "NYC" logo with the "Y" die-cut out. Other token designs had a steel "bullseye" centering on the familiar brass. Recent tokens have a die-cut pentagon. Token sizes have ranged from dime to quarter-sized. All had a smooth, non-milled edge.
When the MTA introduced the Metrocard fare collection system in 1994, the token's fate was sealed, though it took nearly ten years for tokens to meet their demise, first on subways in April 2003 and later, buses, on December 31, 2003.
But there is one place in NYC where tokens are not only tolerated…they're absolutely necessary.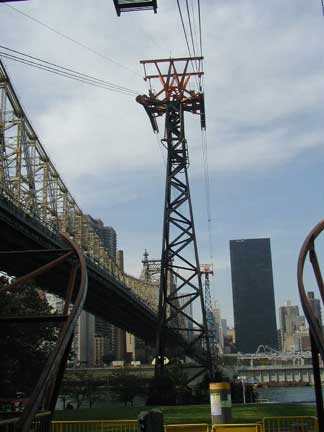 Despite being a thriving residential community for over 30 years, Roosevelt Island has no vehicular connection with Manhattan and has had a subway connection only since 1989. The principal method of congress between the two islands since 1976 has been the Roosevelt Island Tramway.
The Tramway is managed by Interfac, a division of JWP on behalf of the Roosevelt Island Operating Corporation of the State of New York ("RIOC"). RIOC is a state public benefit corporation created in 1984 to run the island's services and complete the island's development.
The Tramway is unique as the only aerial commuter tram in the United States. It was designed by Vonroll of Switzerland and travels a distance of 3,100 feet. Since it actually rises above the slightly off-parallel Queensboro Bridge, it provides excellent views of that structure, as well as panoramic views of the surrounding area for miles, but note: the trip takes just over four minutes.
Views from the tram…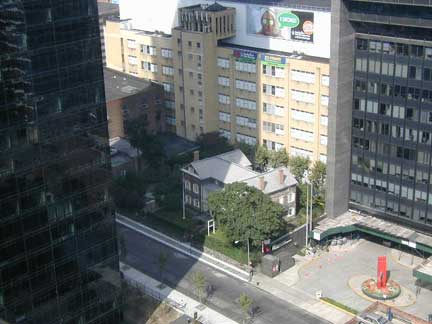 The Mount Vernon Hotel, a remnant of a larger mansion begun in 1795 by William and Abigail Adams Smith, was completed in 1799 by William Robinson. After the main building burned down in 1826, the carriage house was operated as a country resort until 1833, by which time urban Manhattan was creeping uptown and the area was no longer rural. East 61st Street was shortly cut through, but to this day, the building is not on an exact parallel with the street. Presently, it is operated as a museum by the Colonial Dames of America.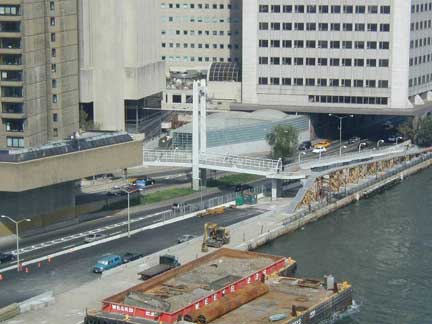 To date, New York City has just two cable-stayed bridges (like Boston's new traffic-only Bunker Hill Bridge) though a larger one is planned to connect City Island with the Bronx mainland, replacing (with community protest) a 100-year old structure. Both of NYC's cable-stayed bridges are pedestrian bridges, one crossing 12th Avenue at West 46th Street, and this one connecting York Avenue with the East River walkway at about East 61st Street.
Where Roosevelt Island cleaves the East River in half, the two halves are known as the West and East Channels. On this hazy day, a look up the West Channel will reveal theHell Gate Bridge in the distance, dimly.
Tram service links 60th Street and Second Avenue in Manhattan with the southern end of Main Street on Roosevelt Island. On each side, tram terminals are bare-bones and functional, since it was assumed the MTA would use the 63rd Street "tunnel to nowhere" to link to the island. At that time, the tram would be demolished.
But the funds were not there in 1976 to complete the 63rd Street tunnel, which was originally designed to link southeastern Queens with midtown Manhattan via subway. A compromise was reached and in 1989, after several years of construction, the tunnel was opened as far as Long Island City (finally reaching the Queens Boulevard IND lines in the late 1990s) and the Roosevelt Island subway station, one of the system's deepest, finally opened.
The Roosevelt Island tram, besides being the only one of its kind in the country, perpetuates several anachronisms. The Roosevelt Island Operating Corporation had never reached an agreement with the MTA to install farecard machines, which first started appearing in 1994. As a result, the Tramway was the token's last redoubt.
The Roosevelt Island end of the tram can be seen as a mini-Transit Museum. It has token vending machines marked "Subway and Bus Tokens" even though subways and buses no longer accept tokens. To enter the fare-contolled area, you pass though a 1950s-built turnstile (alongside more recent 1970s-vintage stiles).
Someday, the Tramway, which has graduated from a temporary stopgap to a New York City icon, will take fare cards, but not right away. Till then, the token will make its last stand here.
FORGOTTENBULLETIN: On March 1, 2004, tokens succumbed on the tram, which now uses Metrocards only. So now, the token is truly dead and buried.
A cache of 1950s-era stiles could still be seen on the West Side High Line, before its 2009 reopening as an upscale park. I wish they could have kept these.
1/1/2004