Picture yourself in a boat on a river…. Centuries before Robert Moses built his monuments to the automobile, New York's first superhighways were its rivers, inlets, channels and creeks. It was so much easier to travel by boat than hack your way through a forest.
Today we're looking at Newtown Creek, which remains the longest undefended border between Brooklyn and Queens. There's a lot to see, so let's jump right in. But be sure to get decontaminated after you come back out.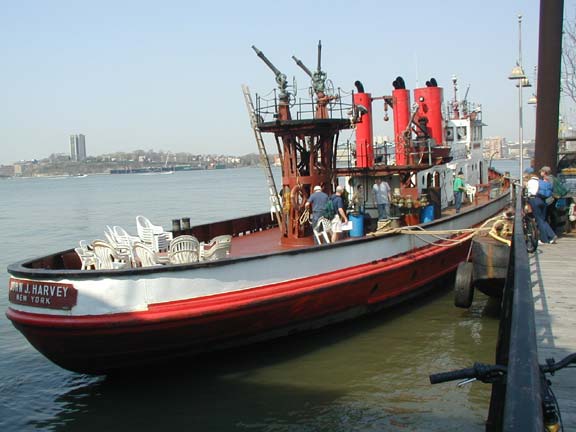 Our chariot was the fireboat John J. Harvey, the first modern large fireboat in the FDNY. It has attained a speed of just over 17 knots (20MPH), powered by the first internal combustion engine to be used on a NYC fireboat. The Harvey was in continuous service between 1931 and 1995 and was called into service once again on the tragic date of September 11, 2001. It is docked permanently on Pier 63 at West 24th Street and is taken out on excursion rides, like today's Newtown Creek jaunt.
Though it was mid-April, temperatures reached the low 70s. The ride was surprisingly smooth. As we'll see, nothing beats a boat ride around the world's greatest city as we saw some of the country's most recognizable landmarks and some of its obscurest outposts.
New York's former status as the world's greatest port is apparent as soon as you exit the pier and make your way south on the Hudson. The back of the Chelsea Piers complex still displays a Baltimore and Ohio Railroad sign. Maps printed prior to the 1970s show the B&O, as well as the Erie Lackawanna, the Pennsylvania, passenger shipping lines like the Cunard-White Star Lines and importers all owned docks along the Hudson and East Rivers. Piers used for recreation are still there; the others are gone or represented by rotted, shipwormed pilings.
The Goldman-Sachs Building, Jersey City's tallest, was going up along the waterfront in 2004. But the Colgate Clock is not to be outclassed.
The World Financial Center is headquarters for American Express, Dow Jones & Company, Merrill Lynch and Oppenheimer & Co. The complex took shape between 1981 and 1988 and was designed and built by Cesar Pelli and Associates. It just barely escaped destruction by terrorism in 2001. Pelli would later build the Petronas Towers in Kuala Lumpur, Malaysia, in 2004 the world's tallest.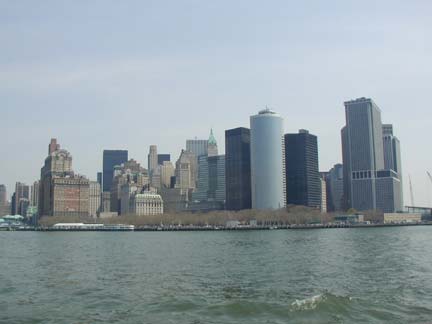 A boat ride around the tip of Manhattan Island affords a view of some of the world's most expensive real estate, as well a a view dreamed of by hundreds of thousands of immigrants past, present and future. But after 9/11/01 the skyline will always remain incomplete.
The Brooklyn and Williamsburg Bridges require no introductions, but to pass under them and witness their vastness is to appreciate the endless hours of toil, blood, sweat and tears it took to build them over 100 years ago.
Dave Frieder's top-of bridge views:
Brooklyn Bridge
Williamsburg Bridge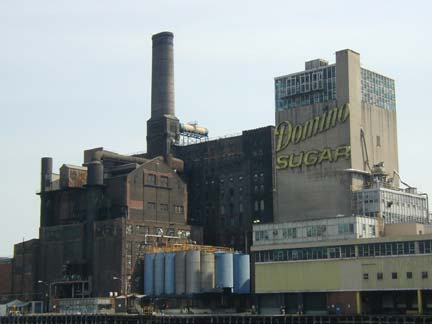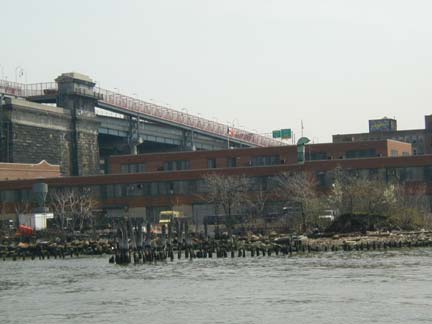 Whoa…Domino. The Domino sugar plant in Williamsburg, just past the bridge, has shut down after, oh, about 150 years in business, putting 200 employees out of work. American Sugar Refining Company officials said the Brooklyn plant was not equipped to compete with its plants in Baltimore, Yonkers, N.Y., and outside New Orleans, according to WCBS News. The red neon Domino sign will be removed, as well as the machinery, but the plant itself will most likely be reincarnated as luxury housing for rich yuppies (it's on the waterfront, meaning any housing built there will be out of the price range of any former Domino plant workers).
Jinxmagazine investigates the Domino sugar factory (JINX links only to its homepage, so search for the Domino page when you get there)
Meanwhile, along the East River south of the bridge, we see remnants of former docks. Only ten years ago, extensive tracks of a vanished harbor railroad could be seen here too. Developers are seeking a vast stretch of the Williamsburg shoreline for luxury housing. We'll see how much public access is granted to locals as part of any deal.
U Thant Island, with its 30-ft. Peace Arch constructed by followers of spritual leaders Sri Chinmoy.
This is where Queens begins. This grassy, weedy spit of land will soon be home to the expanding Queens West project. If NYC had been awarded the Olympics for 2012, the Olympic Village would have been constructed here. Hunters Point South, a housing development, is now planned for the area. In the background are the UN Secretariat Building and the Trump World Tower.
This is also where Newtown Creek begins, and the John J. Harvey turned east. The Brooklyn-Queens dividing line runs down the middle of the waterway, which is rather too big to be called a creek; it was originally 12 feet deep before dredging, to 40 feet in spots, made it suitable for bigger boats. It is navigable all the way to Grand Street, 4 miles from the East River. There was a time, long, long ago, when Newtown Creek was surrounded by forests and wild game drank from its water. It abounded with seafood, including oysters wider than the proverbial bread box. To this day, polluted as it has become, Newtown Creek still has enough crustaceans and small fish to support a small snapping turtle population.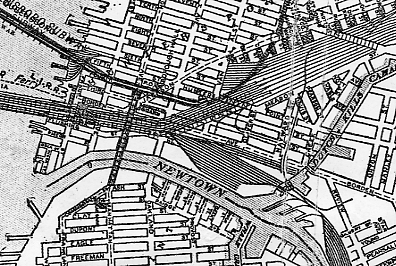 1920s map of Newtown Creek from the East River to Dutch Kills
The first European to catch sight of Newtown Creek was Dutch explorer, trader and cartographer Henry Christiaensen in about 1613. He was searching for advantageous points where the local Native American population, the Mispat Indians, could bring pelts. As time went on the area of Long Island north of what eventually became Calvary Cemetery was settled by the Dutch; south of the cemetery was settled by New Englanders from the former Plymouth Colony. That's where we get the names of Newtown Creek's tributaries, Dutch and English Kills.
Newtown Creek remained in a more or less rural character until about 1860. After that, heavy industry, sewage treatment plants and oil spills made Newtown Creek a dead waterway. Nature is hardy, however, and some fish, crabs, and water birds as well as the aforementioned turtles can be found here. Newtown Creek has gotten rather cleaner over the past decade but it remains quite toxic.
Aerial view of the Newtown Creek-East River junction. Aerial photos from hydroqual.com
The brick building is the Greenpoint Manufacturing and Design Center at Manhattan Avenue, formerly Chelsea Fiber Mills. GMDC rehabilitates vacant maunfacturing buildings for use by small companies.
Manhattan Avenue formerly connected with Vernon Avenue (now Boulevard) in Long Island City via a now-demolished swing bridge. The Pulaski Bridge, connecting Oakland Street (now McGuiness Blvd.) and 11th Street in LIC, was completed in 1954.
The Pulaski is a bascule bridge in which counterweighted deck members pivot upwards to allow shipping to pass underneath. London's Tower Bridge is another example of a bascule, albeit a much more ornate one.
General Casimir Pulaski (1747-1779) is regarded as the father of the American cavalry. He was enlisted by Benjamin Franklin in Paris after successfully defending Poland against a Russian invasion and falling out of favor after his implication in a plot to kill the Polish king. He was able to cover George Washington's retreat at the Battle of Brandywine with expert use of cavalry; he was subsequently awarded command of all US cavalry. In 1779 he helped break the British seige of Charleston. He was mortally wounded at Savannah, GA in 1779 at the young age of 32.
East of the Pulaski Bridge the Newtown encounters two tributary waters: Dutch Kills, flowing to the north, and Whale Creek on the south. Whale Creek formerly flowed into a salt marsh, but today dead-ends in a Greenpoint sewage treatment plant. Dutch Kills is bridged by the Montauk Branch of the Long Island Rail Road, which parallels Newtown Creek from Long Island City to Maspeth.
Formerly a main route to eastern Long Island, today this branch has been virtually abandoned as a passenger line by the LIRR. This swing bridge, carrying the line over Dutch Kills, is stuck in place.
An impressive view of midtown Manhattan can be obtained from Newtown Creek just east of the Pulaski Bridge, even though this day was a little hazy. The sheer size of the Empire State Building and the Chrysler Building cannot be completely appreciated from midtown; you have to travel to Long Island City or the Meadowlands in New Jersey to appreciate how these buildings tower over their competition. The four smokestacks on the right belong to an now-defunct Pennsylvania Railroad powerhouse. They were subsequently removed, and the powerhouse converted to condominiums, in 2005.
Also just past the Pulaski we encountered two other vessels: a barge and a Panamanian vessel, the Nemo. Verne fans, maybe.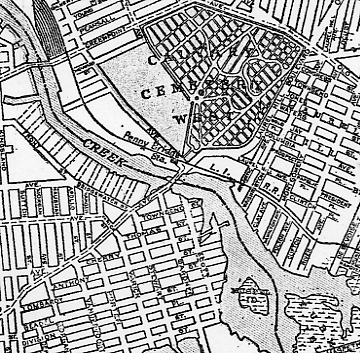 Newtown Creek from Greenpoint Avenue south to the former Furman Island. Mussel Island, on the Brooklyn side in the center of the creek, was dredged by Queens County about 1920. The larger Furman's Island, seen at the bottom right, was separated from the mainland by Newtown Creek and a smaller waterway, Shanty Creek. It had been home to a large mansion built by Judge Garritt Furman. He sold some of the property to the builders of Maspeth Plank Road, now Maspeth Avenue, which crossed Newtown Creek for a toll. By 1855 some of Peter Cooper's glue factories and bone burning plants occupied the formerly lush Furman's Island, and the island itself was gone by 1910, joined to the rest of Queens by landfill.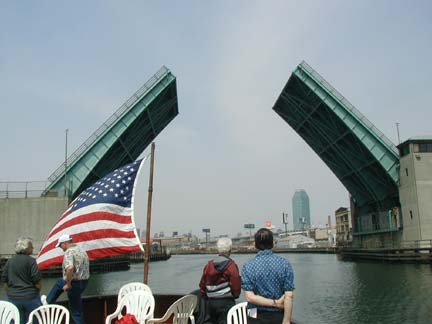 May the road rise to meet you. The J. J. Byrne Memorial Bridge, also known as the Greenpoint Avenue Bridge, was opened in 1929 and was completely overhauled in 1987. It is the fifth bridge that has carried Greenpoint Avenue over Newtown Creek. It is a bascule drawbridge as is the Pulaski Bridge. This view is looking west toward Long Island City and its Citicorp tower.
According to the Department of Transportation, a drawbridge first operated here in 1855; one of its successor bridges also carried a defunct section of the Long Island Rail Road from the Greenpoint waterfront to a connection with the similarly-vanished Evergreen Branch.
Greenpoint Avenue is one of a handful of streets (along with Jamaica and Liberty Avenues) that have the same name in Brooklyn and Queens.
Who was J. J. Byrne?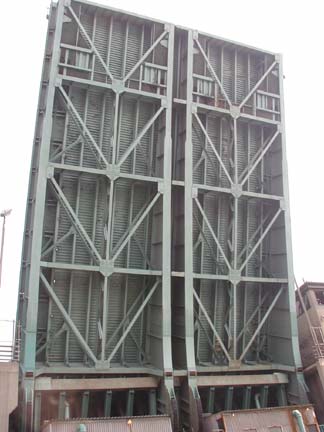 Hard green underbelly. The bottom of the J. J. Byrne Bridge. The John J. Harveylooked as if it could pass under the bridge with room to spare, but appearances must have been deceiving.
Queens-side industry, near the old Penny Bridge site
Calvary Cemetery can be glimpsed briefly on the Queens side after the Byrne Memorial Bridge is passed. Calvary is where you will find mobsters (Joe Lanza, Thomas Luchese), politicians (Al Smith, Robert Wagner Sr., Robert Wagner Jr. and Robert "Bobby" Wagner III) nightclub owners (Texas "Hello, Sucker" Guinan) and Hall of Fame baseball players (Wee Willie Keeler and Mickey Welch). Una O'Connor, who screeched up a storm in the Universal productions of The Bride of Frankenstein and The Invisible Man, is here too. The trustees of the "old" St. Patrick's Cathedral on Mott St. in today's Little Italy purchased 71 acres in Queens for a new cemetery in 1845 with the first interment in 1848.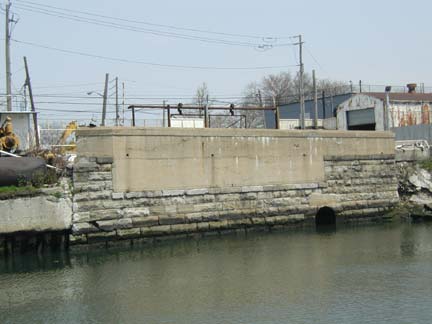 Penny Bridge, the abutments of which can be seen from the Queens (above) and Brooklyn sides, formerly connected Meeker Avenue in Brooklyn with Laurel Hill Boulevard in Queens. The bridge may have taken its name from a possible penny toll. Penny Bridge was replaced by the much more massive, auto-only Kosciusko Bridge in 1939. A taller bridge was apparently deemed necessary for taller vessels to proceed through.
Aerial view showing Calvary Cemetery, the Kosciusko Bridge and Maspeth Creek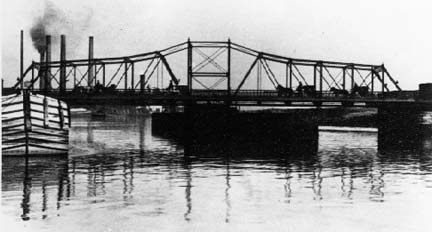 Penny Bridge, before its closure in the 1930s.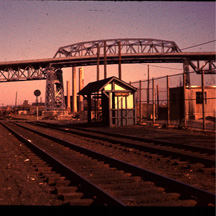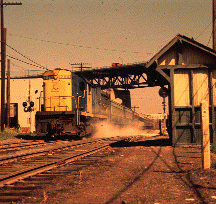 It's not just a needlessly abandoned bridge…it's also a needlessly abandoned railroad stop! Until March 16, 1998 the LIRR stopped at Penny Bridge…admittedly, only three times daily. Trains had stopped at Penny Bridge since 1878; at one time it had busy Calvary Cemetery clientele. Stops at Haberman, Maspeth, Fresh Pond, Glendale and Richmond Hill were also abandoned. The smart thing would have been to convert it to a cross-Queens subway line, but locals would have no part of that. Photos: Richard Makse
The trains stopped at Laurel Hill Blvd. within sight of the creek. In its latter days, the Penny Bridge station was nothing more than a clearing along the tracks; even in its salad days, it had merely a shed to protect passengers from the elements.
Through much of the eighteenth, nineteenth and twentieth centuries, Penny Bridge was a toll bridge on the Bushwick & Newtown Turnpike. (end of Meeker Ave). In the seventeenth century, it was the location of a ferry between Laurel Hill / Maspeth and Greenpoint / Bushwick. The ferry was started by Humphrey Clay, an associate of Captain Kidd.

The bridge was also the main access to Catholic burials in Calvary Cemetery. The Alsop farm was bought by the church in 1837 when land became scarce for burials in Manhattan. There was a need for the turnpike for the transport of Queens produce to and from Williamsburg ferries as well as the funeral processions to Calvary.
Penny Bridge photo and information from Bernard Ente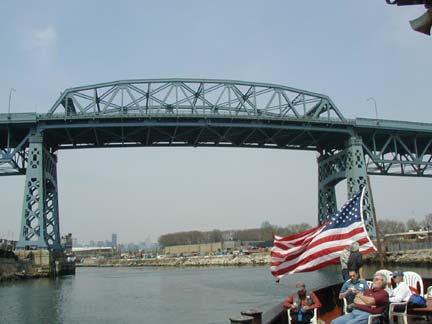 The admittedly majestic Kosciusko Bridge, built in 1939, replaced Penny Bridge. It carried what was then known as the Brooklyn-Queens Connecting Highway across Newtown Creek. The "BQCH" ran from the Triboro Bridge south to Meeker Avenue; after World War II the Brooklyn-Queens Expressway, as it would be called, would extend through Williamsburg, Fort Greene, downtown, Cobble Hill, Gowanus, Sunset Park, Bay Ridge and would be completed in 1964 with the opening of the Verrazano Bridge.
Tadeusz (Thaddeus) Kosciusko (1746-1817) like his countryman Pulaski was recruited by Ben Franklin to assist in the Revolutionary War. He was in charge of military engineering works at West Point, and also made significant contributions to the American victory at Saratoga in 1777. Returning to Poland, he defended it unsuccessfully against Russian invasion in 1792, and led an uprising against Russian occupation in 1794. He was captured but later freed. He later moved to the US and Switzerland rather than participate in any Polish government imposed by Napoleon.
Many NYers pronounce this bridge "Kosk-y-OS-ko" but its correct pronunciation is closer to "Ko-SHUZ-ko"; as Duke University basketball coach Mike Krzyzewski ("sha-SHEF-sky") can tell you, English and Polish orthography are not similar.
The Kosciusko is slated to be torn down and a replacement bridge built by the end of the 2010s.

Maspeth Creek edges briefly east from Newtown Creek at the Brooklyn Union Gas facility. It formerly wound deeper into Queens but it is now contained only as far as 49th Street.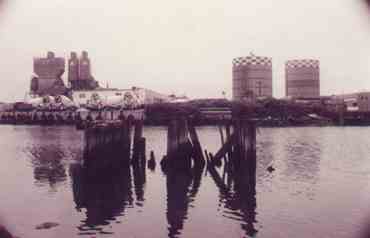 These pilings formerly supported a bridgecarrying Maspeth Plank Road, now Maspeth Avenue, over Newtown Creek. The gas tanks formerly on Maspeth Avenue on the Brooklyn side were imploded, spectacularly, in late August 2001.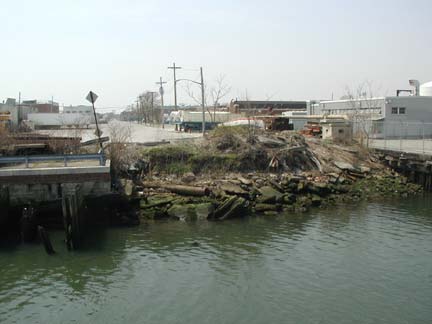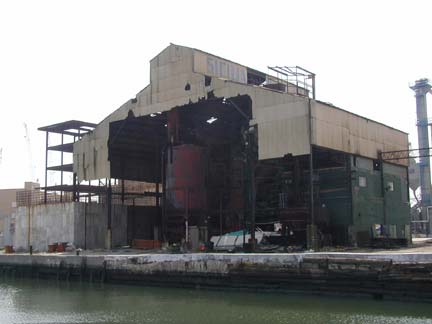 Maspeth Avenue, left, has not bridged the Newtown since about 1875. The ruins can be seen just past the Kosciusko.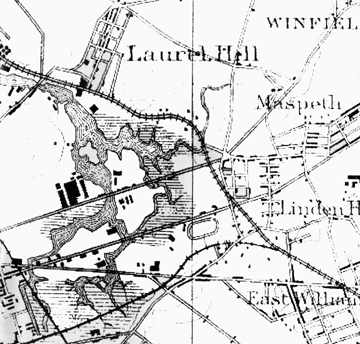 This map, made about 1875, shows how the Newtown and its tributaries looked at the time. Mussel Island is the small gray island left center, while Furmans Island is the larger one on its right. Maspeth Plank Road is the straight line bridging Furmans Island, while Grand Street, which would supplant Maspeth Plank Road, is just below it. The community of Laurel Hill, now called West Maspeth, gave Laurel Hill Boulevard its name. That road was formerly known as Shell Road.
English Kills winds southwest, while Maspeth Creek stretches northeast. The present LIRR Montauk Branch runs in the center of the map, while the Bushwick Branch can be seen at the bottom.
Map courtesy Bernard Ente
The John J. Harvey turned west down English Kills, seen at left in the aerial photos and from the boat. The defunct Maspeth tanks can be seen at the top in the photo at left.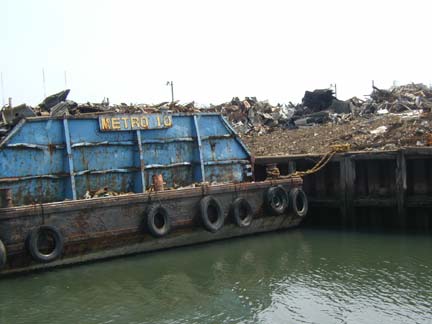 Welcome to Brooklyn. English Kills is located entirely in Brooklyn; here is the greeting we got…a junkyard. The fragrant additives in English Kills give it a multihued aspect.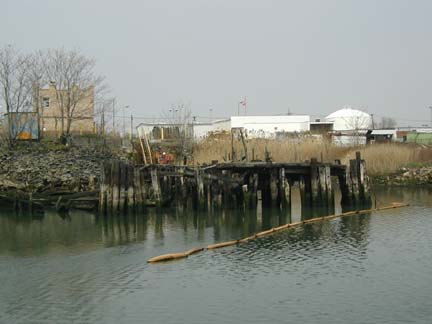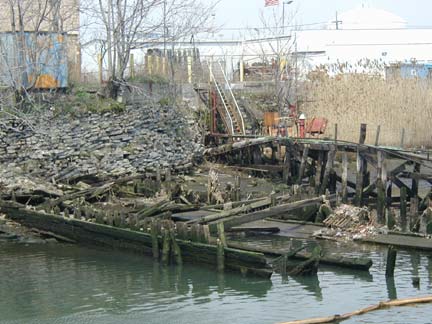 We were intrigued by the ruins of a dock on the English Kills just north of Grand Street.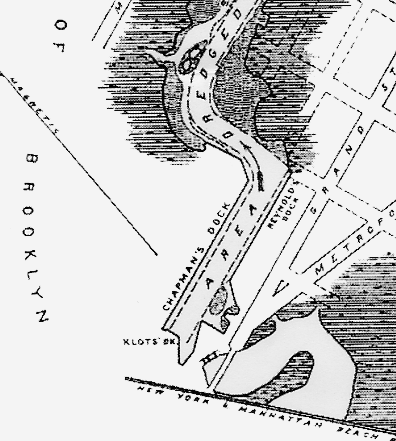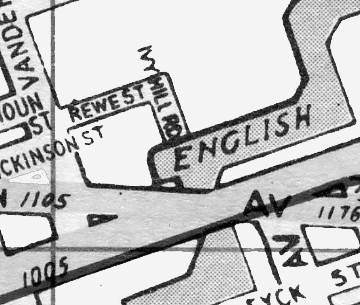 Older maps show it as Chapman's Dock, and newer ones have it at the foot of Ivy Hill Road.
Top map courtesy Bernard Ente
We turned around at the Grand Street/Metropolitan Avenue Bridge (Grand is still Street, since it's Brooklyn.) Our round trip took approximately four hours.
This page was made possible because of the late Bernard Ente, the Queens photographer and historian, whose Newtown Creek boat tours aboard the JJ Harvey were frequent sellouts.
Your webmaster shot images for this page April 25 and completed its composition May 23, 2004
Special thanks to Bernard Ente and the crew of the fireboat John J. Harvey