IT WAS A DAY with air so crisp, it almost broke off in your fingers. And there is no better weather than to explore the 1939 and 1964 World's Fair remnants at vast Flushing Meadows-Corona Park on a day between the snowstorms. 40 Forgotten Fans had the same idea.
Where's Walsho? Alone at the Fair, awaiting Forgotteners. Photo: Larry Steller.
Forgotteners gathered at the ramp
 at the Willets Point Blvd. station, providing views of Shea Stadium, home of two 
New York Mets
 World Series winners, and Corona Yards, where the
 last Redbirds nested
. Photos: Eric Weaver
"Forgotteners ready?… Go!" 
Photo left: Larry; photo right: Debra Estock

Your webmaster busted out the Forgottenmegaphone® while explicating the mosaics on the Flushing Meadows-Corona Park's entrance. Photo: Eric.
FNY's mermaid admiration is well-known. Great interest would have been taken at Salvador Dali's "Venus" exhibit at the 1939 Fair, an erotic underwater fantasia (your webmaster's kinda thing, if he could swim), in needless to say, a unsettling setting by the mustachio'ed Surrealist. Photo: Eric.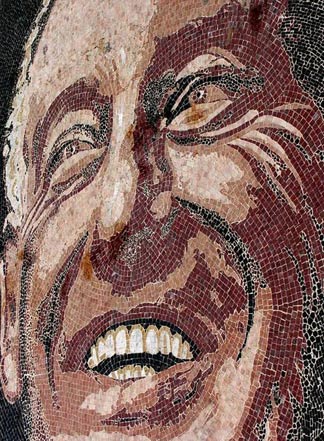 To this day, NYC Triboro Bridge and Tunnel Authority president Robert Moses can rile people up. Moses built most of NYC's parkways and expressways and created hundreds of acres of parkland in NYC and suburbs. But he disdained mass transit…believing it attracted riffraff…and was ruthless in moving people out of the way who were in the paths of his roadways. Photo above: Steve Garza; below, Nigey Lennon.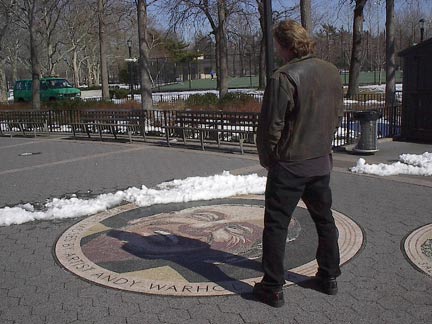 More of Steve Garza's tour pics
A number of contemporary artists were commissioned to create works that would appear on the exterior of the New York State Pavilion, among them Robert Indiana (of LOVE fame, who created an "EAT" neon billboard represented in mosaic here) and Andy Warhol, who chose to present the "13 Most Wanted" showing 13 criminals; Moses and other Fair officials vetoed it: among other reasons, most of the 13 were Italian. Warhol, working on a tight deadline, produced multiple portraits of a "furiously smiling" Moses, represented here in mosaic. Not surprisingly, Moses rejected that one too. Warhol covered the Moses portraits in gray paint.
The mosaic here commemorates Elsie's debut at the 1939 Fair as Borden's spokescow. She was also supposed to make the fair in 1940, but she was shooting "Little Men" and her husband, Elmer, replaced her. Elsie and Elmer had two calves, Larrabee and Lobelia. Photo: Dawn Eden.
These two guys are "brothers." Both were sculpted by Boston artist Donald DeLue. Washington is shown in a reproduction of a 1959 statue as First Master of the Alexandria, VA masonic lodge, wearing his Masonic Apron. Not a few Masonic symbols appear on American currency. Rocket Thrower, panned by critics, became one of the Fair's main symbols. But I always thought he resembled Dave DeBusschere. Photo left: Colin Vozeh. Photo right: Eric Weaver.

At the old Fountain of the Planets site two extremely tall flagpoles–the tallest in the Park and visible from any point in the vicinity–are topped by two highly stylized eagles (photo: Steve) that have been rumored to be gifts from Nazi Germany in 1939. Forgotten Fan Mike Walker, however, produced a 1940 Fair guidebook, which reads:
Lagoon of Nations: "Flagpole Finials" — figure of an eagle surmounting a sphere. Sculpture by Robert Foster.
The Lagoon of Nations became the 1964 Fountain of the Planets.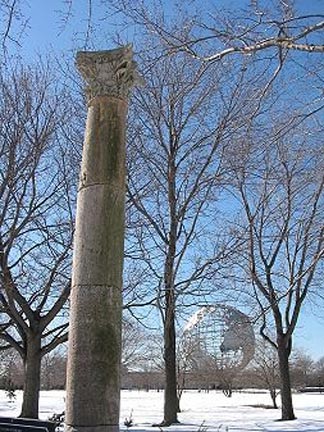 The Column of Jerash was built as part of the Temple of Artemis by occupying Roman forces in what is now Jordan in AD120. It was a gift from King Hussein as part of the Jordanian Pavilion in 1964. Photo: Dawn.
Approaching the Unisphere, which cannot be fully appreciated from photographs; you have to sidle up to it to appreciate its size. Over the years it has come to be the symbol of Queens and has taken its place in pop culture, maintaining a jet-age cachet long after the romance of space travel has faded. Photo: Larry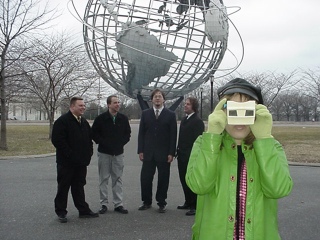 Forgotten Fan Dawn Eden wears her lime green PVC jacket and wields a vintage Viewmaster on the cover of the Anderson Council's 2001 LP Coloursound, with the Uni as a backdrop. (Courtesy Dawn)
The New York City Pavilion, designed by Aymar Embury II and redesigned in 1994 by Raphael Vinoly, is the only building remaining from the 1939 Fair and has undergone a number of uses as a skating rink, home of the NYC Panorama, a scale model of New York using over 800,000 figurines, the present Queens Museum of Art, and, United Nations headquarters between 1946 and 1952. It is on track for yet another redesign.
We found this ancient painted sign advertising the building's skating rink. From the looks of things the sign goes back a few decades. Photo: Steve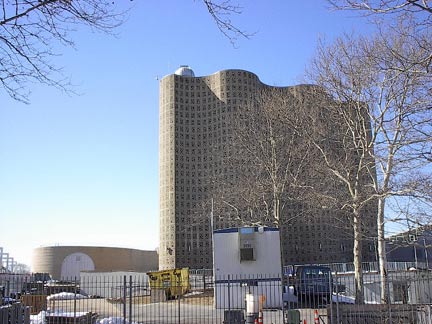 The striking Hall of Science with its undulating concrete punctuated by stained glass windows is one of four extant buildings from the 1964 Fair; the others are Queens Theater, the NY State Pavilion (see below) and the Heliport (now Terrace on the Park). Rockets from the Mercury and Gemini NASA programs are exhibited outside the building; they were recently restored and polished to a gleaming sheen. Photo: Eric.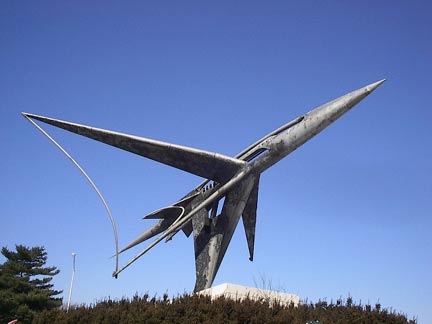 Theodore Roszak's Forms in Transit's fate sort of matches that of the public's fascination with space flight. In 1964 the Fair was full of space travel imagery; the United States was racing the Russkies to the moon; and TV shows like Lost In Space imagined intergalactic spaceship rides by 1997. Today space travel is largely dormant, despite NASA rumblings about manned flights to Mars, where subsurface ice has apparently been found; and flybys of Saturn and soon, Pluto, are largely ho-hummed. Forms has been compromised as well; part of the original sculpture is missing, and the rest is rusting, badly. Photo: Eric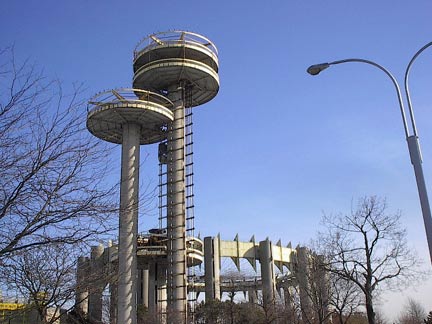 The New York State Pavilion looms in the distance. Photo: Larry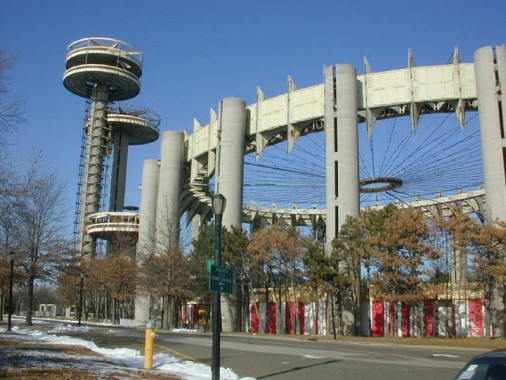 Philip Johnson's triple-towered NY State Pavilion must be seen to be believed, and even after you've seen it, maybe you won't believe it even then. It is the proposed site for a new Air & Space Museum, if anyone cares about space anymore. Photo: Larry
The pavilion is pretty much as it was when closed, except the roof's orange plastic panels have been removed and the giant Texaco map of NY State on the floor of the "Tent of Tomorrow" is now largely illegible, though can still be made out. Even the title "Tent of Tomorrow" sounds like it's straight out of a 1964 Jonny Quest episode.  Photos: Eric
Time for a break at Theaterama, now known as Queens Theatre in the Park. Photo: Larry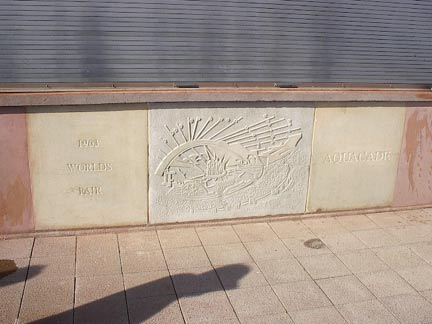 The remnants of the Marine Amphitheatre (Billy Rose Aquacade) are now a pavilion along Meadow Lake. Forgotten Fans got a little chuckle from the "1963 Worlds Fair" notation. Photo: Eric
Thanks to all attendees and watch Forgotten NY for the next tour.
SOURCES
NYWF '64 World's Fair site–the fabbest Fair site out there.