WHILE preparing to march 155th Street for I CAN'T DRIVE 155, I was drawn to the Macombs Dam Bridge, which connects the 155th St. Viaduct with Jerome Avenue in the Bronx, like a magnet. When I was a kid, I read a story about a Victorian-era dad…tough, but fair, think "Life With Father"… who bought white typewriters for his kids so they could all learn to type. When they asked him, why white, he explained that the human eye is naturally attracted to anything white over any darker color. That must explain the pre-eminence of iPods (though I have a 20-year-old thermometer that has the same design, and those never took off) and it must be why America is in an obesity epidemic…refrigerators are white, after all.
But I digest. All I know is, I really like the off-cream color that the Macombs Dam Bridge now sports; I hear that was the original color of the bridge when it opened in 1905.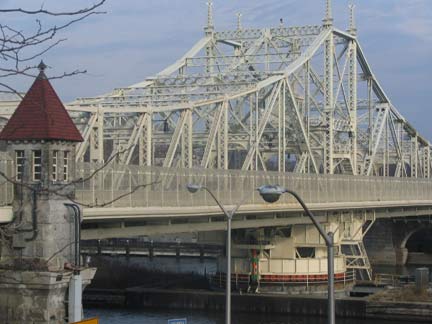 There's a brotherhood of bridges spanning the Harlem between Manhattan and the Bronx. The 3rd Avenue, Madison Avenue, East 145th, Macombs Dam, and University Heights (originally Broadway) Bridge were all designed by Alfred Pancoast Boller and all share a certain thematic style, with spidery ironwork and stone gatehouses on each end. All opened between 1895 and 1910.
Farmer Robert Macomb opened the first drawbridge on this site in 1813, but annoyed neighbors by damming the Harlem River in the East 160s. After some years they tore down Macomb's bridge and replaced it with a wooden swing span.
Finally, the City commissioned Boller to build this iron swing bridge in the late 1890s.
For someone who ticked off his neighbors so much, Macomb is remembered by this bridge, Macombs Place in Harlem, and Macombs Road in Morris Heights.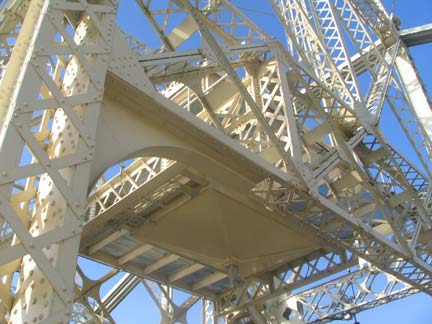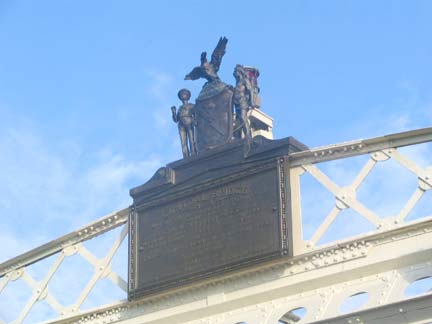 Macombs Dam, like the rest of the Harlem River crossings, has a bronze plaque and sculpture with NYC's offical symbol, the Dutchman and the Indian, with a windmill on the crest.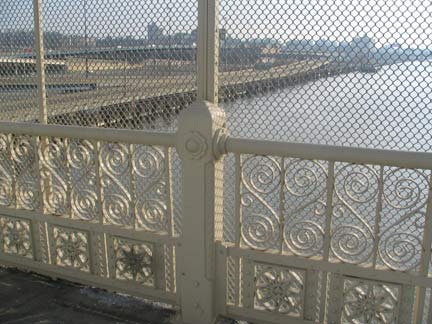 The bridge's filigreed scrollwork on its railing was restored, with the addition of (relatively speaking) unobtrusive cyclone fencing, to prevent suicides, and vandalism of vessels passing under the bridge.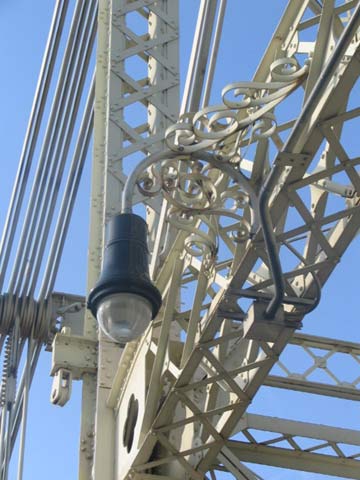 For your webmaster, the best part of the restoration was the installation of eclectic roadway and sidewalk lighting, reinvigorating styles already in place, such as the wonderful scrollwork on the semi-bishops crook; check the added "wings" on the side (it's unfortunately positioned near a ladder, making this shot the only one I could get) and placing modern (not traditional) bell fixtures. Bridges have always been the place where unusual street lighting happens. However, they should have painted the lumes the same cream color as the rest of the span.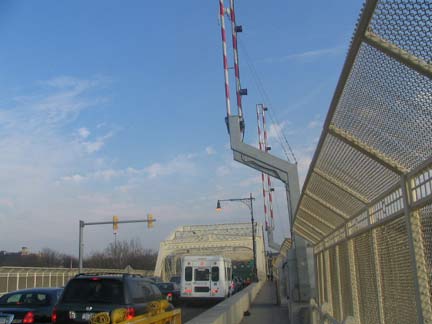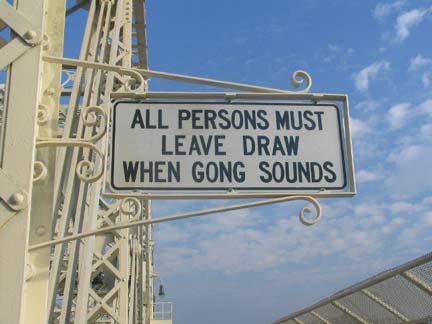 The Macombs Dam is a swing bridge that moves to allow shipping to pass.
Photographed December 31, 2004; written February 5, 2005