By CHRISTINA WILKINSON
A REMOTE area in western Queens, filled with woods, swamps and freshwater pools, the town of Fresh Ponds was part of the land chartered by the Dutch West India Company in 1642. Cypress Hills Street (formerly 'Old Fresh Pond Road'), which starts in Brooklyn at its southern end, was the progenitor of present-day Fresh Pond Road…
The eastern end of Fresh Ponds, where Forest Park is today, was called "Dry Harbor" because it was said that houses there appeared to be sitting atop the crests of trees and hills, resembling a harbor without water. Today's 80th Street was originally an extension of Dry Harbor Road, named after this part of the community.
In the early 1860's, developer George S. Schott, (perhaps related to the late owner of the Cincinnati Reds), acquired a considerable amount of land in Fresh Ponds as repayment of a debt owed him. As the Civil War drew to a close, he founded what is today known as Glendale, which he named after his hometown of Glendale, Ohio. At this time, the area's main occupation was farming. [The 1873 map of Glendale, used as the background photo for this page, can be found here: Brooklyn Genealogy Information Page – map of Newtown.] In the late 1800's, picnic grounds and beer gardens flourished due to an influx of German immigrants into the area.
After WWI, these recreational areas closed, farming began to die out, and textile factories and breweries became the town's major employers. Each boom in industry attracted a new wave of immigrants of German decent. Today, the community is home to the largest German-American population in not only Queens, but also in all of the City of New York. But their presence is also dwindling, while immigrants from Asia and the Caribbean are now settling in Glendale in sizeable numbers. Over the years, Germans have left their mark in Glendale, most noticeably in the form of dining establishments along Cooper and Myrtle Avenues.
German fare and flair
Von Westernhagen's, est. 1964, advertises themselves as a "Gute Deutsche Kuche" – good German kitchen.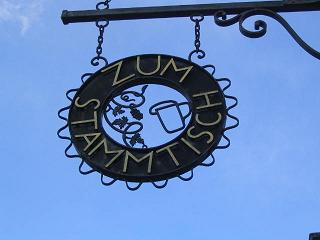 When you enter Zum Stammtisch, founded in 1972, you may feel as though you have traveled back in time to 1700's Bavaria.
Founded in 1933, Gebhardt's served generations of Glendalers who liked their braten sauer. Unfortunately, they picked up and moved to Floral Park in 2003, leaving those with a craving for strudel wondering what they'll see there next. The building is part of what was once Unity Hall.
Durow's had a long history. It was a working farm in the 1880's, a saloon that catered to Forest Park golfers by 1909, a speakeasy during Prohibition and a German bar, restaurant and catering hall from WWII on. In February 2005, mounting repair costs forced Durow's owners to close its doors for good.
The Railroad

The growth and development of most 19th-century Queens neighborhoods can be attributed in part to rail access. Glendale was no different in this regard. In 1867, the South Side Railroad was extended through the area, and a stop at 73rd Place was opened in 1869. The South Side Railroad was bought out by the North Side Railroad in 1874, which merged with the LIRR in 1876. The tracks through Glendale then became part of the Montauk Branch of the Long Island Railroad, and served as both a passenger and a freight line. In 1927, the station building burned down and was never replaced. In 1998, platform-less Glendale Station (below, left) closed, along with several other passenger stations on the Montauk Line. The New York & Atlantic Railway took over the freight responsibilities for the LIRR in 1997. The New York Connecting Railroad also snakes alongside Otto Road as it makes its way through Glendale.
Someone please tell our Webmaster that he waits for that train in vain!
The entrance to NY & Atlantic's headquarters at the Fresh Pond Railyard is on Otto Road.
At the southeast corner of 80th Street and Cooper Avenue sits what was formerly known as Atlas Terminal. Construction of this industrial park commenced in 1904. In 1922, the Hemmerdinger Real Estate Corporation purchased the site and over the years expanded the terminal to 16 buildings. By the end of WWII, it had become Glendale's largest employer.
Atlas Terminal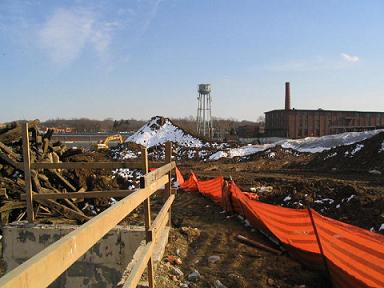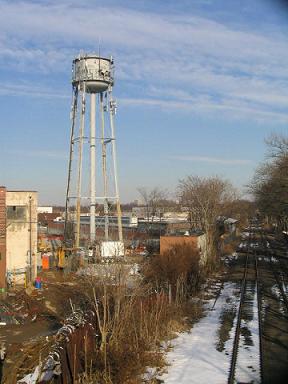 In 2003, the terminal was decommissioned for railroad use. Most of the buildings were torn down in 2004, and The Shops at Atlas Park opened in mid-2006. Sam Berliner's Model Railroad Page features photos of the terminal before it was demolished, including shots of a preserved 1941 locomotive that formerly sat at its entrance (see below). The Hemmerdinger family still owns the property.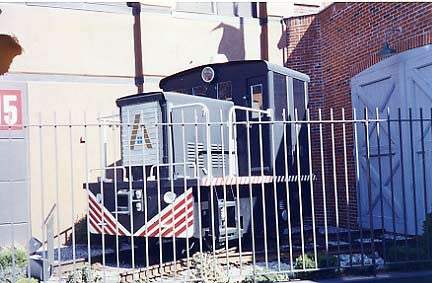 These 2 pictures, shot in 1999, show the 1941 yard switcher locomotive that pulled freight cars that employed the LIRR Montauk Branch in back of the terminal. Freight service at Atlas terminal ended in 1982. The loco and plaque were removed when Atlas Terminals was redeveloped for retail beginning in 2004.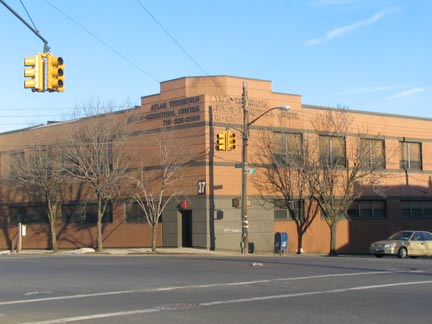 Atlas Terminals, Cooper Avenue and 80th Street, April 2005. The Atlas signage has been removed and the building has been painted white.
The Atlas Terminal water tower remains as a clue to the complex's former use.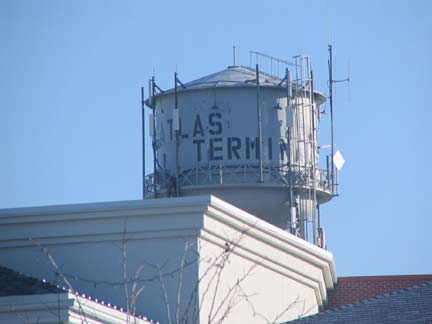 Shops at Atlas Park, 2006
The center will have 300,000 square feet of shops and restaurants, a 25,000-square-foot cinema, and 75,000 square feet of offices. High-end retailers Coldwater Creek, Elizabeth Arden Red Door Salon and Spa, and Jos. A. Bank have already signed on, as has Cold Stone Creamery. [The architect is A & Co., headed by Theodore Amenta.] The park will be comparable in size to a Parisian park or an Italian piazza. The fountain will have no rim, making it accessible to chill seekers on hot summer days. Honey locust trees will sit in four-foot-deep soil beds rather than planters, giving the impression of a long-established stand with roots running deep below. What will actually run deep below, however, is a 1,500-space parking garage, Amenta says.
In a couple of cases (bottom two photos) an existing industrial building has been refitted for retail.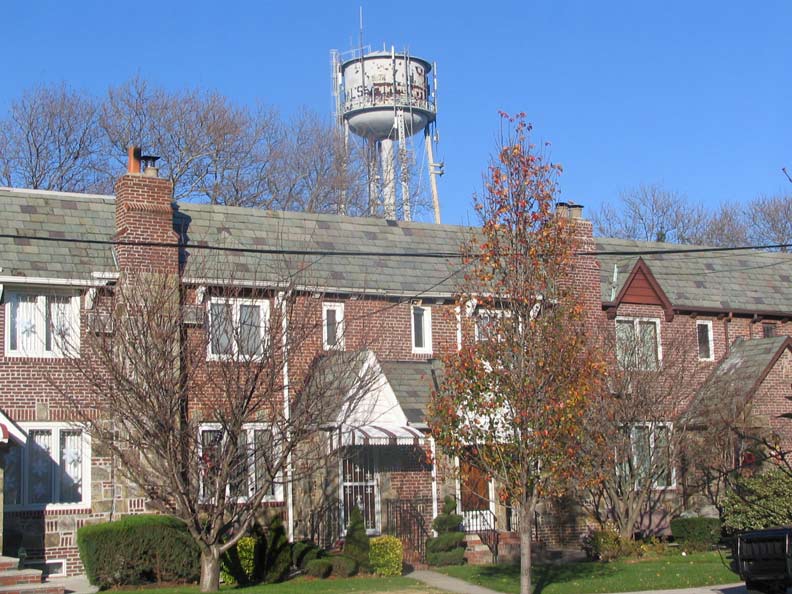 The water tower will continue to loom over Glendale, and the Atlas Terminals painted sign facing the 80th Street overpass will continue to greet Glendalers.
The Denton House
This house was built in 1872 on the south side of Cooper Avenue at 64th Street by farmer Jacob Denton. In 1898, the house was expanded and over subsequent years it has been modernized to its current state.
A 1940 photo of the house taken by Ernest R. Case. His mother, Wilhelmina Denton Case, was born there, as were generations of the Denton family.
(photo/info from Times Newsweekly)
The Denton House as it appears in 2005. Glendale's last farm was sold in the 1930's. Uniform rowhouses were built on subdivided farm lots and are very common in Glendale today.
Herrmann's Hardware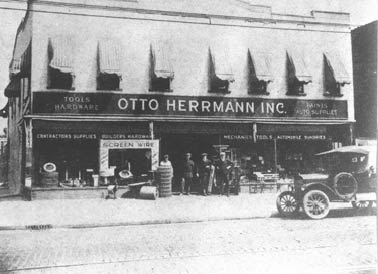 In 1921, Otto Herrmann opened a paint store in Glendale on Myrtle Avenue at the corner of 67th Place. He soon ventured into hardware.
(photo from Times Newsweekly)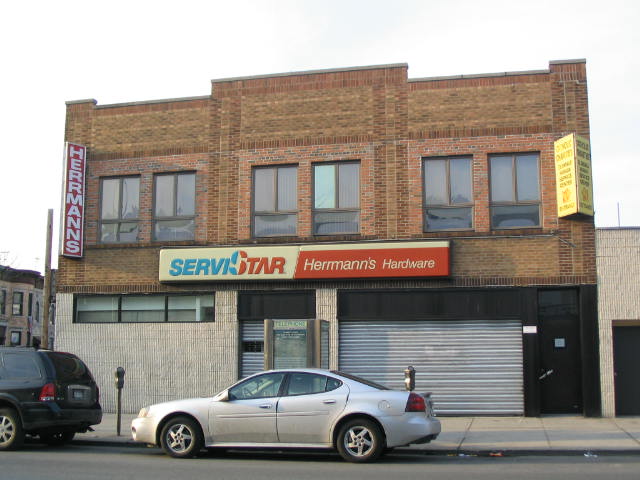 His sons eventually took over the business, which continues to serve the community from the same location.
Belvedere Theater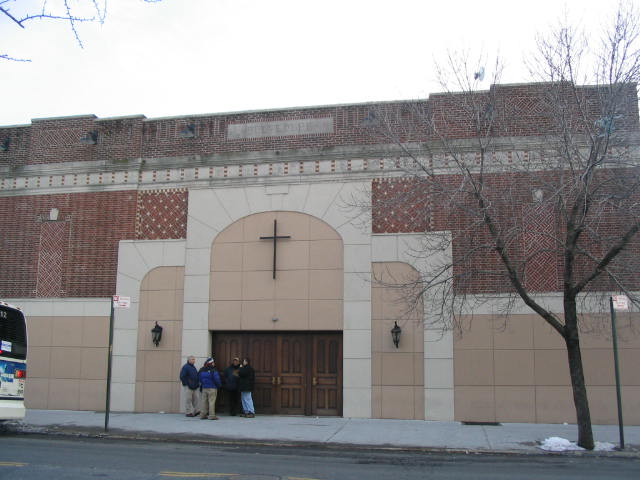 This building, topped off with the word "Belvedere," was a movie theater from the 1920's to the 1950's. If they had known that The Jazz Singer was coming out in 1927, they may not have installed that organ in 1926. At least the organ can be be put to work again – the building is now a church.
Werst Funeral Home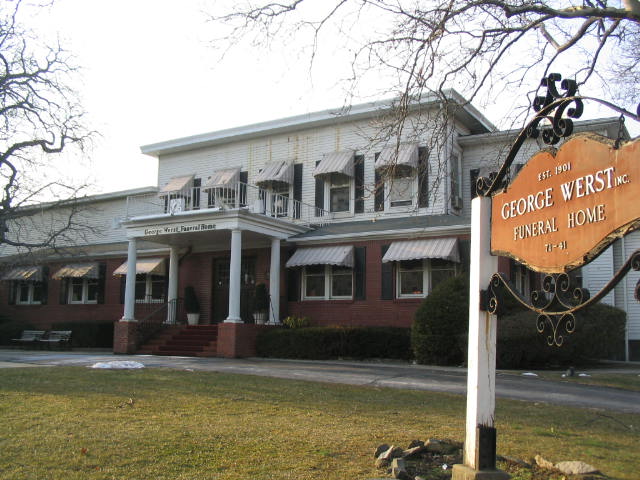 What better place for a funeral home than in an area surrounded by cemeteries? The George Werst Funeral Home, est. 1901, occupies the area's oldest home (ca.1850), which was once the mansion of theMeyer family, who founded a tobacco factory and owned much land in 19th century Glendale.
Revonah Laundry Company
Today, this building is home to Kew Forest Plumbing, Heating and Sprinklers. The company moved here from Forest Hills in 2000.
However, a close look at the top of the building reveals that this was once the Revonah Laundry Company. What does 'Revonah' mean? Not really sure, but it does spell "Hanover" backwards. Your Webmaster places the age of the building at 1920's – 1930's.
Forgotten fan Ben Breitung reports: "The reason for the change in name, as was popularly believed, was because Hanover was a German city and since World War II had started the owners deemed it wise to get rid of the German name and substitute something less offensive. The name Hanover was bad for business.
Woods Inn
Buildings pictured above (from left to right): Philip Knack's florist shop, George Gundolff's hotel, Christian Kirschmann's saloon in 1906. The middle building dates from the 1830's. It was originally called the Woods Inn and is Glendale's oldest business structure.
Today the florist shop and saloon are residences and the hotel is a mixed-use building. These photos were taken across the LIRR tracks from the back entrance of Lutheran-All Faiths Cemetery at 73rd Street.
Lost Forever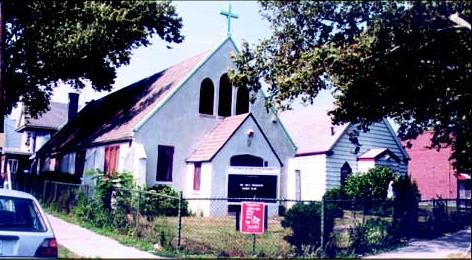 The Episcopal Church of the Annunciation was founded in 1895, but after 107 years of service to the community, low attendance forced it to close its doors in 2002. (photo from Times Newsweekly)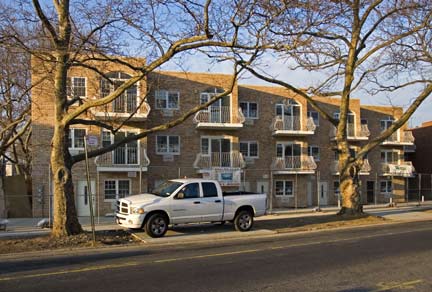 Landmarking was applied for, but the city rejected the request. "Luxury condominiums" have replaced what was a quaint little working-class neighborhood church.
And speaking of cemeteries…
There are more dead people in Glendale than live ones. That's not a joke, it's a fact. This is because in 1847, a law was passed stating that there could be no new cemeteries in Manhattan. To the outer boroughs the burial task then went. Among the notables who found a final resting place in Glendale are: U.S Congresswoman Bella Abzug, convicted murderer and lynching victim Leo Frank, theAdler family of actors, comedian Henny Youngman, and the parents of the Marx Brothers (Mount Carmel), author Helene Hanff (Mount Lebanon), illusionist Harry Houdini (Machpelah), Brooklyn Dodger Jackie Robinson, jazz musician Eubie Blake and actress Mae West (Cypress Hills), dancer Bill "Mr. Bojangles" Robinson, and jazz musician Lester W. Young(Cemetery of the Evergreens). [Although Cypress Hills and Cemetery of the Evergreens have Brooklyn addresses, as you can see from this Yellow Book map, the land itself is in Queens, which is why they are included here.]
Area architecture
A couple of fantastic old houses on 81st Street
Tasteful 20th-century attached homes with Atlas Terminal's water tower looming in the background.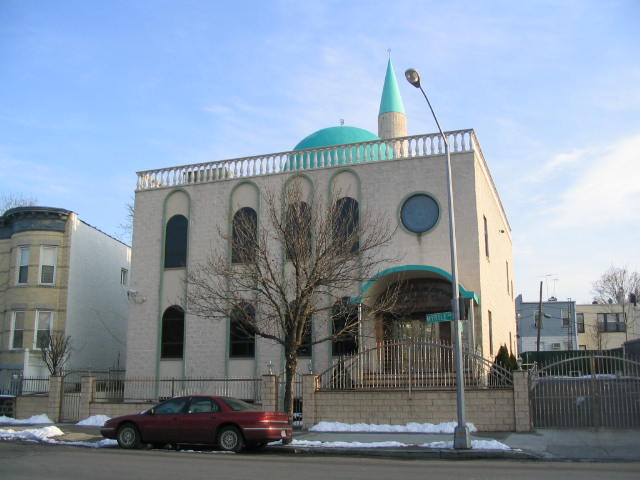 The uniquely designed Islamic Center provides sanctuary for the area's latest wave of immigrants.
A distinguishing characteristic of St. Pancras School is its rounded entranceway.And just check out the inside of the church!
The Glendale War Memorial (1921) at Glendale Veterans Park sits at the intersection of two of the town's main thoroughfares – Cooper and Myrtle Avenues.
The bell tower of The United Methodist Church of Glendale is a striking site, and visible from blocks away.
Dry Harbor Playschool
Dry Harbor Playground sits just south of Forest Park on Myrtle Avenue near 80th Street. The structure that today serves as the Dry Harbor Playschool has an interesting history. A wealthy French immigrant named Edward Bourcier sold most of his land to the Brooklyn Parks Department in 1895. (Queens did not have its own Parks Department until 1911.) This land was then incorporated into Forest Park. Bourcier kept a small parcel of land, on which sat his 3-story mansion, until his death in 1906. The house was then bought from his heirs by a private citizen and turned into the Brooklyn Forest Park Golf Club. In 1924, the city acquired the house, shaved it down to its present height and converted it into a parks department building.
The former Interborough Parkway runs just behind the Playschool and cuts Dry Harbor Playground off from Forest Park proper. When this extension of the Grand Central Parkway was built from 1933-1935, bodies buried in the adjacent cemeteries were disinterred and relocated, part of Forest Park was excavated, and long-standing buildings and the last remaining picnic parks were demolished.
The result of all that? This curvy, 5-mile road is probably the most dangerous highway in all of New York City. In 1997, the Interborough (by that time shortened to 'Interboro') was renamed the Jackie Robinson Parkway after the baseball legend, who is buried in Cypress Hills Cemetery, through which the highway meanders on its way to and from Brooklyn. Locals still refer to it as "The Interboro," though, confusing many a lost driver.
In August of 2004, a tiger escaped from a circus performing in Forest Park and caused mayhem on the parkway.
Those were the daaaaaaaays!
Let's end this cybertour at the site of Glendale's most famous residence. No page about the area would be complete without mentioning the house at 704 Hauser Street.
Ladies and gentlemen, please do not break out your street maps. This is neither a current nor former actual street locale, but the fictional Queens address of a character that graced our TVs for 13 original seasons. Lo and behold, Archie Bunker's attached house (above, left, ca.1971) still stands (above, right, today), not in Astoria where the shows were said to have taken place, but on Cooper Avenue in Glendale, across the street from St. John's Cemetery.
Glendale scenes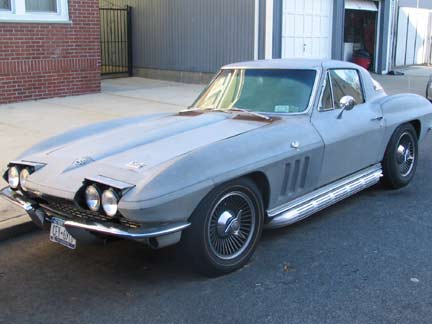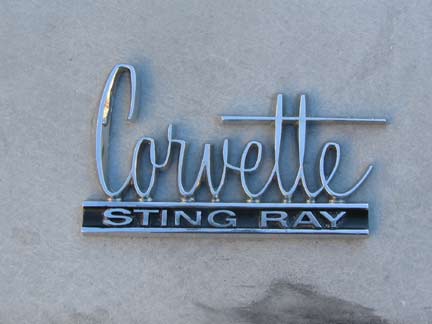 Classic car lover, 83rd Street south of Myrtle Avenue
Union
Most Queensites think of Union Turnpike as running through Fresh Meadows, Hollis Hills, and Glen Oaks on its way to the city line, which it breaches briefly before ending in New Hyde Park. But it gets its start right here in Glendale, at Myrtle Avenue, 86th Street and the Jackie Robinson Parkway. You can travel on only two local roads from downtown Brooklyn — Myrtle Avenue and Union Turnpike –and reach Nassau County.
The term "turnpike' usually refers to a present or former toll road, as pikes, or long poles, were "turned' across the road to block traffic until the toll was taken. But older maps show Union Turnpike as a short road, Union Avenue, that gradually was extended east, so we're not sure tolls were ever taken on it.
Until 2006, this was the only street named "turnpike" in NYC, but in that year the stretch of Jamaica Avenue on the Queens side of the city line between Cross Island and Little Neck Parkways in Floral Park was renamed Jericho Turnpike, the name the road is known by once it crosses fully into Nassau.
(Lower left) Just past Myrtle Avenue, Union Turnpike sports some now-rare twin double-masted octa-poles.
Sources:
AllintheFamilySit.com
Art Huneke's aRRts aRRchives
Find-A-Grave
NYC Parks
Queens Tribune
Sam Berliner's Model Railroad Pages
Times Newsweekly
The Encyclopedia of New York City, by Kenneth T. Jackson, et al, Yale Univ Press, 1995
The above photos were taken on March 12th and 13th, 2005, and the page was completed on March 25th, 2005 by Forgotten NY correspondentChristina Wilkinson with extra photos and text added December 3, 2006 by your webmaster.
erpietri@earthlink.net
©2005-2006 Midnight Fish
If you liked Glendale, you'll like her sisters, Maspeth and Elmhurst