PERIODICALLY in Forgotten NY, I just decide to walk a street for its entire length. River to river, or landmark to landmark. This time, 53rd Street in Manhattan made a perfect candidate, since it encompasses several neighborhoods of varying wealth, varying architecture, and varying attitude. Some Forgotten Fans will find this page something of an "attitudinal" shift, since there will be some hardly Forgotten items here. It's all in the context. Gonna be a long slog so let's get going.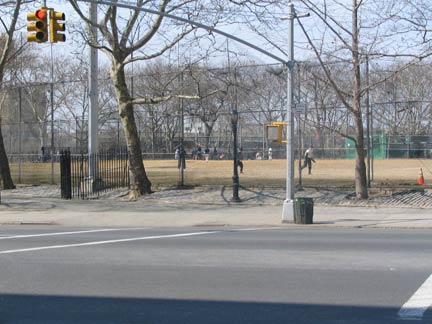 Busting out the vintage yellow Manhattan street signs, circa 1978, when the city was at its miasmic, garbage and crime-strewn worst. Those were the days.
53rd Street doesn't go river to river. Between 12th and 11th Avenues, its roadbed is occupied by DeWitt ClintonPark. Clinton (1769-1828) was a NYC mayor; NYC assemblyman; U.S. Senator; New York state governor, and Presidential candidate, losing to James Madison in 1812. As governor, Clinton instituted the construction of the Erie Canal from 1817 to 1825, which connected NYC to the Midwest by ship.
The parcel between 11th and 12th Avenues and West 52nd and 54th Streets was acquired by the Parks Department in 1901 and designed by architect Samuel Parsons Jr. Between 1902 and 1932, children tended a farm garden featuring flower beds, observation plots, a pergola, and 356 4′ x 8′ vegetable gardens. Director Frances Parsons held classes teaching local children about plant science, conservation, nutrition, and hygiene. The Flanders Field Memorial, a statue depicting a World War I doughboy, was installed in 1930 and restored in 1997.
Below: West 53rd Street looking east. See the very small blip in the middle of the street at the horizon? It will get bigger as we march inexorably down 53rd.

A windowless monolith, originally the NY Telephone Switching Center, built in 1964, is full of electronic equipment for AT&T. The building is designed to withstand a nuclear blast. It might be the only building left standing in NYC eventually.
The brownstone Elsw Building, on 10th between West 52nd and 53rd, was once known as the Elsworth. The building was cut exactly in half long ago…apparently to make room for this gas station, which is now shuttered.
Adolph Ochs (PS 111) school playground with "Hells Kitchen" and world flags graffiti, and recording studio mural. Adolph Ochs (1858-1935) purchased the New York Times in 1896, reviving its circulation from 25,000 in 1898 to 300,000 by the 1920s and instituting the motto "All the news that's fit to print." Arthur H. Sulzberger married Ochs' daughter Iphigene in 1917, and the Times remains with the Sulzberger family.

Longtime talk show host and former naval officer Montel Williams tapes his daily show at 433 West 53rd Street.
A parking lot allows us to see three of NYC's tallest skyscrapers from this vantage on 53rd between 10th and 9th:
At left, the new Hearst Tower, under construction at 8th Avenue and West 57th Street. British architect Sir Norman Foster is incorporating features from his unsuccessful bid for the new World Trade Center and his new London 30 St. Mary Axe tower ("the Gherkin Building" here.
Center: the stepped 52-story Random House Tower at 1739 Broadway was completed in 2002 as the headquarters of the publisher, with condos on the upper floors.
At right, hiding behind the brownstone building, is the 75-story, 814-ft. tall CitySpire Tower on West 55th-56th Streets between 6th and 7th Avenues, built in 1987. Its upper floors, like the Random House Tower, contain (very) expensive condos.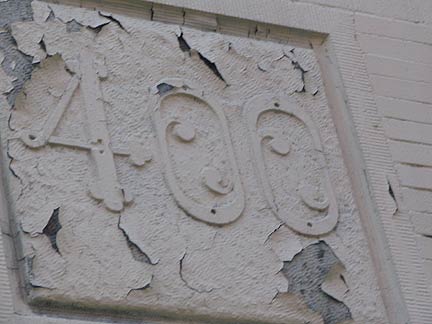 A green man and an ornate 400 greet us at 400 West 53rd.

As we'll see on 53rd Street, the juxtaposition of decades-old and spanking new illustrates the dynamism of the big city. The trick is to preserve enough of the old so that you remember where you've been. In 100 years, the Hearst Tower and the new Time Warner Center (left) built on the old NY Coliseum site at Columbus Circle, will look just as antiquated as the brownstone tax payers on the right.
Brownstone residences and the Church of St. Benedict the Moor just east of 9th Avenue. The Sixth Avenue El once covered this street as it ran west to join the Ninth Avenue El.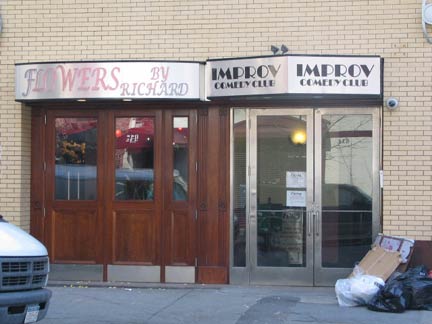 I was last at the Improv in 1980 and saw Gilbert Gottfried imitating Mickey Mouse using a couple of drink trays. Gilbert, after a busy TV and motion picture career, has graduated to cartoon voiceover work, notably Iago the parrot in Disney's Aladdin series and has voiced the AFLAC Duck.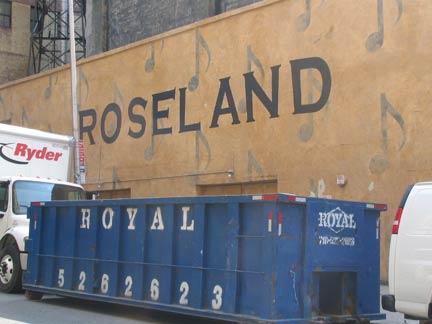 Passing 8th Avenue, we then see an MTA substation dating back the the el days, and the rear end of Roseland Ballroom, best known for concerts, but also for conventions, galas and even boxing matches over its over 75-year history. Like Radio City Music Hall, it's been rumored to be on its deathbed more than once, but always bounces back.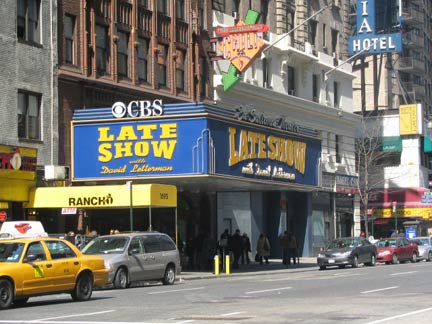 If you're under 45, you might not recall Ed Sullivan, whose 'really big shew' had a vast audience on CBS on Sunday nights between 1948 and 1971. While he wasn't the first to present Elvis Presley and The Beatles to national TV audiences, both acts arguably reached peak popularity after their initial exposure on his show. (Charles Laughton subbed for Ed, after an auto accident, on Presley's first appearance Sept. 8th, 1956.) Sullivan, originally a NY Daily News sports and entertainment columnist, continued the column throughout the duration of the show.
The Ed Sullivan Theater was built as the Hammerstein Theater in 1927 by the unfortunately named Herbert Krapp. It later became CBS Studio 50 and in 1967, the Sullivan Theater. David Letterman's Late Night show has been here since 1993.

Wrestlemania XXI (held in 2005) is all over dozens of garbage cans in the area. I'm enough of a wrestling maven to be able to identify each of the WWE Superstars here…in the back row, Shawn Michaels, Triple H, Batista, Randy Orton…Ok, I'll stop.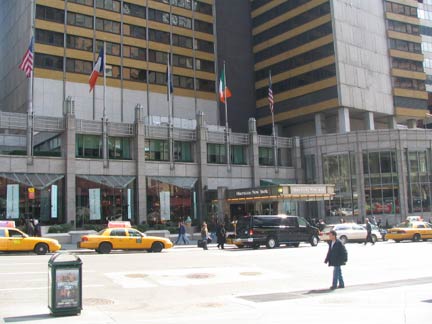 I've had a soft spot for the Sheraton New York Hotel and Towers, 811 7th, since 1997, the last year I qualified for Jeopardy! in a quiz given right here. I've applied since without luck.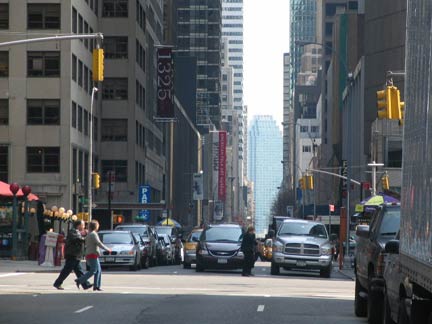 Remember the little blip on the horizon at 11th Avenue? It's the Citigroup Tower in Long Island City, Queens and we are creeping ever closer.
I was unaware that 1325 6th Avenue (the Hilton Tower),and its counterpart across the street, had built covered public passageways between West 52nd and 54th Streets. Now I know.
2012: Actually there is a continuous passageway, when open, between 6th and 7th from 51st north to 57th. The Department of Transportation recently renamed it 6 1/2 Avenue and installed midblock stop signs.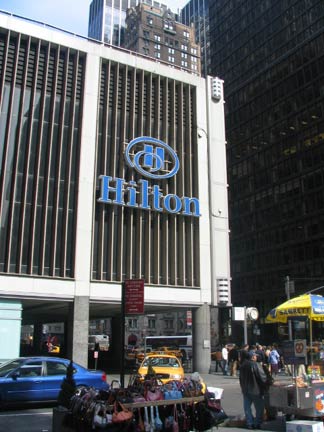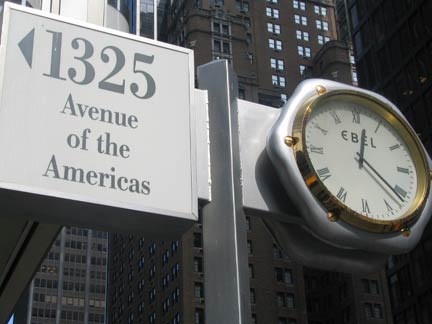 There's a 34-story Hilton Hotelat 6th Avenue and West 53rd, but I was more interested in the clock.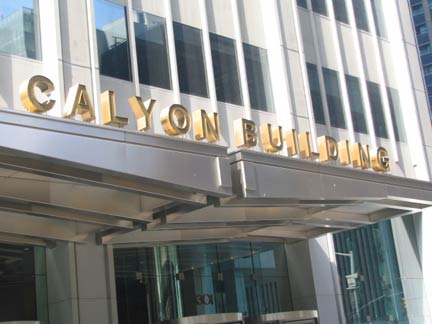 Buildings change names every few years. 1301 6th Avenue is currently called the Calyon Building, after the corporate and investment banking arm of the French Bank Credit Agricole. Three sculptures by Jim Dine, under the collective name "Looking Toward The Avenue" and reminiscent of the Venus de Milo, grace the exterior plaza.
Yellow taxi light on 6th Avenue and West 53rd.
The CBS Building, nicknamed Black Rock, was built by famed Finnish architect Eero Saarinen in 1965. It is really dark gray, not black. This is CBS' legal and monetary headquarters: creative decisions are made elsewhere.
In back of CBS, between it and the E.F. Hutton Building, there is a pedestrian plaza where you will find Jesus Bautista Moroles' abstract sculpture called Lapstrake, installed in 1987.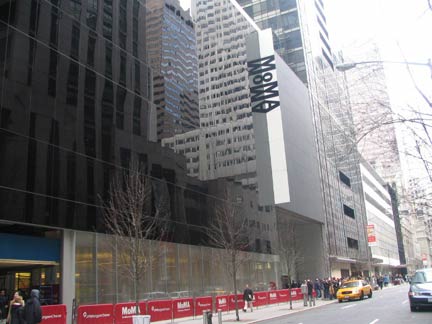 The building that formerly housed the American Folk Art Museum (it has since moved to 2 Lincoln Square, Columbus Avenue at 66th Street) is dwarfed by its next-door cousin, the newly rebuilt Museum of Modern Art, which comes complete with a $20 admission fee — which does not deter the weekend crowds in the least.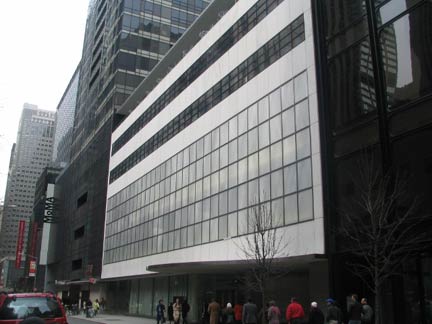 MoMA enjoyed a two-year sojourn in Sunnyside, Queens while its Manhattan HQ was rebuilt; it returned in November, 2004, not soon enough for the bluebloods who detested taking the #7 train with the hoi polloi to 33rd Street in Sunnyside. The original MOMA, left, was built in 1939 and was added to in 1951, 1964 and again in 2004.
Across the street, there was an installation by sculptor Ruth Duckworth.

Everything's "modern" here, even the subway entrance.
The French Gothic St. Thomas Episcopal Church at 5th and 53rd has to take a back seat to St. Pat's, 3 blocks south, but this church has its own charms.
The present Saint Thomas Church is actually the fourth building in the remarkable history of a great New York parish. Designed by the distinguished architectural firm of Cram, Goodhue and Ferguson and completed in 1913, Saint Thomas Church is built in the French High Gothic style, with stone ornamentation of the later Flamboyant period in the windows, small arches of the triforium, and stonework surrounding the statuary in the reredos. The flat wall behind the altar is characteristic of English cathedrals, and the magnificent reredos, one of the largest in the world, is strongly suggestive of the single, massive windows that terminate the naves of many English churches designed in the Perpendicular style. St. Thomas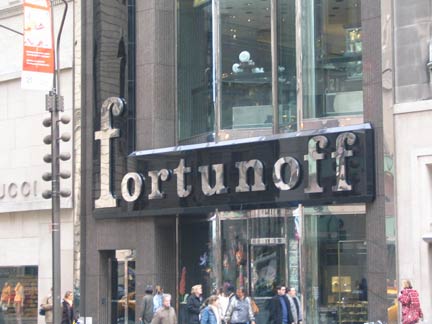 Fortunoff's, an upscale 5th Avenue store in 2005, among other locations, started out in the 1920s as a humble hardware store under the el on Livonia Avenue in East New York, Brooklyn, and while it's no longer there, a painted sign on Pennsylvania Avenue pointing to its old location still is.
After a 2009 bankruptcy, Fortunoff's no longer markets through retail stores (except for some Fortunoffs Backyard Stores, which deal in firniture), but still sells jewelry online.
Brooks Brothers first opened in the Monroe administration in April 1818, on Catherine and Cherry Streets on the Lower East Side, founded by Henry Sands Brooks; his sons were the Brooks Brothers of the company name. Abraham Lincoln wore a Brooks Brothers topcoat the night he was assassinated April 14, 1865. The flagship store is on Madison and East 44th.
HarperCollins Publishers, which published Forgotten NY the Book in 2006, has roots going back to 1817, when the house was founded by brothers James and John Harper. It merged with British publisher William Collins and Sons — itself founded in 1819 — in 1990. It has published Mark Twain, John F. Kennedy, and Martin Luther King. It is a part of Rupert Murdoch's News Corporation.
Samuel Paley Plaza, with its distinctive waterfall, was built in 1967 with a donation from CBS founder William S. Paley (1901-1990) who named it for his father. It is on the site of the former Stork Club.
The Berlin Wall came down in November 1989 after nearly three decades of razor wire and machine gun-enforced separation. 360 segments of the Berlin Wall were offered for sale by a state-owned foreign trade enterprise of the German Democratic Republic, AHB Limex- Bau Export-Import in 1990. 18 sections of the wall wound up in the USA, including two in NYC: here on East 53rd Street and at theIntrepid Sea-Air-Space Museum on West 46th Street and 12th Avenue. Other chunks are at the Ronald Reagan and George H.W. Bush Presidential Libraries. And, the men's bathroom at the Main Street Station Hotel and Casino in Las Vegas.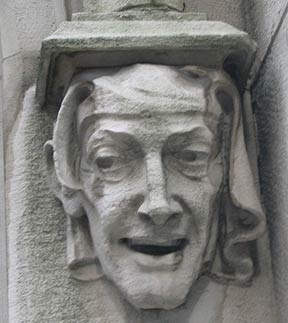 Monk detail on the Laboratory Institute of Merchandising.

The Continental Illinois [National Bank] Center, built in 1981, faces 520 Madison Avenue. It has an interesting red granite exterior that flares out as it meets the sidewalk. But I like the clock.
The AIA Guide to New York City calls 521 Madison (center building, left) "a supreme vulgarism." Everyone's a critic. I kinda like it.
Above, the glass and metal canopy facing East 53rd Street on 515 Madison.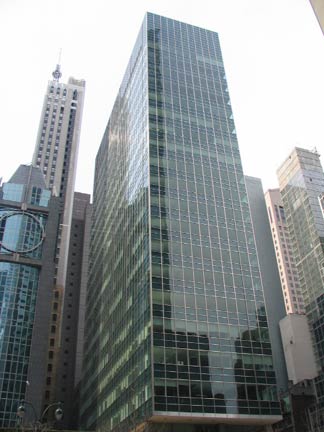 This is the one that started it all...the very first glass-box building, in NYC at least. Portland, OR's Equitable Savings and Loan Building claims the overall title. Landmarked Lever House was designed by architect Gordon Bunshaft in 1952. Its restaurant has been a 4-star attraction for many years. Many of its neighboring buildings use a complimentary pale green color scheme.
In the Lever House pedestrian plaza, you will find the strange "Virgin Mother," a 35-foot high bronze by British sculptor Damien Hirst, who specializes in daring projects. It was installed in March 2005.
Park Avenue Plaza was built in 1981 behind the much older McKim, Mead & White Racquet and Tennis Club (1918). Insurance broker Aon Corp. replaced its World Trade Center offices lost on 9/11/01 in this building, renamed Aon Center.

599 Lexington Avenue. The 47-story tower, built in 1987, was given an angular front, creating a triangular plaza in front of Citicorp, now Citigroup, Center. The glassy subway entrance was built along with the building, and the #6 and the IND Queens Blvd. lines were given a free transfer at the same time.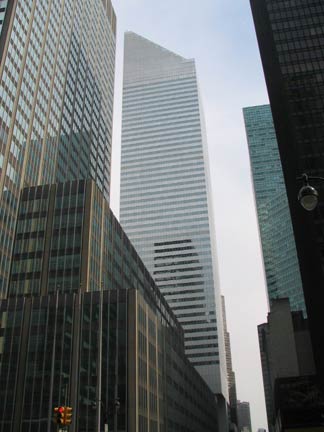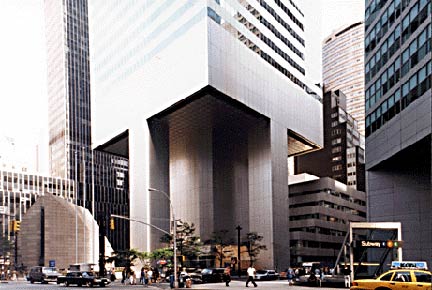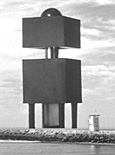 Of course, the big bruiser at East 53rd and Lex is the Citicorp Tower (since renamed the Citigroup Center). It was built between 1974 and 1977 and is 914 feet tall; its slanted roof, built to accommodate panels to collect solar energy, is recognizable all over town. When designing the base, were architects Hugh Stubbins and Emery Roth & Sons inspired by the 1957 classic Kronos, Ravager of Planets? Above photo: Cityreview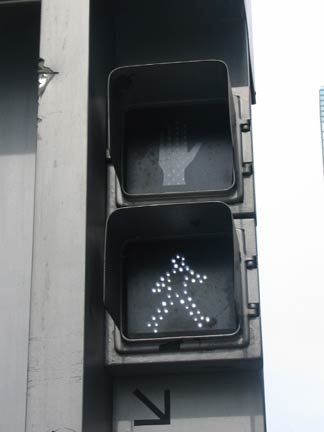 From the beginning, Citicorp has always had its own set of distinctive lampposts at Lex and East 53rd and 54th Streets. This is actually the second set of posts here, and both sets have perfectly complemented the bank's big, bad aura. Dig the paintedgreen subway sign indicating that the station is always open. These posts also have a different design of the "walk/don't walk" Hand and Walking Man, a somewhat squashed version that makes the Walking Man a little jauntier, with more pep in his step.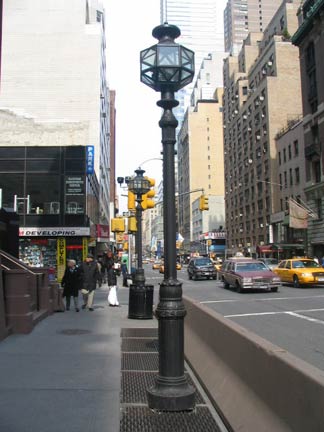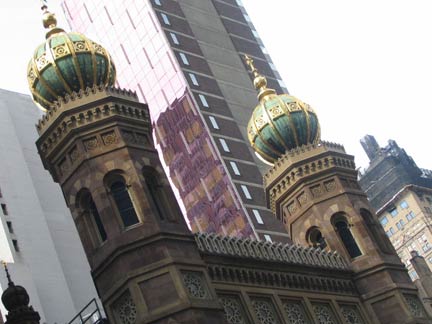 Cheating a little, since Central Synagogue is on East 55th but is easily visible from 53rd. The incredible Moorish Revival design was common for synagogues when it was built in 1872. Couldn't resist this set of distinctive lampposts out front, either.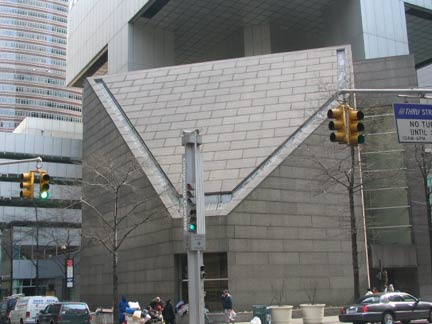 St. Peter's Lutheran Church, an 1870 Gothic revival building, was razed so that Citicorp Center could be constructed. This small building, resembling an Egyptian sarcophagus, was built at Lex and East 54th under the original contract with Citicorp.

Don't call it the Lipstick Building. Not officially, anyway; the 34-story oval tower is formally known as 885 3rd Avenue.
Its telecoped towers gave it its nickname. It was built in 1986 and designed by Philip Johnson and John Burgee. It's one of the few major towers shaped by an elliptical outline.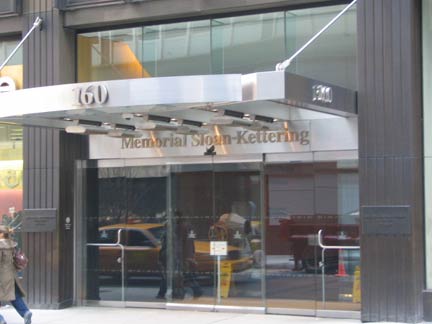 Memorial Sloan-Kettering Cancer Center's headquarters on York Avenue and East 67th Street are complemented by a branch here on 53rd and Third.
In "53rd and 3rd" on their debut LP, the Ramones described the corner in 1975 as a drug and hooker haven. Things have changed here over the past thirty years….though a hint of the old neighborhood remains, with this porno video palace on East 53rd just east of 3rd.
East of Third Avenue, East 53rd downshifts dramatically as we enter Turtle Bay. Brownstones and storefronts begin to dominate, but you can look back and see how 885 Third and Citigroup tastefully overshadow the architecture of a previous age.
Meanwhile, Long Island City gets closer.

Seicho-No-Ie (Japanese for "truth of life") is a denomination founded by Dr. Masaharu Taniguchi in 1930. It has centers throughout the world, especially among Japanese emigres to Brazil.
Hopefully, this building at the SW corner of 2nd and East 53rd can be rehabilitated.
[2012; It hadn't; a high rise now stands on the corner.]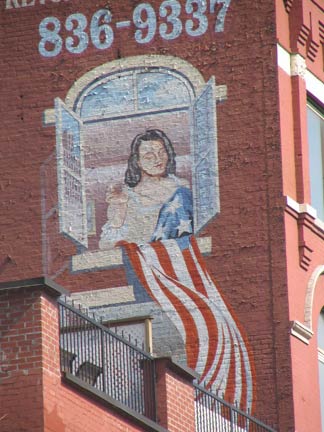 Betsy Ross, representing a storage firm, looks over 2nd Avenue. A pair of 1860s clapboard town houses at 312 and 314 East 53rd have somehow survived, though they've been endangered in recent years.
East 53rd, in addition to the wood townhouses, also has some very eclectic masonry buildings, including the Regents Club, center. The new building is a candidate for a proposed FNY page called "Great Escapes" in which the city's most distinctive fire escapes would be featured.

Your webmaster last drank at Parnell's in 1983, and yet it has survived for over 2 more decades. The tavern's namesake Charles Stewart Parnell (1846-1891) was an indefatigable proponent of Irish Home Rule as a member of British Parliament in the 1880s.
The Mayfair is closed, and you better not feed the pigeons.

We've made it from west to east. East 53rd street ends at Sutton Place South, one of NYC's more redundant streets. After all, Sutton Place runs from East 56th north to East 59th…north of that it's York Avenue…but the stretch below that, from East 53rd to East 56th, is called Sutton Place South. Why not call it Sutton Place for its whole length? Why not call it York Avenue? Or…why not call it Avenue A, which is what it was called when it was laid out in the 1800s?
With the aid of the Forgottenzoom, we focus on the southern end of Roosevelt Island, where ruins of the Smallpox Hospital, built in 1856, remain inaccessible to the public except on special tours. Visitors can view it from the outside, but the interior has yet to be made safe for the public. Unusually, it is well-lit at night and its ghostly outline can be readily seen from Manhattan after dark.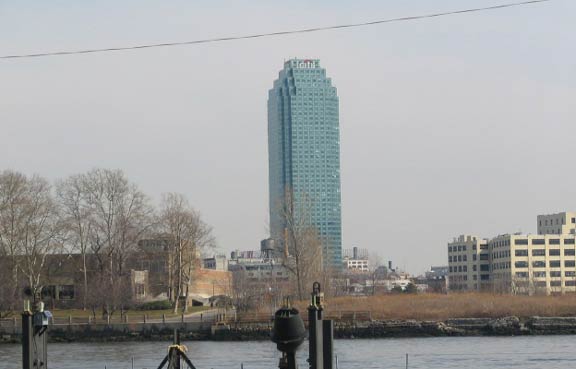 We're close enough now that we don't need the Forgottenzoom to shoot Long Island City's 50-story, 658-ft. tall Citicorp, or Citigroup, Tower. Citibank recently announced that they're selling the building, but will retain offices there. It is the tallest building on Long Island and seems even taller because it isn't surrounded by tall friends.
A look across the FDR Drive to the East River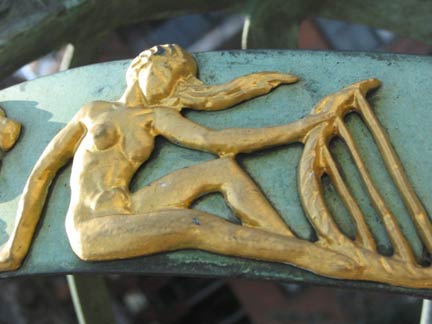 I think this horoscopically-themed globe somehow works as a sundial but I'm not sure. We leave you with a comely Virgo.
Forgotten Fan Will Flor says this is indeed an Equatorial Ring Sundial.
Sources:
Historic Shops & Restaurants of New York, Ellen Williams and Steve Radlauer, Little Bookroom 2002
BUY this book at Amazon.COM
AIA Guide to New York City, Norval White & Elliot Willensky, Three Rivers Press 2000
BUY this book at Amazon.COM
3/26/2005, rev 2012