The last of Ravenswood's farmhouses, seen on the title card, was torn down in the unstoppable name of development in mid-2004. It stood at 31st Drive and 12th Street.
NEVERMORE will there be any more farms in Ravenswood, a tight section of western Queens arrayed along the East River between Keyspan's Big Allis generating plant, just south of the Roosevelt "Welfare Island" bridge at 36th Avenue, and Hallet's Cove at the northern end of Vernon Boulevard, an aboriginal Indian trail laid out as a toll road in 1840.
Like most of New York City's other neighborhoods, Ravenswood was first settled by the Dutch when Captain Francis Fyn acquired what would later be called Roosevelt Island and the strip of land facing it across the East River on Long Island in 1651. That island's namesake for decades was Robert Blackwell; his mansion on Blackwell's, now Roosevelt, Island still stands, and his son, Jacob, built an imposing dwelling on the East River at about today's 37th Avenue in 1744 that was razed in 1901.
A group of impressive mansions was arrayed on Vernon Boulevard (neé Avenue) in the mid-1800s, none of which remain today. The area came into its own as a residential area in the 19th century but only after NYC had bought up land in the 1840s and proceeded to build orphan asylums and smallpox hospitals. In 1845, angry Astorians burnt the smallpox hospital to the ground, and the asylums found a home on Blackwell's Island.
Colonel George Gibbs had acquired some waterfront property as early as 1814 and intended to create a private residential park. he died in 1833 without fully realizing his dream. It is thought that around this time, the name Ravenswood was introduced by prominent clergyman Rev. Francis Hawks in honor of his friend, John Ravenscroft, the Episcopal bishop of North Carolina. after it was gently suggested to the reverend that the bishop might not want his name attached to so obscure a property, Hawks changed it to Ravenswood. Gibbs' property was sold to developers in 1848 to four prominent NY investors, who quickly began to build it up. Over time, a street grid was built and Sunswick Creek, which ran through the area, was filled in (Sunswick likely derives from an Indian word meaning "chief's wife's place").
Over time, manufacturing pushed out the waterfront mansions. Today, Ravenswood is highly residential but not along the waterfront, where a couple of manufacturing concerns persist. In the past decades, riverfront property has been reclaimed as parkland (see Socrates Sculpture Garden and Rainey Park, below).
Did macabre master Edgar Allan Poe ever live in Ravenswood? Given the name of the neighborhood, it's tempting to think so. Poe lived in NYC in 1837 and again from 1844 to 1849, the year of his death: he lived in at least two residences in Manhattan, both of which have now been razed, as well as the still-extant "Poe Cottage" in Kingsbridge, a part of Westchester County in Poe's time but now in Fordham in the Bronx. An intriguing mystery is this photograph taken in about 1894 in the collection of the Greater Astoria Historical Society…

The exact location isn't listed in the book from whence it came. I tend to think the information is erroneous, since I can find nowhere else referenced that the composer of The Raven lived in Ravenswood: but the area didn't begin to become residential until 1848. It's a interesting thought, though.
Poe Cottage can be seen on the FNY page Takin' the Bronx by 'Course: A Walk on the Grand ConcourseThe above picture, courtesy of the Greater Astoria Historical Society, is captioned:
"In the above picture we have a view of the home, while engaged in literary and magazine work in NY of that erratic genius E A Poe. The locality of this home of the poet is Ravenswood, a little to the NE of LIC and south of Astoria. Here, and at Fordham, the poet found a residience and composed some […] weird stories of the marvelous character of his brillant but short-lived and unhappy life." –from A Tour of the New World, edited by Prof. George Cromwell, C.N. Grieg & Co., London 1894
Alas, it was a cool idea, but Poe never lived here after all, and Cromwell was wrong. Michael Deas, author of The Portraits & Daguerrotypes of Edgar Allan Poe, writes:
Just wanted to let you know that the information about Edgar Allan Poe's house in Ravenswood, with a photograph from the Greater Astoria Historical Society, is only partly correct. The house shown, which was built on a high outcropping of rock, is in fact the Brennan Farm, where Poe lived with his wife in 1844-45.
The house was located on 84th and Amsterdam in Manhattan, near Riverside Park. It was here that Poe put the finishing touches on "The Raven," which is probably how the photograph became erroneously associated with Ravenswood, Queens.
The house was demolished decades ago, though the fireplace mantel is supposedly still preserved up at Columbia University.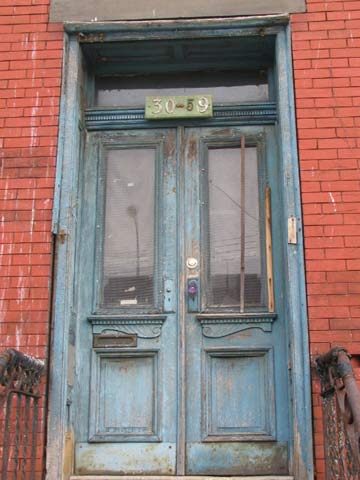 Some of the old flavor of Ravenswood can be seen in this one house on 12th (formerly Sherman) Street; its original appointments are still found on the house, which apparently hasn't been touched since the 1940s at least. Even the bluestone sidewalk is decades old. Has Hopper been here?

One of Ravenwsood's few remaining mansions, this was one of the smallest, on Camelia Street, now 31st Drive.
Ravenswood's last farmhouse, at 12th Street and 31st Drive, was razed in 2004 in favor of a multi-family brick dwelling.
The practice is happening all over Queens as perfectly viable buildings with history are being destroyed by developers with no historical sense.
Appreciate your city: it won't be there tomorrow.
At 12th Street and 30th Road you will find a decorative lion and stone orb in front of a corner building: traces of Ravenswood's former grandeur.


The old Sohmer Piano Factory at The Boulevard and Jamaica Avenue (today's Vernon Blvd. and 31st Avenue) is now in a tug of war between preservationist organizations who would like to see the building unaltered, and the Adirondack Chair Company, the present occupant, that fears the property value of the brick building, constructed in 1886, would go down if it is landmarked.
The clock tower, inside and out. Queenswest.com:
Its original copper roof was replaced with tin, and then painted green some years ago. John Pupa, vice president of operations for Adirondack, said the tower was in severe disrepair, due to leaks and mold. He said that if repairs had to be made according to the landmark designation, it would be too expensive for them to survive.
Adirondack no longer heats the building with coal but it still must maintain its old Hewes and Phillips coal-burning oven and take coal deliveries.
From Made in New Jersey by John Cunningham (1954): "Hewes & Phillips were Newark's major machine maker throughout the nineteenth century. Both partners, J. L. Hewes & J. M. Phillips, served as apprentices under Seth Boyden. They 'struck out on their own' in Newark in 1846 & by 1874 employed 400 men. They turned out products valued at more than $300,000 annually (a huge figure for 1874). Hewes & Phillips achieved worldwide markets; their steam engines, boilers & mining machinery went directly from the big plant beside the Passaic River into holds of steamers anchored at the H & P dock. Long trainloads of machinery left Hewes & Phillips headed for the gold & silver mines of the West."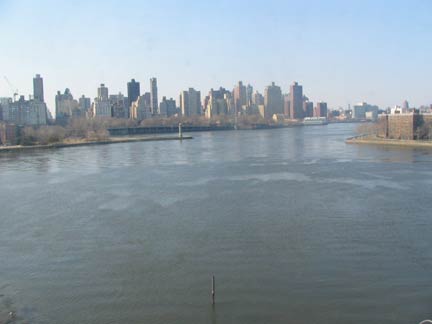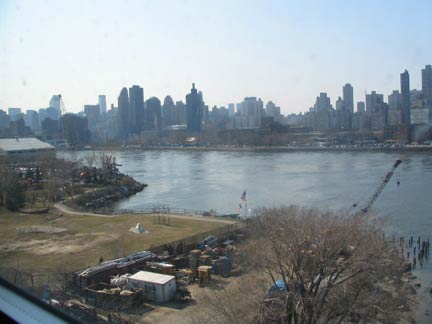 The views from the top floor of the old Sohmer are no less than spectacular. LEFT: Hallett's Cove and the northern tip of Roosevelt Island. RIGHT: Socrates Sculpture Park (see below).
Original 1886 staircase and window from the Sohmer factory.
The Socrates Sculpture Garden isnamed in tribute to its proximity to Greek-flavored Astoria. This waterside area along Vernon Boulevard between Main Avenue and Broadway was a dumpsite until it was "rescued" in 1986 by a coalition of artists/activists headed by Mark di Suvero. It now works both as an outdoor workshop for aspiring artists and as a waterside park.

Exhibits change frequently but a recent visit provided views of a wall filled by what looked like Delft pottery tiles screened with images of Colonel Sanders and Chairman Mao; the pediment from the top of one of the old brick buildings in the neighborhood detached and placed on the ground; what looked like plaster casts of human torsos and rear ends arranged around a pile of hay bales; a large group of human-sized plaid doughnuts; and other bizarre images. Lots of fun!
The entrance on Vernon Blvd. is overshadowed with a semi-erotic painting vaguely at odds with the DIY art inside the garden, but who's complaining.
Across the street from the Socrates Sculpture Garden, at Vernon and Broadway, you will find a museum dedicated to Japanese-American expressionist sculptor Isamu Noguchi (1904-1988). Though born in Los Angeles, Noguchi spent most of his childhood in Japan before attending Columbia University to study sculpture. Among his more notable works are the bridge in the Peace Park in Hiroshima, sunken gardens for the Beinecke Library at Yale University at New Haven, the Billy Rose Sculpture Garden in Jerusalem, and Moerenuma Park in Sapporo, Japan. Noguchi also designed stage sets and furniture pieces.
250 of Noguchi's works are on permanent display here, including stone, bronze and wood sculpture, "Akari" paper and bamboo light sculptures, his sets produced for choreographers Martha Graham and George Balanchine, and a beautiful, relaxing outdoor garden.
photos: bridgeandtunnelclub.com 
Queensbridge Park, on Vernon just north of the Queensboro, has an unusual park house with semicircular porticoes. The park was created in 1939 in the shadow of its namesake bridge. The park house must have been something before time and neglect trashed it.
Older buildings frequently have two dates, in this case, 1888 and 1926. What could they mean?
Greetings, Gate! We doubt Colonna & Co., on Vernon just south of Rainey Park (named for an early champion of the Queensboro) has anything to do with goggle-eyed 1940s comic Jerry Colonna (1904-1986), but this is a good chance to use his picture.
"Ah yes…dopey, isn't it?"
This somewhat incomplete Ravenswood page was photographed in the spring and fall of 2004. Text written April 6-9, 2005.
Reach your webmaster at erpietri@earthlink.net
©2005 Midnight Fish
Thanks to Bob Singleton of GAHS and Randy Mittasch of Adirondack Chair Company for their assistance with this page