WHETHER it wants to admit it or not, the Department of Transportation's main function is the movement of motor vehicles; to enable them to move as quickly as possible. That means synchronized stoplights that are calibrated to provide uninterrupted passage for a lengthy distance. Such traffic lights often provide two minutes of green for the vehicles on the main road, and twenty seconds for pedestrians attempting to cross it.
The situation has given rise to Queens Boulevard's moniker, "Boulevard of Death." Dozens of pedestrian fatalities have been recorded on it; and while the DOT has made adjustments to Queens Blvd. (mainly fencing to avoid jaywalking) that have helped slow the carnage, fatalities still occur.
On this Forgotten NY page we'll view the Boulevard, while avoiding the honking, death-dealing devices.
Full disclosure: your webmaster doesn't drive, because I am a yellow-bellied, lily-livered coward, though I recognize the value of the internal combustion engine. I use mass transit and bum rides from friends, but my feet and bike get me a lot of places. It would be hypocritical of me to say that I don't endorse the value of motor vehicles. However, I cannot identify with the POV of high-performance vehicle TV commercials that surmise that males want to get in cars and drive like it's the Brickyard at Indy. I'm too chicken for that. That said, let's walk, I said walk, down Queens' 10-lane behemoth.
QUEENS BLVD., SUNNYSIDE [Google map]
Queens Boulevard begins at Queensboro Plaza, where Northern Boulevard, running to Orient Point, Long Island, begins its journey east, Jackson Avenue runs west to the East River, and the Queensborough Bridge runs to Manhattan.
It is initially shrouded under a tangle of el trains that was noted by F. Scott Fitzgerald in The Great Gatsby. The IRT and BMT come together here; the junction is also known, by a very small sign mounted on a pillar, as John F. Kennedy Commuter Plaza. Queens Boulevard partially spans the Sunnyside Yards on the CN Bridge, named for the manufacturers of CN cleaning fluid, formerly located nearby.
Queens Boulevard runs between Long Island City and Jamaica. Unlike roads like Eastern and Ocean Parkways in Brooklyn and the Grand Concourse in the Bronx, it wasn't built as a grand carriage road, but is an amalgamation of roads that previously existed.
1910 was a big year for both mass transit and motor commuters. Penn Station, the LIRR's big foray into Manhattan, was opened that year, as well as Sunnyside Yards, the vast Queens trainyard complex that accommodates it. It was the year after the opening of the Queensboro Bridge, and while auto vehicles were still not yet the prime means of transportation they were beginning to catch on quick. That year, Queens Boulevard was opened from the Bridge Plaza to Elmhurst, assuming the route of older routes: Thomson Avenue, that had appeared as early as 1873; and Old Jamaica Road, an even older trace. East of there, it would take over Hoffman Boulevard's old route. It would be expanded to eight lanes by 1920, as cars became much more frequent.
The IRT Flushing Line runs on a magnificent concrete viaduct along Queens Boulevard between Van Dam Street and 48th Street. It was built in 1917 under the direction of Cornell-educated Squire J. Vickers (1872-1947), an architect and painter who was, in large measure, responsible for the look and feel of all subway stations built for the IRT, BMT and IND between the 1910s and late 1930s.
The concrete viaduct is 4,271 feet in length and contains 20,000 square feet of ornamental colored tile, most of it arrayed along the top of the viaduct just below the tracks. It had been changed little since its construction except for a slow, steady decline; in the 1990s the entire trackbed was replaced and the viaduct was beautifully rehabbed.
Q Is For Queens
Since the viaduct's rehabilitation in the 1990s, the 33rd, 40th and 46th Street stations have featured ornamental glass murals depicting Queens scenes. The project, known as "Q Is For Queens," is by artist Yumi Heo and depicts Queens-related subjects in A-Z order… but I'm stumped about the scenes some of the panels depict.
I have figured out all the windows except for C, E, H, V, X and Y.
A is for Aqueduct Race Track
B is for the Queens Botanical Garden
A guess, but C may be for Colombia; the scene depicts musicians and dancers; there are many Colombian immigrants in Woodside and Corona.
D is for the Hong Kong Dragon Boat Festival, held every August in Flushing Meadows-Corona Park.
E might possibly be for Ecuador.
F, obviously, is for the World's Fair of 1964-65, since it depicts the Unisphere.
G is for Ganesh Temple, the wonderully ornate Hindu temple on Bowne Street in Flushing. The Sanskrit symbol for the word 'om' is on the right side.
H? A blank. Lots of folks standing around in what seems to be ethnic costume.
I.  Isamu Noguchi Museum in Astoria.
J is for Jamaica. We see the 1913 Jamaica LIRR station, and native Americans, likely the Jameco Indians that gave the town their name.
And so on. Much clearer pictures can be seen at nycsubway.org. I or Christina have identified K as the Korean Harvest Festival; L shows a library; M is the American Museum of the Moving Image; N seems to show a parade scene from Asian Lunar New Year; O is Onderdonk House in Ridgewood; P is PS 1 in Long Island City; Q is Queen Catherine of Braganza, possibly for whom Queens is named (a number of historical research groups, having done extensive research, have found no evidence of that and dispute this theory); R is Rockaway Beach; S is Shea Stadium; T is Thalia Spanish Theatre in Sunnyside; U is the United States Open Tennis Tournament; W is the now-deceased Weeping Beech Tree in Flushing; Z is the Queens Zoo. The others? Can you guys help?
Giuseppi Verdi's 1851 opera has had a plaza named after it with an extra L on 34th Street and Queens Blvd. as long as I remember.
Lowery's is named for 40th Street's old name. The stations on the viaduct still faithfully note Rawson (33rd) Lowery (40th) and Bliss (46th). Queens became mostly numbered streets in the 1920s.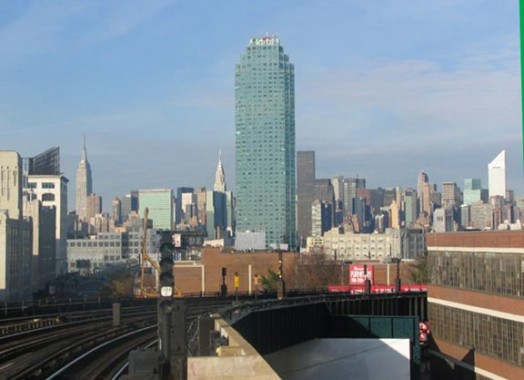 From the platform at 33rd Street, looking west: the industrial buildings of Long Island City, with the looming Empire State; and the soon to be renamed Citicorp Building, Long Island's tallest, flanked by the Empire State and Chrysler Buildings, the Trump residential tower on 1st Avenue, and the Manhattan Citicorp building with its distinctive slanted roof.
Few neighborhoods have their very own entry arch, but Sunnyside does, at 46th and Queens Blvd. The Art Deco-styled arch is so uncool, it's hip from the other side. It was erected in 1983 by the long-gone Gateway Community Restoration Development Corporation, but relighted and repaired for a cool $450,000 in early 2005.
At 48th Street and Greenpoint Avenue, the concrete el arch gives way to more standard-issue el ironwork and the Flushing Line continues east under Roosevelt Avenue, an extension of Greenpoint Avenue. The road is a direct connection between Greenpoint and Flushing, two neighborhoods that otherwise have little in common. Here, Queens Boulevard gains a couple of lanes and really becomes Queens Boulevard, beginning a bruising journey to Jamaica.
QUEENS BLVD. IN WOODSIDE [Google map]
No neighborhood in New York City is quite complete without an old Childs' Restaurant; the early 20th Century chain built dozens of restaurants all over town. seafood was the specialty, and the caducei-resembling seahorse motif was the firm's trademark. The terra cotta work at many of these restaurants continues to defy the intrusions of the modern world. This one is at 60th Street.
Queens Blvd. here is lined with motels and automotive repair places. Lady Liberty can be found at the Queens Motor Inn at 63rd, and other ladies could be found at the Nickels nudie bar at 69th Street.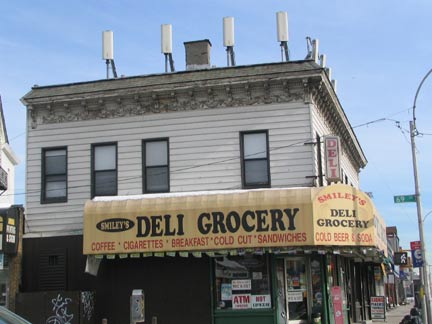 Probably one of Queens Blvd's earliest buildings from the 1910s at 69th Street has been despoiled with cell phone towers, a fate of many of NYC's buildings of late.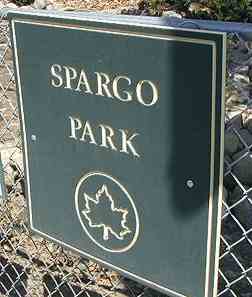 A forlorn-looking little wedge of green at the BQE, 68th Street, and Queens Blvd. is Spargo Park, named for Robert Moses' right-hand man, George Spargo, who worked as the "Master Builder"'s aide-de-camp in a variety of roles, from the mid-1920s through 1964. He was fired when he crossed the boss about the World's Fair finances.
[by 2012, the signage and park had been removed]
Queens Boulevard is crossed in Woodside by three handsome railroad overpasses built in the 1910s: the Long Island Rail Road main line and Port Washington branch and the New York Connecting Railroad, a freight line.
Such design detail would likely not be done today if a railroad were building here.
The Wat Buddha Thai Thavornvanaram of New York Temple isn't on Queens Blvd: it's on 46th Avenue and 76th Street but is visible from the Blvd. The beautiful building is well worth a visit.
Queens Blvd. has at least two animal hospitals, one on 77th Street in Woodside and another in Briarwood.
Play Lounge's new yellow-green exterior seemed likely for a tagging when I went past in February 2005.
QUEENS BOULEVARD: ELMHURST [Google map]
Early British colonists in Maspeth were chased out by angry Native Americans, and eventually moved further east, where Queens Boulevard meets Broadway today. Eventually, the name Newtown was applied to the, er, new town. By the mid-1800s, horse cars and eventually streetcars began to bring in people from all over, and when Cord Meyer developed the area in the 1890s, he lobbied for a higher class name…Elmhurst. Strangely, the IND subway, which arrived in 1936, keeps the Newtown name at a station, and Newtown High School retains the old moniker, as do a pair of roads in Astoria that were formerly main thoroughfares leading to the town.
Both the King and Clown of Burgers have the same idea of what the kiddies want as a time-waster while the adults eat food product: a multi-colored twisty thing that looks like something Irwin Allen's prop department would come up with for an alien or sea creature on Lost in Space or Voyage to the Bottom of the Sea.
This handsome brick building on Queens Boulevard near 51st Avenue was once the largest Elks Lodge on the East Coast, with 60 rooms, bowling alleys, billiards, a ladies' lounge, and a 50 foot bar (this was built in the teeth of Prohibition in 1924!) The Elks don't own the old place any more, it's been sold to the New Life Fellowship, a Korean church organization, but at least the building is still around and the Elks are tenants. The Ballinger Company designed the granite, limestone and brick structure dominated by a now-verdigris-covered elk at the front entrance.
The "Benevolent and Protective Order of the Elks" is a fraternal organization numbering over 1 million members nationwide in over 2100 "lodges." Charles Vivian founded the "Jolly Corks," a social organization to help families of members in need, in 1867; the Jolly Corks became the B.P.O. Elks the following year. The Elks Lodge played host to E!C!W! Wrestling in the 1990s.

Instead of taking real steps to slow down the roaring, pedal to the metal Queens Boulevard traffic, or providing under-or overpasses with elevators here and there, the DOT has installed signs admonishing pedestrians, and installed fencing to prevent jaywalking. You're on your own, bubs!
In the Swingin' Sixties, Queens Boulevard in its Elmhurst stretch became experimental territory for ambitious architectural firms stretching their wings, inspired, no doubt, by the New York's Second World's Fair in Flushing Meadows in 1964 and 1965. As a matter of fact, Queens Boulevard for a few blocks is much more experimental than Manhattan, where architects have usually played it pretty safe in the 20th Century.
Macy's bought up all the real estate in the irregular block bounded by Queens Boulevard, 55th Avenue, 56th Avenue and Justice Avenue to build a new store here… all of it except the corner of Queens and 55th, where Mary Sendek's house and property stood. Mary and her husband Joe Sendek had bought the property in 1922 and had been there ever since, and Mary continued to live there after Joe died and the kids had moved out. The house was her life, and she couldn't be budged, even after Macy's offered her five times the value of the land! Defeated, Macy's simply cut a notch in the new building to avoid the Sendek property. When Mary died in 1980, her estate sold the property and a commercial building now stands on the site.
George Jetson would feel at home in this setting.Take the North Fork Bank building at about 55th Avenue. Designed and built for Jamaica Savings Bank in 1968 by William Cann, it sort of looks like a Stealth bomber a couple of decades before the bomber appeared.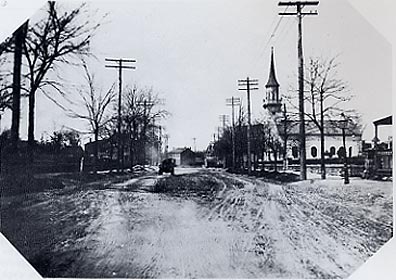 LEFT: Queens Blvd. and 55th Avenue wasn't space age in 1903. The 1787 Presbyterian Church was torn down, probably when the boulevard was widened. At this point, Queens Blvd. was known as Old Jamaica Road.
Photo from Old Queens, NY in Early Photographs, Vincent Seyfried and William Asadorian.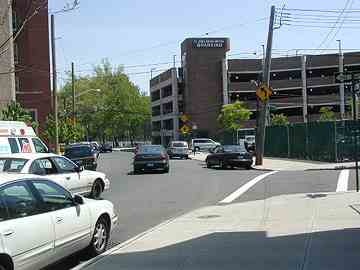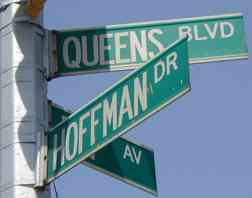 There's a crooked lane bending away from Queens Blvd. at 57th Avenue and bending back to meet it at Woodhaven Blvd. Named Hoffman Drive, it's all that remains of Queens Blvd's predecessor, Hoffman Boulevard, laid out between Newtown and Jamaica in 1873 and named for New York State Governor and earlier, NYC Mayor John T. Hoffman, who won two elections as a Tammany Democrat in 1865 and 1867. Since Queens would not be a part of NYC until 1898, why a major boulevard was named for a NYC mayor is rather curious. Hoffman Drive represents a bend in the road that was left behind after the main boulevard was widened in the 1910s.
The Elmwood Theatre, at Queens Blvd. and 57th Avenue, took its name in 1948 from the two neighborhoods it served: Elmhurst and Woodhaven. It was designed by John Schladitz and built in 1928 as the Queensboro, in the thick of the era of grand movie palaces, with twinkling stars and floating clouds on the ceiling similar to those at the Loews Paradise in the Bronx. It showed its last picture in 2002 and after a plan to convert it into an18-theatre multiplex fell through. It is currently a neighborhood church.
QUEENS BOULEVARD in REGO PARK and FOREST HILLS [Google map]
Two o'clock straight up, time for a late lunch at the Tower Diner at 99th Street in a former Emigrant Bank building.
This chrome and glass classic at 67th Avenue is now the Bank of America, but it's been Fleet, National Westminster, and Bank of North America. Everything old is new again…
The Trylon and Perisphere, the obelisk and sphere symbolic of the 1939-1940 Wold's fair in Flushing Meadws, were converted to war ordnance soon after the Fair was demolished. However: there were, till 2005, still representations of the Trylon that date back to when the Fair was open.
The Trylon Theatre was built in 1939 by architect Joseph Unger with a distinctive arch-shaped marquee along similar Streamline Moderne lines. The Trylon closed in 1999.
I shot these photos in November 2004. In a cinematreasures.org listing in August 2005, I see:
Sadly, the property is now undergoing profound alteration for its new use as a social services facility for the Bukharian community. At this writing, the entrance pavilion has been walled off, façade features have been destroyed, and the interior is being gutted. Original painted murals, decorative tilework depicting the Trylon and Perisphere (the 1939 New York World's Fair symbols), and marquee elements have all been destroyed and no salvage is being conducted.
Uncaring bureaucrats have once again demolished a last trace of classic New York…
Take the time to inspect the mural on the corner of 71st Road: the Commerce Bank exterior depicts scenes from surrounding Forest Hills. Why'd they place it so high, though? It's a little hard to make out.
I wonder if this was retained when Commerce became TD Bank.
I generally don't care for hi-rise architecture, at least in its Le Corbusier-style incarnations as boring towers in a park. But Queens Blvd's hi-rises have a certain flair, a certain style.
Both these towers are in the vicinity of Lefrak City, and the LeFrak Organization has its HQ here on Queens Blvd. That complex in Corona (just north of the Long Island Expressway) was built by the Samuel Lefrak Organization between 1960 and 1969. In a bid for sophistication, Lefrak capitalized the F in his name in later life.
There's a putative movement to get the Forest Hills Ridgewood Savings Bank, just west of 108th Street, landmarked; it was built the same year as the Trylon Theatre, 1939. It has a collection of unique sidewalk lampposts, as many banks do.
Photographed 11/04, 2/05 and 7/05, page completed 8/28/05