NEED ANY MORE proof that New York City is a strange and occasionally confusing place…that it can occasionally baffle anyone looking for common sense in urban planning…or a place that can give urban explorers fits of head scratching? Take a look at Edgemere on the Rockaway peninsula, whose mile after mile of ocean beach front has been left to rot.
Edgemere, at least in the part of it south of the elevated, presents what would appear to be a developer's dream: an endless vista of sea and sky along the Atlantic Avenue; south of here your next landfall is Central America. In a sane world, it would be lined with parks and nature trails; or, perhaps, amusement areas rivaling Coney Island; or even gambling meccas like Atlantic City. Instead, this is reality in Edgemere…
Sand dunes, weeds and forlorn, unwired telephone poles punctuate Edgemere, with high-rise devlopments in nearby Far Rockaway looming in the distance…
A century ago Edgemere's streets were lined with gracious beachfront hotels and more modest houses and bungalows. In 1892, Frederick J. Lancaster, heading a group of investors, purchased a wind-whipped, barren stretch along the Rockaway peninsula just west of Far Rockaway, which had already been established. At the time, ironically, it was just as empty as it is today with the exception of an artifical canal, Nortoin's Creek, that bisected the region.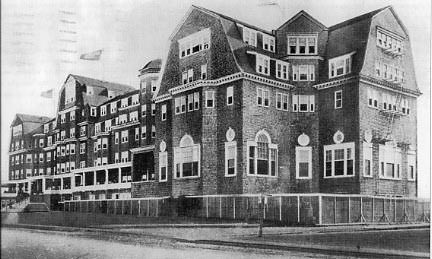 Lancaster opened the Edgemere Hotel at Beach 35th Street in 1895. A clue about why Edgemere has fallen into disuse can be obtained from the story of the lavish hotel, which was buried under tons of sand from a big storm that struck just one year after the building opened. It reopened the next year after two bulkheads were built and Norton's Creek was drained.
Though Edgemere (whose name literally means at the sea's edge) was downplayed for the most part as a seaside resort area, with the lion's share of summer vacationing areas being concentrated in Far Rockaway, the majestic Hotel Lorraine was constructed at Beach 36th Street and Sprayview Avenue by Henry Holt in 1908, featuring a telephone in every room, a dance band and golf, and by 1910, electric elevators and hot & cold running water, all of them innovations at the time. The photos above were taken in 1935 (left) and 1925 (right). Robert Moses tore down the Lorraine in 1941 for a parking lot, itself now under sand and weeds.
The summer hotels are gone and these days you will find an odd scene with sandy, weedy lots punctuated with paved roads that the Department of Transportation dutifully identifies with street signs.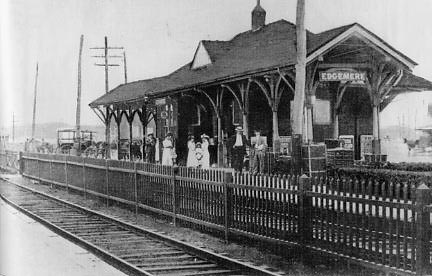 The Long Island Rail Road arrived in Edgemere in the 1890s, with stops at Wavecrest (Beach 25th), Edgemere (Beach 36th), Frank Avenue (Beach 44th), Straiton Avenue (Beach 60th) and Gaston Avenue (Beach 67th). The line ran at grade between Edgemere Avenue and Rockaway Beach Boulevard until 1942, when it was elevated along a lengthy concrete elevated trestle with a new roadway, Rockaway Freeway, constructed beneath it. After a fire destroyed a LIRR bridge in Jamaica Bay in 1950, the NYCTA purchased it for $8.5M and then ran subway service along the line beginning in 1956 (though it cost a double fare until 1975, when the fare was raised to 50 cents).
TOP: Edgemere station in 1914
photo: Glenn Rowe. From nycsubway.org
These views are admittedly deceptive. The IND Rockaway Branch, seen here at Beach 36th, serves a thriving area north of the tracks, with single family homes, Peninsula Hospital, and the Edgemere Houses between Beach 51st and Beach 58th Streets.
From the boardwalk, however, this looks like a train to nowhere.
As we've said, in the early 20th Century Edgemere developers concentrated more on residential living than on resorts or amusement areas, though there were oceanside hotels like Norton's Half-Way House at Frank Avenue (halfway to Far Rockaway we presume) as well as the Belvedere, Frontenac, Coronado, and Shelbourne. Street after street was filled with cottages catering to summer boarders.
However, there were more permanant residences built like the ones above left, on Frank Avenue (Beach 44th). Note the open porches and numerous windows from the pre-air conditioned era. On the right, bungalow dwellers practice their golf game on the Beach 40th Street sidewalk; they were built around 1915.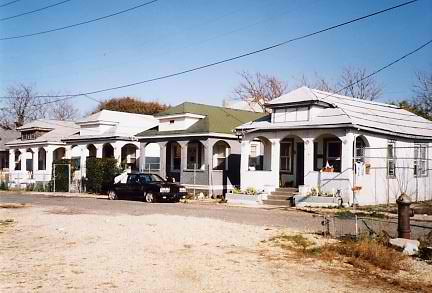 Though the Edgemere bungalows were plowed under long ago, some surviving examples can be spotted throughout the peninsula, especially in a concentrated area from Beach 25th-28th Streets south of Seagirt Avenue. This fast-disappearing enclave was featured on the PBS special "A Walk Through Queens" with David Hartman and Barry Lewis, and the homeowners have their own organization, the Beachside Bungalow Preservation Association.
Above, bungalows on unmapped Marvin Street near Beach 28th.
A couple of views of the beach at Edgemere in about 1920, and what the scene looks like at present. Only the stone jetties give any clue that there used to be piers here.
The boardwalk stretches from Beach 9th Street in the east to Beach 126th Street in the west, making it among the longest on the East Coast. It is officially known as Ocean Promenade. For about 30 blocks it stretches through near nothingness with the occasional ramp to nowhere.
(TOP) What should be one of NYC's premier seaside playgrounds lies barren and empty; the sign is emblematic of the region's seeming inability to do anything about it.
There are so few structures along Edgemere Avenue and Rockaway Beach Boulevard that small, freestanding billboards attempt to catch motorists' attention with ads for products or charities.
Can Edgemere be brought back south of the el? Various plans are out there, most of which call for residential development. This should be an amusement area, a playground, a mecca for sea, sun and sand. If Atlantic Beach amd Long Beach, which aren't very far away from here, can be summer fun spots, so can Edgemere. It has subway service that can feasibly be converted to a super-express from Manhattan or Brooklyn. Unlikely NYC neighborhoods have made comebacks, like the meatpacking area and Williamsburgh. Those however were brought back by trendseekers looking for the next big thing; they came and stayed, bringing unaffordable hosuing costs with them. Seaside development should be done without the privileged few occupying the shoreline and leaving out the less lucky.
SOURCES:
Old Rockaway, New York in Early Photographs, Vincent Seyfried and William Asedorian, Dover Publications 2000
BUY this book at Amazon.COM
©2005 Midnight Fish
erpietri"@"earthlink.net
All black and white photos on this page taken from the book cited above.