Manhattan may have its Canal Street, built over a former waterway draining the equally lost Collect Pond, but Brooklyn has its very own waterway known as the Gowanus Canal bisecting the neighborhood of the same name (which means, depending on what source you use, "a young or small pine," or "the sleeper" in the Delaware Indian language).
Other sources have the area named for Gowane, purportedly a sachem of the Canarsee Indians. The name "Gowanus" first appears in Dutch documents in 1640 and was first affixed to a bay, a creek and a piece of land in the area called South Brooklyn for many years due to its position south of Brooklyn's original village located where Brooklyn Heights is at present. (We'll get into the neighborhood history on a future Forgotten NY page though).
According to gowanus.org, the canal is quite old: it was begun in 1849, other accounts say 1855 (finished in the 1860s) by narrowing its predecessor, the Gowanus Creek, into a one and a half mile long commercial waterway to provide commercial access to Gowanus Bay. Developer Edwin Litchfield formed the Brooklyn Improvement Company for the express purpose of dredging the Gowanus Creek, then a fresh stream, and making it navigable. With the creation of the new waterway, barges brought in sandstone from New Jersey that was used to build the beautiful brownstones that today still line the streets of surrounding Boerum Hill and park Slope. Unfortunately the buildup of the area contributed to the pollution of the canal, which would go on for over a century: the surrounding area's raw sewage would be pumped directly into the canal, and the new gasworks, coal yards and soap factories along the canal's length also dropped tons of pollutants directly into it as the years went by. As early as the 1880s the canal was foul and miasmic and its color had changed to a dark Pepto-Bismol shade, prompting locals to call it "Lavender Lake."
Present-day Google Map of the Gowanus Canal area
The day after Thanksgiving in 2005, the weather was clear and cold and I decided to circumambulate the canal from its northeastern limit at Nevins and Douglass Streets south to Hamilton Avenue, then back up its western edge. As we'll see, the canal is cleaner than it was (but still stinks, even on a 35-degree day) and provides a look at a part of Brooklyn caught between two gentrifying or already wealthy neighborhoods (Cobble Hill and Park Slope) that is holding firm in proud decrepitude. And, to my surprise, no burly bridge attendants or guards came at me, arms waving, shouting "no pictures!" So I have over ninety.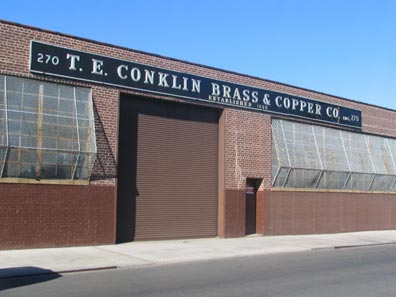 270 Nevins Street (between Sackett and Degraw): according to sign chronicler Walter Grutchfield T.E. Conklin Brass and Copper Company was founded in Manhattan in 1860 and has had a warehouse on the Gowanus Canal since 1959.
At Degraw west of Nevins, there's no fence and you can easily jump in and swim in the canal if you wanted (not recommended). Brooklyn Truck and Equipment Repair maintains a warehouse at the canal edge. Visible in the picture are the Gowanus Houses and the landmark Pumping Station, which we will touch on when we go back up the canal's western side.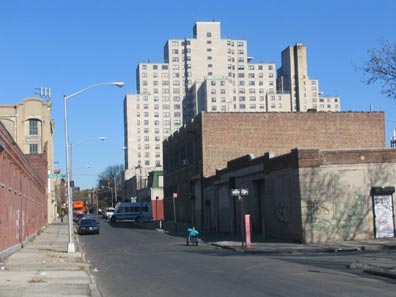 Looking north on Nevins from Degraw, we see the Wyckoff Gardens houses, a 6-acre complex housing 1300 residents, was completed in December 1966. It figured in the 1995 Harvey Keitel vehicle "Smoke."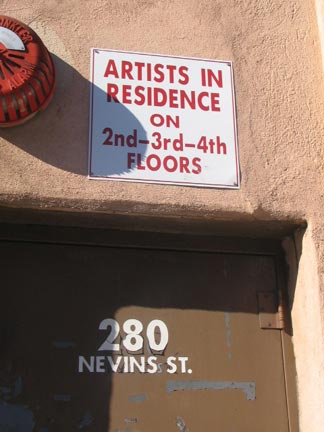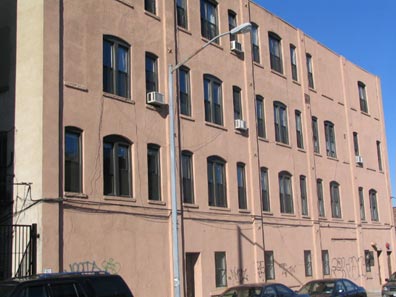 Artists are often the first vanguard of neighborhood revivals; they are then forced out as rents and prices rise. There is an artistic community centered on the streets surrounding the canal. The Brooklyn Lyceum (located a few blocks away in the former Public Bath House #7 at 227 Fourth Avenue) serves as a theater space, hosting improv jams, play tournaments, a series dramatizing buried souls in Green-Wood Cemetery, and concerts.
[see brooklynlyceum.com for more info. Link wasn't working when I was composin this on WordPress 8/31/12]
Union Crossing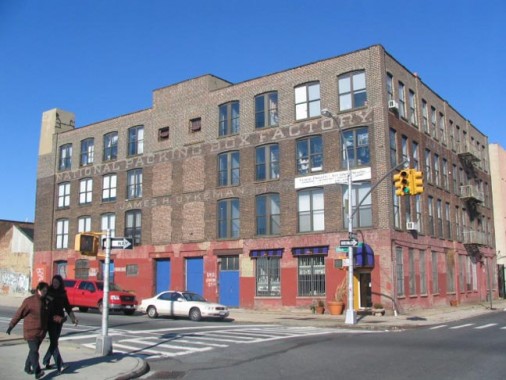 The National Packing Box Factory, Nevins and Union Streets. This is now owned by artists and artisans and is home to pottery studio Claireware, among others.
This artist studio building is located at 543 Union St. between Nevins and the Gowanus Canal, in the Gowanus/Carroll Gardens section of Brooklyn. The chunky ghost signs proclaim "National Packing Box Factory" and "James H. Dykeman."
Via the excellent Ephemeral New York, we learn that Dykeman "'was a carpenter by trade who established himself in the box business in 1877,' according to The Disston Crucible, a Magazine for Millmen." visualingal
A view of Gowanus Canal from the Union Street Bridge.
The Union Street Bridge is the northernmost of the five traffic bridges that cross Gowanus Canal. The bascule bridge was opened March 4, 1905, is 109 feet long and 35 feet wide. Bascules are drawbridges that have leaves weighted heavily on one side in order to balance and lift the bridge when raised.
All five Gowanus Canal bridges were, until 2005, in the charge of operator Lenny "Chicken Man" Thomas. A cook in his spare time, Thomas studied at the French Culinary Institute and in 1998 collected over 100 of his chicken recipes into a book.
An FNY walk on Union Street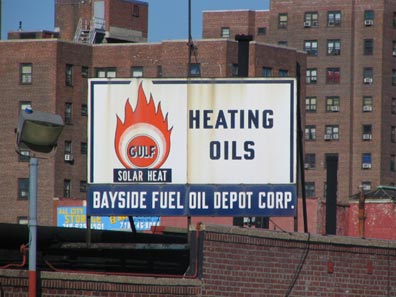 Seen from the Union Street bridge, a 1960s-era Bayside Fuel Oil sign featuring an old-school Gulf Oil logo.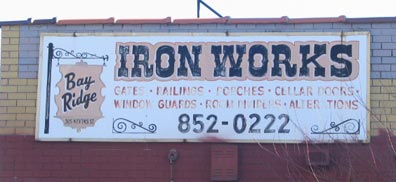 Bay Ridge Iron Works, SE corner of Union and Nevins. Bay Ridge is nowhere near here.

Crusader Candle, Nevins and President Street. Crusader has been in business since 1946 and manufactures Catholic novena candles as well as those used in hoodoo and Santeria.
Carroll Street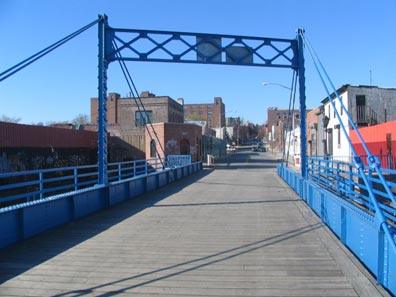 I've covered the Carroll Street Bridge before, but I'm always drawn to photograph it; it's probably my favorite NYC bridge. There are only 4 retractile bridges left in the country and NYC has two of them (the other is the Borden Avenue Bridge in Long Island City). Retractile bridges are connected by wires to rollers set perpendicularly to the span; when the bridge opens it rolls on wheels set on steel railings, somewhat like a trolley.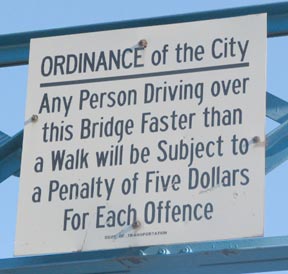 The bridge preserves a couple of archaisms. The sign at left is a clever DOT reproduction of a sign that appeared when the bridge was first opened in 1889; it referred to the "drivers" of horses. The bridge is 165 feet in length and is about 35 feet wide.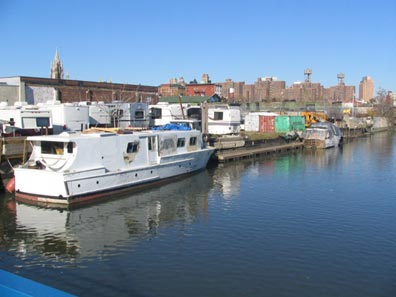 View from Carroll Street north in 2005…
…and south in 2001 on this photo by Forgotten Fan Mike Olshan. The owner has moved upstate.
The Empty Vessel Project, centered in a formerly abandoned World War II rescue boat itself rescued by the EPV's directors in the Bronx and rechristened as an arts and design center fostering projects focused on "sustainable living in urban landscapes." Upcoming events (in December 2005) were a knot-tying class, a Proteus Gowanus Chamber of Commerce open house, and a performance by Williamsburg folksinger Cameron Hull.
By 2012, The Empty Vessel was actually empty.
Oh, Carroll. From the late great Bob Guskind's Gowanus Lounge came this Carroll Street Bridge music video: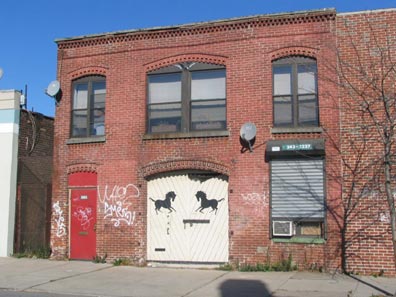 There's some interesting items on the west end of the Carroll Street bridge. An old stable has been identified by its owner, and a street art-type fish has been attached to a no-parking sign.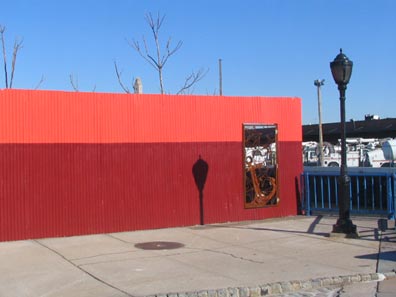 A two-tone red wall at the Gowanus canal edge reveals a wrought-iron artwork.
I'm seeing a couple of these "Winter in America" street art pieces in the neighborhood, the one above at Carroll Street and the one at left at 4th Avenue and President Street. What the inscription on the beer can (at the bottom of the tree, absent from the 4th Avenue piece), "Dream More Grow Tall" means, well, you got me.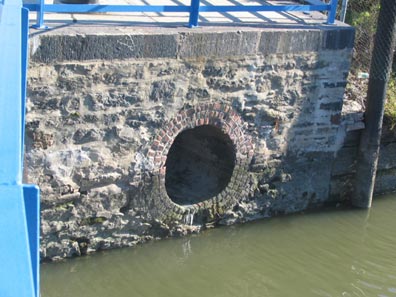 One of 12 combined sewer outlets that discharge sewage and rainwater into the Canal during almost every rainfall – there's a green DEP sign above the opening.
Nevins Street ends at Carroll Street, so to continue along the eastern side of the Gowanus Canal you have to detour all the way to 3rd Avenue, which is haunted by the ghosts of old ballparks and newspapers at…
Third & Third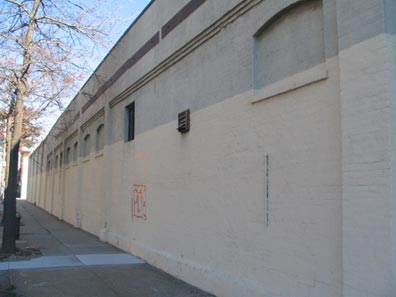 The rear wall of Washington Park, where a Brooklyn entry played in the Federal League, a shortlived pro league in the 1914-1915 seasons, stands on the east side of 3rd Avenue between 3rd and Carroll Streets. By 2010, the wall had been partially dismantled. The Brooklyn National League team, named the Bridegrooms and Trolley Dodgers earlier than 1914, played in Washington Park, but this wall had not been constructed yet. Brooklyn moved to Ebbets Field in 1913 and Chavez Ravine, Los Angeles in 1958.
The large building devoid of windows on the Gowanus Canal side of 3rd Avenue used to house the printing plant of the Jewish Press.
At the corner of 3rd Avenue and 3rd Street is a magnificent little building with ornate trimmings and ionic columns by the door, seemingly plopped in the middle of empty lots and auto repair shops near the Gowanus Canal. It turns out that the building and canal are bound by history, since this is the former headquarters of the Brooklyn Improvement Company, founded by the Gowanus Canal's builder Edwin Litchfield. Whole Foods has purchased the adjacent property.
Whole Foods has purchased the surrounding property, but this building is expected to be retained.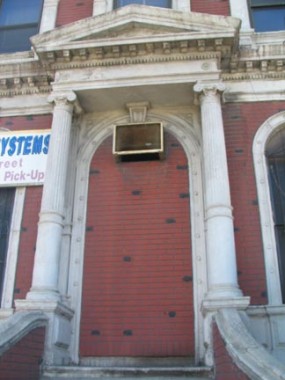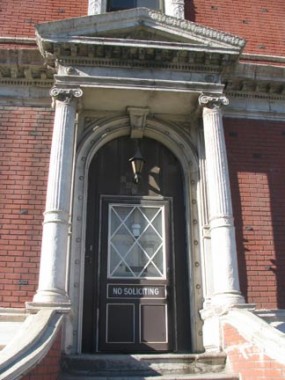 Litchfield owned much of the property between here and Prospect Park and built, with the aid of architect Alexander Davis, an Italian-style villa at what would become Prospect Park West and 5th Street in 1854. In 1860, Litchfield had to give up his property so that Prospect Park could be built, but he continued to reside in his magnificent villa until his wife's death in 1881. The villa still bears his name, but when you pass the Gowanus Canal and this mini-masterpiece at 3rd and 3rd, you can thank him for those, too.
An FNY walk on 3rd Avenue
There's an equally impressive, but equally decrepit hulk in the Verizon yard opposite the Litchfield building. It reminds me of the Long Island City and Jersey City power plants; it was a NYC subway power plant.
There is indeed a plan to convert it to residential housing.
Forgotten Fan Sergey Kadinsky explains why the old Jewish Press plant has no windows:
"The building was once a Transit Authority substation, given to the Jewish Press by Mayor John Lindsay! That explains why it has no windows.
"In 1969, Lindsay's popularity among Jewish voters was at an all-time low. In the recently-created Jewish Press, militant rabbi Meir Kahane had a column where he regularly attacked Lindsay in strong language. To quiet down Kahane, Mayor Lindsay offered the newspaper the transit substation for $1 a year, if publisher Sholom Klass would fire Kahane. He did, and the rest is history."
Third Bridge
The Third Street Bridge is coincidentally the third bridge to cross the Gowanus. It is a bascule bridge and is a near twin of the Union Street Bridge; it opened March 21, 1905, 27 days after Union Street.
Looking south from the bridge we see one of the many industrial plants lining the canal as well as the IND subway trestle and the massive Kentile Floors sign (which we will see much closer presently).
South of Third Street the canal splits in two, with the main section turning southwest and south again and the 4th Street Basin turning east to a dead end at 3rd Avenue (where 4th Street would be if it actually was here, hence the name, left). There's also a "ghost" basin, the 1st Street Basin (a.k.a. the Lateral Canal) which appears on maps but hasbeen filled in long ago. By some accounts, dredging activity in one of these basins revealed a 1914-era Model T car that had been deposited there decades ago.
To hew closer to the Gowanus bank, which becomes rather inaccessible between 3rd and 9th Streets, we head down to Second Avenue where we find…
6th Street between 3rd and 2nd is lined with scrap and lumberyards (including the humongous Dyke's Lumber, founded in 1909 by Andrew Dyke).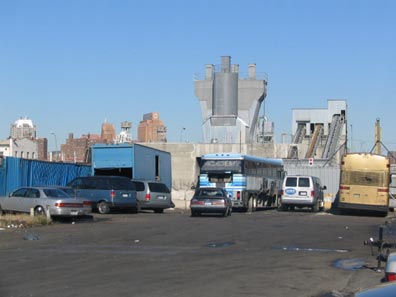 2nd Avenue begins at two dead-ends…the 4th Street Basin and 5th Street, which ends at the Gowanus Canal.
2nd Avenue takes a back seat to its brother avenues in Gowanus, Sunset Park and Bay Ridge. It's interrupted by Gowanus Bay at Hamilton Avenue and doesn't resume again until 29th Street, where it runs through Bush Terminal and along the Brooklyn Army Terminal (the spot from which Elvis Presley debarked to Germany when he was drafted in 1958). It suffers a final ignominy at the Belt Parkway overpass, where it is forced to change its name to Ridge Boulevard.
9th Street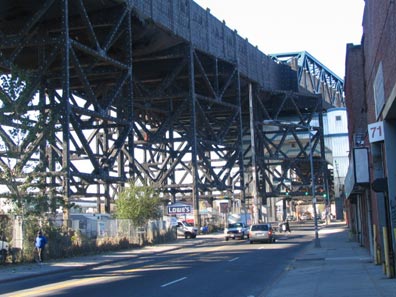 Turn a corner at 9th Street toward the canal and your eyes meet one of New York City's most incredible sights: the IND elevated Culver viaduct. When the IND was extended here in the 1930s, engineers decided to elevate it 87 feet over the canal rather than tunnel underneath. They built at a great height rather than build a drawbridge that would have to be raised and interrupt train service.
[in 2011-2012, a renovation was removing the black canvas from the exterior and replacing the concrete exterior]
The presence of the viaduct and later, the elevated Brooklyn-Queens Expressway, gave local manufacturers the opportunity to erect huge neon signs advertising heir products. Most of these companies are long out of business but their incredible signs live on.
More Kentile pics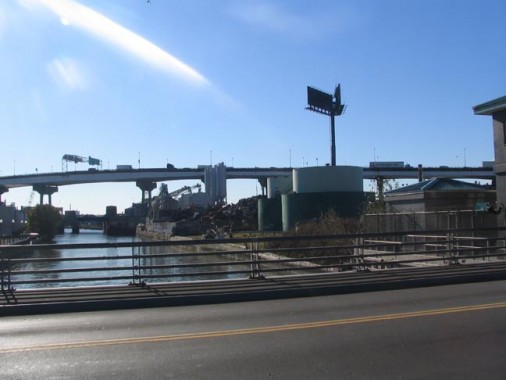 The 9th Street Gowanus Canal Bridge is a movable lift bridge and was opened just a few months after the Union and 3rd Street bridges in July 1905. It's overshadowed by the massive IND viaduct and looks out to the even more massive Brooklyn-Queens Expressway viaduct.
The Russo Legacy
At the southwest corner of West 9th and Smith Streets, you used to see a row of ramshackle buildings coated with signage erected by Gowanus' greatest self-promoter…realtor Vinnie Russo.
There's a lot going on here. Clowns, eagles, roosters, Christmas wreaths, St. Theresa of Lisieux, da Vinci's Last Supper…
…the doomed campaign of Rick Lazio, the 50th State, and a boat in dry dock.
7/7/07: the boat is gone, and some cookie cutter buildings have replaced it.
So what's this all about?
Let Kit Kaplan of the now-defunct site 718Brooklyn tell the story, at least in part:
"I stopped by Russo Realty to show the owner the photograph … that I had taken and leave it as a gift. I was overwhelmed when I first went in because every surface is covered with photos, mementos and news clippings. Even the walls and furniture are covered.

"Sitting in the middle of everything was an old man bundled in layers of flannel shirts. I gave him the picture and he went wild, he loved it. He showed it to the woman who was there who turned out to be a friend named Susan who cared for the aging real estate king. I sat down and she made me a plate of delicious pasta with clam sauce. During dinner, Vinnie's nephew joined us. He is a body builder in his 50s who looks like Elvis, sunglasses and all.
"Vinnie told me that when he returned from Pearl Harbor in 1947, he went into real estate purchasing buildings all over Cobble Hill. Over the years he's had a lot of trials and tribulations, which he couldn't wait to tell me about.
"I took a break to go to the bathroom, which is another work of art. It was a good-sized room with a tiny cot and walls covered with nudie pictures. When I came out, there were more visitors crammed into the tiny office including a huge handsome man wearing a hairdresser's outfit and makeup.
"The small group talked and laughed and told me they are trying to make a museum out of the place. There was a great deal of warmth in the room and his friends seem to make him happy. I felt very privileged to have been there and shared the moment."
Mean old MTA
Why is part of the sign covered at this bagel place on the NW corner of West 9th and Smith? The MTA demanded the Assad brothers, who had purchased $1000 worth of MTA memorabilia and made up F Line Bagelsstore signage to resemble the IND Machine-Age station scheme, remove the signage and charged them a $5000 licensing fee! A judge sided with the MTA.
I love the trains, I really do. Yet another case of bass-ackwards MTA thinking, which chooses to penalize those who favor it with tribute, and sics cops on innocent photographers.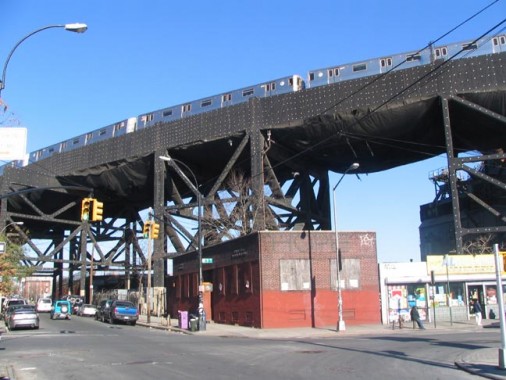 Till the MTA comes after your webmaster for photographing its facilities, here's a terrific shot of the F train traversing the 87-foot high viaduct. The MTA has good news for the heretofore decrepit Smith-9th Street station: it has announced plans to repair it, fixing the numerous leaks in the station canopy. Already, the concrete pilings have been clad in canvas to stop chunks of them from konking passersby.
[work got under way in 2010]
"As far back as I can remember I always wanted to be a gangster."
The climactic scene of Goodfellas was filmed on this block.
Garnet Street is just a block long, between Court and Smith just south of West 9th, but it contains an inordinate amount of eclectic architecture…new, old, and just plain bad (left).
But the most distinctive attraction on Garnet faces the Gowanus Canal…
…where a priceless view of the IND Culver viaduct and Smith-9th Street station is available.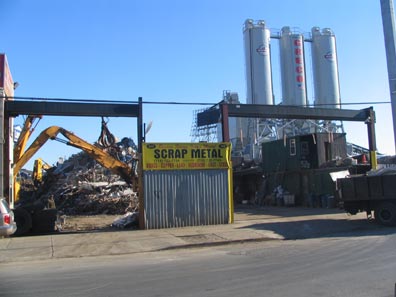 Another of the many scrap metal businesses lining the canal, this one on Smith and Centre Streets.
A view from midspan on the Hamilton Avenue Bridge, which replaced an older structure in 1942. The newly-opened Lowe's, part of a burgeoning home-improvement movement in NYC that has seen Home Depots, Costcos and Ikeas blossoming like spring petunias in the gritty urban deserts despite the fact that NYers live in shoeboxes and these places have a punitive delivery fees. What's going on? You got me there.
Despite its relative youth the Hamilton Avenue bridge has seen nicer days. Like the 9th Street Bridge it is shadowed by a massive canopy, the Brooklyn Queens Expressway viaduct which was bullied high off the ground so it wouldn't have to be lifted to let boats through. The sidewalk on the modest Hamilton Avenue span is chipping away, but you are really not supposed to walk here: you're supposed to drivehere, a message that is hammered home in so many places in both the city and suburbia.
The BQE viaduct was constructed in 1941, though it stopped short of the Brooklyn Battery Tunnel, which began construction before World War II but didn't open until 1951.
photo from Gowanus: Neighborhood History Guide
Changing direction
Here I began my climb back up the western edge of the Gowanus Canal, where it's ever-so-slightly more favorable for walkers and urban explorers. There has long been talk about creating an urban pedestrian parkway along the Gowanus Canal, a la San Antonio's Riverwalk (Paseo del Rio), or even the Manayunk Canal Towpath in Philadelphia. Things seem so entrenched from a political POV here though that I don't see anything happening along those lines at any time.
Eastern end of Huntington Street; Huntington and Smith Streets
As Gowanus Canal curves, the streets fill in the space. 5th Street only extends to the canal at the end of Hoyt, where there's a fenced off area owned by Keyspan National Grid but marked "park" on maps, while a giant industrial plant is the focus at the end of the street. A block north, 4th Street goes a block further, to the end of Bond Street…
4th Street between Hoyt and Bond contains some ghost business housed in unusual architecture. The sign at left is sufficiently old that it has an old-school phone number; there are conflcting reports of what the MA stands for.
Forgotten Fan Paul C. says: "MA," 62, was the "MAin" exchange, located in the old New York Telephone building on Willoughby Street. There was (and still is, vestigially), MAin 4 and MAin 5. They live on as 624 and 625 throughout Brooklyn Heights, Downtown, Cobble Hill, Carroll Gardens, and Gowanus.
However, it could also have been MAnsfield, according to this list.
Bond Street ends in a garbage-strewn dead-end at the Canal and 4th Street. The IND trestle is visible in the background.
Marylanders
Continuing north on Bond Street, as we approach 3rd Street a splash of vivid color on a building roof catches the eye. It's the state flag of Maryland. Does a transplanted Marylander live here?
Perhaps. But the owner may merely be patriotic. A few blocks away in J.J. Byrne Park, you'll find the restored Vechte-Cortelyou House.
Also known as the Old Stone House, it played a pivotal role in the American Revolution. On August 27, 1776, during the Battle of Brooklyn, things looked dire indeed for the Americans, as the British and Hessians were overwhelming them in what is now the northern section of Prospect Park. Hoping to reach forts at Boerum Hill and Fort Greene, about 900 American troops retreated from what would be the Greenwood Cemetery area; they hoped to track northward. General William Alexander, also known as Lord Stirling, led a company of 400 Maryland troops that engaged British General Charles Cornwallis' force of 2000 grenadiers and cannoneers at the Stone House to cover the retreat and, while many of the Americans were able to escape, Stirling was captured and 259 of the Maryland troops were killed. George Washington, observing the battle from what is now Cobble Hill, is said to have uttered: "What brave fellows I must this day lose."
The house continued on with the Cortelyou family until 1850 when it was sold to Edward Litchfield, the Gowanus Canal developer, who allowed the house to literally sink into ruin. By the 1890s only its upper floor was visible above ground level; after serving as a makeshift clubhouse for the Brooklyn Bridegrooms baseball team playing in nearby Washington Park, the house was demolished in 1897, though its construction was such that Gatling guns were used to force the old stones apart.
The house found an angel in Brooklyn Borough President John J. Byrne. The Old Stone House's original foundations and brick were rediscovered, and Byrne, in one of his final acts before his death in 1930, ordered its reconstruction in a park posthumously named for him in 1933. The Old Stone House received a thorough makeover in 1996 with new plumbing, electrics and roofing installed. Maryland state flags wave at the old house, in honor of the regiment.
Visit the Old Stone House in Byrne Park, 5th Avenue and 3rd Street. It's open weekends: call (718) 768-3195 for hours.
Getting Closer
The streets north of 3rd Street mostly dead-end at the canal but they do provide more pedestrian access and a chance to get closer to the canal. At 2nd Street you will find the launch point used by the Gowanus Dredgers Canoe Club, which makes paddling forays up and down the canal and other NYC waterways during warmer months. Their stated mission is to "assemble and educate a diverse group of individuals, businesses and organizations to improve the Gowanus waterfront in Brooklyn and foster awareness of issues affecting New York- New Jersey harbor. The Gowanus Dredgers Canoe Club intends to contribute to transforming a dilapidated, historically significant estuary into a self-sustaining, environmentally friendly and healthy waterfront to be enjoyed and treasured by current and future generations."
Above: canal frontage at 1st Street showing the coal gasification plant we saw on the other side of the canal. This is the place where the apparently filled-in 1st Street Basin used to extend east to 3rd Avenue.
Nobelity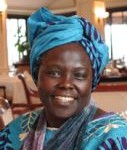 You never know who you'll run into on Bond Street. Why, here's a Nobel Peace Prize winner, Kenyan Dr. Wangari Muta Maathai (1940-2011), the first woman in east or central Africa to earn a doctorate. She was elected to Kenya's parliament in 2002.
From nobelprize.org: "Wangari Maathai is internationally recognized for her persistent struggle for democracy, human rights and environmental conservation. She has addressed the UN on several occasions and spoke on behalf of women at special sessions of the General Assembly for the five-year review of the earth summit. She served on the commission for Global Governance and Commission on the Future. She and the Green Belt Movement have received numerous awards, most notably the 2004 Nobel Peace Prize."
The poster may have promoted a personal appearance she may have made in Brooklyn.
Shadows
The late afternoon light brilliantly illuminates a couple of very old structures on the east side of Bond Street both north and south of Union.
Classic rock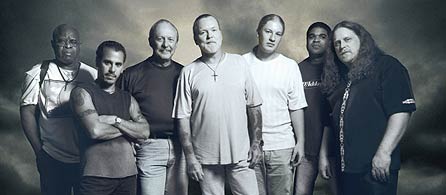 At Sackett and Bond, Sweet Melissa is the second location of a coffee and pastry shop that originated on Court Street. It's not named for the proprietor's daughter; younger patrons may be unaware that the name comes from the lyrics of "Melissa" from theAllman Brothers Band's 1972 LP "Eat a Peach." Brothers Duane (d. 1971) and Gregg Allman founded the group in 1969.
photo from rollingstone.com
[as of 2012 this location has closed though its 7th Avenue store is still open]
At Sackett you will find St. Agnes Church, a near-cathedral built in 1878 and completed in 1913, and a timeless American Legion hall next to the patisserie.
Even though Bayside is further away, much further, than even Bay Ridge, there are a couple of businesses around here perhaps named for the Queens locale (I suspect they weren't though). But look at that technique on that hand-lettered sign. This was done before the days of photo-reproduction and computer image manipulation made it easy. It probably had to be done with a compass and a pencil tracing first; are there any pro letterers still around?
Sackett comes to a barbed-wired end at the canal. A hand-lettered "End" sign is joined by one of the official DOT variety.
Quick-Draw DeGraw
You can't just jump into the canal from the western end of Degraw the way you can at the eastern side –it's fenced off pretty well — but what's this? Benches? Landscaped greens?
The city has made a half-a  …er, half-hearted attempt to spiff up the Degraw Street dead end here, but there's still barbed wire aplenty just to remind you of the true purposes of the area: industrialization from which you are to be kept out.
Prison Break
As we again approach the northern end of the canal on Bond Street the Gowanus Houses come into view, topped by two objects which look for all the world like guard towers. Now, we all know they aren't. So, what the heck are these things?
They are merely, as I suspected, water tanks.
Flushing
We've already said that as far back as the 1880s the Gowanus Canal had become the cloaca of Brooklyn, filled with industrial waste, garbage and sewer outflow. Engineers reached a partial solution by 1911, when a flushing tunnel was dug from the head of the canal at Butler Street (above) southwest to Buttermilk Channel. At the pumping station a steam-powered propeller forced water out of the canal and expelled it into the channel, and cleaner water was admitted into the canal.
Above: Douglass Street Pumping Station, outside and in. photo from Gowanus: Neighborhood History Guide
Things went, while not literally swimmingly, well enough for a few decades, though the Gowanus Canal would never remind anyone of Venice. The Buttermilk Channel (named because currents would cause milk to change to butter on boats moored there, supposedly) was not the place to deposit raw sewage, which would still find its way into the canal. The flushing tunnel stopped working altogether in the 1960s and it would be fully three decades before it would be repaired; Gowanus Canal became just as foul as before. Typhoid and cholera germs were found in it, prompting the construction of a Red Hook waste water treatment plant eventually constructed in the Brooklyn Navy Yard.
At last, though, the flush pump was repaired in May 1999–after 2000 tons of contaminated mud was dredged from the canal — and the Gowanus is [slowly] on the way to cleanliness and wildlife has returned to its waters.
Douglass
One of Brooklyn's unlikeliest parks…two benches at the end of Douglass Street in front of the pumping station.
That's Not All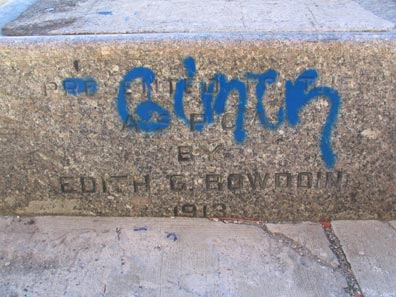 A walk up Butler Street, which is uninterrupted by the canal, reveals a filled in horse trough marked "Presented to the ASPCA by Edith Bowdoin 1913," forlorn and graffitied. Why is it here?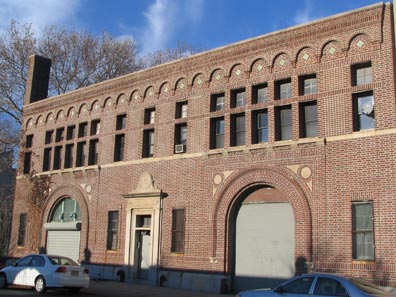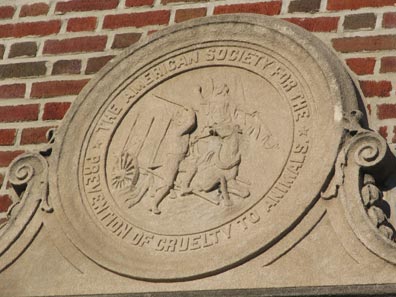 It's in front of the building formerly home to an ASPCA Brooklyn branch. Three Bowdoin horse troughs remain in NYC: this one, another at East 60th Street and Central Park, and a third in Flushing in the Northern Blvd. median at Linden Place.
SOURCES:
The Neighborhoods of Brooklyn, ed. John Manbeck, Yale University Press 1998
BUY this book at Amazon.COM
Neighborhood History Guide: Red Hook and Gowanus, Brooklyn Historical Society 2000
12/3/2005