I first stumbled on the "High Line," or officially, the West Side Elevated Freight Railroad, way back in about 1983, when it had just run its last shipment of frozen turkeys and was marked for doom by its owner, Consolidated Rail Corporation, or Conrail. But I'm getting ahead of myself.
Prior to the 1930s, 11th Avenue featured a steam railroad right down the center of the roadway. For a time, locomotives were pulled by horse, because steam railroads were prohibited south of 30th Street. Even after steam railroads were subsequently allowed, the congestion forced the railroads to hire mounted cowboys carrying a red flag to clear traffic before the train could proceed.
From 1929-1934, NYC built two metal viaducts, the West Side Elevated Freight Railroad to carry train traffic, and the Miller Elevated Highway to carry automobiles; the Miller was more commonly known as The West Side Highway. The elevated freight railroad was ingeniously designed to pass through, or just beside, the buildings whose businesses it served, such as National Biscuit Company (still standing as Chelsea Market on 10th Avenue and 15th St.), Armour Meat Packers, and the Manhattan Refrigerating Company (presently divided into apartments).

The freight railroad never caught on very well. It was first sabotaged by the Depression, and then trucking became the primary means of transporting goods within NYC. The section of the railroad south of Bank Street was torn down in 1963, while sporadic service continued on the line north of Bank Street until 1980. The trestle stayed in place, for the most part, 1991 when the section south of Gansevoort Street was torn down. The sections of the remaining portion of the High Line that went through buildings had some of those openings bricked up, although the old Bell Labs building (now called Westbeth) between Bank, Bethune, Washington and West Streets, still has a recognizable gap in it, with a short, rusty section of the High Line poking through at Washington and Bank.
The line was operated by New York Central from its inception to 1968, when NY Central was taken over by Penn Central, which quickly succumbed and became part of Conrail, which presided over the High Line's death as an active railroad in 1980. An interesting tableau was played out in 1983, when Chelsea resident Peter Obletz formed the West Side Rail Line Development, hoping to institute heavy rail (subway or el) or light (trolley) service on the 50-year-old structure. However, Mayor Ed Koch and the Department of Transportation opposed the project, and the Interstate Commerce Commission untimately thwarted Obletz' plan.
For Mr. Obletz, the railyards west of Penn Station were not a hotly contested development opportunity, but literally his backyard. Beginning in the late 1970s, when the western fringe of Hell's Kitchen was such a forbidding wasteland after dark that cabbies would not take riders there, Mr. Obletz lived in the railyards in a formerly derelict concrete-block railroad building near 30th Street and 11th Avenue. Next door, on a spur of track, he kept two elegantly appointed antique rail cars he had obsessively restored.
A train buff's train buff, Mr. Obletz worked as a real estate consultant for the transit authority and gave elaborate dinner parties in his gleaming, 68-ton Pullman dining car. Places were set with New York Central Railroad china and flatware, with the host sometimes attired in a blue velvet smoking jacket and saddle shoes.
"He was an absolute charmer," said the playwright Paul Rudnick, who along with other creative types like the choreographer Tommy Tune was a guest. "It was such a treat to visit him because you felt you were leaving New York, and in a sense planet Earth. You'd entered Train Land." John Freeman Gill, "The Charming Gadfly Who Saved the High Line"
In 1999 a not-for-profit organization called Friends of the High Line formed with the mission of preserving the High Line and, unlike the Oblentz vision, converting it to recreational space. FOHL's nuts and bolts community work, support of friends in high places, and diligent fundraising are too involved to enumerate here —we'll let them do it themselves on their website — but they are batting 1.000: unlike the city's other grandiose projects, well or ill-considered, such as Moynihan Station, the Second Avenue Subway, the Olympic and Jets stadiums, which have either foundered or been delayed for years, reconstruction of the High Line has already begun and barring complete calamity, it will become NYC's second rails-to-trails project (after the Bronx' Putnam Line in Van Cortlandt Park).
While, fortunately, the New High Line, due to open in 2008, will retain its overall superstructure (as shown in preliminary designs by its architects, Diller, Scofidio and Renfro) I thought I'd walk the line and shoot it in its last days of "moribundity" before its brave new future arrives.
Lincoln Passes
Before proceeding to the High Line proper I decided to visit the "remains" of a passenger railroad that once ran on Manhattan's west side: The Hudson River Railroad, the precursor to today's Metro-North and Amtrak service along the Hudson. It is intertwined with the presidency of Abraham Lincoln.
West 30th Street is extra-wide between 9th and 10th Avenues. The width comes in handy these days for truck parking along the Morgan Post Office Processing and Distribution Center, but the road's width predates the post office and other industry in the area, because it was once the southern terminus of the Hudson River line.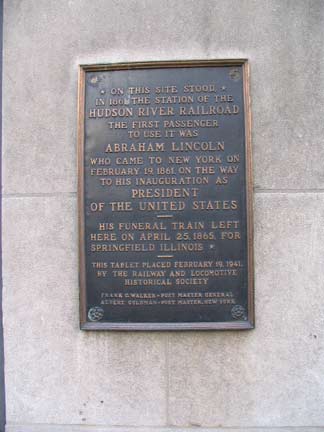 As the plaque recounts, Lincoln was the very first passenger on the line for a NYC visit some days before his March 4, 1861 inauguration as President, and a train bearing his remains left here on its way to Albany and thence to Springfield, IL for his funeral.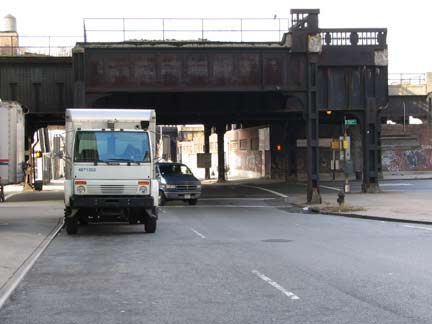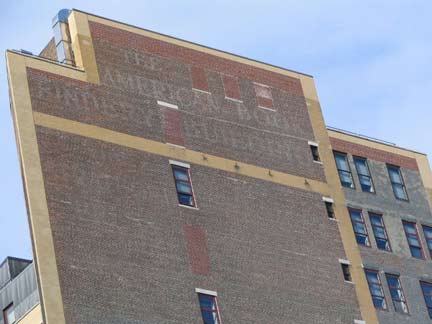 The West Side Elevated Freight Railroad's northern end, at least the High Line section, arises from a ramp facing West 34th Street between 11th and 12th Avenues. The line follows 12th Avenue for 3 blocks before turning east on West 30th Street, and then south just west of 10th Avenue. A spur crosses 10th Avenue to enter the Morgan mail processing center.
The long-gone American Book Bindery Building attests to the region's old manufacturing vitality.
Friends of the High Line:
The viaduct's curve, as it crosses 30th Street and heads down 10th Avenue, creates and exciting environmental condition: the grid of the city seems to slowly rotate, turning visitor from noth to south in a revelatory manner. Designs for this part of the line should consider the dramatic potential of the curve, its relation to the yard redevelopment, and its proximity to a major access point at 30th Street and 10th Avenue.
Though New York City was once greatly shadowed by elevated passenger trains constructed in the late 19th century, with main trunk lines on 2nd, 3rd, 6th and 9th Avenues, an IRT subway extension in uptown Inwood — and the High Line — are the only remnants of NYC's high rail. Here the High Line bridges 30th Street on its way downtown.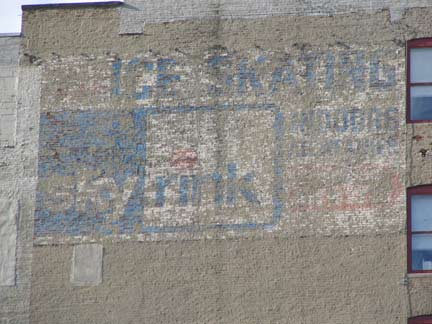 In this picture the High Line foregrounds the unusually-shaped building home to the New York Daily News. It's actually located above the trainyards serving Penn Station. It was built in 1970 as the Westyard Distribution Center and is the former home of Sky Rink — since decamped to Chelsea Piers — and Hagstrom Maps: I visited Hagstrom's offices here in 1971 to pick up some maps at discount, and again in September 1981 for a job interview.
The High Line and its compatriot, the old Miller Highway over 12th Avenue (torn down from 1978-1982) epitomize Machine Age design, with stylish minimalism. Where the High Line bridges streets, it has a stylized railing featuring alternating rectangles and diamonds. And look at all the exposed bolts! There are plain railings on the line between overpasses.
Lurking in overpasses, you sometimes find strange creatures. They probably won't last the High Line renovations, but these Westinghouse AK-10s, commonly known as "cuplights" for what they look like when inverted, are still working, and not only that, these may be the last remaining Westys with incandescent bulbs!
Save these, Friends of the High Line…please?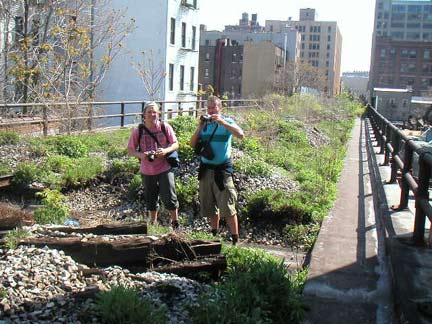 30th and 10th is meant to be a major access point when the New High Line is completed, but there's nothing much in the area now. Perhaps that will change as condo development spreads west, with the extension of the #7 Flushing Line to Javits Center at 34th Street and 11th Avenue is now all but certain.
BELOW: Adventurers regularly scaled the High Line for hikes before it was rebuilt. photo: nyc.architecture.com

Over 29th and 28th Streets
27th Street. Note the painted New York Central sign that is still there from the good old days. 27th-30th are still very industrial, with machine shops and scrap metal dealers.
The New High Line's architects, Diller, Scofidio and Renfro, maintain offices at 601 West 26th Street, near 11th Avenue west of the elevated RR.
25th Street. I don't get the point. I don't know Mimran's stuff, and I suppose if I don't get the point, the ad isn't pitched to me anyway.
The main charm for me, though, is the two! Type G wall lamps. They were utilized here so that trucks wouldn't have curb poles to knock over when making deliveries to what was originally warehousing.
25th between 10th and 11th is gallery row, which will undoubtedly play a part in the new High Line. The humungous Chelsea Arts Tower is going up here, combining condos and art space. Thanks to zoning changes this will be the tallest building in the area.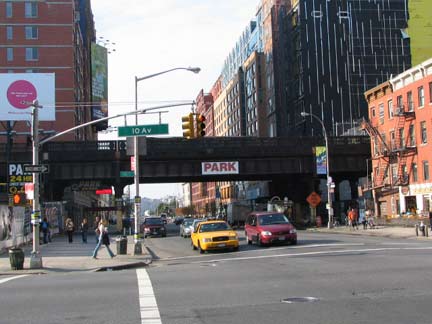 23rd Street and 10th. The building at far right houses Sebastian Junger's Half King, where a drenched webmaster and Christina, the Queen of Queens, dried out one afternoon after a ride on the John J. Harvey fireboat. Don't stand on the deck when they turn on the jets!
n this urban palimpsest we see the decades-old Towers Warehouses sign overwritten by the Revs-Costtagging partnership. From about 1989-1994 their tags were everywhere. That year Cost was arrested and Revs fled to Alaska. He has returned to New York and is currently a mostly legit sculptor, using steel and scrap metal.
Revs' book: Autograf: New York City's Graffiti Writers
The 1943-vintage Empire Diner, 10th Avenue and West 22nd Street, is likely the best maintained of NYC's mid-century diners. It was built by Fodero, a Bloomfield, NJ construction company specializing in stylized chrome-exterior diners in business from 1933-1981.
20th Street. Evidence of prep work being done to the High Line before actual construction began. Plans called for an overall urban trail with plenty of nautural as well as imported vegetation. The old tracks were being pulled up for now, but some were reinstalled as part of the project.
19th Street
Sailing
One of New York's more adventurous construction projects overshadows the High Line on 11th Avenue between West 18th and 19th Streets.
Frank Gehry's design for InterActive Corp., the new project headed by Barry Diller, one of the most successful media moguls in history, is meant evoke sailing ships of yore in glass and steel. Gehry is also the chef architect for the highly controversial Atlantic Yards project in Brooklyn, which hopes to being the New Jersey Nets to Brooklyn; it has beendecried by neighborhood groups as way out-of-scale with the low-rise brownstones prevalent in the area, and because many long-time residents have been displaced.
Here, there wasn't any controversy as no one had to move; the evocative building's maritime shape seems to "billow" in the wind. This is longtime architecural innovator Gehry's first NYC project; in the USA, he has worked mainly in California though he is a Torontonian by birth.
The High Line curves southeast at 17th Street and again shadows 10th Avenue. Here is the only "formal" pedestrian entrance, a set of rusted steps. Some adventurers have used them for access (most enter through a parking lot on West 34th Street) but they do have to negotiate some barbed wire, with some heavy gloves and padding, I'd think.
16th Street
15th Street
The West Side Elevated Freight Railroad, built for convenience, enabled manufacturers, importers and transporters to get their products directly into the warehouses of clients along the route. The line was built to travel directly into buildings along its route, such as the Nabisco Baking Company here (now Chelsea Market, one of NYC's more evocative food retail spaces), and further down the line, Bell Laboratories (now the artists' communitty known as Westbeth).
High Line crosses 13th and Little West 12th Streets…
My first encounter with this elevated RR went something like this: I was working nights at Photo-Lettering in 1983 (a long-defunct typesetting shop boasting the world's biggest type library, or so they claimed; I was in heaven, well, except for the night part; sort of impedes the social life a bit. Its 1938 founder, Ed Rondthaler, I hear, is still going strong at age 103) and I went into town early one frigid, cloudy December afternoon to check out a sci-fi bookstore on 8th Avenue at about Horatio, and something, I don't know what, led me to head toward the river. I discovered this slumbering metallic railroad behemoth, then beginning its big sleep following the end of its freight service, and its revival now as an art playground. I headed under 13th Street, and found this gently curving lamp mast with a "bell" luminaire without a diffuser globe extending over the street.
I didn't carry a camera eveywhere in those days –oh, if only I did — so never snapped that luminaire. Fortunately, a fellow lamppost maven, Bob Mulero, was staggering around town at about the same time, he got the shot, and when we met about 17 years later, he presented me with the photograph that had existed only in my head all that time.
And that, boys and girls, is why the internet is such a wonderful thing. The storied luminaire, of course, was removed long ago, unremarked at the time. Until now.
Do I have a favorite image among the nearly 3000 (by my estimation) I have used in Forgotten NY? Maybe it's the one at left. I've already used it as the title card for my Meatpacking District page, and it was rejected for the ForgottenBook, unfortunately. The truncated High Line and the foreground of meat carcasses reflect the area's quickly-fading role in industry and food processing that will be forgotten in a few years. I got the shot one day on one of my 2-hour lunches while I worked at the World's Biggest Store; I despised working at 7th and 34th, and decamped to quiet Chelsea and the West Village as often as possible. When I think of these forays, I almost have fond memories of my era at Macy's.
To be honest with you, I'm not that crazed about the New High Line; I'm glad it'll be preserved, don't get me wrong, but with all the high concept and celebrity backers, it doesn't strike me as a place I'd be all that comfortable with, though that could be my own prejudices and immaturity coming to the fore. I thought the line would have made a handy-dandy southern extension of the #7 Flushing line, currently slated to extend to the Javits Center at 11th Avenue and west 34th Street. Between 30th and 34th, the High Line is on MTA property (Friends of the High Line is fearful that the MTA may raze that section). Think of it…the #7 train running south on the old High Line with stops, perhaps, at 28th Street, 23rd Street, 14th, and a terminal at Gansevoort. This is close to the old Oblentz plan.
Anyway, we'll check back in a few years to see what has become of this old campaigner.
2009: High Line opens
2011: Section II opens
PRO-ZAK's HIGH LINE FLICKR PAGE including pictures from the trackbed
December 15, 2006