So, I was stumbling around Fort Greene one 50-degree afternoon in November and I thought I should get in some photography because the winter blasts were soon to come. As I write this on January 6th, 2007, we're expecting 70 degrees (which we got, incidentally). I found myself on South Portland Avenue and remembered that Time Out New York (for which your webmaster wrote a cover story in September) named the block between DeKalb and Lafayette New York City's best, the top of the pops, the best there is, the best there was, the best there ever will be.
Out of 50 of TONY's best blocks, twenty-five are in Manhattan, fourteen are in Brooklyn, six are in Queens (#49 and #50 are in Queens!), three are in the Bronx, and two (2) are on Staten Island. That's 78% in Manhattan and Brooklyn! Think a lot of Time Out New York's editors live in Manhattan and Brooklyn (especially Williamsburg, Dumbo, Brooklyn Heights and Fort Greene)? I suspect even if my pick, 48th Street between Northern Blvd. and Broadway, even made the chart, no way TONY awards it Number 1. Queens? Please.
WAYFARING: S. PORTLAND and ATLANTIC COMMONS
OK, here's the Italianate brownstones of South Portland Avenue. Time Out was duly impressed with these houses, and admittedly TONY used a number of factors including aesthetics, amenities (are there good restaurants around?) green factor (parks), noise and traffic (higher score for less), public transit (are subways close by) "New York-ocity" (neighborhood vibe) and "affordability" (if you're talking numbers, I judge "affordability" with a much lower price than politicians, newspaper and magazine pundits).
South Portland Avenue's brownstones, which form a wall on either side of the street, all look pretty much identical at first glance but with a closer look, you can see that they were built in different sections over time. Likely they date to the 1880s, and some retain some of their original accoutrements, like ornamental fountains.
Among the factors TONY used to give South Portland Avenue its #1 status were its proximity to Fort Greene Park, the diverse racial mix of its residents, nearby G (Lafayette Avenue) and C (Fulton Street) subways, and cluster of interesting bars and restaurants.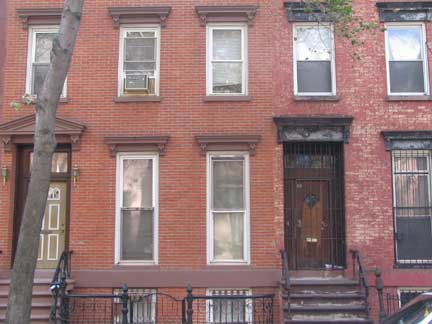 Slate sidewalk and coal chute cover; attached brick buildings, South Portland Avenue near Lafayette Avenue. There's one factor that Time Out didn't mention with its #1 rating, and a factor that it did not consider in its overall ratings. Note the bars and screens on some of the doors and first-floor windows in the above photos. While Fort Greene has been making strides in combatting crime in recent years, crime can still be a factor in the area, especially with the tough Ingersoll and Walt Whitman Houses nearby. Were I making a list, I knock down a locale a few pegs if muggings can dampen the mood now and then.
When the city of Brooklyn named Portland and nearby streets, for some reason they decided on employing a London flavor. N. and S. Portland Avenue were named, according to street mavens Leonard Benardo and Jennifer Weiss, for a London street, Portland Place, a busy street near Regent's Park, laid out by Robert and James Adam in 1773, and named for the aristocratic House of Portland. Neighboring N. and S. Oxford Streets were named for London's famed Oxford Street, and Cumberland Street for a terrace and market on the east side of Regent's Park. Why Brooklyn chose to honor Britain in this way, who can tell.
I used to be baffled why some streets, Elliott Place, Portland Avenue, and Oxford Street, are separated into North and South sections. It's simply because they are interrupted for 2 blocks by Fort Greene Park.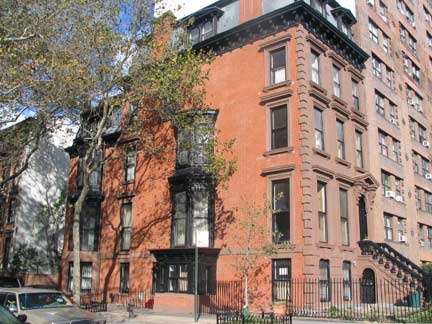 NW and NE corners, Lafayette Avenue and S. Portland Avenue. You have to love that hand-calligraphed "Meat Corp" sign. Apparently it's a grocery now. Note the subway exit. The red globe indicates it is an exit only.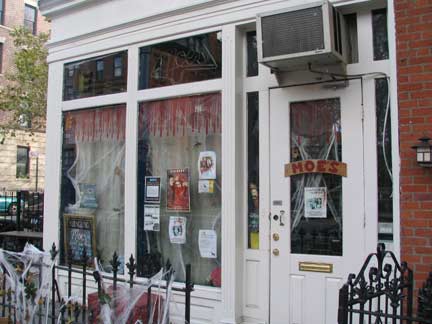 Moe's, SW corner of Lafayette and S. Portland Avenue. Moe's is named for the Simpsons bartender Moe Szyslak. In fact one of the beers on tap is labeled "Duff's."
[By 2012, the place was under new ownership, which cost it a vowel. It is now called Mo's.]
It's no longer a "French Garment Cleaners", but the upmarket duds for sale here at Hart & Wright (at least in 2006; what's here now?) will need a dry cleaner now and then. Lafayette between S. Elliott and S. Portland.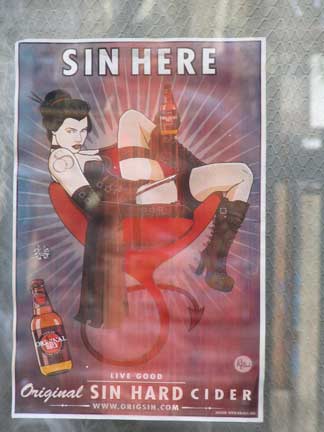 Sin here…(at Moe's) but  2 doors down….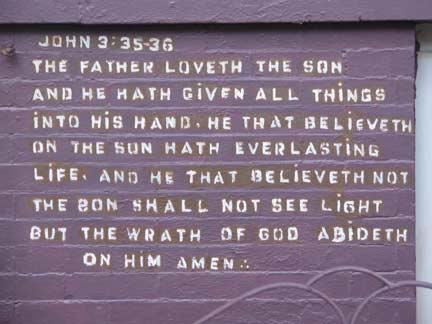 The whole building has these Bible quotes and incantations, likely put there by the owner.
[2012: I really should revisit it and ring the bell.]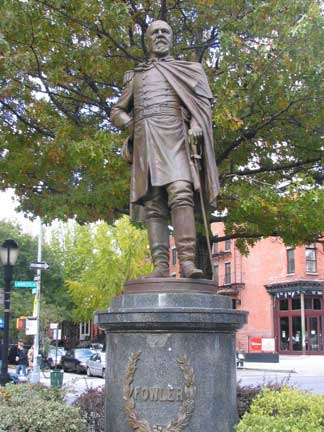 Who is that guy? In the triangle formed by Fulton Street, S. Elliott Place and Lafayette Avenue, we find… General Edward "Ned" Fowler, who led Brooklyn's 14th Regiment in many Civil War battles. The sculpture, by Henry Baerer, was originally placed in Fort Greene Park in 1902; vandals broke off his sword hand and toppled him from his pedestal in 1966. The statue was restored and replaced in the small triangle here in 1976.
Returning to S. Portland Avenue and walking a block south to Hanson Place we find the Hanson Place Baptist Church, (since 1963 the 7th Day Adventist Church) dating to 1856-60. Built on the corner, it presents two different "faces" to the viewer with Corinthian columns supporting a portico on Hanson and Corinthian pilasters lining the Portland side.
Just to the south of the church we find a mansarded and crenellated freestanding building at a strange angle from the street. These kind of relics are in danger all over the city, since developers find the land they stand on more desirable than the buildings.
Atlantic Commons
Modern housing, despite the crap being built in Queens and elsewhere in the five boroughs, need not be context-insensitive piles of bricks with exposed air conditioners and water meters. From Hudson Companies Inc., which has built the Village at Atlantic Center, aka Atlantic Commons on S. Portland and S. Oxford between Fulton Street and Atlantic Avenue…here's the handsomest "affordable" housing I know about in Brooklyn.
The Hudson Companies Incorporated recently completed the third and final phase of the Village at Atlantic Center, a development in Fort Greene that included 139 three-family homes totaling 417 units. The homes featured attractive brick fronts and decorative cornices that complimented the historic row houses characteristic of the neighborhood.
Each home at the Village offered a large owner's duplex containing two bedrooms plus a large recreation room and playroom in a finished cellar. A back stair leads to a private rear yard. In addition, each home contains two large 2-bedroom apartments on the second and third floors. One private off-street parking space is provided with each new home.
The Village was sponsored by the New York City Partnership and the NYC Department of Housing Preservation and Development with funding from the City of New York.
A few more views of Atlantic Commons. I'm happy to see these buildings here. In high school, your webmaster took the #45 bus past these plots, which remained empty from the mid-1970s to the mid-1990s, just east of the now-vanished Atlantic Avenue slaughterhouses and meatpacking district, now the site of Bruce Ratner's Atlantic Center malls.
So nice I'm showing it twice. The building itself isn't in danger but the rest of the west side of South Oxford Street certainly is. From Atlantic Yards Report we learn that 158 South Oxford, an 1860 Italianate mansion  will be the sole survivor on the block after the developers get through with it:
A block east of the Atlantic Center mall, on South Oxford Street just past the Atlantic Commons development, a 4,000 square foot mansion and associated properties has been sold for $13 million. According to the New York Daily News, the owner will keep the mansion but demolish two carriage houses and a two-family home to build a 40,000 square foot luxury high-rise building on the property. How big would that be? In the ballpark of The Greene House a few blocks away, at least.

Preservationists are concerned about keeping the mansion, which falls outside the boundaries of the current Fort Greene Historic District, though there are efforts to expand that district. The bucolic mansion likely will be joined by a mid-sized tower, maybe ten to 12 stories. If the Atlantic Yards project proceeds at current projections, towers some 40 stories tall would be built nearby, just down the block and across Atlantic Avenue.
Photography November 2006, page completed January 7, 2007.