St. George, Staten Island is an oasis of urbanity in a borough that, until about 25 years ago, was largely rural and has today transformed into teh worst aspects of suburb-anity, or perhaps suburb-inanity or even siburb-insanity, with its main drags like Hylan Boulevard, Forest Avenue and Richmond Avenue having become a concrete strip full of gas stations, malls and fast-food joints (one of the northeast's biggest malls was completed on the site of a former airport in the mid-1970s on Richmond Avenue).
There are, however, patches of the city to be found on the island, in St. George, the neighborhood closest to the ferry, as well as in Port Richmond, another old ferry terminal. Returning to the ferry from a ramble in New Brighton to se its wondrous architecture, I was struck by how much St. George can look like the city it faces across Upper New York Bay…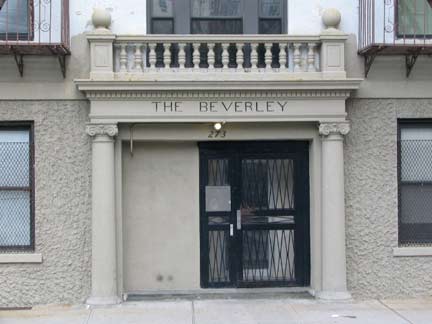 St. George has its very own Wall Street — it slides down the steep cliff to the bay from St. Mark's Place, which rides the cliff around the northeast corner of the island. On the corner of St. Mark's and Wall you will find the Beverley Apartments, which impresses with Ionic columns flanking gthe front door and bay windows. Note the Manhattan towers at left, looking down Wall.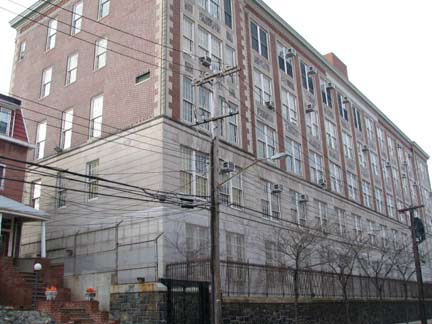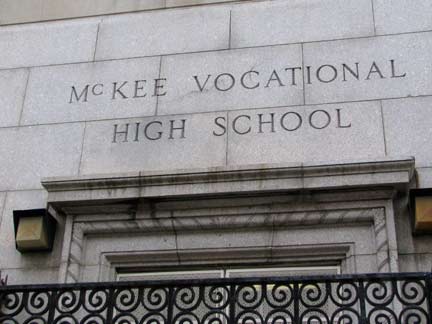 Ralph McKee Career and Technical Education High School, 290 St. Mark's. The school, formerly known as a vocational high school, has unfortunately dropped many of its trade educational classes over the last few years:
The carpentry class of 2000 will be McKee's last, and in closing, it will be joining the school's list of recent casualties. In the last two years, the school has shut down the plumbing and electrical shops. The electrical shop, now a graphic arts laboratory filled with computers, was closed after the teacher retired and the school could not find a qualified replacement. New York Times, June 21, 2000
We have fewer factories, fewer docks, fewer trades in NYC, fewer opportunities for working classes to make a living. The docks and railroads are becoming playgrounds for wealthier New Yorkers. Are we becoming the Eloi? If we are, Morlocks will not be far behind.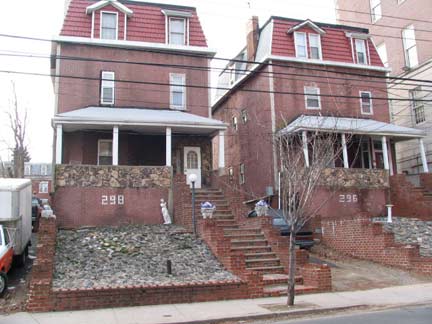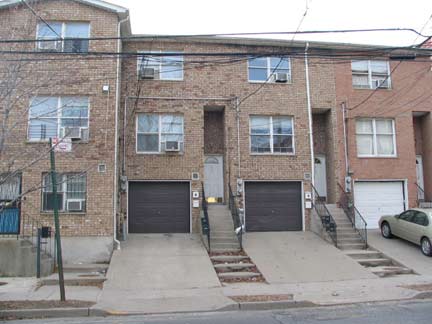 Compare 296-298 St. Marks, early 20th Century houses with attics, porches and front yards (filled with stone, however, by later occupants) with adjacent dwellings from the early 21st Century. Architecture critics won't look kindly on the period, but in the late 21st Century, wheover's critiquing by then may not even have a decent frame of reference if all the buildings look like this.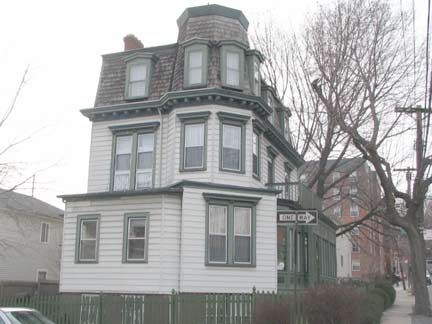 A pair of siblings at Fort and Belmont Places. The one on the NE corner (right) has been allowed to keep its original appearance a bit more.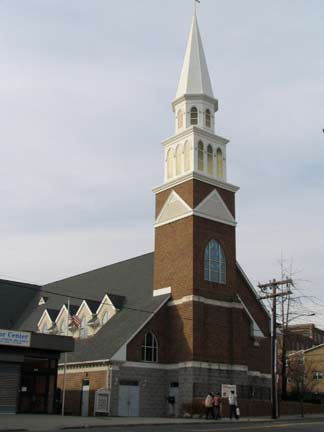 The landmarked Brighton Heights Reformed Church, built 1866 by John Correja, has been completely reconstructed in recent years.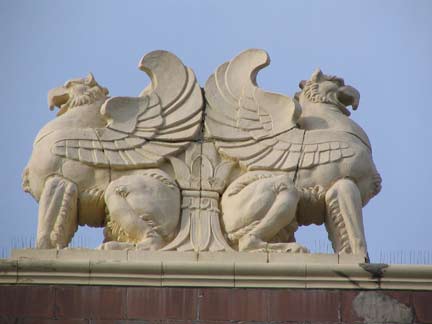 St. George Theatre, 35 Hyatt Street, designed by Eugene DeRosa and opened in 1929, is relatively unprepossessing. Only upon entering the theater does its grandeur evoke any awe.
Its interior, based on Spanish Baroque architecture, has been given tender loving care by a dedicated band of workers and now serves as a performing arts center and luxury banquet hall. It has been host to artists as diverse as Tony Bennett, Marc Cohn and Monkee Davy Jones.
Note the architectural elements on the exterior: griffins and buffalo skulls.
I've photographed Staten Island's Borough Hall, the most impressive building seen when approaching from the ferry, pretty often both from the front and here, from the back at Hyatt Street.
From my Richmond Terrace page:
It's quite possible that Staten Island has the most distinctive borough hall between Brooklyn's, Bronx's, and Queens', though Brooklyn Borough President Marty Markowitz would probably vigorously argue with you about Brooklyn. It houses the Borough President's Office, offices of the Department of Buildings and other civic offices. On the inside, the grand marble lobby contains a series of significant WPA reliefs and murals painted in 1940 by Frederick Charles Stahr, illustrating events in Staten Island history.
The St. George Public Library, Hyatt Street and Central Avenue, is one of four libraries in Staten Island that were gifts from industrialist-philanthoper Andrew Carnegie. It was designed in 1906 by John Carrere and Thomas Hastings, who also built the Staten Island Borough Hall.
Another NYC-style apartment building at 15 Central Avenue, this time with Doric columns: the Bonaire.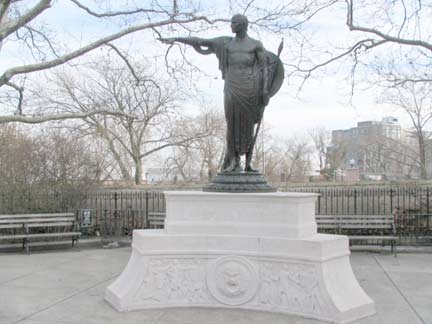 At Hyatt Street and Stuyvesant Place is Major Clarence Tynan Barrett Triangle, named for a prominent Staten Island military man who, after serving with distinction in the Civil War, excelled in the fields of landscape architecture and sanitation engineering.
Originally unveiled on November 11, 1915 just southeast of Borough Hall, the bronze classical warrior figure on a marble pedestal by Sherry Edmundson Fry (1879 1966) was given to the City by Barrettís widow, Anna Hutchings Barrett. The triangular base, inscribed with the words "Loyal, Honest, Brave and True," are carved with relief figures in a Grecian-style processional, which relate to Barrett's place in a long military tradition. In 1945 the monument was moved to its present site at Major Barrett Triangle. NYC Parks