9th Avenue, Hell's Kitchen between West 42nd and West 57th Streets, is known for restaurants showcasing cuisines from around the globe…European, Asian, Caribbean, you name it. On a recent walk south on 9th, I wasn't particularly hungry and so skipped all the restaurants and bistros, and instead snapped photos of all the terrific signage to be found on the strip, some quite old and hand-lettered and some quite strikingly modern…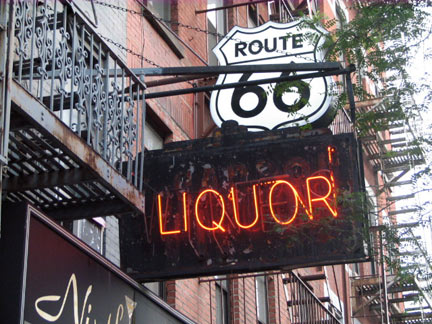 The Route 66 sign combines two of my objects of admiration: the United States highway sign shield and ancient neon, quite a lot of which can still be found on liquor store signs around town.
All…ah…signs point to these two bike shop awnings, a couple blocks from each other, having been produced by the same signmaker.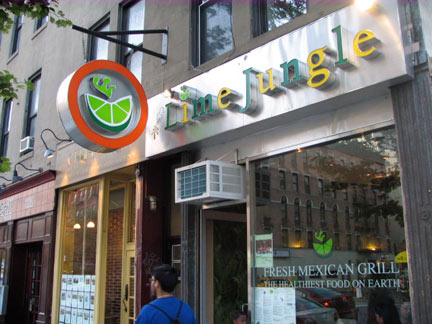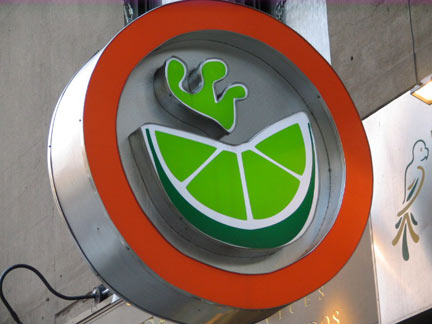 Bright colors mark Lime Jungle, a Mexican grill.
Q2 Thai's website: "Splashes of warm hues race across the ceiling. A checkerboard of ceramic tiling offsets long mirrored walls. Metallic chairs, pink neon lights and lush orchids abound. "
Porn has not returned to Hell's Kitchen; this refers to Jules Dassin's 1948 cinema verité film about a murder investigation.
Although nude dining seems to be catching on.
Ultramodern Chanpen Thai restaurant sign, and old school Afghani cuisine.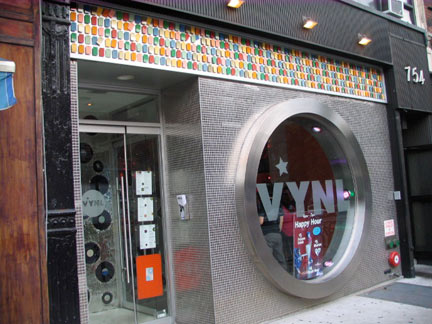 Vynl is a theme restaurant: the circular window theme might tell you that it's 45RPM records. As Jennifer T. from LA says on yelp.com…"Something that really distinguishes the trendy restaurants that I go to are the restrooms. Oh, goodness, if you're bored or looking for something interesting you gotta get a drink here at least.
I used the Cher bathroom. There is a little fresco mosaic of Cher on the wall and a little doll in a glass display. The other bathroom I went into was the Elvis room.. there is Elvis music playing in there.."
Meanwhile, at 666 9th, the signmaker's technique at Clinton Glass & Mirrors seemed to be to cram in as many letters as possible, since there's not a lot of room. Hell's Kitchen's more reputable name is Clinton.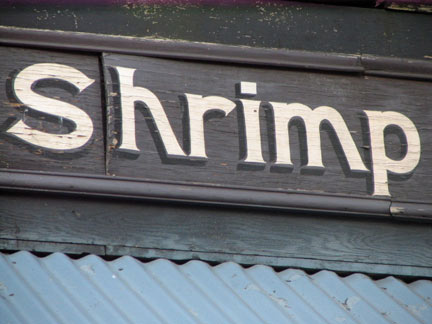 The Delta Grill, at West 49th, has marvelously hand painted awning signs and signboard. A po' boy is a sub sandwich using French baguette bread, usually with friend shrimp, oysters, catfish or crawfish. It originated in the French Cajun spots in Louisiana; there are various etymologies.
My favorite signs of all were on the 3 Aces Barber Shop, just off West 46th in the shadow of Restaurant Row. One of the truck bollards in front has been fashioned into a barber pole, and the shop still has an old cash register inside.
On yelp.com, Brad V. from Brooklyn says…
"The place has a good manly feel to it. I've been going there for almost seven years now and they've recently "remodelled." Basically, they took down the old wood paneling (along with the various newspaper articles and political cartoons from the 80's attached) and put up new somewhat lighter wood paneling. Needless to say there is not a lot of decor here, but it's one of the place's charms.
"The barbers are all on the older side and give consistantly great haircuts. They even use a straight razor to trim around your ears and the back of your neck. These guys are by no means "stylists" or "hair dressers," so don't even think about asking for highlites, or frosted tips. This isn't to say that they might not be able to oblige you, but I think they may be a bit out of practice. 
"The thing I love the most about the place is that all of the barbers provide excellent service and make it clear that they appreciate their loyal customer's patronage. Whether it's the fact that they always remember to shave that weird patch of hair on the back of your neck, or give your eyebrows a quick trim, they always catch the little things that most guys let slide on a day-to-day basis. On top of that I am always greeted with a handshake and a very sincere "How are you doing? It's great to see you again." When I leave, I am similarly thanked for my patronage. Sometimes it's the little things that really make for a great customer experience. " 
Photographed August 2008; page completed September 3.