Your webmaster recently took advantage of an amazing coincidence — a day off combined with pleasant weather — to walk 14th Street from west to east and then enter Stuyvesant Town to plunder — photographically –its cache of Type G lampposts.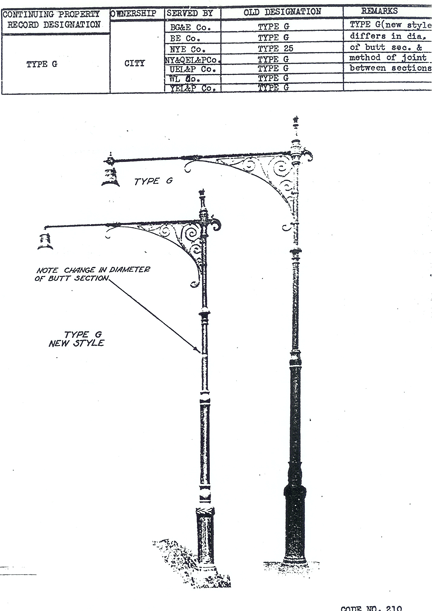 The Type G, seen here in a 1936 city catalogue of lampposts, closely resembled the Type 24M Corvington post, but with slightly different scrollwork and a thinner base. Type G shafts were also thinner and shorter than the Corvs, which were generally regarded as "boulevard posts" when they first appeared in the 1910s.
Type G's however, generally found themselves in parks or side streets. In the early 20th Century there were over two hundred different types of lamppost designs to be found in NYC — until the 1930s, when things began to shake gthemselves out into just a dozen or so different cast-iron types.
Type G's survived that Cretaceous-Tertiary border and actually survived by the hundreds well into the 1970s, mostly squirreled away in farflung outposts…
I dropped into Stuyvesant Town, which is accessed by auto via four curved oval roadways entered from East 14th, East 20th, 1st Avenue and Avenue C.
However, my mood once there quickly changed from relaxation to edginess. It was those "traspassers will be prosecuted" signs, as well as the patrol cars I saw driving around.
Type G bases are reminiscent of Type A and B Henry Bacon park posts, albeit just a little thicker. Special posts on Eastern Parkway in Brooklyn, which I am resolved to walk one of these weekends, extrapolate on this design with a much thicker, fatter version of the Type G base.
The campus of SUNY Maritime College at the eastern tip of the Bronx in Schuylerville, of all places, has, or had, a small collection of Type G's. After I obtained these shots in 2005 I'm told that the Type G's as well as the rare Twin Type F (seen in the background at right) were duly removed. Glad I could capture them before that happened.
Dyker Beach Golf Course, in my backyard practically when I lived in Bay Ridge, had a bunch of Type G's scattered about on the driveways leading to the clubhouse and the parking lots. They were allowed to rust away and their Gumball luminaires lost their glass reflector dishes, then the bulbs, until the naked posts were removed in the late 1990s.
I should really dig this out and scan it again — I still have it somewhere. I first encountered this Type G at Mosolu Avenue and Post Road in the Bronx in the late 1980s — I got this photo in November 1988. I didn't get a real clear shot of the base but you can see it has a Type G outline.
This post was pretty much allowed to rust itself into oblivion (paint jobs now and then would combat rust) and was torn down in about 1999 or 2000.
There remain two Type G's at the Haupt Conservatory in the NY Botanical Gardens elswehere in the Bronx. Somehow, whenever I'm there I can never get over to them to get a picture. Maybe this year when I attend the annual NYC train show.
Page completed October 31, 2008.