The confluence of decent weather and a ForgottenTour has been rare indeed. There was one string of about 9 or 10 Tours over a couple of years that featured uniformly overcast weather if not showers as well. All that changed for Tour 36 in Prospect Park on October 26, 2008. October usually features my favorite weather — 60 and sunny — and Tour 36 hit the bullseye.
The terrific weather and peak fall foliage probably combined to produce FNY's best-attended tour ever, with 61 ForgottenFans (FNY's previous best was 56 people on Tour 14 in DUMBO, Brooklyn.) I'm elated when even one person turns up.
For this tour I simply repeated what I did for several years when I lived in Bay Ridge. On fall Sundays when I wasn't in the mood to watch the Jets lose again I would grab the B63 bus on 5th Avenue, take it to Park Slope and enter the Park from the west side, wander around for a couple of hours, and emerge on the east side, where I would grab the B16 bus at Parkside and Ocean, which also ran to Bay Ridge.
Over the years I became pretty familiar with how to get around in the Park, so this tour was a breeze to plan and I was able to not rely on notes as I sometimes have to do. I've been in Queens for 16 years and worked in Nassau County for most of that time, but when you are born in Brooklyn you are granted perpetual Brooklynian status.
We met at Grand Army Plaza and would around the north, west and central areas of the park, but I won't go over the tour blow by blow. I'm too busy narrating to shoot photos on a tour so I leave the pictures to tour regulars Bob Mulero, Joe DeMarco, Eric Weaver and Tim Skoldberg, whose work appears on this page…
For a detailed map of Prospect Park follow the PDF link on this page.

The double-archwayed Meadowport Arch was constructed from park architects Frederick Olmsted and Calvert Vaux from sandstone in the Park's early years. The roof regained its original cedar planking in the late 1980s.
Meadowport Arch, and its partner to the east, Endale Arch, open out onto Prospect Park's Long Meadow. This 1-mile, 75-acre stretch is believed to be the longest meadowland in any US park. Parts of the Long Meadow have been used as a sheep meadow and croquet grounds in decades past. Activities on the meadow viewed through the tunnel-like arch interiors are akin to a television screen.
Though our tour began across from the majestic Soldiers'and Sailors' Monument Arch, where Flatbush Avenue, Vanderbilt Avenue, Eastern Parkway and Prospect Park west all radiate to farflung points. Inside the arch is the only known portrait of Lincoln on horseback. One of the arch towers used to have a storage area for puppets, big and small, used in NYC parades and other events (they have been moved due to leakage in the tower).

Of course we checked out the creatures on the lamppost bases with the curious rings. Did they once hold horses in place?
Not captured on pixels were the bronze snake-entwined urns.
Ogden Nash, who had a knack for putting things succinctly, once said "if called by a panther, don't anther." The pair of wildcats at the 3rd Street and Prospect Park West entrance are indeed formidable, having sprung from the chisel of Alexander P. Proctor in 1898. They wait for prey on marble pedestals by Stanford White.
We saw a couple of locales in the Park that actually predated it, and were here before the park was planned and built in the 1860s. One of them was the Edwin Litchfield Villa, owned by he man who in many ways was the father of Park Slope; he dredged Gowanus Creek, turning it into a canal; he purchased one third of all the land between the canal and what became Prospect park and hired surveyors who divided it into lots and planned a street grid.
The Italianate villa, at Prospect Park West facing 5th Street, was designed by architect Alexander Jackson Davis and completed in 1857. It was called Grace Hill after Litchfield's wife. When it was completed at the crest of the "slope" Litchfield and family could look down the hill for a view of his canal.
The Quaker Cemetery adjoining Lookout Hill is another landmark that predated the park.

The south side of the villa has an enclosed porch with a driveway alongside. This may have been a carriage entrance area a one time. Note the corncob and wheatsheaf detail at the top of each column.
The Revolutionary War is honored frequently in the Park, including a large granite stele at the 9th Street park entrance with a bronze relief depicting a close ally of Goerge Washington, the Marquis de Lafayette. The relief was designed by Daniel Chester French, the base by Henry Bacon. When it was dedicated in 1917 both were also collaborating on the Lincoln Memorial in Washington, DC. Bacon also designed NYC's standard park lamppost, which appears by the thousands in the Park.
LEFT: special park posts at the Memorial (not the Bacon posts).

Old-timers remember the Pavilion, at Prospect Park West and 15th Street, as the Sanders. Two Sanders Theatres have operated in this site, one from 1908 (when brothers Harry and Rudlooph Sanders opened a nickelodeon on the site) to 1928; this 
second version
 opened in 1928 and 
remained in business
 until 1978. The building remained shuttered until 20 years later when it was redeveloped as the multi-screen Pavilion.
I've only seen one film here: on July 4, 1996. Can you guess which one?

Prospect Park has been given some retro-Type 24 Corvingtons in recent years. Some of them at the Grand Army Plaza entrance (right) use the now-rare Spring City
Ivy series
, a shortened version of its elongated 
Bishop Crook
 line that is seen very frequently alongside Bell reproductions. There's some old luminaires and signage rattling around in Prospect Park, but they're easy to overlook.
LEFT: Henry Bacon Type A posts. The one holding the stoplight and "don't walk" light is relatively new; it was installed in the early 1990s. I have not seen this particular stoplight-don't walk sign bracket used elsewhere. Each of these posts has a sleeve for a park lamp at the apex, but none were ever installed. RIGHT: one of a pair of twin lights illuminating entrance/exit to the IND subway at Bartel-Pritchard Square at PPW and 15th Street.
Stanford White designed a pair of giant colums at the park entrance at Bartel Pricthard Square in 1906, inspired by the 400 BC Acanthus Column of Delphi, Greece.
Shortly after completing the columns, White was shot and killed by Harry Thaw: White had cheated on his marriage in a dalliance with chorus girl Evelyn Nesbit, whom Thaw later married; Thaw killed White in a jealous rage.
Bartel-Pritchard Square, actually a circle, was named for two local residents, young American soldiers, Emil Bartel and William Pritchard, who were killed in France in 1918 during World War I combat.
She's a Lady
Making our way toward the Lake, some of us were fascinated by this young woman who was riding side saddle. I didn't know that was still done! Unlike Central Park's bridle paths, whose Clairmont Stables shut down in 2007, Prospect Park's are still served by Kensington Stables in the titular neighborhood at the park's southeast edge. Nearby Flatbush has a tennis club.
Inland Sea
If you're not familiar with Prospect Park, coming upon its 60-acre lake is a revelation. Sometimes I think about the moment in Jules Verne's Journey to the Center of the Earthwhen the explorers find the underground sea after wandering around in caves for most of the book (though here there are no plesiosaurs or cavemen to complicate things). Both Central and Prospect Parks were provided with large lakes by Calvert and Vaux, but Prospect's has retained a more suburban aspect than Central's.

Some more of Prospect Park's unique artifacts: barbecue disposal bins and a dog water fountain.
The Wellhouse, on the Prospect Park drive bearing its name, is one of the oldest (built 1869) and yet overlooked artifacts in the park. It once housed engines and machinery that pumped 750,000 gallons of water a day into a reservoir that fed the park's gullies, springs and lakes. After city water entered the park, the reservoir and smokestack were torn down and the well was covered over.
Though a purely functional structure, it too was constructed with meticulousness, with carven quatrefoils over the windows and a trefoil over the door.
The 400
On August 27, 1776, during the Revolutionary War's Battle of Brooklyn, things looked dire indeed for the Americans, as the British and Hessians were overwhelming them in what is now the northern section of Prospect Park. Hoping to reach forts at Boerum Hill and Fort Greene, about 900 American troops retreated from what would today be the Greenwood Cemetery area (there are markers delineating the exact areas on Prospect Park's East Drive); they hoped to track northward. General William Alexander, also known as Lord Stirling, led a company of 400 Maryland troops that engaged British General Charles Cornwallis' force of 2000 grenadiers and cannoneers at the Old Stone House (the site of today's J.J. Byrne Park in Park Slope) to cover the retreat and, while many of the Americans were able to escape, Stirling was captured and 259 of the Maryland troops were killed. George Washington, observing the battle from what is now Cobble Hill, is said to have uttered: "What brave fellows I must this day lose."
The Maryland Monument, a simple granite shaft with a sphere at its apex designed by Stanford White, is at the foot of Lookout Hill at the bottom of a staircase along Wellhouse Drive in a relatively inconspicuous area. It is a tribute to the Maryland regiment. It was erected August 17, 1895, at the 119th anniversary of the battle.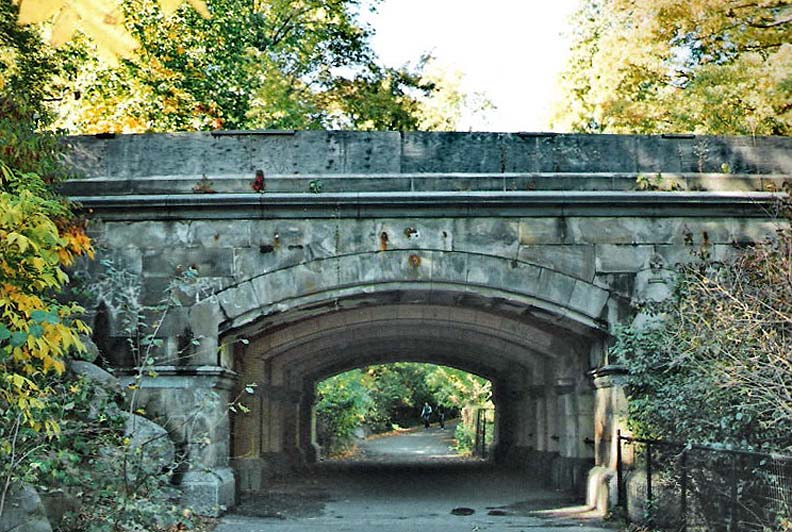 The Nethermead Arch, which seems to be continuously under repair, is unique among Prospect Park arches in that it spans a park walkway, a bridle path, and a stream (the man-made Ambergill). It also serves as a boundary between the hilly, wooded Ravine and the Nethermead, Prospect Park's central meadow (it takes its name for two old English words meaning "remote" and "meadow").

A large osage orange tree can be found at the edge of the Nethermead. This species is found, for the most part, in the midwest and south but can be cultivated country-wide. It is relatively rare in NYC, but a number of osage orange trees can be found on Seguine Avenue in Price Bay, Staten Island. These were planted by Prospect Park architect Frederick Olmsted, who championed the tree and lived in Staten Island for a time.
The osage orange is not in the citrus family, though its fruit occasionally bears an orangey odor. It is inedible for people and most animals (it's theorized that the animals that fed on it went extinct). Its essence can be extracted as an insect repellent.
The practice of placing bars between tree trunks to stabilize growth is now rare.
The Music Pagoda is an octagonal-shaped structure, with columns in groups of two and three, built in 1887. Its base consists of rocks and boulders that were removed from Sullivan Hill, which lies east of the Ravine along Long Meadow. Until the 1960s, the Pagoda was a major concert and theatre venue, but the park's concert organizers now use the Bandshell, built by Robert Moses in 1939, near Prospect Park West and 10th Street. The Pagoda burned down in 1968, but was rebuilt as a nearly exact replica in 1971. I wonder what can be found behind the door on the bottom…
The Boathouse overlooks the Lullwater and contains the Audubon Center, the Con Edison Discover Nature Theater and the Verizon Learning Lab as well as a visitor center and cafe. In season boats are rentable that can be paddled along the Lullwater and park lake. The view from the roof, overlooking the tranquil setting, is amazing. This Boathouse replaced the original Prospect Park boathouse in 1905; designed by architects Helmle and Huberty, it owes its overall look to the Library of St. Mark in Venice, Italy. It was closed for extensive renovations from 1997-2002.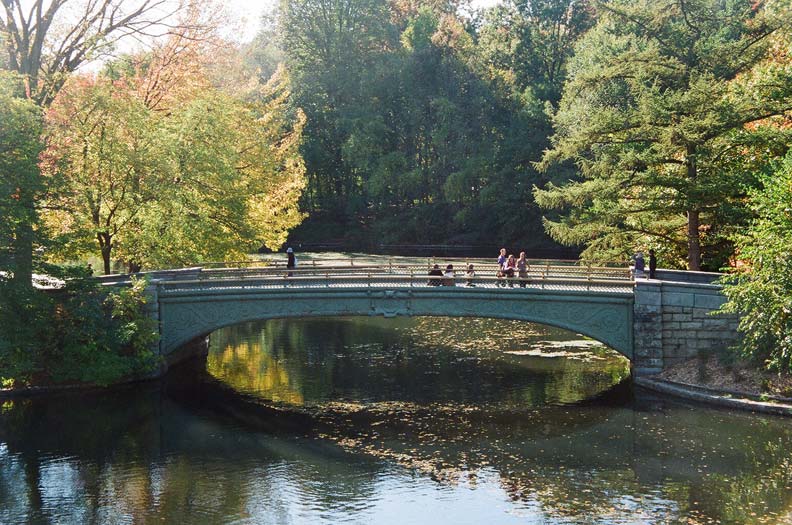 The Lullwater Bridge is Prospect Park's only cast-iron bridge. It too is a replacement as it took the place of Vaux and Olmsted's original wooden bridge.
A new Binnenwater bridge spans an impressive artificial waterfall between the Pagoda and Boathouse. The old Binnen Pool has undergone a revival, with Binnen Pool's original parameters having been restored after years of burial under swamps and fallen trees. It was named by the park's creators after a Dutch word, binnen, "within." As part of the restoration, new timber wood bridges and lookout vistas were constructed.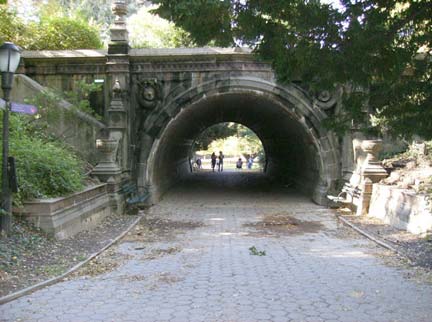 Cleft Ridge Span, directly in front of the Camperdown Elm, is the "newest" of Prospect Park's arch bridges, having been completed in 1872. It was constructed from molded blocks of concrete consisting of sand, gravel and Portland cement. The arch tunnels under Wellhouse Drive; pause to admire the intricately molded interior. The slabs are known as Beton Coignet and were among the first concrete products to be mass-produced. In 1873 the USA underwent a financial "panic" (as it did in 2008) and the Park was exploring methods of cheaper construction.
The bridge takes Wellhouse Drive over park paths connecting the Lullwater with the Music Grove area.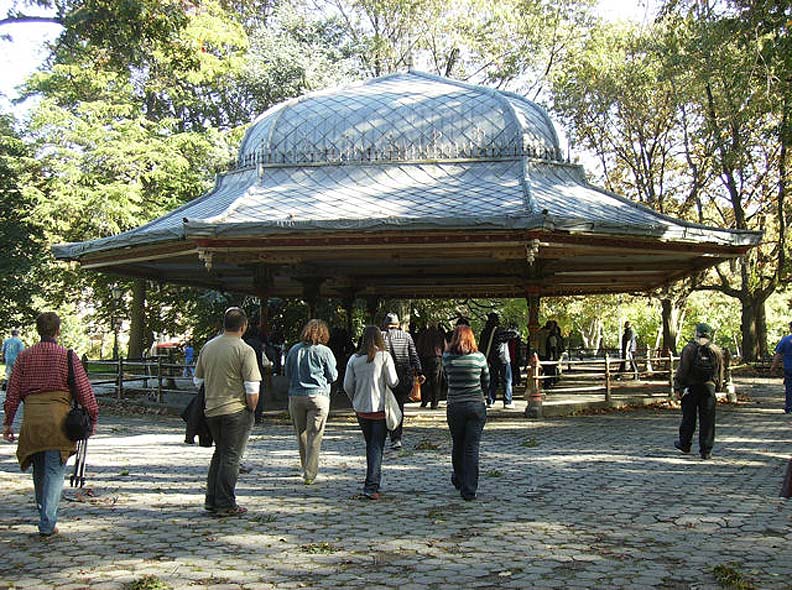 Olmsted and Vaux made sure to provide a unique vista at the ends of each of their Prospect Park arches. Near Grand Army Plaza, Endale and Meadowport Arches "open" to the Long Meadow.
The Cleft Ridge Span is no different. It "opens" to two of Prospect Park's original music venues, the mysterious-looking Oriental Pavilion and the Concert Grove. The Pavilion was completed in 1874 and consists of eight cast iron posts, painted colorfully in a vague Middle Eastern pattern, supporting a complex roof that flares outward on the edges, creating a large shady area. Don't forget to glance at the roof when standing under the Pavilion: you will be rewarded with a beautiful stained-glass octagonal skylight. In 1949, NYC's Parks and highways czar, Robert Moses, gave the order that a snack bar be constructed under the pavilion in a brick enclosure. The snack bar caught fire in 1974, destroying much of the structure, and it remained a ruin until the city found enough funds to restore it in the 1980s.
The Pavilion overlooks Concert Grove and a collection of monumental busts including Wolfgang Amadeus (left) and Ludwig Van. German composers' busts were contributed by the United German Singers of Brooklyn.
A bust of author Washington Irving used to be here, as well, but he was moved across East Drive after some decades here. Irish author Thomas Moore has a bust in the Grove. Popular in his time but liitle-read today, Moore is also memorialized with a bust in Central Park (see Who Are These Guys Gals, and Dogs, Central Park)
And, a monumental statue of Abraham Lincoln overlooks nearby Wollman Rink. It was cast in 1868, 3 years after his death, and stood near Grand Army Plaza until 1895 when it was moved here to overlook the island in the Lake where musicians set up for summer concerts. The island was filled in by Moses, who built the rink to take its place.
The Park hopes to replace Wollman with two separate rinks in 2010, though a prolonged recession might delay those plans.
Thanks to ForgottenFans who made this tour the best-attended in the series.
Much of my research in Prospect Park has been aided by the terrific book, Prospect Park and the Botanic Gardens (Silver Lining, 2001) written by ForgottenFan Neil DeMause.
Joe DiMarco filmed part of the tour…

And additional photos by Bob Mulero can be also seen here… Gallery 1 | Gallery 2 | Gallery 3
"Mr. Heather"'s Flickr page
Brenda Becker's "A Year In The Park"