There's been a Van Zandt Avenue in Douglaston, my old maps tell me, since 1910 or so, perhaps before that. The street is named for an early area settler, Wynant Van Zandt, whose ca. 1825 dwelling, now the Douglaston Club, still stands on Douglaston Parkway north of the railroad.
I was roving through Little Neck and Douglaston a few Sundays ago [2008] when I encountered one of the best clutches of Tudors and Tudoresques I've ever seen on Van Zandt just easty of Douglaston Parkway, and on a short stretch of Doug Parkway itself. I have my own place now in Westmoreland Gardens, Little Neck that I like, but if I won Megamillions it would be hard for me to decide what I wanted more, a brownstone in Brooklyn (Bay Ridge or Park Slope come to mind) a houseboat (I wouldn't take it anywhere, I'd just sit on the deck) or, perhaps, a Tudor in Douglaston, like one of these. Since Van Zandt was one of the first streets to be laid out and built on, the Tudors here likely predate much of the other houses in the area…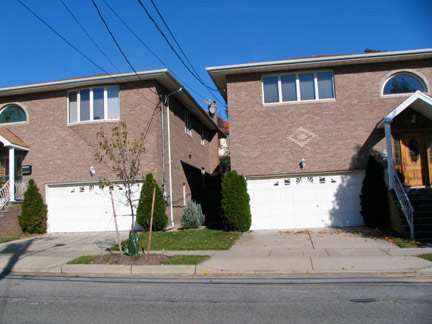 … some of which look like this, with no windows or front lawns to speak of. (It's really a sleeping area, with wagon storage area attached.) The architects should be hauled up somewhere and asked to explain their actions, building things like this.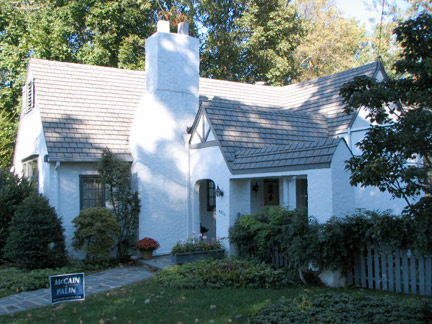 Cottages and cottage-types on Douglaston Parkway
Fall colors on Alameda Avenue. Queens has both an Alameda Avenue and an Almeda Avenue — Almeda is on the Rockaway peninsula.
photographed October 2008; page completed December 3