The Beekman Tower, at 1st Avenue and Mitchell Place, is one of NYC's first, and best, examples of Art Deco architecture. It was designed by John Mead Howells, an architect who worked closely with the famed Raymond Hood, and is 28 stories of orange and tan brick and vertical striping. ABOVE: The tower in 1929.
As you approach the front of what is now the Beekman Tower Hotel, you can see the Greek alphabet carved on the exterior of the building on the Mitchell Place side. These letters are a clue to the building's original name, the Panhellenic Tower, or, "All-Greek" Tower.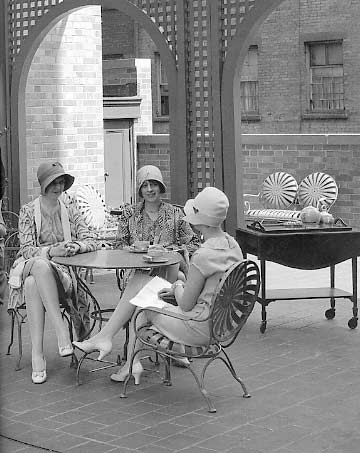 In photos taken at the tower's groundbreaking in 1927 or on a terrace just after its opening in 1929, women are prominent.
The tower was originally built to house a clubhouse for Greek-letter sororities and also to provide affordable housing for young women in the workforce — increasing in number in the 1920s. Photos of the interior, which contains some spectacular public spaces, can be found at NYC Architecture.
The 26th-floor restaurant is open to the public:
The intriguing, dark '20s-modern decor of the Top of the Tower restaurant would be spectacular; elegant yet comfortable at the same time; in any location. What takes one's breath away is that the delightfully designed space possesses no curtains per se; the backdrop is a 360-degree view of New York City from 26 floors up. A lot of expense was spent on detail; a combination of brushed metals and rare woods combined in an understated way with lovely lighting details and simple, comfortable furniture echoed the Art Deco theme; but frankly I'd rather call it "late 1920s modern," as it's faithful to that particular style. Gorgeous original pointed-top windows with stained glass details atop tower about 15 feet up from the floor. The glass behind the bar is original cobalt blue. The whole effect, complete with baby grand piano, lighting via wall sconces, black ceiling and lovely soaring draperies makes one think they are walking into a sophisticated club. Seating near the bar is on individual sofas set up with tables. The dining room proper surrounds this room; the glasswork is new, offering a bright, lovely view of the city. So beautiful were our surroundings that I feared I'd have to mortgage my home to pay for lunch. Not so. Everything2
Mitchell Place is a tiny one-block, narrow passage running between 1st Avenue and East 49th Street east to Beekman Place. It is on a hill, so it ramps up east as it goes. Unusually it is open on one side (an off ramp of the FDR Drive) and as you can see, it probably has the most disproportionately tallest towers in Manhattan for such a short block.
Mitchell Place was laid out in 1871, while its namesake, jurist William Mitchell (1801-1886) was still alive. He was presiding justice of the State Supreme Court and a member of the Court of Appeals, enjoying a legal career of over 60 years.
When I arrived at the Beekman Tower in September 2008 I found a Ghost Bike affixed to a post. These bicycles, painted white, are temporary installations by the NYC Street Memorial Project. They commemorate the areas where a bicyclist was hit and killed by an automobile.
1920s images from New York, Empire City: 1920-1945 by David Stravitz.
2/11/09