I frequently mention my childhood in FNY, since there's so much material to draw from in terms of what's gone or what's altered beyond recognition. About once a month when I was a kid in the Swingin' 60s, my mother, father and I would pile on to the B37 bus on 3rd Avenue and off we would trundle, most of the journey under the grim Gowanus Expressway overpass, which shrouds 3rd Avenue from about 63rd Street all the way north to 18th. We would go past that preternaturally quiet section of 3rd in the neighborhood of Gowanus itself between Prospect Avenue and Flatbush. The green GM fishbowl bus, with its rhomboid-shaped windows that for some reason had a very complicated handle to open, would turn onto Fulton from Flatbush, stop at Bridge Street, and we would enter Brooklyn's flagship emporium. I don't recall much about the selling floors or departments…but I do recall the elevators …
The elevators had glass-paneled doors, protected by a gate that closed and shut when the elevator operator within pulled a large lever. I believe the elevators, without the operators, are still in operation in A&S' present incarnation, Macy's, which took over A&S stores in Brooklyn, Manhattan, and the suburbs after its parent company, Federated Department Stores, purchased the company in 1994. I remember an elegant lunchroom on one of the upper floors, and even a book store where I would while away the time while my mother and father were busied elsewhere in the store.
A&S was begun in 1865 as a partnership between dry-goods salesmen Joseph Wechsler and Abraham Abraham and, after they moved to Fulton Street, by then under an elevated train, in 1885, Wechsler & Abraham was believed to be the largest dry-goods store in New York State. Between 1893 and 1920, Abraham was in partnership with the Strauss family of Macy's fame, which bequeathed the store a new moniker …
Through the decades A&S gradually took over a total of eight buildings along Fulton Street (which can be easily discerned when looking skyward at its multiform facades). A plaque denoting the present Macy's A&S heritage can be found by the entrances on Fulton and Livingston Streets.
Brooklyn no longer has a flagship department store to speak of; Target and Macy's can be found in the downtown area, but they are 'out of town" interlopers. A&S began in Brooklyn and will always be associated with it. A reminder of A&S and its 129-year history was recently uncovered along one of the main arteries leading to it from Long Island…
It can be seen along the Long Island Main Line as it passes 205th Street along Jamaica Avenue between the Hollis and Queens Village stations, a long sign once seen by thousands of commuters daily. Some trains along this route go directly to the Flatbush Avenue terminal in Brooklyn, which happened to be just a few blocks away from the A&S flagship store on Fulton.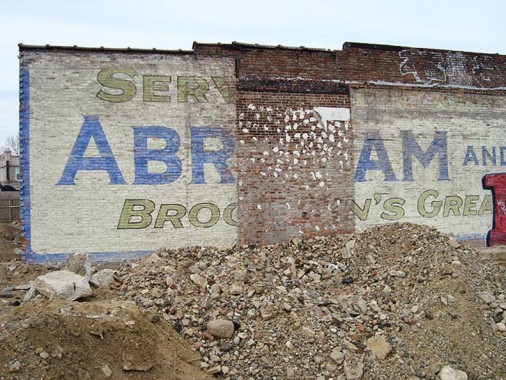 The words Abraham and Straus Inc. are rendered in bold blue serif type, rather like the Copperplate I use for my Forgotten New York title cards. The line on top has been made invisible over the decades, but it still faintly says "Serving Brooklyn since 1865."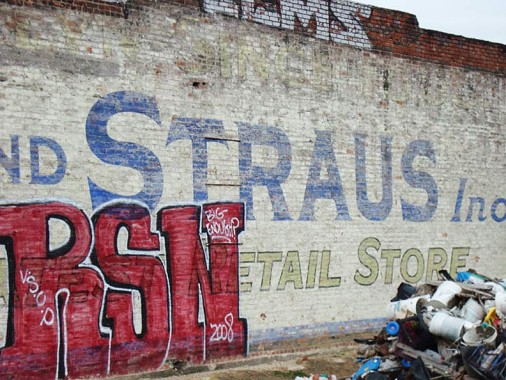 "Brooklyn's Greatest Retail Store" is rendered in italic gold type underneath. The graffitists, the demolition people, and the garbage accumulators whose work is also seen here are likely completely unaware of the former existence of A&S; and as I've mangled Latin before in FNY…"Sick transit, Gloria."
Photography: Jim Haines. Page completed March 19, 2009