Time for one of FNY's periodic closet-cleaning sessions — I select several photos that are disconnected to each other, yet show an out-of-the-way NYC locale, or something that disappeared long ago. I shot some of them myself and people worldwide send them in — some I acquired quite some time ago so forgive me if I cannot give a credit. Unlike some of our leading institutions, when FNY borrows from the memory bank … I always repay the debt. Here are a few things I know a little bit about.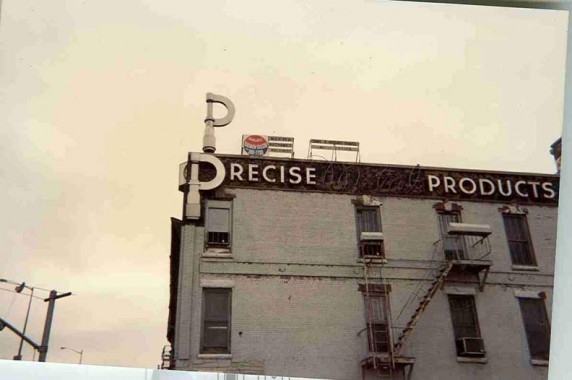 Not being a handyman, I'm not sure what this instrument is, but Precise Products was a Sunset Park fixture for years and their ad could be seen by thousands Verrazano-Narrows Bridge-bound motorists above 3rd Avenue daily. I'm sure someone can fill me in.
ForgottenFan Eric Stott: The P-shaped instrument is a Micrometer, it's used to take very precise measurements of thickness, usually something like metal or glass.
Today, only two public gaslight posts can be seen in NYC streets: one at Broadway and West 211th Street in Inwood, and at the end of dead-end Patchin Place in Greenwich Village (that has been hooked up to an electric outlet). There used to be more of them around, though, and FNY's king of lampposts, Bob Mulero, has provided me with a trove of them. This photo was taken in 1978. Gaslights dominated the streetside scene from the 1860s until electric posts began to appear in 1892.
In a scenario that will probably never be repeated, the same two Democrats and Republicans opposed each other in the Presidential elections of 1952 and 1956: Illinois Governor Adlai E. Stevenson and Dwight D. Eisenhower, with Eisenhower prevailing each time. Not sure if this photo from Life Magazine was shot in '52 or '56, but Stevenson (center) is setting a good example by crossing at the green, not in between, at one of the little Olive stoplights that were catercorner at thousands of NYC streets until the mid-1980s. I believe that's Francis Cardinal Spellman at Stevenson's right. On the Olives, the side without the visors above the red and green lights was against the traffic. If both red and green appeared simultaneously, that was analogous to yellow and the light was about to turn red.
The story goes that during one of Stevenson's presidential campaigns a supporter told him that he was sure to "get the vote of every thinking man" in the U.S., to which Stevenson is said to have replied, "Thank you, but I need a majority to win." wikipedia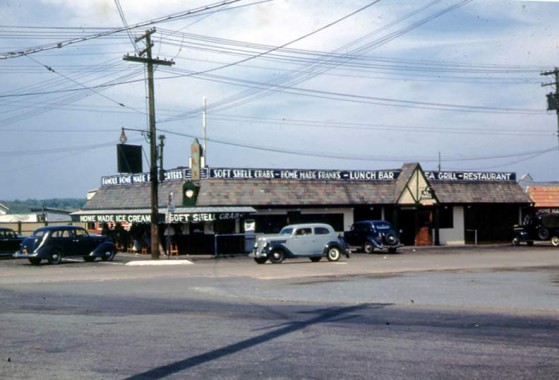 We've covered Al Deppe's Staten Island eatery before in ForgottenSlices, but here's a good color photo from about 1940. Deppe's was at the NE corner of Arthur Kill Road and Richmond Avenue in Greenridge. Today a kiddie park occupies the scene and the stub end of the Korean War Veterans Memorial Parkway would be in the background, with the Staten Island Mall about one mile up Richmond Avenue.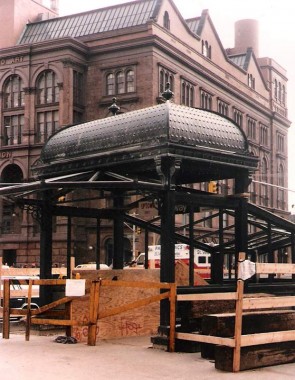 The Astor Place entrance kiosk replicated the entrances of many early IRT stations. All of the originals had disappeared by the mid-1980s, but the MTA decided to resurrect the concept here only. This 1985 photo by Bob Mulero shows it about halfway completed, with Cooper Union the backdrop.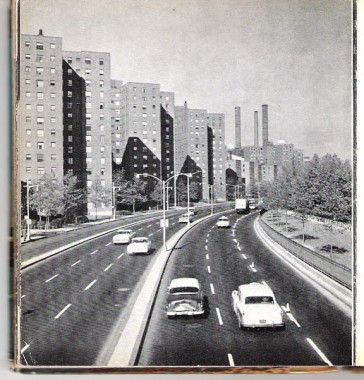 The Franklin Delano Roosevelt Drive, officially a parkway that does not permit truck traffic, was completed in stages between 1934 and 1966 in Manhattan along the East River, connecting the South Street Viaduct at Jackson Street with the Harlem River Drive at the Robert F. Kennedy (Triboro) Bridge, as both a surface artery and an elevated one. It was originally called the East River Drive — I'm not sure when the name was changed to the FDR, but it must have been soon after his death in 1945. This photo would seem to be from the ealy 1950s. I believe those are the Jacob Riis Houses in the East Village.
A pair of dayburning General Electric M400 fixtures on 61st Street south of Queens Boulevard. This is a fairly recent photo — yet these two luminaires have since been replaced with brighter sodiums. 61st Street, in the long ago, used to be called Bush Street.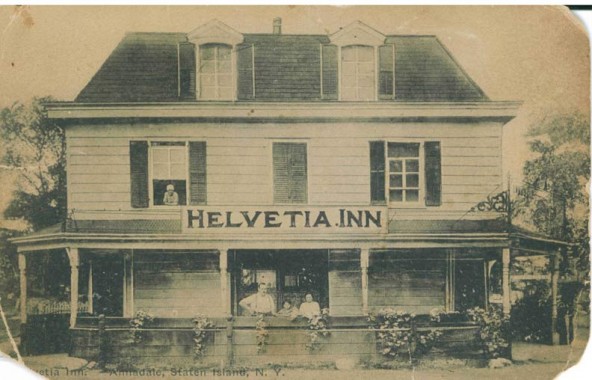 The internet turns up nothing on the old Helvetia Inn in Annadale, Staten Island. We may imagine that the proprietors were Swiss, since the ancient Latin name was Helvetia.
This comes from the introduction to a book called It Happened in Manhattan by Myrna Katz Frommer and Harvey Frommer. My attention was drawn to the weird post in the center — it appears to be a chopped-off Wheelie stoplight (seen in full on this FNY page) with a two-light stoplight fixed to the stop, with a prototype WALK-DONT WALK sign attached! I wish I had more of these. Looks like somewhere on 42nd Street in midtown in the Fab Forties.
EXTRA: looks like this was Broadway and West 45th, Times Square area, perhaps early 1950s.
Look closely and you can make out MACY'S and a star, which was undoubtedly red at one time. This is on West 14th Street near 6th Avenue, Macy's home immediately preceding their move uptown to Herald Square in 1902.
No-Cal Diet Soda tin ad, Avenue D in Canarsie.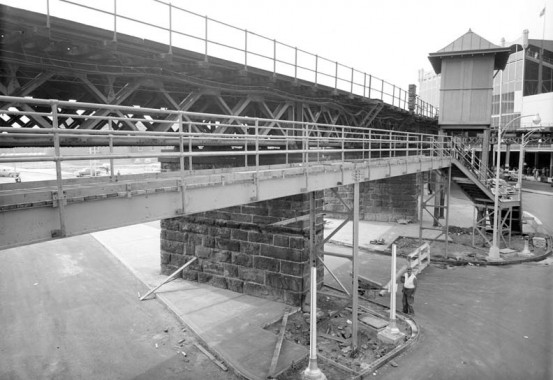 Sometime in the mid-1950s. This is the el connection at 8th Avenue at the Polo Grounds (seen above right) to the IRT elevated in the Bronx; a stub was in place until the Giants moved out at the end of the 1957 season. New streetlights and stoplights are being installed. However, Polo Grounds and elevated are long gone from the scene, with the Polo Grounds Houses replacing them.
The Rock of Rock Street. I was staggering around Williamsburg in the late 1990s one day, and I spotted this giant graffitied stone at Morgan Avenue near the intersection of Rock Street. I assumed — perhaps I was overreaching here — that this was the rock that Rock Street was named for. In any case Miss Heather of  NewYorkShitty says the rock has gone wherever rocks go when they leave.
Shea Stadium, 1964
Page completed March 17, 2009