6/09. Catching up on some older stuff while I am gradually recovering from surgery. In December I was out for lunch and a short walk in Sunnyside, Queens and in just that brief time, mainly on Skillman and Roosevelt Avenues, I was able to find a number of examples of old-school signage…some of which looked as if it had been in place since the 1960s or even before that.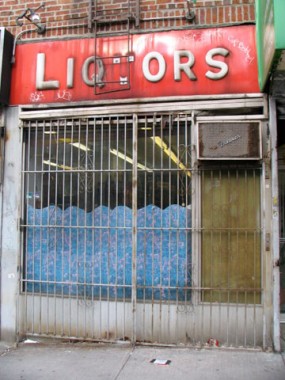 Skillman Avenue. Foremost Wines and Liquors; Wu's Cleaners & Tailors. It appears as if the Wu's sign has had the Wu's placed atop an older name at a later date — the fonts don't match.
I'm not sure if the Department of Transportation is still producing round tunnel directional signs and arrowherad-shaped signs pointing to bridges. Some of them you see around town are decades old; these two, at Roosevelt Avenue near Queens Boulevard, appear to be rather newer. I hve several examples of very old arrowhead-shaped bridge signs and am waiting to get a few more before I post them.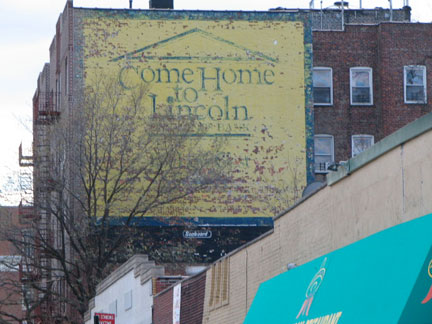 Avalon Florist, on the triangle-shaped building where Greenpoint Avenue meets Queens Boulevard.
Off Greenpoint Avenue, "come home" to Lincoln National Bank. Lincoln was acquired by Chemical Bank in the mid-1990s and its assets ultimately became part of JP Morgan Chase. The ad likely dates from the late 1970s.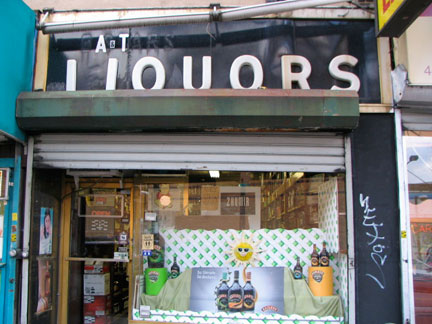 We've seen that liquor store ads by far have the greatest number of vintage signage, neon or not, in NYC. The ads do their job– spell out what you can expect to see in the store, and proprietors have no need to change them. This one, on Greenpoint, was cleverly altered from a name containing an A and a T to simply A & T Liquors.
Tailor across the street on Greenpoint Avenue.
I see more signs for the Lions Club around town than I do for Kiwanis, the national volunteer organization, but here's one on Skillman just east of Roosevelt Avenue. RIGHT: looks like pianos are all they do here on Greenpoint Avenue. "Kiwanis," according to legend, comes from a Native American term (not sure what specific language) meaning "we share."
ForgottenFan Warren Davis: The name "Kiwanis" was adapted from the expression "Nunc Kee-wanis" in the Otchipew (Native American) language, meaning "We have a good time," "We make a noise," or, under another construction, "We trade or advertise." Some persons prefer to pronounce the word "ki"; others, "kee."
Photographed December 2008; page completed June 17, 2009