I've been aware of this rare midblock passageway between side streets in Chelsea, between West 26th and West 27th Streets, for a few years now. I was pasing by on my way to Madison Square Park a few days ago [Mach 2010] and thought I would snap a few photos — I don't know how busy it gets in the spring and summer. It sits adjacent to the recently opened high rise apartment complex called The Capitol, and was likely constructed by its development company.
Some examples of early 21st Century design of public spaces.
Any architecture/design buffs who can tell me what particular genre this represents?
Note the high rise tower behind the lamppost. I worked on Fifth and 20th in 1981, West 29th off Sixth between 1988-1991, and again at nearby Macy's from 2000-2004; especially in the first 2 time periods, Sixth between 23rd and 34th was a sleepy stretch with very old buildings, mom and pop shops and a much more extensive flower district. A revival began when several large retailers occupied the massive former department stores between 16th and 23rd; large residential towers began to appear in the late 1990s, and have practically taken over the avenue by 2010.
But there are several remnants of bygone eras…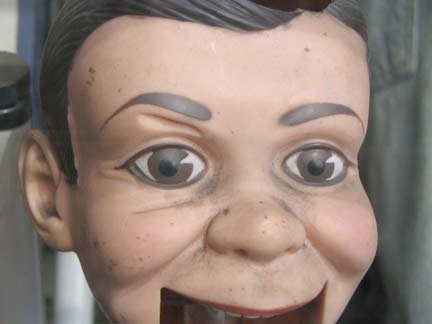 The Twenties between 5th and 7th were, and are still, to a certain degree, home to a variety of sewing machine wholesalers, and tailoring facilities. One of these is Master Cutting Table (both of these photos) on West 27th Street where it meets the Passageway With No Name.
Looking toward West 27th, The Passageway With No Name faces a stolid brick and stone building, No. 49, with arched windows and a cherubbed front entrance.
The building is named the Radio Wave Building in honor of radio, electricity and broadcasting pioneerNikola Tesla, a resident in 1891 when the building was known as the Hotel Gerlach:
On July 30, 1891 naturalized citizenship was granted to Nikola Tesla when he was sworn in at the Common Pleas Court in New York City. His witness was Richard F. Feist of Rahway, New Jersey. At the time Nikola Tesla listed his residence as the Hotel Gerlach on West 27th Street in New York City and his occupation as Civil Engineer. This building was named "Radio Wave Building", in honor of Tesla's transmission of radio waves in 1896 from his laboratory at 5th Ave. south to Hotel Gerlach. Tesla organized his Tesla Arc Light Company of New York in 1885 and in 1887 founded The Tesla Electric Company. On two occasions Tesla lost his laboratories to suspicious fires. As the genius savant kept his inventions recorded in his photogenic mind, he was able to rebuild his laboratory. With an affiliation with George Westinghouse, Tesla lit up the 1893 Columbian Exhibition at the Chicago World's Fair. Westinghouse obtained forty patents from Tesla, breaking the monopoly held by General Electric. When Tesla realized that Westinghouse needed help, he tore up his contract with him, enabling Westinghouse to continue, but left Tesla with little finances to pursue his inventions. Tesla Memorial Society of New York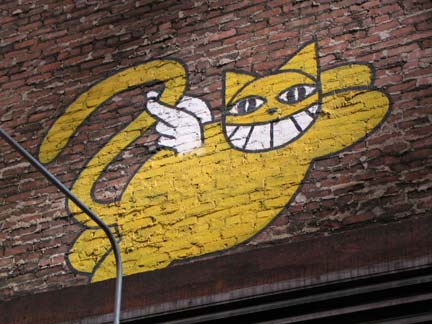 A painted cat oversees the Passageway with No Name. Nearby, on West 26th, is one of what must be hundreds of painted signs on buildings advertising once-thriving businesses in this part of town. For a reference of what these businesses were, and who ran them, Walter Grutchfield's 14 to 42 provides an indispensible service:
Schwartz Bros. Waists and Schwartz & Schwartz, Coats were the same company. They were Meyer Schwartz (1883/84-?) and Morris Schwartz (1880/81-?), both immigrants from Russia in 1901, in business together from around 1907. The business was located at 39 W. 19th St. from 1914 to 1918, then moved here at 38 W. 26th St., where they stayed until 1923. The brothers remained cloaks, suits, dresses and coats manufacturers under the names Schwartz Bros. and Schwartz & Schwartz until 1929. They shared a house at 1315 47th St. in the Borough Park area of Brooklyn from around 1915 until the late 1920s. Morris Schwartz was still living at this address at the time of the 1930 US Census. In the same census Meyer Schwartz listed his occupation as "none."
A "waist" in the early 20th Century was a term for a blouse, or woman's shirt. A shirtwaist was a dress with the top part fashioned like a 'waist.'
Photographed March 6, 2010; page completed March 10