May 2010: I was stumbling around Fort Greene and Clinton Hill on a recent Saturday, mumbling incoherently, no doubt frightening all the yuppies and richies who had recently moved in, when after passing my old high school, a fortress-like Gothic pile on Atlantic and Washington that was condo-ized years ago, found myself on Pacific and Vanderbilt — the eastern leg of what Mayor Bloomberg and Brokelyn veep Marty Markowitz have fantasized about for years: Bruce Ratner's Atlantic Yards project, bringing a sports arena and acres of luxury housing to a neighborhood whose majority of denizens don't want it.
With the recent property sale of the area's last holdout, Daniel Goldstein, owner of an apartment in the Atlantic Arts Building on Pacific between 5th and 6th Avenues and a spokesman for Develop Don't Destroy Brooklyn, most legal challenges to the project (though not all) have been exhausted and construction will seemingly begin apace; given that construction projects from beginning to end are now rendered in eras and epochs, not just decades, the entire Atlantic Yards project should be completed about the time the Brooklyn Nets are ready to contend in the NBA Atlantic Division.
Norman Oder of Atlantic Yards Report: [Goldstein is] not the last holdout. He's the last residential holdout. (Still a couple of businesses wrangling w/the state.)
I last surveyed the Atlantic Yards area in 2005, when several structures "in the way" of the Ratner grand vision were still standing. I thought I would re-inspect the area 5 years on, and see what there was to see.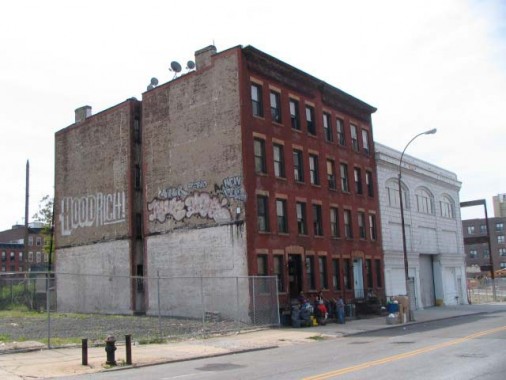 I'll have to run this past some people "in the know"but this apartment building on Pacific between Carlton and Vanderbilt, whose tenants were congregating on the stoop, is in the AY "footprint," and as such, will have to be demolished. I was under the impression that Daniel Goldstein was the last resident who had not already moved out.
Oder: They all have to leave, but this isn't the arena block, so they may have another few days or weeks.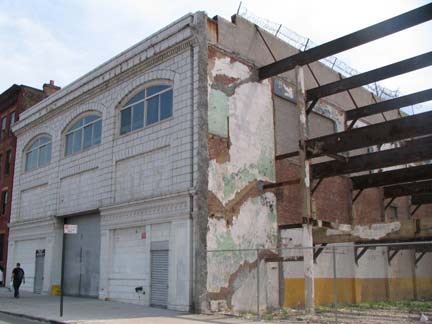 When I passed by the Ward Baking CompanyBuilding in 2005, I had no idea what it was and did not label it a piece of classic architecture worthy of landmarking when I wrote my original page, linked above. By 2010, the bakery had been mostly demolished, but there was still a small piece standing belonging to the Pack It Away Storage Company.
In 2005, though, I did grab some photos of what then was a shell of the bakery building. Develop Don't Destroy Brooklyn has a lengthy history of the building and Ward Baking…
In 1911, the Ward Baking Company building at 800 Pacific Street was built as a gleaming white example of a modern industrial facility. The founder, George S. Ward, a captain of industry and soon-to-be baseball magnate, brought a team of architects to Europe for inspiration and they designed this building on the long boat ride home…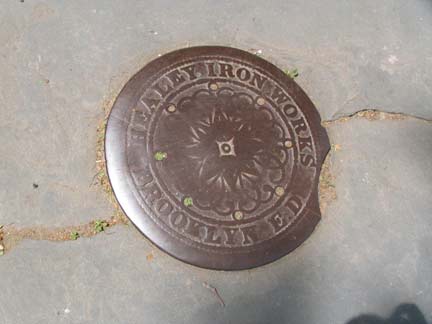 Coal chute, Healey Iron Works, Brooklyn Eastern District, Carlton Avenue. As it happens this is in front of a brownstone building on the west side of Carlton Avenue not facing demolition, but undoubtedly will be nearly surrounded by heavy construction equipment for years to come. In 1870, Healey Iron Works was located in Williamsburg at North 4th and 5th Street (now Driggs Avenue). As a matter of fact the west side of Carlton Avenue between Dean and Pacific is in the Prospect Heights Landmarked District, and cannot be touched!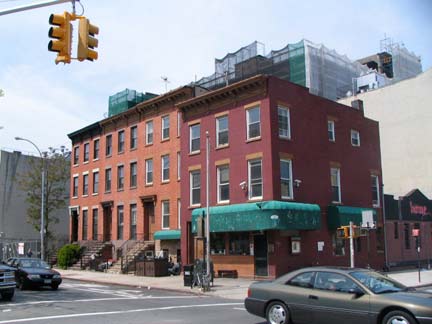 Everything in this picture, the NW corner of 6th Avenue and Dean Street, is in the gunsights. The corner was occupied until April 30th by Freddy's Backroom, a neighborhood dive, art center, and concert venue; it became one of the neighborhood epicenters for opposition to Ratnerville.
Freddy's has now located to 627 5th Avenue at 17th Street.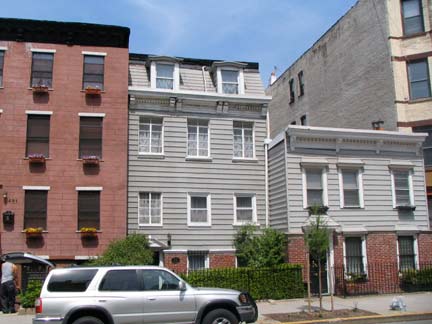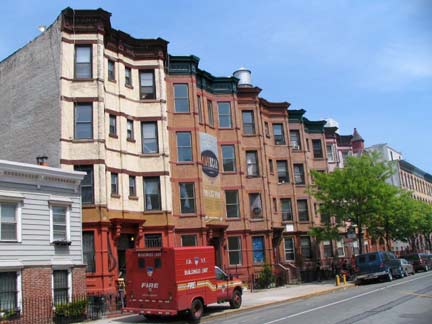 North side of Dean between 6th and Carlton. The homes in the 1st photo will be demolished at some unspecified later date and the row houses in the 2nd will be severely and adversely affected by the nearby behemoth.
Spalding Building
There was a rent-a-cop sitting on a chair at the NW corner of Pacific and 6th Avenue, no doubt vigilantly scouring the area for pesky photographers, so the image I snapped furtively of the classic red brick SpaldingFactory Building was the best I could do in 2010. I got a better picture in 2005, and an even better one in 1999 when the factory markings were still there.
(This building should have been landmarked when there was an opportunity to do so. Amazing it's now gone as of 2012.)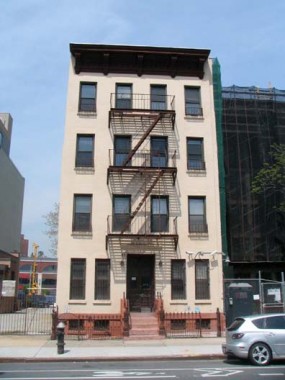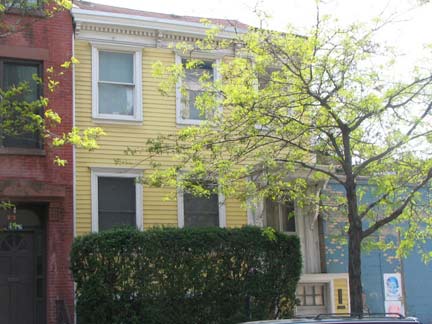 On Dean again. The brick building on the north side has been condemned, but the small frame building at 474 will be in the shadow of the Barclays Center Arena.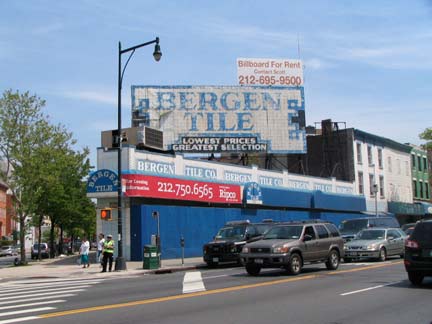 Bergen Tile and its iconic sign have moved out by early 2012 as the arena rises to its west (on the left in this 2010 photo).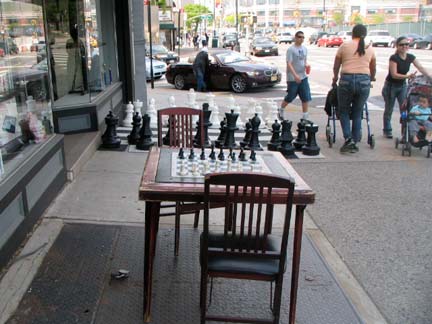 The south side, with shops such as The New York Chess and Game Shop, have continued on as usual.
Let's see what this looks like in a few months…
Page completed May 5, 2010