I was slowly making my unsteady way up Clintonville Street in Whitestone one searing afternoon in the dead dog heat of the summer of 2010. My brain cells, seared nearly past comprehension, were given signal from my rheumy eyeballs through the overtaxed optic nerve that something new had appeared on the corner of 11th Avenue and 150th Street, some distance to the west. It was an orange-brick, multi-domed structure with dozens of arched windows, appearing like a Xanadu out of mundane earthly Queens.
However it was far from a stately pleasure dome. It was the new Holy Cross Greek Orthodox Church, and including its community center it takes up the entire east side of 150th Street between 11th and 12th Avenues. When I visited Whitestone previously in 2007, Holy Cross was housed in the humble and dilapidated, yet proud, building formerly at 12th and 150th seen at right. The little blue and white building had originally been the Epworth Methodist Church, taken over by Holy Cross in 1975. Holy Cross' website only makes it to 2001, but the story of the old church is detailed.
I really wish I didn't have to go. But I will go someday and I wouldn't mind being laid out at Martin Gleason's funeral home, the most beautiful building in Whitestone, across 11th Avenue from Holy Cross. Featuring a corner double-decked round porch with Ionic coulmns, it is a converted Victorian-era private house.
Most people under 45 or so, and face it, most people, period, don't know what the purpose of the concrete column with the metal attachment was. It used to hold a small mailbox with a rounded top and a narrow slot to insert letters. At the Dawn of Forgotten NY in 1999, there were still a number of them around, but they have succumbed, one by one.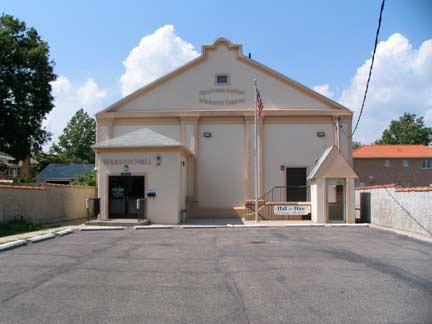 From the looks of things 11th Avenue is one of the older streets in Whitestone — several older buildings are still around, like the frame structures on the right. TheNinth Manhattan Masonic District HQ is on the north side of 11th west of 150th.
You wouldn't think so, but Whitestone is an ecclesiastical architecture fan's haven — there are some very interesting and gorgeous churches, new and old, all in the radius of a few blocks. Immanuel Lutheran, south side of 11th west of 150th, is one of the oldest, its cornerstone laid in 1901.
"In the yesteryears, we have been called 'the Church with a Lighted Cross,' because many years ago, pilots to and from LaGuardia, used our church to direct their planes to runway number 22. When the church steeple failed to light, a pilot from LaGuardia Field called to ask whether we intended lighting it again. We have been in the community since December 26, 1894!" Immanuel Whitestone
I like the way Dunkin' Donuts took over the ground floor of this frame building at Clintonville and 11th Avenue.
11th Avenue, between 150th and Clintonville. No sooner do you pass the object with the basement garage,, than you pass by a home built by people who knew what building homes was all about. Note the for sale sign.
The Throgs Neck Bridge has looked over this neck of Whitestone since 1961.
Photographed July 2010; page completed October 13, 2010