As I had written on an early Forgotten New York page in 2000, NYC has a Main Street in all five boroughs: Manhattan (Roosevelt Island), Brooklyn (DUMBO), The Bronx (Edgewater Village), Staten Island (Tottenville) and Queens, in Flushing and Kew Gardens Hills. Though none of NYC's Main Streets are renowned in history or show business, Queens' Main is likely the oldest, and certainly the longest, and presents multitudes of changes and contrasts along its several miles between Northern and Queens Boulevards. In the consecutive summers of 2009 and 2010 I walked the length of Queens' Main and viewed its conversion from a crowded, harried metropolitan center of NYC's second-largest Asian neighborhood to a quiet suburban highway. I hope I found all its nuances, oddities and attractions along the way.
From Historic Map Works, which has a wealth of older maps of the NYC metropolitan area, I acquired this section of downtown Flushing in 1909, with Main Street running north and south down the center. In 1909 Queens streets had not yet been numbered. Because of Flushing's history as a center of the wholesale plant business, with acres and acres given over to plant nurseries (George Washington was a customer in the 1780s) many of Flushing's streets and roads still carry plant names, especially in the town center's southern reaches. North of the Long Island Rail Road, though, numbering was done in the 1920s, and the street names gave way. Here, Washington Street became 37th Avenue; Lincoln became 38th; Locust, 39th, and so forth. When the IRT Flushing Line el was run out to Flushing in 1928, Amity Street became part of Roosevelt Avenue.
Most of the north-south routes, though, kept their names, such as Main, Union, and Bowne. Lawrence Street became College Point Boulevard in 1969. It's not until you push east as far as 147th Street that you find a major numbered north-south Flushing street.
If you look at the map carefully, you can make out some details that still exist today. At the top of the map is Northern Boulevard, in 1909 called Bridge Street. Its wide center median, with malls and war memorials, is still there. St. George Church, at Main and Locust (39th Avenue) was built in 1853-1854 and is still downtown Main Street's centerpiece — even though a tornado blew off its steeple in September 2010. In 1909, you see a large estate depicted on the map directly across Main Street from the church. That was the Bloodgood Mansion, later the Garretson House, constructed in the early 1800s and then replaced by office and taxpayer buildings in the early 20th Century.
Moving south, we see the Flushing Institute on Main and Amity (Roosevelt Avenue). Department stores Old Navy, Macy's and a former Caldor's now occupy the site of the Institute, which was begun in 1828 by Rev. William Muhlenberg; he later moved his school to College Point (hence the "College"). Elias Fairchild purchased the property in 1845, turning it into a leafy campus prep school that continued in that role into the 1910s. The LIRR actually tunneled under the campus until it was placed on an elevated trestle in 1913.
From the mid-1600s the heart of Flushing (named by Dutch cartographers Vlissingen, later bowdlerized to Flushing by the settling Brits) has been the T-shaped intersection of the present Main Street and Northern Boulevard. In its early years Flushing was a hotbed of religious conflict, as the New Netherland colony Director-General Peter Stuyvesant was intolerant of any other religion but the Dutch Reformed Church; the colonists' burgeoning religious independence led to the creation of the Flushing Remonstrance, a display concerning which can be found at Flushing Library (see below); and the travails of John Bowne, whose early 1660s home still stands on Bowne Street.
At the cross of the T was a longtime hostelry/tavern called the Flushing Hotel. Stagecoach service between Flushing and the Manhattan ferries began in 1802, running along Bridge Street/Broadway/Northern Boulevard, and traffic proceeding east and west was often in need of changing horses and feeding and watering them (along with the passengers, of course.)
In 1928 the grand RKO Keith's Theatre was constructed at the crossbar, and until its shuttering in 1985 it was the doyenne of Main Street, visible in most photographs and renderings looking north on Main Street during its 6 decades of showbiz dominance. First run movies premiered here, and live action comedy and song from big names like Hope and Crosby was presented as well.
Since its shuttering, it has changed hands from owner to owner, and has not fared well under any of them. Its future is, as it has been since 1985, up in the air.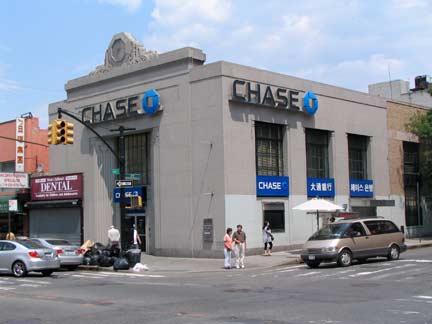 There was a building boom along Main Street between Northern Boulevard and the LIRR in the late 1920s and early 1930s. This Chase bank at 37th Avenue, with Deco elements, was built in 1929 (I don't know what bank occupied it originally). Its clock tells time accurately.
Though its steeple, which had dominated the Main Street-scape for 157 years, is now gone, I prefer to remember St. George Episcopal Church with the spire still intact. The church bell, cast in upstate Troy, NY, was undamaged in the 2010 tornado that carried the steeple across Main Street at 39th Avenue.
St. George's sleeping parishioners, some deceased since the mid-1700s, remained undisturbed by the stormy weather.
Another block, another Chase bank. This one, on the east side of Main at 39th, is in the Flushing Chamber of Commerce Building, and likely dates back to the late 1920s or early 1930s, when this kind of polychrome terracotta was the rage. Queens still does have a chamber of commerce, and you can find out how to contact it on this page.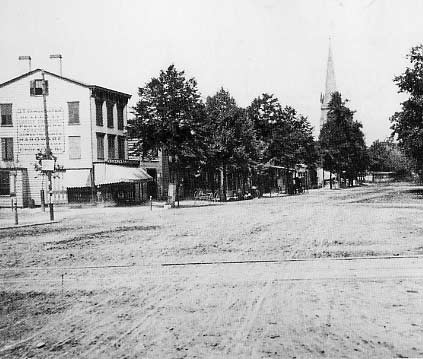 Main Street, looking north from the Long Island Rail Road in 1870. The steeple belongs to St. George Episcopal Church, which is still there; the steeple survived until 2010. The railroad was elevated in 1913.
Today the intersection of Main Street and Roosevelt Avenue is one of the busiest and most congested in NYC, and may be one of the busiest in the world as far as foot traffic, auto and bus traffic are concerned. The #7 Flushing Line has a terminal here, and the Long Island Rail Road stop beings yet more traffic here. Immigrants from China, Vietnam and Korea have beat a consistent path to Flushing for nearly thirty years, turning what was once a moderately busy crossroads into a supercharged commercial strip. Restaurants abound as do chain drugstores, fast food places, as well as groceries and butchers selling Asian specialties found only in certain enclaves. The Sheraton Hotel has built a branch catering to arrivees from nearby LaGuardia Airport.
There has been a corner clock at what was originally the Bank of Manhattan office building on the NE corner of Roosevelt and Main since its construction around 1930.
A fascinating look at the Main Street of 1969 between Roosevelt and 38th Avenues can be seen in this 8MM reel of film taken at the Flushing Thanksgiving Day parade. Not much of this Main Street is still there…
The Long Island Rail Road has had a presence in Flushing with two stops since the mid-1860s. In the above shot from 1870, railroad tracks can be seen in the foreground; the railroad was later tunneled through the Flushing Institute and then in 1913, most of the Port Washington Branch was elevated or embanked to eliminate grade crossings.
There were two Flushing RR stations: this one, Flushing Main Street, and Flushing Bridge Street, on the Whitestone Branch and Northern Boulevard; it disappeared when the line was decommissioned in 1932.
The Caldor adjacent to the station on Main Street occupied a former Alexanders Department Store. When Caldor went bankrupt the space remained empty for about fifteen years before its recent purchase for a repurpose featuring Asian businesses.
Just south of the LIRR, a major road originally called Jamaica Road in the 1880s (changed to Kissena Boulevard around 1920) branches from and heads southeast and south. As its old name infers, it was once the major road between Flushing and Jamaica and as Kissena and Parsons Boulevards still is. In the triangle formed by Main and Kissena, there have been three Queens Public Libraries: above right, the Free Library of Flushing, situated in a former Baptist Church for about a dozen yearsbeginning in 1890; the handsome Flushing Carnegie Library, built in 1904 with the help of Andrew Carnegie, the Scottish industrialist/ philanthropist; the Modernist building in place from 1957-1993; and the present steel/glass-walled building completed in 1998 by the architects Polshek Partnerships. library pictures from Flushing 1880-1935, Postcard History Series, James Driscoll, Arcadia 2005 and Lighting the Way: The Centennial History of the Queens Borough Public Library 1896-1996, Jeffrey Kroessler
Main Street has to be counted as one of the busiest shopping districts in NYC, as its Asian food groceries and stalls, its stores selling Far Eastern healthcare items, and plethora of restaurants purveying specialties from all over East Asia make it a mecca for shoppers from all over the metropolitan area. Above is just a small sampling showing goods that are difficult to obtain outside places such as Manhattan's Chinatown, Brooklyn's Sunset Park, or Main Street.
In American lore, "Main Street" is as small-towny and homey as you get — a place in Bedford Falls or Mayberry. Not long ago, that's exactly what Main Street in Flushing was like. "Flushing" was a byword for the dull, homey, comfortable outer-borough world inhabited by clerks, technicians, and city workers.
Opportunity for new groups to move in and establish commercial bases came from the depression of retail property values following the economic catastrophe that befell New York City in the 1970s.
Some Flushing old-timers remain apprehensive about the Asian influx, seeing beloved old buildings yield to new shopping centers and high-rise apartments, and above all seeing the once-placid streets pulse with a commercial vitality that was, 30 years ago, literally unimaginable. Francis Morrone, New York Sun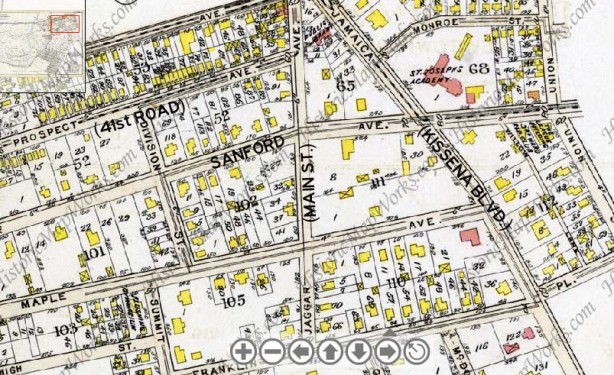 This section of the above 1909 atlas shows downtown Flushing south of the Long Island Rail Road. I have labeled some of the streets with their modern names. Note the St. Joseph's Academy at today's Sanford Avenue and Kissena Boulevard; it was originaly a Catholic school for girls run by the Sisters of St. Joseph, later an orphanage, and then a home for retired nuns. It burned down in the early 1960s.
In 1909, Main Street ended at the triangle it formed with Jamaica Road (Kissena Boulevard). A narrow lane called Jaggar Street (some maps say Jaggar Avenue) ran south for a few blocks to Franklin Avenue as a continuation. Throughout the 20th Century, as Flushing became more popular and auto traffic needed an alternate route to Jamaica, Main Street was extended south and widened, attaining its full length only in the 1940s.
Since the 1800s, Flushing has had a Sanford Avenue — it has never received a number. It was named for the Chancellor of the State of New York, Nathan Sanford, who purchased several farms east of Jamaica Road (Kissena Boulevard) and built some of the cottages that now comprise the picturesque Waldheim enclave (Waldheim was never landmarked and is presently being gradually disassembled by developers). Sanford's 1836 mansion, Sanford Hall, now the Windsor School, can still be found on Sanford Avenue between Kissena and Main.
We are also on the east end of Flushing's "Haight, " a small area of residences surrounded by big box stores, manufacturers, and railroad tracks.
FNY has often been critical of new construction, but the new glass/steel front buildings of Main Street are, er, um, acceptable. Left: old school stores hanging on.
For more on Waldheim, see "A House in the Woods" on this page.
Flushing's handsome Greek revival, Ionic-columned Post Office building is on the east side of Main just south of Sanford. It opened in 1934.
In 2000 I purchased a book called the Time Out Book of New York Walks (which is still in print, despite some of its highlights having disappeared in the years since publication). In 2006, I myself wrote a cover story for TONY when the ForgottenBook came out. One of FNY's influences was an earlier TONY cover story on New York's lost landmarks by Peter Zaremba, the singer with The Fleshtones — at the time, he also wrote for TONY.
In the TONY walks book, Zaremba writes this about the Post Office:
At the corner, there's a plaque affixed to a maple-shaded boulder honouring the postal workers of the town who fell in World War II. Inside the lobby … have a look at the WPA murals of north Queens communities inclusing one depicting Plains Indians on horseback in neighbouring Corona.
Who's saree now? When I first started visiting Flushing in the late 1970s, it was pretty much the sleepy town Francis Morrone describes above, and some of the businesses seen in tht 1969 Thanksgiving Day clip were still there. But as you get further south, closer to Cherry Avenue, there was a lively area of Indian immigrants. They were the true Asian vanguard in Flushing — you don't hear much about it.
Today, a few of the Indian businesses are still there, along with halal shops featuring foods slaughtered and prepared in concert with Islamic dietary regulations.
South of Dahlia Avenue and opposite Elder is the entrance to the Queens Botanical Garden. 4 out of 5 NYC boroughs have an official botanical garden; Brooklyn has a "Botanic" Garden, and the one in Bronx Park is the New York Botanical Garden, counting for both Manhattan and the Bronx. Though it can be considered a modern remnant of the plant wholesalers and nurseries that used to take up so much of Flushing, the QBG actually began as part of the 1939-1940 World's Fair, and was moved to the west end of Kissena Corridor Park when the 1964-65 Fair was constructed. In 2005 the QBG was the recipient of a $20M grant from the Carnegie Corporation.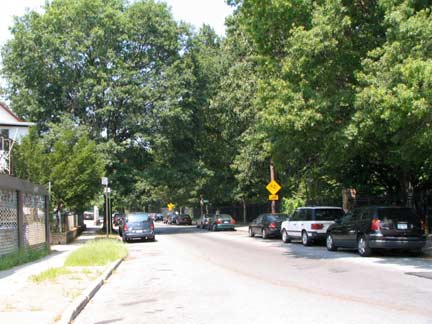 Peck Avenue runs along the south end of the QBG for a couple of blocks. It's one of the more unusual avenues in eastern Queens, as it runs through Flushing, Fresh Meadows, and Hollis Hills in five different sections, mostly along Kissena Corridor Park or along the long-abandoned right of way of the Central RR of Long Island LIRR branch built by Alexander Stewart and run only from 1872-1874.
Peck Avenue is named in honor of longtime Flushing resident and property owner Isaac Peck (1824-1894). In 1847 Peck settled in Flushing. Owning most of the property, Isaac Peck built a three-story department store along Clinton Street (now part of College Point Boulevard). The second floor of the structure held a terrace upon which patrons waited for the steamer Flushing. The ship carried passengers from the communities of Jamaica, Whitestone, and Bayside into Manhattan (reachable at the time only by boat). NYC Parks
New York Hospital, formerly Booth Memorial Hospital, had been named for William Booth, founder of the Salvation Army with which the hospital was formerly affiliated. The roadway it is situated on, Booth Memorial Avenue, still honors him; one of eastern Queens' oldest roads, it dates to the mid-19th Century and has also borne the names Ireland Mill Road and North Hempstead Turnpike.
I took a short detour into quiet Queensboro Hill, an enclave of frame residential houses. These two can be found at 57th Road and 138th Street. Queensboro Hill is surrounded by Cedar Grove and Mount Hebron Cemeteries, Booth Memorial Avenue and Main Street.
World's Fair Pharmacy, Main Street and 58th Avenue, recalls the lively, well-received but ultimately money-losing 1964-1965 Flushing Meadows worldwide gathering. Some relics from the Fair can still be found in the park. The building is crowned by unsightly wireless telephone relay equipment.
Hollywood and Main Restaurant. There is actually a Hollywood Avenue in Flushing, but it is several blocks to the northeast.
The Queensboro Hill Queens Public Library branch presents a rather forbidding exterior — hardly inviting, unlike, say, the new glass-walled Flushing Branch a few blocks to the north.
Palace Diner [which closed in 2011], Main Street at the Long Island Expressway. Reviews are mixed on yelp.com, to say the least:
Deli deluxe is great, fries are hot and great. Good soups with dinner. Gyros platters with tons of salad and fries, burgers with swiss and sauteed onions are awesome and even their Italian food is good. I love their turkey stuffed cabbage over rice. They let you substitute liberally and don't get angry if you return something. Just want to please. Wait staff is nice. …
The salad bar was not fresh at all and neither was my Grill Vegetable Wrap. It was soggy and even the fries that came with my wrap were stale. Let's just say that my experience at Palace Diner was one of the worst ones yet. Next time, I don't care how long it takes us to drive to Blue Bay Diner because I'm sticking to that place.
Beginning at the intersection of Reeves Avenue and 146th Street (left) Main Street embarks on a lengthy straight section with big oaks lining both sides as we enter Kew Gardens Hills via Pomonok. Heading south, on the left is Queens College and on the right is Mount Hebron Cemetery.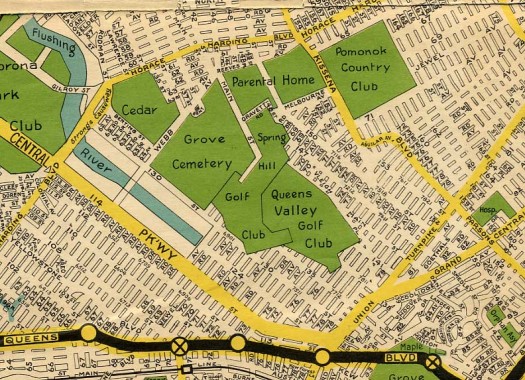 This 1932 Nostrand map of the Kew Gardens Hills area surrounding Main Street shows that the street had not yet been extended south much past Reeves Avenue. Like many maps of developing areas, this map likely depicts not just the streets that had already been laid out, but streets also on developers' and city planners' drawing boards. Of the verdant areas in the center of the map, only Cedar Grove Cemetery is still in place. The Parental Home is now Queens College (since 1937), while the Pomonok Country Club is now Pomonok and Electchester Houses. The Spring Hill and Queens Valley Golf Clubs were purchased by developers after World War II and local streets and tract housing can be found in their place.
Queens Valley Golf Club
I located this article about the former Queens Valley Golf Club online in a 1926 edition of Golf Illustrated.
Kew Gardens Hills
In the colonial era Kew Gardens Hills was a salt marsh and a swamp (adjoining Fresh Meadows is so named because its waters were nonsaline). The area was known as Queens Valley or Head of Vleigh (the Dutch vly means marshy meadow). The whole area was owned by Edward Furman in the 1700s (the Furman family looms large in Queens in colonial times, as Jonathan Furman owned property in Newtown at the same time). Queens Valley was farmed for generations, with farmers using Head of Vleigh Road (today's Vleigh Place) and Jamaica Road (now Kissena Boulevard) to bring goods to east-west roads connecting the East River with eastern Long Island.
The Queens Valley Golf Club, Pomonok, and Arrowbrook Golf Clubs occupied most of the region in the 1930s, when developers Abraham, Leon and Martin Wolosoff, who had already built large sections of Kew Gardens and Forest Hills west of Flushing Creek, took note when the IND Subway was extended along Queens Boulevard. The Wolosoff brothers set to work purchasing land and building acres of residential homes along Main Street, which was extended south from Flushing in the 1930s. In the 1960s, Orthodox Jewish families moved in.
Mount Hebron Cemetery was originally the Jewish section of Cedar Grove Cemetery (1893) and was opened as its own separate cemetery in 1909; with over 215,000 burials, it ios now larger than Cedar Grove. It can be found bordering the Van Wyck Expressway, a section of Queensboro Hill, the Hyde Park Gardens houses in Kew Gardens Hills, and Main Street. Among its famed internments are photographer Alfred Eisenstaedt, bandleader Shep Fields, comedians Jack Gilford and Alan King, New York Marathon director Fred Lebow, Yiddish theater actress Molly Picon, and DC Comics editor Julius Schwartz. Barbra Streisand owns a plot in Mount Hebron.
Kew Gardens Hills
Kew Gardens Hills is a relatively young Queens community, when compared to other neighborhoods in the borough, with its earliest homes built in 1917 off of Union Turnpike.
In the 1800s, the area was farmland and in the early 1900s, the neighborhood was known as Queens Valley and consisted of golf courses. One road that ran through present-day Kew Gardens Hills was 73rd Avenue, which was called Blackstump Road since colonial days. Presently, it has a bike lane. Kissena Boulevard, which runs from downtown Flushing, ends its run in Kew Gardens Hills at Parson Boulevard. In the 1800s and early 1900s, both thoroughfares were known as Jamaica Road. It was the most direct route from the towns of Flushing and Jamaica at that time.
Growth to Kew Gardens Hills came when Kew Gardens, Queens, to the south, gained a subway line at Queens Boulevard in 1936 and Flushing Meadows Corona Park, directly to the northwest of the neighborhood, hosted the 1939 New York World's Fair. Early residents were mostly German, Irish and Italian. Many were relocating from Brooklyn and Manhattan. The area was hilly and Kew Gardens was known as a prestigious Queens neighborhood and so developers changed its name from Queens Valley to Kew Gardens Hills. The first Queen of Peace mass took place in 1939. Main Street Cinemas opened in 1940. Main Street was paved and bus routes began to serve the area in 1941. The Jewish Center of Kew Gardens Hills was established in 1941 to become a gathering place for the growing Jewish community in the area. The Queens County Savings Bank opened its branch in 1949 and local school, P.S. 164, also opened its doors that year. wikipedia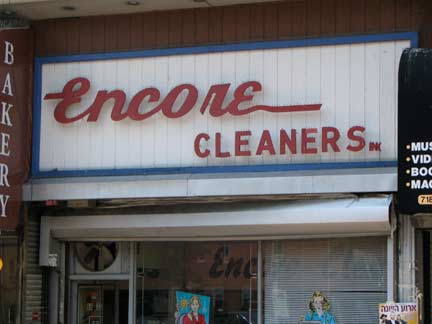 Sampler of shopping center awning signs in the 68th Road-68th Drive area on Main Street.
Tudor-style attached housing on Main Street and 70th Avenue; modern castellate Yeshiva Ohr Hachaim, 71st Avenue
The Jewish Center of Kew Gardens Hills is a Conservative synagogue established in 1941; the present edifice opened in 1949.
Believe it or not the tiny Main Street Cinemas is a six-plex, and some theatres have only 50 seats! Total seating comes to just 550. Comedienne Fran Drescher worked at this theatre when she lived in the area in the 1970s.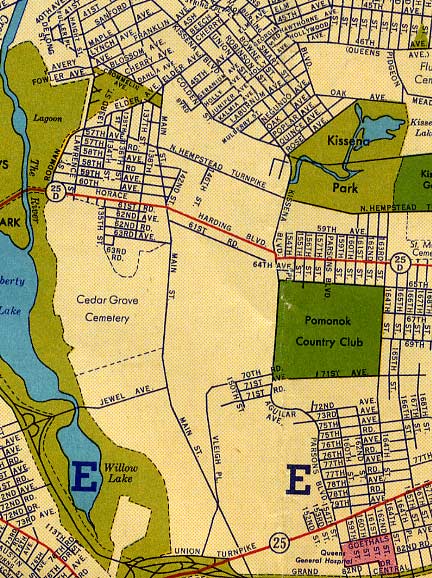 This 1940 Gousha Queens map gives, perhaps, a more accurate look at what the neighborhood was like at that time as far as what had been built and what hadn't. At that time Kew Gardens Hils largely did not exist, and can be considered largely a postwar creation. "Horace Harding Boulevard" was a 4 or 6 lane surface road and was expanded into the Long Island Expressway in the 1950s.
The oldest road in the area is Vleigh Place, or the colonial-era Head of Vly, or Valley, Road. This is Main Street's X-shaped intersection with the ancient path.
Even though KG Hills is a relatively new neighborhood it can boast some very handsome classic architecture, as the 1940s was the last gasp of traditionally-designed buildings; plain boxes began to take over in the 1950s.
This Queens County Savings Bank branch opened in 1953; its clock tower glows green and gold at night and was modeled on Independence Hall in Philadelphia. Our Lady Queen of Peace Roman Catholic Church, at 77th Road, was built 1939-1940.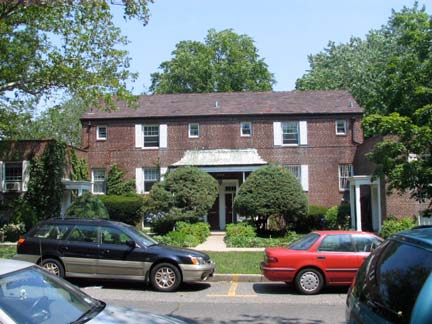 Just across Union Turnpike on the east side of Main Street is Parkway Village, named for its location just north of Grand Central Parkway. 109 two and three story buildings are interspersed in the development, which has its own streets (Charter and Village Roads). The complex was built to house United Nations employees (the organization was housed in Flushing Meadows-Corona Park and Lake Success before moving into its own complex on 1st Avenue in Kips Bay, Manhattan, in 1950). US Diplomat Ralph Bunche (1903-1971), instrumental in the creation and planning of the UN, resided in Parkway Village for a few years.
Briarwood
An enclave of shady streets, attached brick houses and large apartment buildings, Briarwood is a compact Queens neighborhood defined by the Van Wyck Expressway, Grand Central Parkway, Hillside Avenue, and Parsons Boulevard. The area was named for a speculator, the Briarwood land Company, which surveyed the area in 1907, but not much was built until 3 decades later. Like neighboring Jamaica Hills, it is one of Queens' hillier neighborhoods.
The Lutheran Church of the Ascension, west side of Main south of Grand Central Parkway, was built in 1949 — just about all the construction here has a late 1940s construction date; Main street itself was laid out in the early 1940s.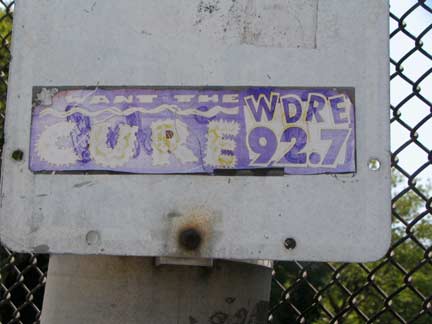 On the Grand Central Parkway overpass, a WDRE sticker. The radio station, known for most of the time as WLIR, based in Long Island, played material classic rock stations wouldn't in the 1980s and 1990s.
The Eden Rock, a rather grandiose apartment building on the east side of Main south of Hoover Avenue. Development here likely began in the late 1920s or early 1930s, as two consecutive 1920s Presidents, Calvin Coolidge and Herbert Hoover, have streets named for them here.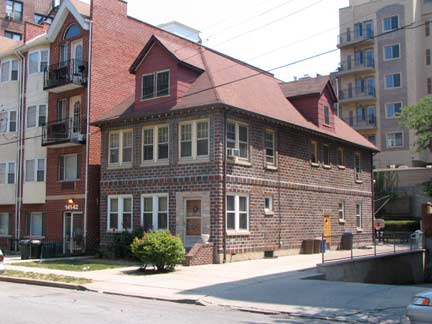 As Main Street nears its southern limit, you pass by this somewhat incongruous, double dormered brick house on 84th Road. The center lanes of Main then move below street grade to carry traffic onto the Van Wyck Expressway, while the side lanes lead to Queens Boulevard.
The entrance of Archbishop Thomas Molloy High School is on Manton Street just west of Main. I was fooled by the statue on the Main Street side – it's not the archbishop, but rather Fr. Marcellin Champagnat (1789-1840), the founder of the Marist Brothers, who organized St. Ann's Academy in 1892 on Lexington Avenue and East 76th Street in Lenox Hill. The present building was constructed in 1957 and stands on land donated by Abp. Molloy, and renamed St. Ann's for him that year. The old name is remembered in the athletic teams' nicknames: The Stanners, or St. Ann'ers.
Main Street comes to an end at Queens Boulevard, at the nondescript Briarwood Queens Library, the E/F Briarwood IND Van Wyck Boulevard station, and near the entrance to Maple Grove Cemetery.
10/17/10