The Bronx and Pelham Parkway (such is its official name) was constructed in the early 20th Century between Bronx and Pelham Bay Parks and bears close resemblance to Mosholu Parkway, i.e. a four-lane main road with access roadways flanking it. Unlike Mosholu, though, Pelham Parkway originally ran through open country; parcels for it were obtained from local landowners. Today's map, with its grid of streets, looks quite different, but Williamsbridge Road (center) and Eastchester Road (right) are still major routes. The area marked Westchester Heights is now occupied mostly by Jacobi Medical Center. The Morris Park Race Course was the site of the Belmont Stakes between 1890-1904, and the Preakness Stakes was run here in 1890 (and in Coney Island from 1894-1908!). Belmont Park opened in 1904, the Morris Park track burned down in 1910, and shortly thereafter the property was subdivided into building lots and new streets were laid out.
Many Bronxites, including Regis Philbin, who lived on Cruger Avenue as a boy, were up in arms over the Department of Transportation's 2010 decision to cut down dozens of shade trees along Pelham Parkway's route and install a guardrail; there have been a number of accidents and injuries as vehicles exceed the speed limit and crash. The city intends to plant over 200 trees to take their place. (I'd have to say that better speeding enforcement is needed instead of cutting trees down — where do they think the oxygen they breathe comes from?)
Historically the Pelham Parkway area has been heavily Jewish. Though only a gfew through streets cross Pelham Parkway (Bronxwood Avenue, Williamsbridge Road, Eastchester Road and Stillwell Avenue) numerous walkways cross it and two of them are named for individuals revered for saving Jewish lives: Lt. Colonel Yehonatan Netanyahu, a Bronx-born Israeli soldier who lost his life as commander of the squad rescuing passengers during the rescue of a hijacked plane at Entebbe, Uganda July 4, 1976; and Swedish-born Raoul Wallenberg, who saved tens of thousands from the Nazis by issuing protective passports and housing Jews in buildings in Swedish territory. Netanyahu's brother, Benjamin, is the present [2012] prime minister of Israel.
The Bronx is the Borough of Apartments and the western end of Pelham Parkway fills the bill.
Pelham Parkway is a bastion of double mast telephone pole mounted light posts. Unusually they are mounted relatively low on the poles — trucks are forbidden to use the Pelham.
I detoured down Muliner Avenue — I was attracted by its gaggle of short double-mast Type 12S lamps. At about 20 feet tall, they're shorter than the typical "octa-pole" which tops out at 23 feet. Few of these are left on NYC streets.
I also saw this Dodge Dart, the first car your webmaster drove during driving lessons in 1975. My exploits are still legend, and I never did get a license.
Pelham Parkway Jewish Center, Pelham Parkway and Muliner Avenue.
It soon became apparent that there was a big difference between my own neighborhood, Marble Hill in the Northwest Bronx, and the Pelham Parkway area. Marble Hill was very mixed – Jews, Blacks, Italians, Irish, Greeks and Puerto Ricans. But the south side of Pelham Parkway in 1968 was probably around ninety-five percent Jewish (as indeed Crotona Park had been years before). There were about half a dozen synagogues within a few blocks – the Pelham Parkway Jewish Center, the Reform synagogue a block or so from White Plains Road, the tiny Roosevelt synagogue, the Educational Jewish Center on the north side of the parkway, and others. Of course, my devoutly non-religious grandfather, an old-time leftist, didn't go to any of them, but that's another story.
Unlike Crotona Park East, 2110 Wallace was a stone's throw from a big shopping area, and many of the stores reflected this Jewish orientation. You had the Zion kosher deli, the vegetarian restaurant that served dishes like blintzes, vegetarian chopped liver and borscht with sour cream; you also had the old-style bakeries that sold hamentaschen, babka and black-and-white cookies. Near the end of Lydig, toward the Dyre Avenue line, you had a store selling Jewish religious items like tallises and yarmulkes. And on the weekends, you'd see hundreds of old immigrant men and women on the benches on Pelham Parkway itself, talking in both Yiddish and English, reading Yiddish newspapers. Raanan Geberer, Bronx Board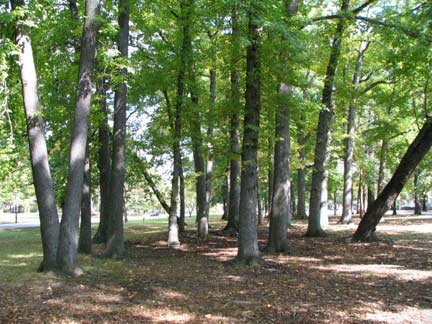 Yes, we are in the Bronx. Clumps of trees are interspersed with wide, lawnlike spaces on Pelham Parkway's center median.
The New York Institute for Special Education provides quality programs for children who are blind or visually disabled, emotionally and learning disabled and preschoolers who are developmentally delayed. It was originally known as The New York Institute For the Education of the Blind, founded in 1831. Its handsome campus buildings were designed by the firm of McKim, Mead and White, who also designed the original Penn Station.
Note the address, 999 Pelham Parkway. While all streets in eastern Bronx are numbered as if they originated at Jerome Avenue, whether they did or not, Pelham Parkway and all streets east of Bronx Park begin at #600. It's illustrative to compare East Gun Hill Road, which runs continuously east from Jerome, where it begins at #1 and reaches #600 at Bronx Boulevard, just east of Bronx Park, matching its parallel streets.
Pelham Parkway's intersection with Williamsbridge Road brings several main Bronx roads together: besides those two, Laconia Avenue and Esplanade also meet here. The unusual Peace Memorial Plaza/Rudy Macina Square gathers 5 memorials resembling tombstones, memorialiazing war dead in the Gulf War, Vietnam War, Korean War and World Wars I and II.
A Bronx native from Morris Park, [Rudy] Macina earned the Distinguished Flying Cross and the Air Medal during [World War II]. He returned to Morris Park and gave the neighborhood an aura of espirit de corps. 
"I was a sergeant on [Inspector-Instructor] duty in 1976," said [Morris Park Columbus Day Parade Executive Director Dexter Hendon], who served in the Corps for eight years. "Rudy got a retired Colonel to come in and paint a mural on the side of his building." Hendon said Macina paid for the painting with his own money. "He just loved the Marine Corps that much."
The mural that the colonel painted almost 30 years ago depicted the raising of the American flag on Mt. Suribachi, Iwo Jima in 1945. The building and the painting are both still intact on Williamsburg Road, across the street from the parade's reviewing stand.
Macina died at the age of 70 in 1993. The intersection of Williamsburg Road and Esplanade, which is a couple blocks down the same road as Macina's decorated building, was renamed "Rudy Macina Peace Memorial Plaza" in 1999. Today, fellow former Marine Hendon continues to run the Columbus Day parade with similar Marine Corps motivation. Hendon's sons have also continued the Marine Corps tradition as well. His son Joseph served four years, and his younger son Andrew is scheduled to graduate from recruit training at Marine Corps Recruit Depot Parris Island, S.C., in December. US Marine Corps Reserve
The New York, Westchester and Boston Railroad, now the Dyre Avenue extension on the #5 train, runs in a tunnel under Pelham Parkway and is covered by a roadway with a grassy median, the Westchester Esplanade, known today as just plain Esplanade.
Per original building code, no railroads were allowed to cross Pelham Parkway at grade, so the NYW&B was placed in a tunnel when it was built around 1910. It became part of the subway system as a shuttle in 1940, and has a Pelham Parkway station using one of the railroad's original station buildings.
The original meaning of "esplanade" was a large, open, level area outside fortress or city walls to provide clear fields of fire for the fortress against incoming infantry or artillery. Esplanade and promenade are sometimes used interchangeably, but that is a mistake. A promenade can be anywhere, and it is exclusively for walking, while an esplanade is for walking but also can include large boulevards or avenues with cars.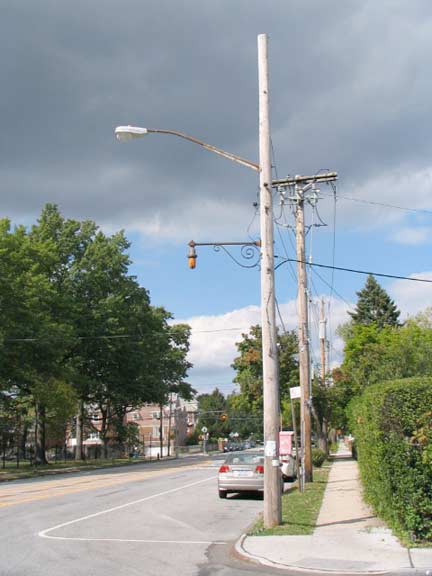 Old school fire alarm lamp, Laconia Avenue. These lights are gradually being grandfathered out, and Mayor Bloomberg would like to eliminate the alarms themselves in the age of mobile phones.
Pelham Parkway east of Williamsbridge Road. Per FNY's official botanist Eric Weaver this is a locust tree.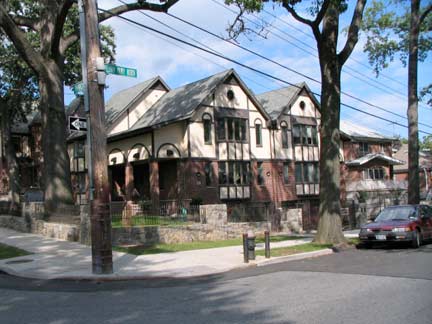 Entering Pelham Gardens, we leave the apartment houses and bustle of the Pelham Parkway and Allerton neighborhoods behind and are in a land of well kept one- and two-family houses.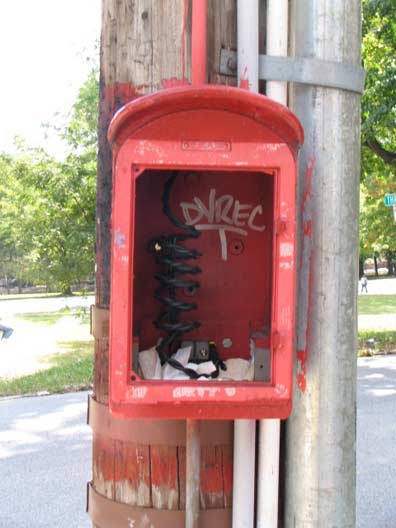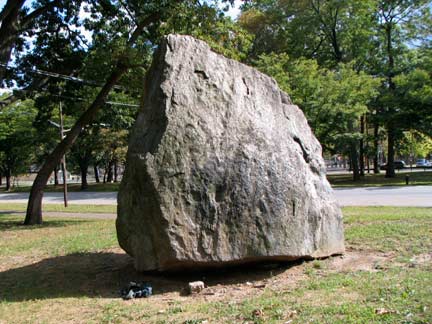 Decommissioned fire alarms are, in general, treated as wastebaskets by New Yorkers. I wonder if this boulder was excavated when Pelham Parkway was built around 1910, or was placed here at a later date. Boulders and rock outcroppings are fairly frequent in upper Manhattan and the Bronx, and rare in the other three boroughs.
New York City is fortunate that engineers built real parkways — Mosholu and Pelham in the Bronx, Ocean and Eastern in Brooklyn. At certain locations, they're indeed placid but at other locales and times of day, they are as busy and traffic choked as the cement and metal highways such as the BQE or Cross Bronx.
In September, at Westervelt Avenue and Pelham Parkway North, the Garabedian family is already hard at work creating their yearly Christmas decoration extravaganza.
The Garabedian house, on Pelham Parkway North in the Baychester neighborhood of the Bronx, is sort of a cross between Madame Tussaud's and the Vatican, a chockablock vision of the figments of fantasies, many of them moving, all of them sparkling, either with lights or cubic zirconia or other stones — even the harness on a camel on the roof deck is strung with twinkling Swarovsky crystals. NY Times
Pelham Parkway's lush greenbelt seems to reach a crescendo before ending abruptly at Stillwell Avenue. East of here, Pelham Parkway has two interchanges with the Hutchinson River parkway and the Bruckner Expressway before becoming Shore Road and entering Pelham Bay Park and Westchester County.
10/11/10