Quite a bit of Queens real estate bears the name Hollis — the neighborhoods Hollis, Holliswood, Hollis Park Gardens and Hollis Hills, the LIRR Hollis station, Hollis Avenue, Hollis Hills Terrace and Hollis Court Boulevard. The name honors a small town in southern New Hampshire with a current population of just over a thousand.
In 1883 developer Frederick W. Dunton bought up a lot of real estate north and south of what is now the Hollis LIRR station in eastern Queens at what is now the intersection of Hollis Avenue (then Old Country Road) and Farmers Avenue (now Boulevard) and, after some reflection, decided to name his new developments for his hometown, Hollis, New Hampshire. Today's neighborhood of Hollis (immortalized by RUN-DMC in "Christmas in Hollis" was originally surrounded by Hollis Park Gardens, Hollis Terrace, Holliswood, Hollis Manor, and other celebrations of the southern New Hampshire villa. Over time, some of the Hollises have been renamed but you can still find the original Hollis, south of Jamaica Avenue, as well as hilly Holliswood and today's subject, Hollis Hills,on the map roughly between Cross Island Parkway on the west, Clearview expressway on the west, Grand Central Parkway south, and the Long Island Expressway north. I walked mainly along Union Turnpike, Hollis Hills' main east-west surface route.
I began my walk at the somewhat forbidding Creedmoor Psychiatric Center, (left) located on campuses north and south of Union Turnpike. In the 19th Century the property was owned by the Creed family and the regin became known as "Creed's Moor." The National Rifle Association (NRA) and National Guard used the property as a rifle rangeafter NY State purchased the grounds from the Creeds, and this era is still reflected in local street names in Bellerose, the neighborhood just south of Creedmoor, like Winchester, Range, and Musket. In 1912 the Farm Colony of New York, a division of Brooklyn State Hospital, opened here with 32 patients, and over the next few decades the campus expanded with additional buildings. 

At its peak, [Creedmoor] housed some 7,000 patients. They tended gardens and raised livestock on the hospitalís grounds. The hospital contained gymnasiums, a swimming pool, a theater, a television studio, and giant kitchens and laundries where patients were put to work.
Today, Creedmoor, still run by the New York State Office of Mental Health, has only a few hundred patients. In a process of deinstitutionalization that began in the 1960s and accelerated in the 1980s, psychiatric wards were nearly emptied, their charges turned over to outpatient treatment centers that would help re-integrate the mentally ill into their communities. NY Times

Most of Creedmoor's grounds south of Union Turnpike today are ghostly and shuttered. However, the thriving Queens County Farm Museum today occupies acreage once tended by the patients, and one of Queens' best-kept secrets, the Living Museum, featuring art created by patients with mental illness, is on the Creedmoor campus. The Living Museum was profiled in a 1998 film by documentarian Jessica Yu.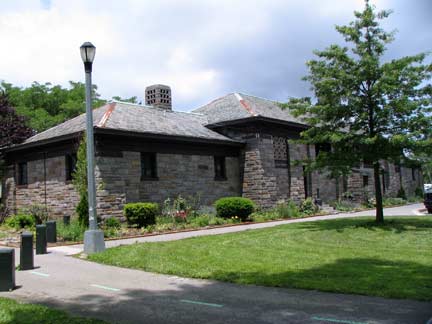 Handsome ashlar park house at the eastern end of Alley Pond Park, Winchester Boulevard north of Union Turnpike. Alley Pond Park is a giant (approx. 656 acres) mostly marshland area in eastern Queens, runing from Little Neck Bay on the north to Union Turnpike south, acquired by the NYC Parks Department in 1929, which has kept it mostly pristine, but with 26 acres of playing fields and the lengthy Alley Pond Nature Trail, opened in 1935. The "Alley" was named in colonial times for the valley passing through two hilly areas in eastern Queens.
The historic Long Island Motor Parkway is now a bike trail running through Alley Pond Park. It is part of a longer bike trail originating at Kissena Corridor Park and running east to Winchester Boulevard. Originally, though, it was one of the first roadways built specifically for auto traffic when first constructed by industrialist heir William Kissam Vanderbilt II between 1908-1910. It was expanded westward to 73rd Avenue and 198th Street by 1926. At left, a brick arch takes it over an Alley Pond Park path.
A boa constrictor was found on the Motor Parkway in November 2010. Boas are not native to Queens, and it was likely a pet snake that got away.
Here's a pair of living fossils, like the coelacanth or tuatara, on Union Turnpike and 234th Street. At one time (roughly 1964-1985) NYC street signs were color coded by borough, with Queens signs blue type on an off-white background. In 1998, when FNY was instituted, there were quite a few of these still around, but the Department of Transportation, which despises nonstandard signage, took them all down. I fully expect the DOT to do the same here tout suite, since FNY does have readers in the DOT. Spare these signs!
You know what, when I first encountered the word coelacanth I deduced, correctly, it was pronouned SEE-la-canth. I am intelligent in certain very narrow fields that have no practical application.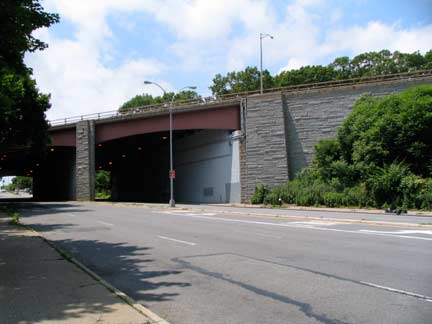 The Grand Central Parkway crosses Union Turnpike on a stylish metal and concrete arch. I used to think, when I was a kid and first saw it on maps, that this parkway had something to do with Granc Central Terminal in Manhattan. The two names are completely coincidental, as when the initial section was opened between Kew Gardens and Glen Oaks, it was in eastern central Queens.
The parkway was opened in tandem with the westernmost section of the Northern State Parkway (which GCP becomes east of the Queens/Nassau line.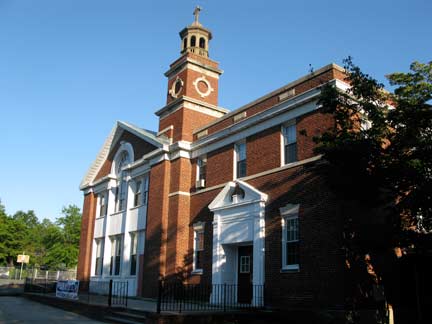 Ebenezer Mission Church, Union Turnpike between Hartland Avenue and 221st Street. This was likely a different church when constructed; anyone from the neighborhood know which one?

ForgottenFan Erika Williams: The building was originally used as the building for the day school at Chapel of the Redeemer Lutheran. I believe the school closed in 2002 or 2003.
Eastern Union Turnpike also features some post-modern church designs, such as the Lutheran Church of the Redeemer, Union Turnpike and Hartland Avenue. Once again, the internet is silent on the building itself; I get frustrated because little about the architecture of some churches is readily available online, as many churches don't think the building itself is the point, after all.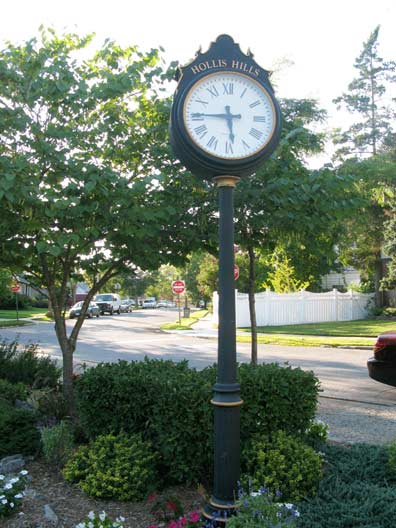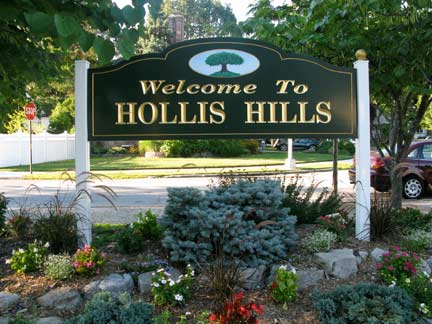 New street clocks are a welcome addition in eastern Queens, and this sign bids visitors welcome at Union Turnpike, Hartland Avenue and 220th Street.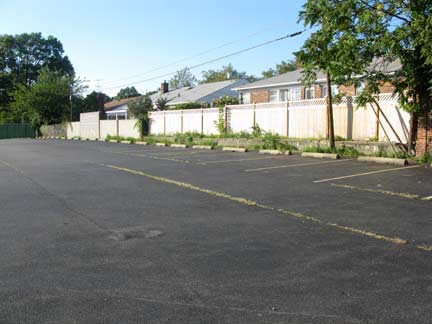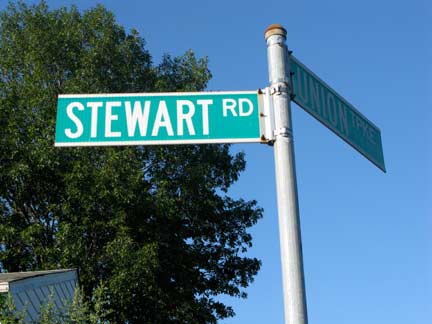 Most residents of Hollis Hills are unaware of it, but over a century ago, a long lost railroad once ran through the area: the Central Railroad of Long Island was built by Scottish-American entrepreneur Alexander T. Stewart between Flushing and a new real-estate development of his called Garden City. The most obvious remnant of it is Kissena Corridor Park, which runs diagonally to the overall street grid, and the presence of Stewart Road and Peck Avenue, which flank the old right of way. A parking lot next to Stewart Road follows the old railroad path, which can be discerned in an adjacent parking lot. The railroad ran only 2 years, 1872-1874.
The Saucer Has Landed
The saucer has landed at Union Turnpike and Bell Boulevard, where you find the American Martyrs Roman Catholic Church, built in 1967. The martyrs were eight Jesuit missionaries to the Huron Indians in the 17th Century. All eight were killed during a Huron conflict with the Iroquois in what is now Quebec and upstate NY between 1642-1649.
The Windsor Park branch of Queens Public Library, on Bell Boulevard across from the church, is named after the Windsor Park Houses, a garden apartment complex a few blocks north.
I had lunch at Union Diner, at the Turnpike and 212th Street. When I was here in the summer of 2009, I'm not sure if I was here before or after the owner won a million dollars in the New York State lottery.
photographed June, 2009; page completed November 25, 2010.