Why was this ForgottenTour different from most other ForgottenTours? Unlike eight of the previous nine tours this one did not feature clouds, rain or rumors of rain, and thus was considerably funner than Tour 45 in Riverdale/Spuyten Duyvil, after which everyone was thoroughly soaked through, and Tour 43 on Skillman Avenue in Sunnyside, after which we entered Donovans of Woodside considerably wrinkled and shrunken in many places. No, despite an inexplicably sparse turnout compared to the recent track record (maybe y'all were at Coney Island?) everybody got a tan, at least.
This tour centered in Prospect Park South and also encompassed some of Caton Park and Flatbush, as well as a piece of Prospect Park which itself holds many secrets. PPS is one of Brooklyn's most variegated areas, with blocks straight out of House Beautiful alternating with blocks straight out of the ghetto.
GOOGLE MAP: FORGOTTENTOUR 46 Prospect Park South

An early highlight was the Prospect Park Peristyle, off Parkside Avenue and Parade Place, a shelter built in 1903 by McKim, Mead & White (the architects of the original Penn Station) to give parkgoers a shady spot to review the military drills and parades that once took place across the street in the Parade Grounds, which later evolved into a large expanse of soccer and baseball fields.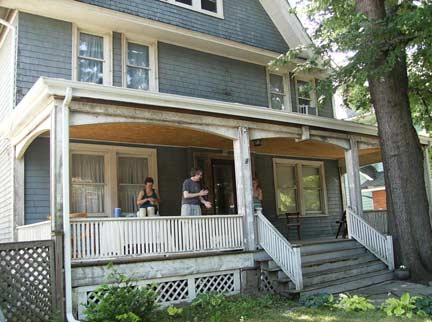 The tour stopped for cookies and lemonade at Michael and Brenda's "Crazy Stable" where they regaled the crowd with tales of their ongoing 20+ year renovation of their Caton Park home (Prospect Park South officially runs from Church Avenue south to Beverly Road — see map link above).
There were tales of the time the raccoons got in, for example. Our hosts joined the tour and provided tidbits of additional material that escaped your humble Webmaster. They relish living just outside the Prospect Park South historic district, which Brenda calls The Magic Land.

At Buckingham Road, the good stuff starts. Both Buckingham and Albemarle Roads (late 19th Century area developer 
Dean Alvord 
invested PPS with covenants adhered to this day that include wide lawns and buried utility lines, and gave the streets evocative British names) feature large mansions, no two of which are alike in any way, and every building style in vogue at the time was employed. Compare later developments such as Long Island's Levittown, and the Fedders Specials we have devolved into today. 
H. G. Wells
, 
Olaf Stapledon
, and 
DEVO
 have all postulated that we will sooner or later devolve into scrabbling lower creatures, and that has certainly already begun if we compare the housing stock of 1900 to that of 2011.
There may still be no other residential building in the USA quite like the Japanese House at 131 Buckingham. When it was developed in 1901 a team of Japanese artisans were hired and sailed over (not easy before the Panama Canal was dug) and added finishing touches. The house was originally sold to Dr. Frederick Kolle, an innovator in X-Ray and radiology treatments.
At Albemarle and Marlborough is one of Prospect Park South's last remaining wrought iron street signs. These date to the origin of the development in the late 1890s.
1440 Albermarle. The original clapboard has been covered by gray shingles, but most of its Colonial detailing has been left intact including the two Ionic columns on the front porch and entrance portico with Doric columns.

Prospect Park's Miss Havisham is 1305 Albemarle, which was once magnificent, but is now not quite as. However, it's hard to see how a building built over a century ago with this amount of intricacy and detail could remain in its original condition without constant outlandish expenditures and reworkings. (Q.V. the NYC subway system).
Moving onto Marlborough, at 184 is an interesting building with 2 polygonal bays topped by "candle-snuffer" finials. This was once the home of famed investigative reporter Nellie Bly; a Bensonhurst, Brooklyn park is named for her.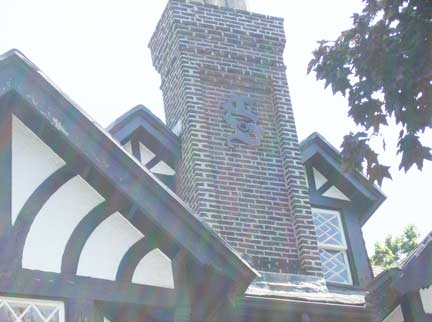 This magnificent Tudor at 187 Marlborough was commissioned by Charles Stillwell, an associate of Thomas Edison. Stillwell, an inventor himself, unsuccessfully experimented with an incandescent bulb, but an accident in the laboratory rendered him blind. The building contains 8 wood burning fireplaces, and the "S" for Stillwell remains on the brick chimney.

Albemarle and Kenmore Courts were built on East 21st Street between Church Avenue and Albemarle Road from 1916-1919 and include some of Brooklyn's first garages included as part of the structures, as autos increasingly began playing a transportation role. Kenmore Terrace's north side faces the 1853 Flatbush Reformed Dutch Church Parsonage.  The attached buildings on both terraces can now fetch over $1M, even in a deeply recessed economy.
Two additional guest speakers were Chris Kreussling, the 
Flatbush Gardener
 (with your humble Webmaster, right) who showed off the native plantings he and his associates, along with 
Sustainable Flatbush
, were undertaking in the Dutch Reformed Church cemetery, and Katie (left) who ably demonstrated composting. We can all agree that green beats concrete every time.
The crossroads of the Old Flatbush Road and Church Lane, or rather Flatbush and Church Avenues, is among the oldest in Brooklyn. These were Native American trails through woods, then the center of a small Dutch village, and now the main intersection of Flatbush, a major discount shopping mecca that contains memorabilia of its former town status block by block.
The Dutch Reformed Church and its cemetery were commissioned by Peg Leg Pete, New Amsterdam Director General Stuyvesant himself, in the mid-1650s. The current church is the third on the site, yet it dates to 1796, making it one of the oldest houses of worship in NYC that have seen continual use. (The Quaker Meetinghouse in Flushing Queens beats it out by about a century.) The churchyard still contains tombstones dating from the long-ago 18th Century in Dutch print, featuring the winged angels then popular.
Erasmus Hall, named for Dutch philosopher Desiderius Erasmus, presents two historic buildings in one location at Flatbush and Church Avenues. Its white clapboard  Federal-style building, constructed in 1787, housed the private academy instituted by the Reformed Dutch Church across the street. The older building isn't visible from the street, however, since it is surrounded by the Gothic, fortress-like Erasmus Hall High School, constructed in 1905. The original academy was funded by several Founding Fathers, including Alexander Hamilton and Aaron Burr (who didn't agree on much else). The academy became a high school in 1896: it can boast famous alumni such as Barbra Streisand, Beverly Sills and Neil Diamond. The historic academy, known by students and faculty as  "the white house" can usually be glimpsed from the iron gate guarding the high school.
Keep checking FNY for our next tour soon! Photos by Joe DeMarco, Pat Sweeney and Sarah Elizabeth; page completed July 15, 2011