I have done two previous surveys of Rosebank, a small town on the southeast edge of Staten Island bordered by the SIRT cut, the Verrazano Bridge approach, and the Staten Island Expressway. I have always enjoyed its collection of tiny streets that go nowhere, punctuated by lengthier roads like Hylan Boulevard and Bay Street that run the lengths of the island's eastern and southern shores. I even lived in Rosebank for a week in 2005, when I stayed at a B&B across from the Alice Austen House while researching Staten Island scenes for the ForgottenBook. On this occasion, I walked Tompkins Avenue, which I had largely bypassed before, and snapped scenes on Tompkins and its tributaries.
Formerly Peterstown, in the 1880s  the region came to be called Rosebank presumably for an abundance of rose bushes and its location on the shore.  It has always been known for its Italian population, as immigrants began arriving here as early as the 1880s. The present population numbers about 16,000. A substantial part of the shorefront east of Bay Street was taken up by a maritime quarantine station from 1873-1971; the site is now occupied by Coast Guard housing. Rosebank is nationally famed for the presence of the Our Lady of Mount Carmel Grotto on Amity Place.
Getting to Staten Island from Little Neck is a 2-hour or better affair without a car, but I'm glad I don't have to pay a double-digit bridge toll as some motorists have to do every day. I got the Long Island Rail Road to Penn Station, changed for the A train and used the new connection at Jay Street/Metrotech for the R train. I took that to 86th Street (my home subway station when I lived in Bay Ridge) and then, changed for the S53 bus over the Verrazano Bridge.
ForgottenFans and friends know I complain a lot. Today I come to praise the MTA, not to bury it. I am able to get from Penn Station to far reaches in Staten Island for $2.25, and in the past few months, the MTA has opened very convenient transfers at Jay Street in downtown Brooklyn and also at Court Square on the #7 Flushing Line, where I can now make an easy transfer to the Brooklyn Crosstown (G) and Queens Boulevard/6th/8th Avenue Lines (E, M). The MTA is still awash in boondoggles like the big glass thing being built at Fulton and Broadway, or the 2nd Avenue Subway, which will open when I'm on Medicaid, but they do get some things right.
I got off the S53 on Lily Pond and Major Avenues in picturesque Arrochar and walked west past the busy Staten Island expressway interchange up Lyman Avenue.
I passed a Little League field with the Verrazano Bridge behind the outfield fence, and a one block street that's quite a mouthful, Dennis Torricelli Senior Street. Older maps show this as a southern extension of Summer Street. This street is typical of the former NYC method of renaming streets for historic personages and local heroes (I presume Mr. Torricelli is among the latter). Formerly, the Department of Transportation went whole hog and simply replaced the name, as in Frederick Douglass Bouelevard in Harlem (formerly 8th Avenue) or Mother Gaston Boulevard (formerly Stone Avenue in East New York). Sometimes, the public refused to acknowledged the new name (6th Avenue/Avenue of the Americas).
Of late, the original name is retained, but the new name is on a different sign installed under the old sign, as in all the policemen, firefighters and others murdered by terrorists on 9/11/01.
The intersection of Summer and High Streets typifies the tiny, one or two block streets that dominate Rosebank. High Street was likely named for the slight rise it has running east.
Summer Street fire alarm and fire hydrant. Fire control in NYC has given rise to two iconic fixtures that have dominated NYC streets since the 1910s– consult photographs from the era, and you will see alarms and hydrants that look exactly like these.
In the era of mobile phones and 911, the FDNY has announced a plan that would eliminate all street fire alarm call boxes. The plan would save an initial $6 million. Most alarms placed from these boxes are false. Some communities, however, oppose the measure, as we see here.
This hydrant's paint job likely dates back to the 1976 Bucentennial, when hydrants all over town were painted red, white and blue.
I couldn't resist Bang Terrace, a dead end issuing north from Fingerboard Road west of Bay Street. Walking to its end I noticed a few new houses at its rear end. The origin of the name is anyone's guess but it could have been a prior property owner.
RIGHT: Fingerboard Road, which runs from Bay street west to Hylan Boulevard, and West Fingerboard Road, from Hylan Boulevard to Richmond Road, show up on Staten Island maps by 1880. The roads were not named for any string instrument players in the area; according to legend, a large, finger-shaped wooden sign pointing the way to the Richmond County Courthouse, then located at the end of Richmond Road in Richmondtown, was installed someplace on the road.
I traveled north up Home Avenue, which has several well-kept, well-built homes, to its end at Hope Avenue — home is where the hope is, unless it's not.
88 Hope Avenue is a handsome 1890s-era house on a wide plot. Across the street are several new homes that were built on the right of way of the old Staten Island railway South Beach Branch.
The SIR South Beach Branch was a later extension of the main branch from St. George to Tottenville and traveled through Rosebank and Arrochar to Wentworth Avenue in South Beach. Though grade crossings were eliminated in 1935, service ended just 18 tears later, in 1953. Though by 2011 most traces of the railroad had been built over, there are still a few (see below). As you can see from this 1949 Hagstrom map, the Belair Road station was located here along Cabot Place between Belair Road and Hope Avenue. Trains traveled on overpasses or in open cuts under streets.
From musician Gary Owen's comprehensive Staten Island railway website, here are two photos of the Belair Road station in 1934 at grade and then in 1936, after the grade was eliminated.
One remnant is the angle that Cabot Place takes between Hope and Belair.
Once again on Tompkins Avenue, I explored two dead end alleys. Meyer Lane has no property facing it and is now apparently just a way to get to some parking sheds. There's an abandoned estate to the north of the lane.
1874 property maps show acreage here belonging to a Louis H. Meyer. The website of the Mount Manresa Retreat House (on Fingerboard Road west of Tompkins) provides some information about him:
About 1860 a Mr. Browne sold the property on which Mount Manresa stands to Louis H. Meyer, one of the first presidents of the Staten Island Savings Bank. Mr. Meyer joined the exclusive group of the wealthy who established Staten Island estates, earning them the name of the "Staten Island Barons." The then 20-acre parcel contained a square brick house with a mansard roof that he named Fox Hill Villa. The large double house contained more than 20 bedrooms and had a dining room that could seat 60. Mr. Meyer created vistas on the property to see New York Harbor. He sub–drained and surface drained the property. Mr. Meyer imported various trees and shrubs from Europe. As there was no water supply, he sank an artesian well, built a water tower, and constructed large cisterns. He also constructed greenhouses for tropical fruit. Louis Meyer had a grotto built on the North face of the hill. He produced Shakespearean plays in this grotto. After the death of Louis, and his wife Anna, Fox Hill Villa fell into disrepair and became a boarding house...
Just north of Meyer Lane and the abandoned estate sits Wadsworth Terrace, a step street leading to a couple of well-obscured private homes. The terrace is named for the nearby US Fort Wadsworth, which in turn was named for Civil War-era general James Samuel Wadsworth (1807-1864).
During the Civil War, though without military training, he served with distinction as a brigadier general and saw action at the First Battle of Bull Run, the Battles of Fredericksburg and Gettysburg, and was killed during the Battle of the Wilderness in 1864. Sanna Feirstein, Naming New York,  NYU Press, 2001
Tompkins Avenue, Rosebank's primary north-south artery along with Bay Street, runs from Canal Street in Stapleton southeast to the interchange with the Staten Island Expressway. It was named for Staten Island resident, NYS Governor (1807-1817) and later USA Vice-President (1817-1825) Daniel D. Tompkins, whose name appears in many locales throughout the city, in Manhattan's Tompkins Square and Brooklyn's Tompkins Avenue. Tompkins founded the town of Tompkinsville in Staten Island in 1815 and initiated ferry service to New York in 1817.
The dates of installation of NYC fire hydrants lurk under the sidewalk surface. On this exposed pipe 10/28/1937 shows up.
711 Tompkins, between Hope and Belair, is a fine example of 20th Century construction with a double porch and dormers. The object across the street is what we have in the 21st Century.
Woodland Cottage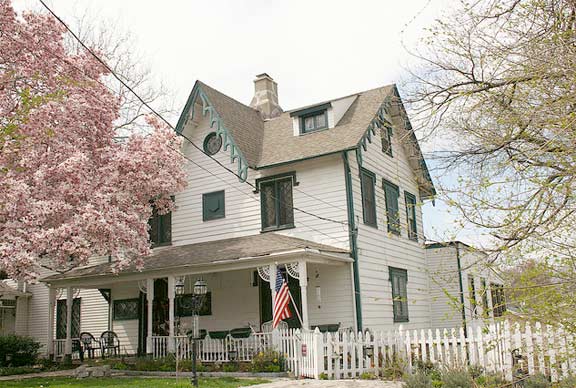 My own photo of Woodland Cottage, 33-37 Belair Road, didn't come out very well — there was abig SUV parked in front — so here I borrow a photo from NYC chronicler Emilio Guerra, who provides a thorough synopsis of the house and its history at the link.
Detailing from the cottage. The original cross-gabled section has steep roof slopes outlined by bargeboards. Holden's Staten Island, Richard Dickenson, CMS 2002
From the ForgottenBook: On Belair Road between Bay and Wingham Streets you'll find the remnants of suburban development that begun here in the 1830s, most notably Woodland Cottage at 33-37 Belair Road. The Gothic Revival cottage was built in 1845 and served as the rectory of St. John's Episcopal Church between 1858 and 1869. Of special note are the second-floor casement windows with diamond-shaped panes.
Next door is 25 Belair Road, likely from the same era with similar roof slope treatments.
St. John's Episcopal Church
At Belair Road and 1331 Bay Street stands historic St. John's Episcopal Church, constructed from 1869-1871 with architect Arthur D. Gilman. The parish was established in 1843, and its historic plaque claims that ferry/railroad magnate Cornelius Vanderbilt (born nearby in Stapleton in 1794) was the first child baptized in the original frame building across the street, but those dates don't seem to jibe.
The rectory (right) opened in 1882 and was also designed by Gilman.
Some classic Belair Road and Bay Street architecture, and a new gleaming CEMUSA bus stop, alongside the bench that had formerly gotten the job done.
At Bay Street and St. John's Avenue we find a building originally owned, or built by, an M.J. Rottmann in 1885. Names and dates of construction were frequent features in that era.
Ancient fire alarms and sewer grates, Bay Street and Scarboro Avenue. Whenever you see a peak-roofed NYC fire alarm box, it's one of the originals, having been installed from 1912-1913. The lengthy shaft at the top originally held a lamp alerting carriage drivers and motorists to its presence at night. The working box at this corner is actually mounted to a telephone pole.
A old school functional sewer grate — actually a hole in the concrete — is across the street.
A sampler of Bay Street storefronts between St. Johns and Maryland Avenues — De Luca General Store, with its NYC classic  plastic-letter facade; brick building covered with flag mural, likely inspired by 9/11/01; Phrygian Studios, one of a number of recording studios in the area; and the cursive and Art Deco hand lettered Expressions By June hair salon sign.
Phrygia, in ancient times, was a kingdom in central Turkey. By the 500s AD it had been conquered by the Trojans, the  Persians and finally, the Romans. Its culture was largely absorbed into Greek culture after the Greeks overwhelmed Troy. The Phrygian cap, a style favored by the Phrygians, has turned up as a symbol of liberty in many iconographies, including US coinage.
Zinnias and marigolds along the sidewalk on St. John's Avenue west of Bay street.
Railroad remnant
One of the most identifiable remnant of the old Staten Island Railway can be found at St. John's Avenue and Clayton Street — a stone wall stamped with the date 1936. The railroad once passed here north of the Belair Road station. Service ended in 1953, and gradually, all trace of the railroad in the neighborhood has otherwise vanished.
Two photos of the same site in 1936, when the stone walls and trestle were new.
And on the pedestal these words appear:
`My name is Ozymandias, King of Kings:
Look on my works, ye mighty, and despair!'
Nothing beside remains. Round the decay
Of that colossal wreck, boundless and bare,
The lone and level sands stretch far away". 
Percy Bysshe Shelley
Though they show up on maps as early as the 1940s, it wasn't till the last couple of decades that a group of streets off St. Johns Avenue west of Tompkins named for classical composers (Beethoven, Wagner, Schubert, Rubenstein, Strauss, and Mendelsohn) were developed.
Other clusters of streets in Staten Island are named for European rivers (Grasmere); Prohibition Party Presidential candidates (Westerleigh); and astronauts ( Heartland Village).
Looking down St. John's Avenue toward the bay. Bay Ridge, Brooklyn is on the horizon and the spire of St. John's Church is on the extreme right.
Tidy Rosebank homes on James Place and Thompson Place; attached homes on Tompkins between Maryland Ave. and Hylan Boulevard
From the intersection of Tompkins Avenue and Hylan Boulevard, the Manhattan skyline looks tantalizingly close.
Rosebank has a few streets bearing states' names: Maryland, Virginia, Vermont. It used to have two more: New York Avenue, which was renamed Bay Street in the early 20th Century, and Pennsylvania Avenue, which became Hylan Boulevard when the boulevard was constructed from Rosebank to Tottenville along Staten Island's south shore in the mid-1920s.
Tompkins Avenue takes a NW jog at Hylan Boulevard and a traffic triangle here commemorates local hero Anthony Zavarelli, a Vietnam veteran who perished at the Twin Towers on 9/11/01.
"The Rosebank Boys Association is an organization composed of long-time residents of the Rosebank section of Staten Island.  The organization carries out fund raising activities throughout the year to benefit various local charities. " Building Homes for Heroes
A new Walgreens stands at Tompkins and Hylan. Why feature such an everyday object — after all there are hundreds of Walgreens in the NYC area alone! Apparently, in Rosebank, there was a movement to keep out the big drugstore chain, that was apparently unsuccessful. Rosebank Pharmacy, at Clifton Avenue a block away, seems to be doing all right.
The Tompkins Tavern, now Le Fandy on Tompkins near Virginia Avenue, has some ancient painted advertisements on the side wall facing the parking lot.
The Rosebank Honor Roll, on Tompkins Avenue across from St. Joseph's Church on Shaughnessy Lane, celebrates Rosebank residents who served in that conflict.
The Garibaldi-Meucci Museum, Tompkins Avenue and Chestnut Avenue. Giuseppi Garibaldi was the military crusader who fought for a united Italy, and Antonio Meucci invented the telephone, but was unable to afford a patent; Alexander Graham Bell, who was working on a telephone at the same approximate time, obtained his patent, and the rest is history.
Please see my writeup on my previous Rosebank page for more information on these two Staten Islanders, however temporary.
Meantime, I'm fascinated by the Meucci monuent on the lawn because of its friezes depicting classical-era gambols and frolics. The inscription in Italian on the monument describing Meucci's career is well-worn and could use a restoration. Across the street is the Auto Tech car repair shop. I love it when monuments to great men are situated in humdrum, everyday locales.
Huge warehouse on Tompkins on the north side of the active SIRT tracks. I wonder what its original purpose was.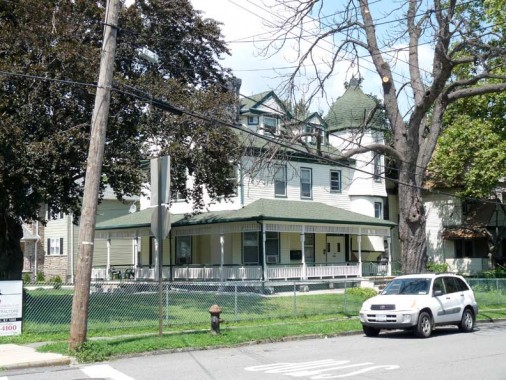 Townsend Avenue was originally the driveway leading to the estate of brothers James, Charles and William Townsend, who built a Gothic Revival castle in the center of the plot in the 1840s. In the 1850s, land along the driveway was subdivided into plots and in the latter half of the century a collection of other Gothic Revival and Queen Anne style homes was built up and down the street. Unfortunately in the past decade, many of these have disappeared as developers have erected generic multi-family homes they have deemed more suitable for the region in the early 2000s. A few do remain, though, such as the one on the north side of the avenue near Tompkins.
Unfortunately the area was never landmarked and perhaps, this corner building on Tompkins Avenue may be on the way out, too.
Adventures in Vandy-land
I'll halt the proceedings before pressing too far into Clifton and Stepleton, but I'll note some of the area's more engaging architecture at Vanderbilt Avenue just east of Tompkins:
Cornelis Vanderbilt, born in Stapleton in 1794, began his career operating Staten Island's first ferry to Manhattan beginning in 1810. The Vanderbilt family has always been associated with Staten Island; several family members are buried in a lavish mausoleum in Moravian Cemetery in Todt Hill.
In 1900, the firm of Carrere and Hastings built eight houses along the family's namesake avenue, from 110 to 144, between Talbot Place and Tompkins Avenue for George Vanderbilt in 1900. Other houses were built for Vanderbilt on neighboring Norwood Avenue; additional mansions were found on nearby Townsend Avenue, but many of them have been lost to redevelopment.
9/11/11