While careening through Canarsie this past week, searching for lost alleys, I checked Nolan's Lane, which I hadn't visited since 1999. For most, unless you live there, there's no reason to visit. As you will see, though, this is one of my favorite obscure Canarsie lanes.
There was a kid at grade school with me named Johnny Nolan. My father, somewhat admiringly, called him a 'scallywag.' He was always trying to fight me (I was always running away.) Since that was in Bay Ridge, this alley probably has nothing at all to do with him, as Nolan's Lane runs for a few blocks between East 93rd and East 96th between Foster Avenue and Avenue D.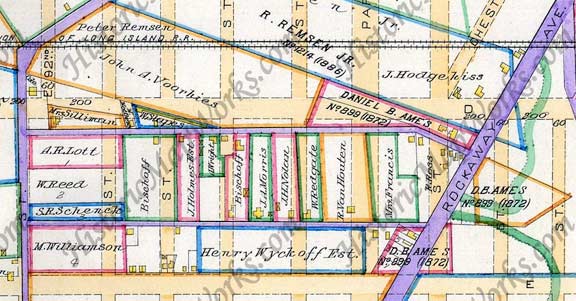 Here's an 1890 map of the general area. The purple roads are already laid out and traveled on, while the buff streets are on maps and developers' dreams. Property lines are also shown. You can see Nolan's Lane as the horizontal line in the middle, running from what was Canarsie Lane (now East 92nd) and Rockaway Avenue. Note the name J.H. Nolan toward the center of the map. His name is still on the lane.
Also note the name Daniel B. Ames. We'll get back to him later.
This is part of a Belcher Hyde atlas from about 30 years later. The streets have been laid out, but not paved (except for Rockaway Avenue). Few homes have been built yet, but Nolan's Lane shows up in the center; the map is oriented with east on top.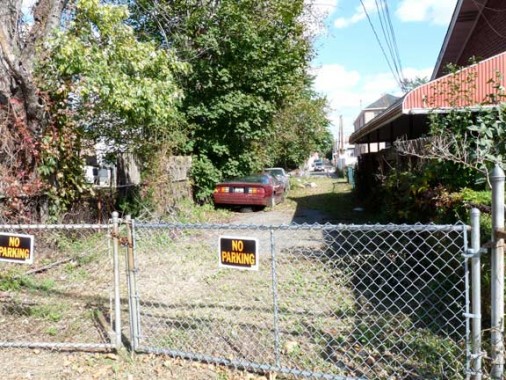 Here's how I found Nolans Lane in 2011, from east to west. This is a disused portion between East 93rd and 94th, but it does have one of Nolans Lane's few street signs.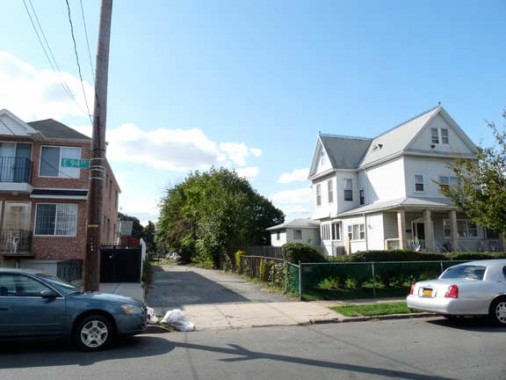 Nolans Lane, from both sides of East 94th. Canarsie's lanes have survived for the most part because there are still one or two homes located on them. Where there aren't homes, other Canarsie lanes, like Smith's, have mostly succumbed to development.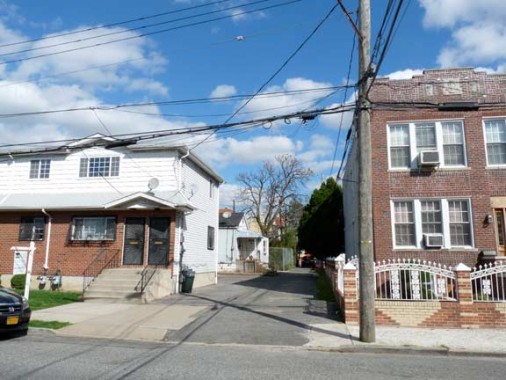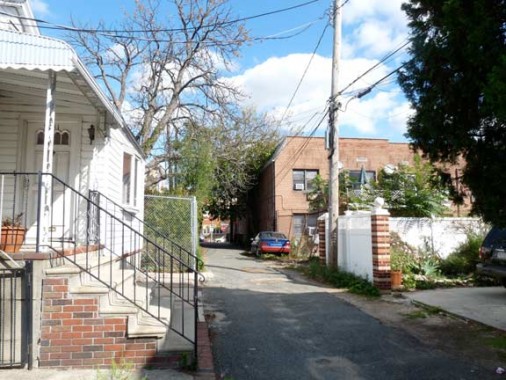 Nolans Lane from each side of East 96th. Today it's well maintained and paved; until the 1980s, some of Canarsie's alleys were still dirt roads. This is one of the few homes that face Nolans Lane but are responsible for saving it.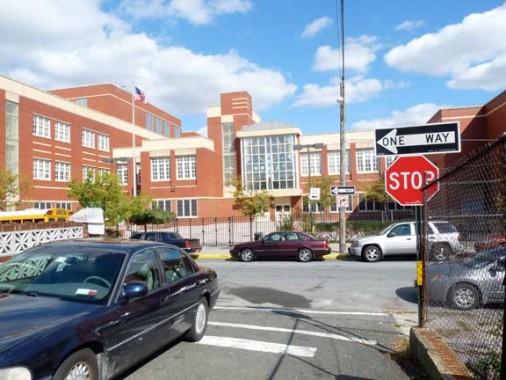 Nolans Lane used to run through to Rockaway Avenue. The part between East 96th and Rockaway is now occupied by PS 66.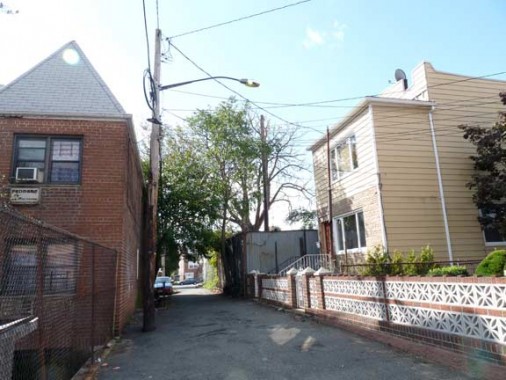 Here's why Nolans Lane is among my favorites in Canarsie. There is one, and only one, streetlamp illuminating it, and it casts dim light indeed– it's a 1960s-era mercury bulb, without a reflector bowl. The city has so far overlooked it in its wholesale streetlamp replacement program of 2009-2011. Of course, since I have shown it here, the Department of Transportation now knows where it is. Savor this relic while you can.
Nolans is not the only ancient Canarsie lane in the area. The Belcher Hyde atlas also shows an Ames Lane between East 92-93 Streets just south of Avenue D. Remember the Daniel B. Ames property on the 1890 map.
And indeed, its remains are here on East 93rd, though now used as a driveway and unmarked by the city.
10/25/11