The title card shows what is likely the last Bishop Crook wall bracket lamp in New York City — a genre that I don't think was all that frequently found even in the olden age of cast iron NYC lampposts, 1900-1950. As a rule, when a wall bracket lamp was needed, the city turned to other styles, most frequently a lang-armed lamp based on the Type G posts. I featured most styles on my Wall bracket Lamps FNY page several years ago.  It can be found on Nassau Street between Beekman and Spruce.
The lamp is affixed to the rear of this building on the SE corner of Park Row and Spruce, now used by Pace University but formerly the home of The New York Times. It was designed by prolific architect George Post and went up in 1889 with extra floors added in 1906. It stands in what was formerly known as Printing House Square, because Park Row was once known for the newspapers that were centered on Park Row opposite City Hall Park, among them the Times and Horace Greeley's New York Tribune. On the opposite corner is a monumental statue of Benjamin Franklin.
The old-fashioned lamppost in the front is a 12-year-old creation, as the City installed taller versions of the familiar Twinlamps that had added ornamentation around City Hall Park around 2000.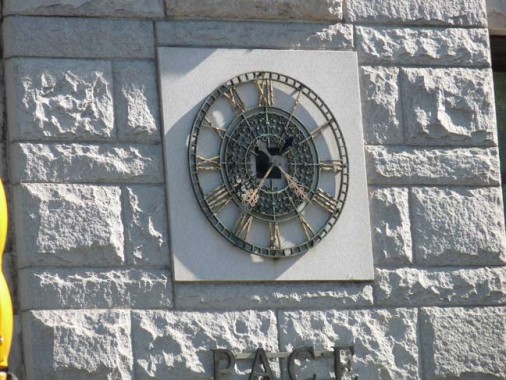 This clock — could it be an original? guards the front entrance on Park Row.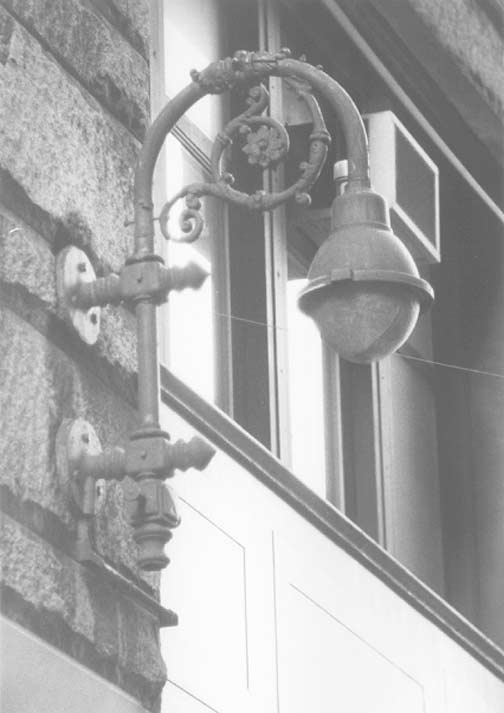 Here's an older look at the Crook, when it still had its glass diffuser bowl.
4/30/12