The Port Authority Trans-Hudson Railroad, or the PATH train, is NYC's "other" subway, running under 6th Avenue, Christopher Street, Greenwich Street and Morton Street and from Church Street on the once and future World Trade Center site to various stops in Hoboken, Jersey City, and Newark, New Jersey. At its full length, it runs from one block away from NYC's Pennsylvania Station to Newark's Penn Station. At a $2.00 fare, savvy city riders can save a quarter traveling from Midtown to Greenwich Village, as this represents a 25¢ bargain off the MTA's subway fare (as of this writing in May 2012).
The PATH is the modern-day result of the first attempt to cross the mighty Hudson by placing railroad tracks in a tunnel. Engineer Dewitt Clinton Haskins drove a partial tunnel from the Jersey side beginning as early as 1874 but got only partway before an accident claimed 20 lives. A British firm took up the mantle in 1890, but again was forced to abandon the pursuit.
An ambitious lawyer from Georgia via Tennessee, William Gibbs McAdoo, obtained backing and employed upgraded tunneling methods in 1901, proceeding to do what by then was considered impossible: he engineered multiple tunnels and inaugurated rail service, the first trans-Hudson rail of its kind, between NYC and Hoboken, from 1908-1910 and Jersey City and Newark Park Place in 1911. Newark Penn Station service was added to what was called the Hudson and Manhattan Railroad in 1937. Original service ran between Hoboken and 19th Street (now closed to the general public) and opened February 25, 1908. The H&M was, in effect,  the original 6th Avenue Subway — Independent Subway 6th Avenue service did not open until December 15, 1940.
The H&M was, in part, responsible for the old World Trade Center. The railroad had fallen into bankruptcy in the 1950s, but The Port Authority agreed to purchase and maintain the Hudson Tubes in return for the rights to build the World Trade Center on the land occupied by H&M's Hudson Terminal (the "original" Twin Towers on Church Street), which was the Lower Manhattan terminus of the Tubes.
William Gibbs McAdoo (1863-1941), the son-in-law of U.S. President Woodrow Wilson, acted as Wilson's Treasury Secretary from 1913 until 1919, raising millions for the US effort in WWI. He unsuccessfully ran twice for the Democratic presidential nomination in 1920 and 1924, and was later elected a US Senator from California in 1933, serving one 6-year term.
Despite the cheaper fare, I  confess I haven't used PATH much over the years. Despite a connection with the 14th, 23rd and 33rd Street stations on 6th Avenue, the subway and PATH are separate entities and no transfers are allowed, though PATH did begin using Metrocards a few years ago. I rode it more in the 1980s and 1990s when my journeys to Hoboken were more frequent — I saw a number of shows at a venue called Maxwells (still going strong) and obtained tickets at a record store (remember them?) on 1st Street called Pier Platters.
I should ride more often. The PATH has its quirks. For one thing there's a distinctive, musty aroma, that to me is not all that horrible, but I imagine plenty of folks aren't fond of it. Despite a lot of modernization over the years, most stations do contain some elements of original "19-oughts" construction. Until recently the rolling stock was, in many cases, 1965 vintage. And, despite their proximity, much of Jersey City and Newark remain unplumbed and unexplored territory for your webmaster, with Hoboken slightly less unknown.
Today, I'm concentrating on the PATH in NYC, where it has six stations (the 19th Street station was closed in 1954, the 28th Street station in 1937 when the 33rd Street station was moved south). I found some interesting interactions and leftovers from a previous age. Because PATH actually has a policy prohibiting photography (unlike the MTA), I didn't do any in-station photography, relying instead on photos from NYCsubway.org (credited where appropriate).
I didn't photograph the PATH's WTC station on this trip, but I did so in 2007.
33rd Street
The 33rd Street station is entered (mostly) through the basement of the Manhattan Mall, the former Gimbels on 6th Avenue between West 32nd and 33rd Streets. Like the MTA's West 4th Street station, there are no longer any exits on 33rd Street proper, as this is the second terminal on the site. While the original opened in November 1910, a new 33rd Street station had to be constructed from 1937-1939 to make way for the Independent Subway complex, which provides connections to the BMT, PATH, and IND lines. photo: NYCsubway.org
On weekdays there are separate routes from here for Hoboken and Jersey City service, which are combined into one route for the overnights and weekends. At all times, transfers may be made at Grove Street in JC for Newark-bound service, which originates at the World Trade Center site.
There is an unused passageway (closed for safety reasons) connecting the IND-BMT-PATH 33rd-34th Street complex with 7th Avenue and Penn Station.
(I should quickly add that the old subway division abbreviations, BMT, IND, IRT, are rapidly falling out of favor with younger riders. The BMT (Brooklyn-Manhattan Transit) consists of a variety of lines constructed in Brooklyn and Manhattan beginning in 1913 and mostly finished by the 1920s; the IND (Independent) Subway was built in 4 boroughs by the city from 1925-1948; and the IRT (Interborough) Subway was NYC's first subway, opening in 1904 and mostly finished by 1920.)
A 1960s-vintage PA-1 car idles at 33rd Street in 2008. Kawasaki PA-5s would replace them beginning in the next year. photo: NYCsubway.org
Original tiled IND subway sign in the IND 34th Street station pointing to the PATH terminal. When the IND 6th Avenue Line opened in 1940, PATH was still known as the Hudson & Manhattan, and several directional signs still point riders to the "H&M." Also at this time, the passageway to Penn Station was still open, and riders didn't have to brave the rain, cold or heat to walk a block outside to get there. Of course, fewer and fewer riders remember what the BMT was, too! photo: NYCsubway.org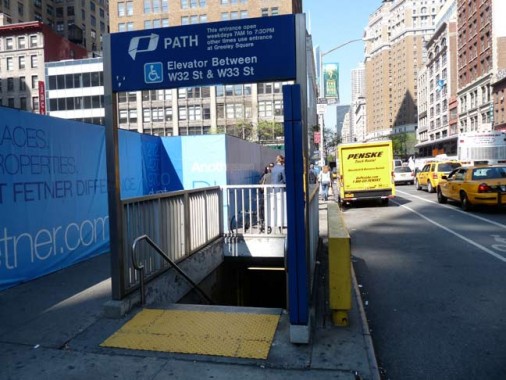 This entrance-exit at 30th and 6th is only open weekdays. It shows off the 1970s? era streamlined station entrances with blue and white Helvetica signs. More recent signs use a different font (see below).
23rd Street
Both IND Subway and PATH 23rd Street stations share entrances and exits. PATH riders descend and then ascend to the tracks as the PATH runs a level below the IND.
One of the "modern" entrance-exits on the west side of 6th and 23rd. However, the ones on the east side are from a previous generation…
The "big M" is one of the former official MTA logos. It might have tricked people into thinking the M train ran here. In mid-2010, that became a reality as the M was rerouted down 6th Avenue, replacing the old V line.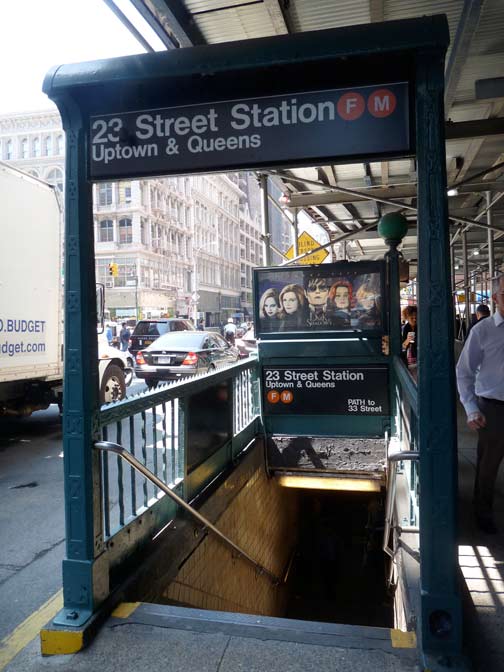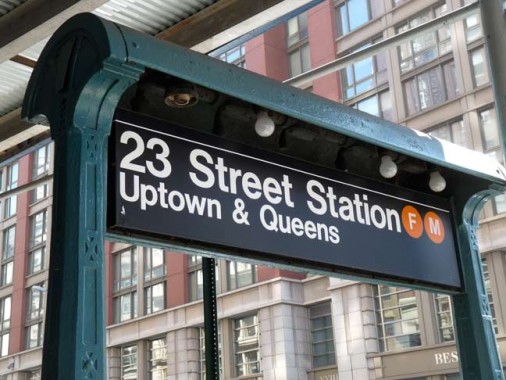 The entrances on the east side are your typical IND entrances with a crosshatching design except that there's a 'hood' stanchion, its underside lit by incandescent bulbs. I don't have any photos of what these looked like in 1940 when they first appeared, but they were probably there to hold signs proclaiming that the station served both IND and H&M clientele.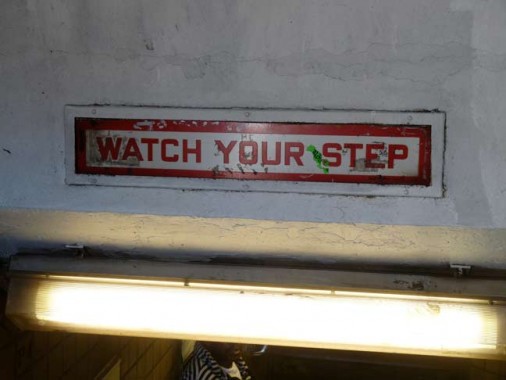 On the northeast corner is a "watch your step" sign that likely goes back to 1940. Otherwise the 23rd Street station is fairly devoid of original signage, which isn't the case with 14th Street (see below).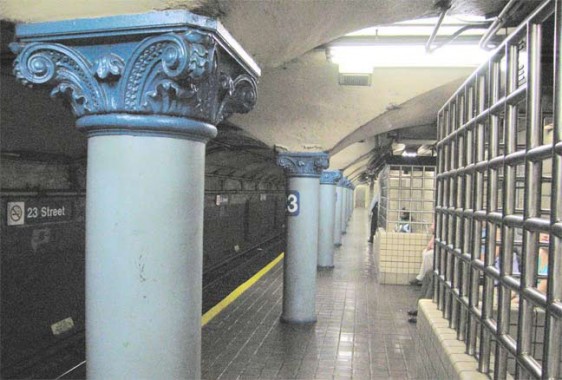 The 23rd Street station platforms have retained a good deal of original Beaux-Arts construction dating to the station's opening, June 23, 1908. It's quite reminiscent of the original Heins and Lafarge stations of the 1904 IRT (running on the #6 line from Brooklyn Bridge north). The vaulted ogee curves are H&M trademarks and appear in many of the stations both in Manhattan and New Jersey. photos: NYCsubway.org
14th Street
Where 23rd Street was fairly devoid of old IND/H&M signage, the 14th Street station is a virtual sign museum. This is a surprisingly busy subway interchange, since the station also connects with the 7th Avenue IRT #1, 2, 3 lines via a pedestrian tunnel, and there's also a subway (though not PATH) transfer to the crosstown BMT L line. Hence, IRT, IND, BMT, PATH all interact here.
First is a modern-day black and white Helvetica directional sign, pretty much standard since the 1960s. For some time, Exit signs have been red and white.
Right next to it, the Port Authority has its own blue and white sign pointing to the connecting pedestrian tunnel.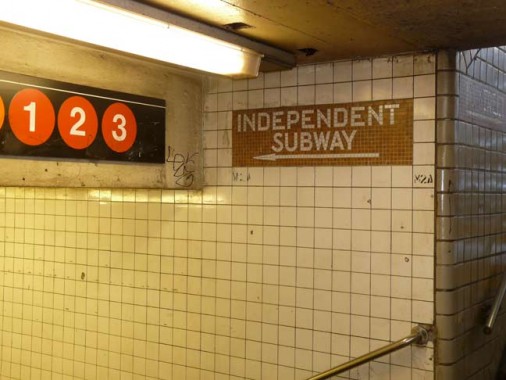 A tiled "Independent Subway" sign leading to the F/M lines. An adjacent pedestrian tunnel goes 1 block under 14th Street to 7th Avenue where you can get the #1, 2, 3.
1940-vintage tiled sign. There's a very 'serious' look about the lettering of IND-era signs. Compare to Helvetica, which originated in Switzerland in 1957 — the letters just look 'friendlier' or more colloquial. These signs communicate a 'let's go to work' vibe to the subway commuter. The Helvetica signs want to be your pal.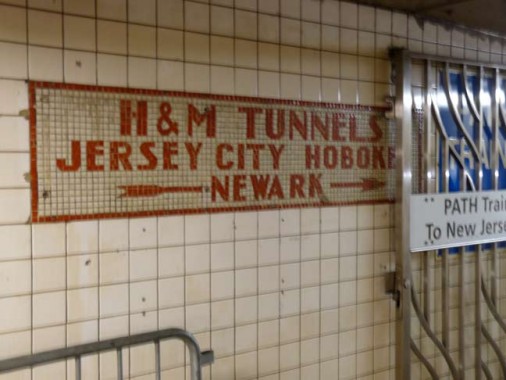 The Independent Subway (IND) helpfully included directional signs to the H&M tunnels. Newark service began in 1937, and these signs were unveiled in 1940. Again, the type is all business, no nonsense here. There was a war on!
On the right is a newer PATH system sign, this time not in the usual Helvetica, but in Frutiger, a font that first appeared in Charles deGaulle Airport in Paris in 1968.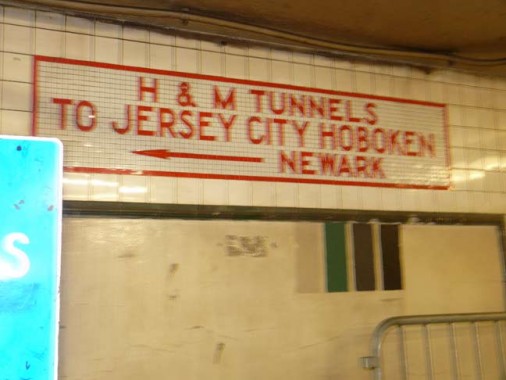 Another H&M sign in a slightly different 1940 font.
Whoever figures out a way to make digital camera photos less fuzzy in dim light, or invents a Photoshop setting to eliminate the fuzz, will be richer than Zuckerberg.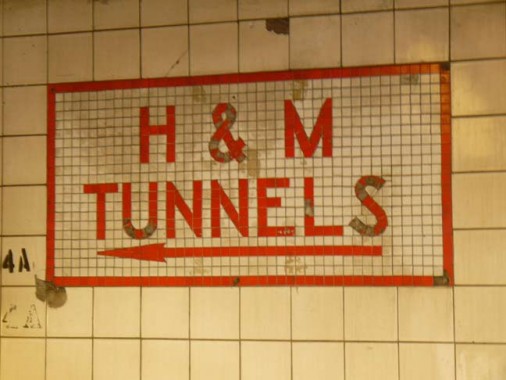 And just so you won't miss them, here's one more sign pointing to the H&M tunnels. A good way to spot IND signage is to look at the capital E. The three prongs are all different widths.
PATH tiling takes over in the connecting tunnel.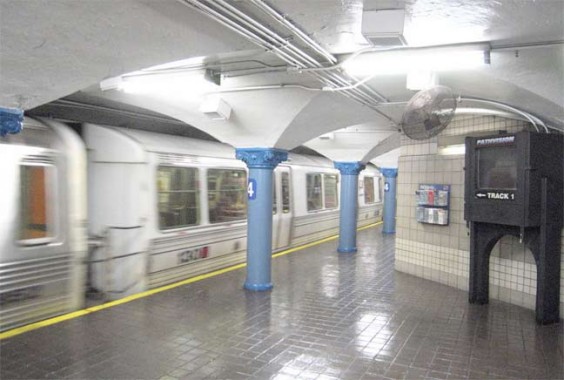 A pair of views from the platform– thoroughly modern in every way, except the vaultings and pillars, which go back to the station opening, February 25, 1908. PATH turnstiles are a little different from the MTA — whereas the MTA uses a swipe system, which even the most seasoned rider sometimes messes up, at Path you insert the card in one slot on the bottom, it registers the fare and pops out a different slot on top. (I hear the MTA wants to do away with Metrocards altogether and charge directly from debit or credit cards, but that's years away.) Instead of concrete surfacing, PATH stations use a matted surface. photos: NYCsubway.org
Here are two more of the IND's unique 'hood' subway entrance stanchions, which I can't find anywhere but at 14th and 23rd Streets. In one the incandescent bulbs have been replaced with fluorescents. I have, though, found these on older photos of BMT entrances, so they were once more numerous.
A modern CEMUSA newsstand stands beside the entrance on the NW corner of 6th and 14th.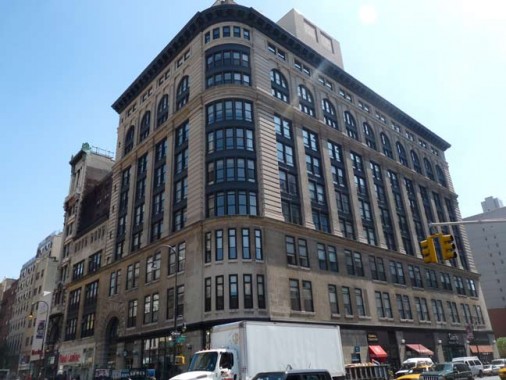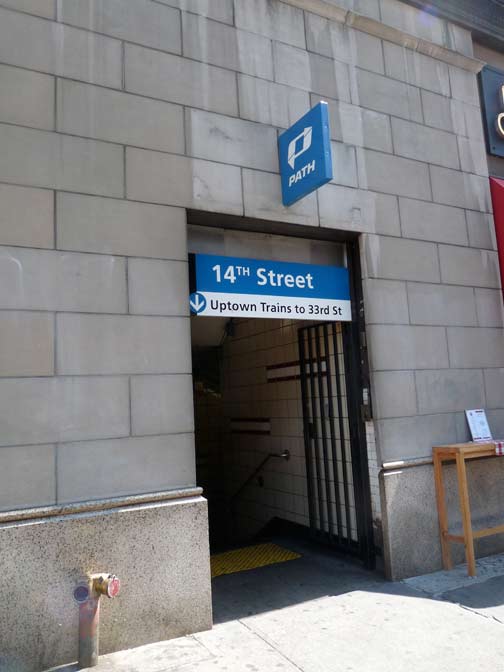 PATH stations are often entered through building basements. The one on the SE corner of 6th and 14th employs one of the newer Frutiger typeface signs. According to Jim Naureckas at Songlines,
This handsome building with arched entrances was built by Henry Siegel, co-creator of the Siegel-Cooper store five blocks north. He sold his interest in the "Big Store" in 1904 to make an even bigger department store in the area vacated by Macy's–but the new store went bust and Siegel went to jail in 1914 for defrauding creditors. 
Next door, and wrapping around to West 13th and 14th, was the former home of Macy's before it moved uptown to Herald Square in 1902. Red stars, Macy's symbols, can still be seen on the West 13th side.
9th Street
Here the PATH turns southwest as it prepares to cross the Hudson. On the remaining two Manhattan stations on this PATH branch, there are just one entrance each that lead to a center platform.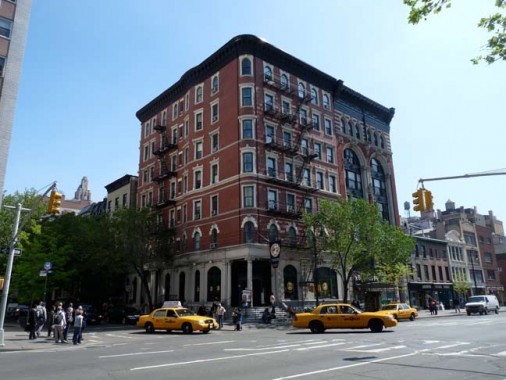 The north side of this building on the SE corner of West 9th and 6th Avenue is seen by PATH passengers when exiting, a 1910s apartment building with side bays and a rounded corner, was home to a nightclub called Trude Heller's in the 1960s and 1970s:
Back when she was still Goldie Zelkowitz, [Genya] Ravan performed at the club with her first two groups–the vocal/doo-wop-oriented Escorts, and the groundbreaking girls-only Goldie and the Gingerbreads. She describes Heller as an out lesbian with an intimidating "tough cookie" demeanor. "She required rockers to rock—no ballads. She'd go crazy with rage whenever we sang a ballad. I'd look down from the stage and see her getting angry, then she'd run over to the light switch and start flicking it on and off, screaming, "C'mon! C'mon! Let's twist already! Let's twist the night away! Come on, baby, let's do the f**kin' twist!…All she wanted was action and for the place to rock." She also required a lot from her performers—Ravan describes a schedule of "six 45-minute sets a night, with half-hour breaks in between." In addition to running the club, Heller produced/promoted big concerts at other venues (such as the Supremes at Lincoln Center) and started a record label, Tru-Glo-Town Records. With her son Joel, she co-owned another equally wyld club on 8th Street called the Eighth Wonder (as told to the Spectropop yahoogroup by Alan Gordon, songwriter and member of the Magicians. It's All the Streets You Crossed Not So Long Ago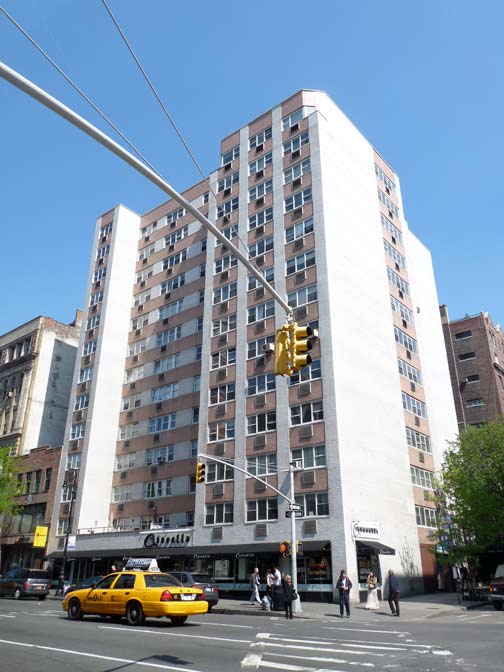 The big white high-rise at the NE corner of 6th and West 9th contains the rather inconspicuous PATH entrance. 69 West 9th was built in 1956; Barbra Streisand lived there briefly in the 1960s.
9th Street has a collection of murals just inside the entrance. (Someone fill me in on the artist).
Though the center platform has been thoroughly modernized, riders can still see the original H&M barrel vaulting on the walls. You also travel through an unusual curved tunnel to get to the platform.
Christopher Street
The Christopher Street PATH entrance, #137 between Hudson and Greenwich, is actually its own freestanding building, constructed in 1912, with a chiseled "Hvdson & Manhattan R.R. Co." sign at the roofline and a restored iron and glass marquee in front. The AIA Guide to NYC says it's reminiscent of a London tube station entrance.
The murals lining the staircase (including one resembling a recent vice-presidential candidate, though it's not meant to be Sarah Palin) are by artist Biff Elrod and were painted on site in August 1986 as a temporary installation for the Public Art Fund.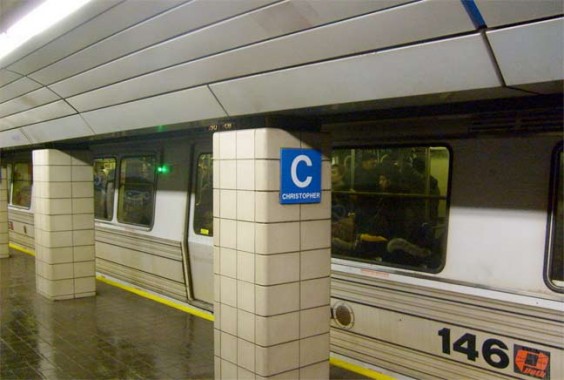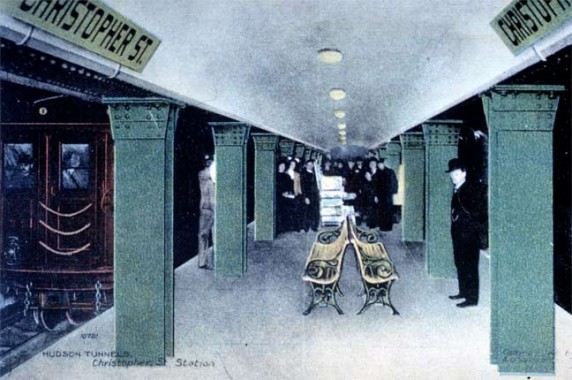 Though there's not much trace of the original appearance because of modern tiling and signage, I found a postcard from the 19-oughts that shows what it looked like.
The modern signs match the former Chicago practice of showing the station's initial letter with the station name under it.
For the complete PATH story, consult Brian Cudahy's "Rails Under the Mighty Hudson," Fordham University Press 2002.
5/21/12