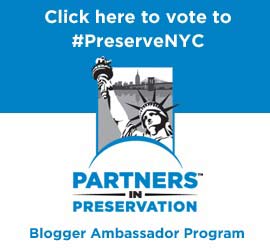 I've been asked to cover locales selected by Partners in Preservation, an organization sponsored by American Express that, in a partnership with the National Trust for Historic Preservation, awards preservation grants to historic locales across the country. After six years in existence, Partners in Preservation has selected New York as its focus in 2012.
Through the partnership, American Express and the National Trust for Historic Preservation seek to increase the public's awareness of the importance of historic preservation in the United States and to preserve America's historic and cultural places. The program also hopes to inspire long-term support from local citizens for the historic sites at the heart of their communities.
From April 26 through May 21, 2012, local residents and people across the country are encouraged to vote for their favorite of 40 historic places throughout the five boroughs of New York City to receive preservation funding.
Voters are allotted one vote per day, which can be cast online in three ways: via the desktop website, the mobile website, or Facebook. Additionally, people can post personal stories and share photos on the Facebook page throughout the program. The four projects that receive the most public votes will have their grant requests fully funded, and the remainder of the $3 million in grants will be given to a number of the other sites after review by American Express, the National Trust for Historic Preservation and an advisory committee composed of civic and preservation leaders from New York.
The Woodlawn Cemetery
Woodlawn Cemetery is one of the largest cemeteries in New York City and is a designated National Historic Landmark.
A rural cemetery located in the Bronx, it opened in 1863, in what was then southern Westchester County, in an area that was annexed to New York City in 1874.
The cemetery covers more than 400 acres and is the resting place for more than 300,000 people. There is a memorial to the victims of the 1912 RMS Titanic disaster, called The Annie Bliss Titanic Victims Memorial. Built on rolling hills, its tree-lined roads lead to some unique memorials, some designed by McKim Mead & White, John Russell Pope, James Gamble Rogers, Cass Gilbert, Carrère and Hastings, Sir Edwin Lutyens, Beatrix Jones Farrand, and John LaFarge. As of 2007, plot prices at Woodlawn were reported as $200 per square foot, $4,800 for a gravesite for two, and up to $1.5 million for land to build a family mausoleum.
In 2011, Woodlawn Cemetery was designated a National Historic Landmark, since it shows the transition from the rural cemetery popular at the time of its establishment to the more orderly 20th-century cemetery style. wikpiedia
Belmont Memorial Chapel
At the entrance to the Woodlawn Cemetery stands the Belmont Memorial Chapel, one of a few private mausoleums open to the public. Commissioned by Alva Vanderbilt Belmont, it exhibits the best of Gilded Age craftsmanship. Created by masons, sculptors, and stained-glass artisans, the impressive structure contributes to what is considered the nation's finest collection of funerary art. Partners in Preservation
photo: Museum Planet
Oliver Hazard Perry Belmont (1858-1908) was the son of financier August Belmont Jr, for whom the Belmont Stakes, the third leg in horse racing's Triple crown, is named. After a stint in the Naval Reserves, Oliver Perry became a multimillionaire after inheriting his father's wealth and built the huge mansion, Belcourt Castle, as a summer home in Newport, Rhode Island. He was was elected as a Democrat from New York's 13th District to the Fifty-seventh Congress (March 4, 1901-March 3, 1903).
His family mausoleum, designed by architect Richard Morris Hunt, where he and his wife, Alva Vanderbilt Belmont, are interred, is an exact replica of The Chapel of Saint Hubert at Chateau Amboise in France, which was designed by Leonardo DaVinci.
St. Hubert is the patron saint of hunting. Mary and the Christ child are above. King Charles VIII is on the left, and his wife, Anne of Brittany, is on the right.
Beneath, in the lintel, is St. Anthony (far left) and St. Christopher (with Staff and Christ Child on his shoulders). The story of St. Hubert is portrayed: Hubert was out hunting on Good Friday when a stag bearing a crucifix between his antlers appeared and converted Hubert to Christianity. Museum Planet
You can vote for the restoration of the Belmont Memorial Chapel, or other sites if you choose, at the Partners in Preservation website and from other devices. Remember, you get one vote per day.
I have partnered up with Partners in Preservation as a blog ambassador to help spread the word and raise awareness of select historical sites throughout the tri-state area. Though I am compensated for my time, I have not been instructed to express any particular point of view. All opinions expressed here are strictly my own.
5/15/12