After spending my first 35 years in Bay Ridge, Brooklyn, I moved to Queens in 1993, in that gray area on the borders of Flushing, Auburndale and Fresh Meadows. My home park, Kissena, was a couple blocks away. In those days I rode a bicycle much more than I do now (I really should get back to it — between 1993 and 2007 I lived in a 4th floor apartment and you can work off the pounds by carrying a bike up and down 4 flights repeatedly) and I was in awe of how wide open everything was. Bay Ridge was crowded and congested in comparison to eastern Queens, with its wide roads and surfeit of stoplights. It was a relevation for a bicyclist, especially when I discovered the extant section of the Long Island Motor Parkway, one of the first express auto routes built by William Kissam Vanderbilt in the early 20th Century.
I returned to Kissena Corridor Park in the summer of 2012, an unusually shaped park that cuts as a diagonal athwart the Fresh Meadows street grid. (I know why it does that, but I'll mention that later.)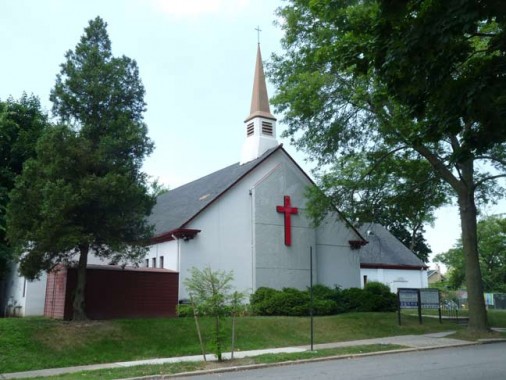 Beginning my walk at Peck Avenue and 191st Street, I spotted the Kwang Ya/Heavenly Voice Presbyterian Church, which looks like one of those suburban churches you find in New England after crossing a covered wooden bridge or two. No real information online about it, but it probably has a history that predates the Korean congregation.
Though this was a Friday, I was rather surprised to find that the ballfields completely empty. I suppose they are busier on weekends, since I have cycled past the Corridor Park when the fields were filled with ballplayers.
Yet how much of this is due to kids staying inside playing with IPads and video games?
Not many streets go through Corridor Park, but both 58th Avenue (top) and 188th, or Saul Weprin Street, both do. Yet, their intersections with Peck Avenue, which forms the southern boundary of the park, are unguarded by stoplights, and stop signs suffice.
Peck Avenue runs along the south end of the Queens Botanical Garden for a couple of blocks. It's one of the more unusual avenues in eastern Queens, as it runs through Flushing, Fresh Meadows, and Hollis Hills in five different sections; in its longest section, it runs south of Corridor Park, while Underhill Avenue runs along the north. At one time, Peck and Underhill were mapped out to the Nassau County line along the route of the Motor Parkway, but were never built that far.
Peck Avenue is named in honor of longtime Flushing resident and property owner Isaac Peck (1824-1894). He owned a department store in College Point for many years. Members of the Peck family are buried in St. George Churchyard on Main Street in downtown Flushing.
Peck Avenue looking east from 188th Street
The b-ball court was bereft of basketball players. The adjoining kiddie playground had a number of kids and moms in it, though I never photograph kids to avoid misunderstandings.
All quiet on the baseball pitch.
I shot a photo of 50th Avenue where it meets Peck Avenue. There's nothing to make 50th Avenue stand out these days, but prior to the era in which Fresh Meadows was suburbanized, it was one of the first roads through the area. In the early 20th Century it was called Lawrence Road, likely after the wealthy Queens family that produced mayors and military men. There are two extant cemeteries that belonged to the Lawrence family in Queens, one in Bayside, the other in northern Astoria.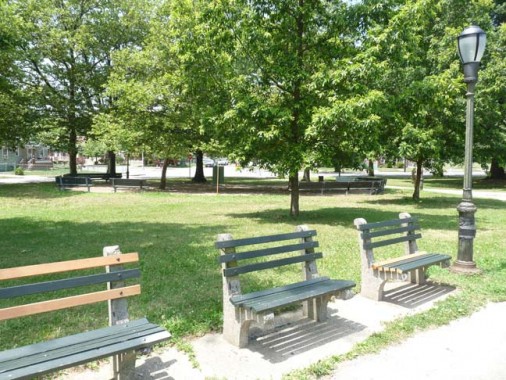 The Corridor is not exactly neglected, but its paths contain some aged infrastructure. The park benches probably go back to the 1960s — of late the City has replaced some of the wooden slats. The Type B park posts are aged as well — and seem to be inneed of a paint job. The luminaires are of a type widely used in the 1970s.
Utopia Parkway is a major north-south Queens route, running from the East River in Whitestone south to Grand Central Parkway in Jamaica Estates, where it becomes Homelawn Street. It's named for a real estate development that never panned out.
The Utopia Land Company planned to construct an expansive cooperative community for Jewish residents of the Lower East Side on fifty acres of land east of 164th Street between the communities of Jamaica and Flushing. The land was obtained for development in 1905, at which time the company acquired a $9,000 mortgage to grade streets and divide the land into lots.
When the Utopia Land Company found itself unable to secure additional funding, the project was swiftly abandoned. While the dream of the development faded, the project's name was remembered, providing a name for Utopia Parkway… NYC Parks
The community, in turn, took its name from an ideal island in a 1516 fictional work by Sir Thomas More.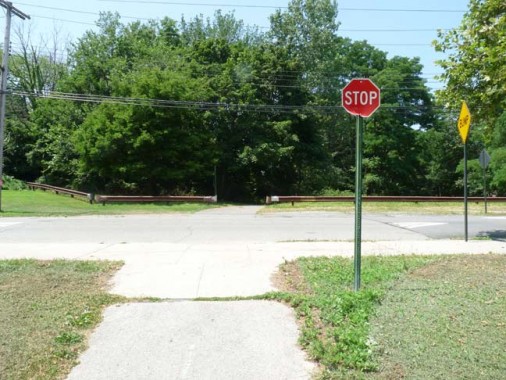 Between Utopia Parkway and Fresh Meadow Lane, Kissena Corridor Park continues as a grassy bike lane. The city actually installed a small STOP sign meant for bicyclists before they attempt to cross Fresh Meadow Lane that so far has resisted the efforts of local youth to pry it off.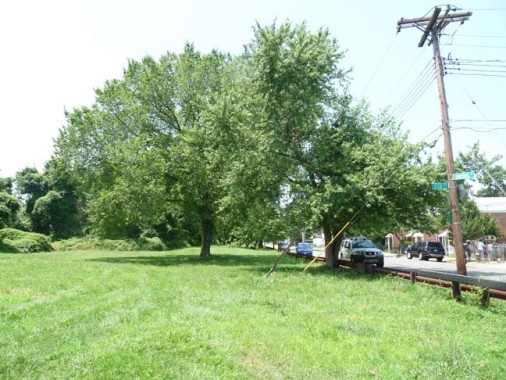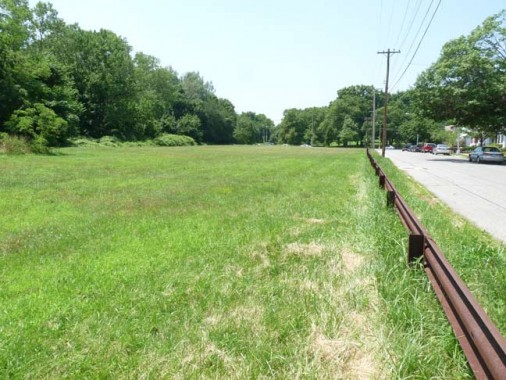 The Corridor continues just south of Underhill Avenue between 170th and 164th Streets as a wide grassy area. The western end of the lawn is used by riders from the Western Riding Club…
…located a couple of blocks away at Pidgeon Meadow Road and Auburndale Lane. Stop by and say hello to Buddy the horse.
Facing the lawn on Underhill Avenue are several pleasant-looking cottage-style houses…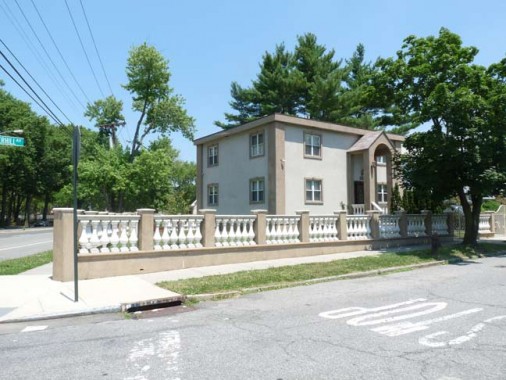 …as well as this object at Underhill Avenue and 164th, which has been renovated in Late Period Ugly.
164th Street is now a 4-lane throughway divided by a median. It has always been rather wide, though, because until 1937 it was the right of way for a trolley line running from Flushing to Jamaica. The Q65 bus replicates the line nearly exactly.
The are actually ring tailed pheasants in Kissena Park, though they tend to stay in the brush surrounding the bridle paths. I've already dome a comprehensive Kissena Park page (2007) but it seems there are a couple of things I'd missed.
The maze of park paths, if you take the right one, leads to an overlook…
…of Kissena Lake. From the above-linked Kissena Park FNY page:
A natural body of water fed by springs connecting to the Flushing River was named Kissena by Parsons, and is likely the only Chippewa (a Michigan tribe) place name in New York State. Parsons, a native American enthusiast, used the Chippewa term for "cool water" or simply "it is cold." After Samuel Parsons died in 1906 the family sold the part of the plant nursery to NYC, which then developed Kissena Park, and the other part to developers Paris-MacDougal, which set about developing the area north of the park. Kissena Park attained its present size in 1927. Much of its southern end remains wilderness, with bridle paths running through it….
… In 1942, the streams were filled in and Kissena Lake was bordered with concrete.
Though I had lived  a few blocks away for 14 years and visted Kissena Park frequently I had never before noticed this World War I tribute called Memorial Knoll, a boulder inscribed with the words "to those who gave their lives for their country in the world war."
The six-ton granite boulder, Flushing's first memorial to what was then known as the Great War, was dedicated June 5, 1921, and unveiled by Boy Scouts in front of a crowd estimated at several hundred and a delegation that included a band from Fort Totten and representatives from American Legion posts and religious organizations. The boulder itself was unearthed during the construction of the golf house at the Flushing Country Club on Jamaica Avenue and its inscription was carved by local stoneworkers Prowse & Sugden. Most of the $275 cost of the memorial by the Flushing United Association was spent on simply moving the boulder. NYC Parks
I left the bike path at this point, which extends west to Kissena Boulevard and hen into Flushing Meadows-Corona Park. Instead I ascended a staircase which connects with …
…Kissena Park's Korean War Memorial, installed in 2007.
On the rear of the pedestal are inscribed the names of all 172 Queens soldiers who died during the conflict, and the names of persons and groups supporting the project. The Korean War Veterans Memorial Association and (then) City Councilman John Liu (in 2012 NYC Comptroller) assisted in assembling the funds necesary for the plaza, while the South Korean government, New York State and private donations raised funds for the sculpture in 2007.
Remember the older benches shown above? These, found near the Korean War Memorial, are some of the newer models. Handrests in the center discourage loitering.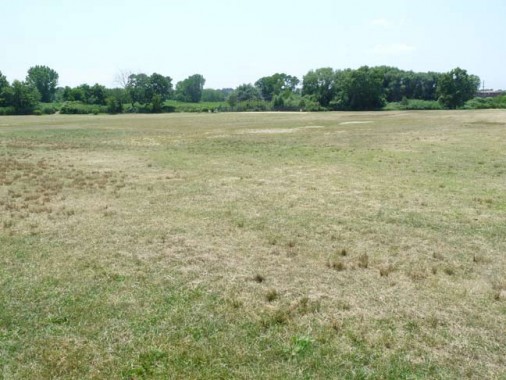 At its western end, Kissena Park opens up into ballfields, just about empty during the week, but local leagues fill them on weekends. Queens College looms in the background.
I mentioned earlier that Kissena Park Corridor clashes diagonally through the street grid. The reason for that is the corridor actually runs on the right-of-way of a long-abandoned railroad, the Central Railroad of Long Island, built by Scottish immigrant and department store magnate Alexander T. Stewart in 1872 as a means to connect western Queens with a new development of his, Garden City.
The railroad was a financial failure and survived for just a few years, yet the railroad, built 140 years ago in 2012, still survives…after a fashion… as a park, which matches its fate with that of the High Line on the west side of Manhattan.
Central Railroad of Long Island [Art Huneke]
7/8/12