In June 2012, on a weekday afternoon (I was, and at this writing am, still paying the penance for years of unpreparedness for the modern world by being unemployed) I braved the searing, unrelenting, inhumane heat in western Queens, were vegetation and the cooling cover of large trees is nearly absent, on a walk on Hunters Point Avenue, one of the only main roads leading east from Hunters Point, the western end of Queens, that I had not yet traveled.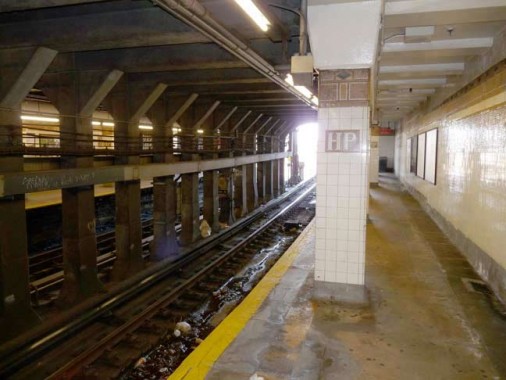 I took the #7 train to Hunters Point Avenue. There are two little-known IRT subway stops in Queens, just before the line emerges from the tunnel and runs on an el almost all the way to Flushing.
Until recently both stations were falling into disrepair and decrepitude. Now that rich Manhattanites are entering the Hunters Point neighborhood and occupying gleaming waterside towers, the MTA has decided to finally repair the stations, giving them a coat of paint and scraping off the grime and rust.
As part of the rehabilitation and restoration of the Hunters Point Avenue #7 train station (which actually stops at 49th Avenue, which was still called Hunters Point Avenue when the station opened) a tiled sign saying "To Astoria and Corona" has been once again uncovered. Why doesn't it say "To Astoria and Flushing"? That's where the line goes.
See the whole story on this FNY One Shots page.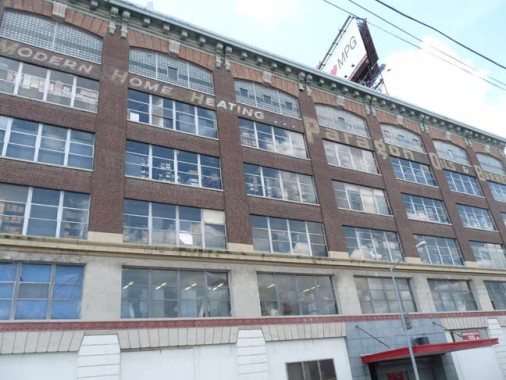 Upon emerging into the sunlight on 49th Avenue (Hunters Point Avenue is called 49th Avenue in Hunters Point, which doesn't make much sense) you are faced with 6 story, many-windowed brick building with ads for the Paragon Oils & Burners concern painted above the 5th floor.
Paragon Oil was founded by brothers Henry, Irving, Robert, Benjamin, and Arnold Schwartz. The family designed and built the first oil heaters designed for residential buildings. Paragon Oil won the U.S. government contract as the only oil company to supply Europe with fuel oil during the post-war reconstruction. Later, during the early days of the Cold War, Paragon supplied the U.S. government with oil for their submarines. The company was sold to Texaco in the late 1950s, but still distributes under its old name.
Who is the "Hunter" of Hunters Point? This western edge of Queens County has been settled and worked by Europeans since the early 17th Century. It was known by the Dutch as 'Dominies Hook':
Dominie is a Scots language and Scottish English term for a Scottish schoolmaster usually of the Church of Scotland but sometimes of other presbyterian churches in Scotland. This title was also used by the Dutch Reformed Church…It comes from the Latin domine (vocative case of Dominus 'Lord, Master') and is equivalent to the Dutch Dominee which also refers to protestant clergy. When the Church of Scotland began to introduce universal provision of education in Scotland after it became established as a national church in 1560, its aim was to have a university educated schoolmaster in every parish. The minister sometimes served as the dominie. Over time this came to be used as a slightly contemptuous term for a minister or for a schoolmaster. wikipedia
So, we may infer that Hunters Point's original name meant "Clergyman's Corner" or "Schoolmaster's Corner," with the Dutch 'hoek', hook, meaning 'corner.'
Originally the western end of the town of Newtown, was originally settled when a tract of land was awarded to Everard Bogardus, a Dutch Reformed minister (dominie), in 1643. The land was later owned by British sea captain George Hunter and by 1825 had become known as Hunter's Point. It began the transition from rural farmland in the 1860s when the Long Island Rail Road built a terminal that would be its primary connection with Manhattan until the East River tunnels and Pennsylvania Station were built in 1910.
Somewhere along the way, the apostrophe was dropped, similar to what happened to the name of my ex-workplace, Publishers Clearing House.
When it crosses Dutch Kills heading east, 49th Avenue finally becomes Hunters Point Avenue. This is an inlet of Newtown Creek that has figured prominently in colonial history.
The first settlement in western Queens, in 1642, may have been Richard Bruntall who owned 100 acres on the eastside of Dutch Kills at its intersection with Newtown Creek. The farm included all of Blissville one half of Old Calvary Cemetery. Ten years later he sold the western end to the Debevoise family whose homes remained on Van Dam Street in 1900. The eastern end of the farm was sold to William Herrick of Flushing who died a few years later.His widow married Thomas Wandell. He died in 1691 after expanding the farm to include all of Cavalry Cemetery and Laurel Hill. His nephew, Richard Alsop inherited the farm. The colonial Alsop family burial ground can still be seen among Cavalry's modern graves. The Alsop Farm, which grew tobacco, was on the richest land in Newtown Township. With the intrusion of industry in the 1840s on Newtown Creek, it was sold forming the nucleus for Cavalry Cemetery. Greater Astoria Historical Society
With the passage of time, some names have been replaced. The present Dutch Kills neighborhood is north of the Sunnyside RR yards, and doesn't border on the namesake creek at all.
The Hunters Point Avenue Bridge, which crosses Dutch Kills, opened in 1910, is a vehicular bascule bridge that replaced two earlier bridges, made of wood and then iron. It is two years younger than the neighboring Borden Avenue Bridge, which is one of four retractile bridges remaining in the USA. It celebrated its centennial in 2010, though it had been largely renovated in the 1980s.
Seldom commented, the Hunters Point Avenue Bridge segments Dutch Kills neatly, and has done so for nigh on a century now. The marshes and streams which once typified the area before the advance of railroad and vast agglutination of industrial installation are long gone, relegated to subterranean sewers and masonry clad spillways, but a century ago- the Hunters Point Avenue Bridge (and its predecessors)allowed egress between the terrestrial isolation of the Long Island City center and the rest of western Queens. Newtown Pentacle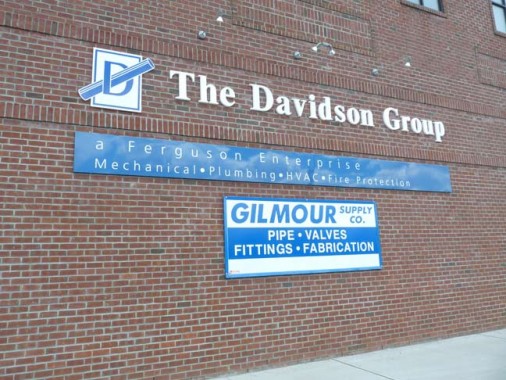 Hunters Point Avenue has few, if any, residences at all save for the small parcel east of Greenpoint Avenue. Scattered along its length are industrial concerns such as these, which manufacture the products seen on their respective signs.
Scattered throughout NYC, and no doubt many industrial towns, are giant neon signs bearing the names of now-extinct businesses. Urban explorers can seek out and research these signs in a similar manner to biologists looking for dinosaur bones or anthropologists seeking the remains of Piltdown Man.
The Thypin Steel Company was founded in 1910 and became one of the largest steel companies in the Northeast, with an annual revenue of $335 million. It was sold to Ryerson Tull, a Chicago steel company, in 1997. Its name lives on in the Thypin Oltchick Institute for Women's Entrepreneurship. Gertrude Thypin Oltchick (1916-2012), the daughter of the founder, ran the company for many years.
O Brother, Where "R" Thou? Other Neon Billboards
Oddly there are one or two signs along Hunters Point Avenue that don't identify the "Avenue," seeming to designate the neighborhood, rather than the thoroughfare. This, though, would seem to be an oversight on the part of the Department of Transportation, which almost always appends 'Avenue' or 'Street' on its signs (The opposite is true in San Francisco, which rarely does).
This is a now-closed roadside eatery beneath the Thypin Steel sign. It had dispensed 'Latin food' to workers in adjoining buildings, but it looks as if it's been here a long while and had undergone a variety of different guises.
It's well-known that Silvercup Studios is nearby, occupying an old bread bakery and using its ancient neon sign. I didn't know that Paramount Pictures also has a presence in Hunters Point. I don't have time to go into the long history of Paramount here, but it was founded in 1912 by Adolph Zukor and was the first nationwide distributor of motion pictures. Cecil B. DeMille was its first employee.
2012 is Paramount's centennial, and Vanity Fair magazine featured an engaging photo of 116 actors who had made pictures with Paramount throughout the decades.
Adirondack Office Furniture has offices next door on Hunters Point Avenue. It had a rather more grand former location: its offices, showrooms and factory once occupied al of the Sohmer Piano Building on Vernon Boulevard, overlooking the East River and Roosevelt Island. That building had converted to condominiums, but had gotten off to a slow start.
A look east on  Hunters Point Avenue at Van Dam Street. The view is dominated by tire dealers, gas stations, billboards and St. Raphael's Roman Catholic Church.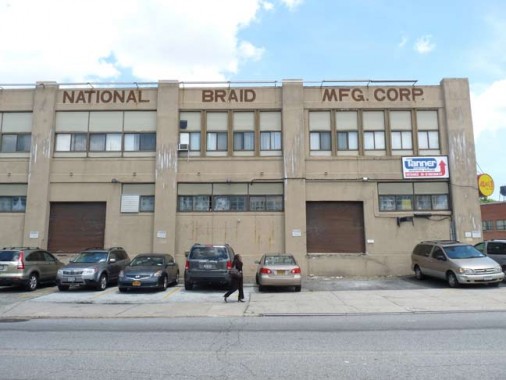 You are never sure if older signs are still accurate. We know Thypin Steel isn't there now, but what of National Braid Manufacturing Corp.? I suspect it's still there.
The FDNY maintains an incredibly tall antenna at Hunters Point Avenue and 32nd Street. By far it is the tallest object in the neighborhood.
Though it's separated from it by the Queens Midtown Expressway, Hunters Point Avenue may considered to be a main road leading to Blissville.
Blissville is the small wedge of Queens positioned between Newtown Creek, Calvary Cemetery and the Queens-Midtown Expressway; it takes its name from Neziah Bliss, inventor, shipbuilder and industrialist, who owned most of the land here in the 1830s and 1840s. Bliss, a protégé of Robert Fulton, was an early steamboat pioneer and owned companies in Philadelphia and Cincinnati. Settling in Manhattan in 1827, his Novelty Iron Works supplied steamboat engines for area vessels. By 1832 he had acquired acreage on both sides of Newtown Creek, in Greenpoint and what would become the southern edge of Long Island City. Bliss laid out streets in Greenpoint to facilitate his riverside shipbuilding concern and built a turnpike connecting it with Astoria (now Franklin Street in Greenpoint, Vernon Blvd. in Queens); he also instituted ferry service with Manhattan. Though most of Bliss' activities were in Greenpoint, he is remembered chiefly by Blissville in Queens and by a stop on the Flushing Line subway (#7) that bears his family name: 46th Street was originally known as Bliss Street. [FNY, Blissville and Laurel Hill]
Another Bliss, Eliphalet, was a big name in Bay Ridge:
[Owls Head] Park was created from the estate of Eliphalet Bliss (1836-1903). In 1867 he founded the machine shops that became the E. W. Bliss Company and the United States Projectile Company. His estate, Owls Head, featured an observatory known as the Bayard Tower. He willed the estate to New York City, provided it be used for parkland. The park, still known by old-timers as Bliss Park, has been in use by local residents since the 1920s; Robert Moses redesigned it in the 1930s. The mansion and tower were razed in 1940. [FNY Places Matter: Bay Ridge]
There had once been a neon sign at 32nd Place and Hunters Point Avenue.
The Michael C. Fina Company is among the more notable stores on 5th Avenue in Manhattan, selling engagement rings, wedding bands, jewelry, finetableware, vintage silver, bath and home fragrances. It was founded by Fina in 1935, opening a business on 5th Avenue that year as wholesaler, expanding into retail in the 1950s. World Headquarters and Distribution Center at 33-01 Hunters Point Avenue. This building houses all departments, systems and inventory for the company. Over 92% of the recognition services products ship out of this center with all gift wrapping and servicing done in-house. wikipedia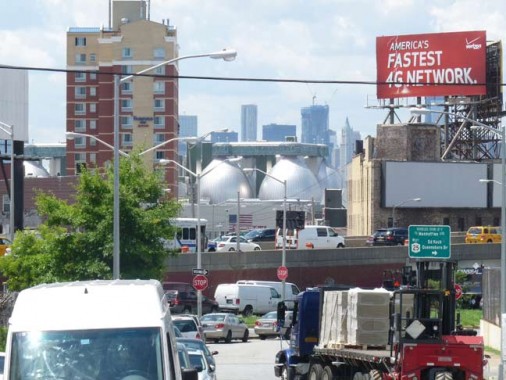 A view southwest on 35th Street using a zoom lens reveals the newest Greenpoint landmark and tourist attraction, the eminently photogenic Newtown Creek Wastewater Plant and its digester eggs, which process 1.5 million gallons of sludge every day, which is a drop in the bucket of how much is produced in NYC daily.
A spectacular view of the NYC skyline can also be had from HP Ave and 35th Street. The Chrysler Building, left, and the Trump residential tower on 1st Avenue, center right, are prominent in this view.
It is St. Raphael's Church, named for an archangel, that dominates views from Hunters Point, Blissville, Calvary Cemetery, and Sunnyside. It was built in 1885 here at Greenpoint and Hunters Point Avenues and replaced an earlier structure; the parish dates to 1865. The reputed architect is Patrick Keely, the famed architect of mostly Catholic churches in the 19th Century.
As always, the most comprehensive history of this church, as well as others, is found on the American Guild of Organists' NYC pages.
The parish of St. Raphael was established in 1865, and the first Mass was said in November 1868 by Rev. Theodore Goetz, who attended the parish from Winfield. At the time, the area was known as Blissville, named for Neziah Bliss, inventor, shipbuilder and industrialist, who owned most of the land in the 1830s and 1840s. Blissville was bordered by Calvary Cemetery to the east, Newtown Creek to the south, Dutch Kills (a tributary of Newtown Creek) to the west, and the Queens-Midtown Expressway to the north. Blissville existed as a small village until 1870 when it was incorporated with the villages of Astoria, Ravenswood, Hunters Point, Dutch Kills, Middletown, Sunnyside and Bowery Bay into Long Island City.
Located on Greenpoint Avenue at Borden Avenue, the first church was a wooden frame building that would serve as the mortuary chapel for Calvary Cemetery. The second pastor, Rev. N. J. Farrelly, who succeeded Father Goetz after his sudden death in 1879, was determined to build a new and larger church. In 1881, the old church was demolished to make room for the new, and Bishop Loughlin laid the cornerstone for the present church on June 18th that same year. However, due to a lack of funds only the stone basement was completed by Christmas. Over the next four years, sufficient funds were raised and the completed church was dedicated by Bishop Loughlin on June 7, 1885. Built of brick and sandstone, the church is 149 feet long, 69 feet wide, and the height of the steeple is 150 feet. It is believed that the Gothic-style church was designed by Patrick Keeley.
On a sad note, St. Raphael's elementary school was forced to close in June 2012 because of declining enrollment and rising costs.
Before the 1930s and 40s, Hunters Point Avenue ended at Borden Avenue just east of Greenpoint Avenue. Beginning in 1940, when the Queens-Midtown Tunnel connected Murray Hill, Manhattan and Hunters Point, Queens, major roadways have connected the tunnel with eastern Long Island.
Though 'Queens-Midtown Tunnel' has entered the popular parlance, the expressway that issues east from it goes by two names in Queens that few use: the Queens-Midtown Expressway as far as Queens Boulevard, and the Horace Harding Expressway from Queens Boulevard east to the Nassau line, where it takes on its popular name, the Long Island Expressway.
Most drivers simply call the whole road the LIE. Here, the DOT has mixed up the signs, calling the Queens Midtown Expressway 39th Street, and vice versa.
The Queensboro Hotel, 39th and Hunters Point Avenue, where it merges with the Queens-Midtown Expressway serice road. (The service road on the south side of the expressway is called Borden Avenue, which also appears on the north side on occasion.) It's another of the roadside hotels/motels which have sprung up alongside area expressways in recent years.
41st Street at the QME had recently been paved and tarred, but still had its temporary 'Rough Road' sign, perhaps left there metaphorically.
At this point I struck off north into Sunnyside. In mid-June, all sides are sunny.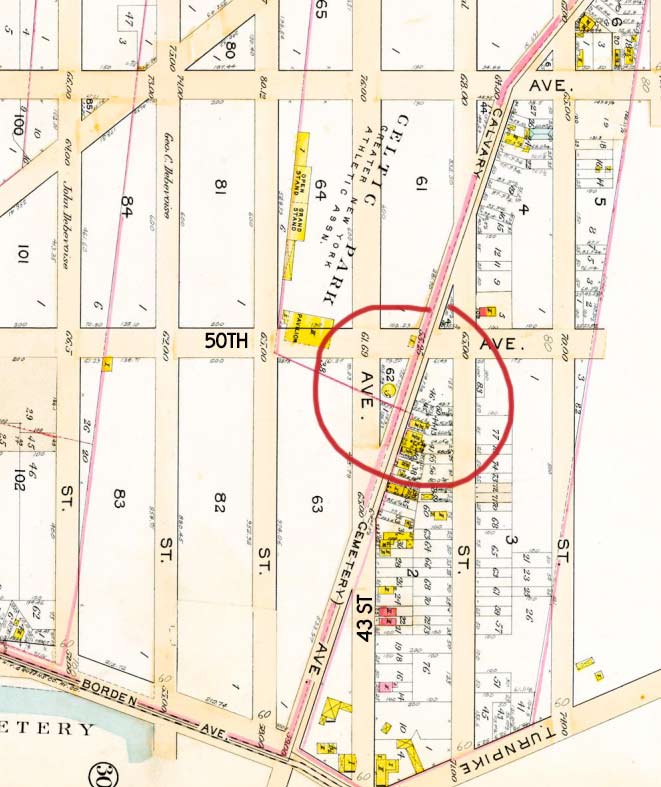 I've always been interested in road remnants that have survived despite the odds for decades. Celtic Avenue, a short diagonal running from 43rd Stret northeast to 50th Avenue, is one such remnant. Along with Hobart Street in Woodside, it is the only remnant of a north-south road that ran from Newtown Creek to Bowery Bay on the East River (some stretches were called Bowery Bay Road, and it has a variety of names in its southern end).
Celtic Avenue, and the Celtic Park Houses complex, near 50th Avenue and Greenpoint Avenue , remembers Celtic Park, a recreational spot and sports center for the area's large Irish population during the first quarter of the 20th century. The site nurtured athletes in the Irish-American Athletic Club who participated in the Olympic Games between 1900 and 1912; the spot subsequently became a greyhound racetrack, closing in 1930.
In 2012, one block of 43rd Street between 48th and 50th Avenues was co-named "Winged Fist Way" in honor of the club's emblem.
Celtic Avenue splits from 43rd Street. A look at the 1908 atlas plate reveals the circled portion of Celtic Avenue still in existence. It survived likely because while the area was still largely empty in 1908 there already had been houses built on it.
St. Teresa Church and School, 44th Street near 50th Avenue. The parish was founded in 1926, and for several decades, the school building, constructed that year, served as the church. The present church was built from 1950-1952.
(A similar situation took place in my childhood parish, St. Anselm, which was founded in the early 1920s with the church incorporated in the school building, with a separate church coming along in 1953.)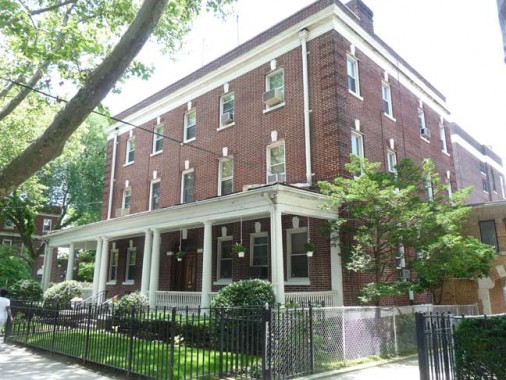 A block away on 45th Street we find the parish rectory, which houses priests, and cenacle, which houses nuns teaching at the school.
Nothing specific being shown here. On 45th Street, I was struct by the trio of bold colors on street fixtures: yellow DONT WALK signs, green stoplight control box, red fire alarm.
The side streets of Sunnyside are occasionally dominated by brick walk-up apartment buildings, each of which has an entrance arch accompanied by a "Type B" park lamppost. I have always wondered how they got there.
I stalked up and down 48th Avenue for a time, entranced by the plethora of signs in foreign languages. I have some of them on my Sunnyside of the World post.
This massive building on Greenpoint Avenue and 45th Street, now a Jehovah's Witness Assembly Hall,
The Bliss first opened in 1931 and was built by Century Theatres with its usual architect-designer team of R. Thomas Short & William Rau. By that time, the sound era was well underway, so the Bliss was designed solely for movies, with a stage just deep enough for the hanging of a Magnascopic Screen that could be enlarged for special effects from the projection booth.
The Bliss' interior decor was a modern interpretation of motifs found in ancient Egyptian architecture. Boldly-colored murals on the side walls and above the proscenium arch depicted scenes from Egyptian history. Located in the heart of the Sunnyside shopping district, the Bliss was never more than a subsequent-run neighborhood house until the 1960s when movie distribution switched to city-wide Premiere Showcase openings. But the change didn't increase attendance at the Bliss, and Century decided to close it due to its high operating costs.
The building was sold to Jehovah's Witnesses, which converted it into a church with almost no changes to the exterior. The interior, however, has been extensively renovated, although an atmospheric lobby remains but with new paintings on the walls. The new owners removed everything of the Egyptian decor that showed nudity and/or pagan symbolism. The result now is an auditorium that looks like it was built yesterday, though you can still find touches of the original Bliss decor if you look hard enough. Church services are held every Sunday morning at 10 AM, and non-members are welcome to attend. Cinematreasures
Botánicas sell folk medications, religious hexerei such as candles, statuary (images of saints), amulets, oils, incense, perfumes, alternative medical treatment items, and sundry healthcare items. They are most often found in neighborhoods with sizable Latino populations, and can sometimes carry items not only associated with Roman Catholicism, but also Santeria.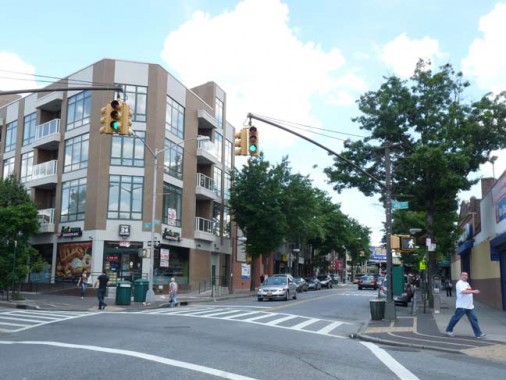 Greenpoint Avenue in Sunnyside is the same one that crosses a Newtown Creek bridge into the neighborhood in Brooklyn that provides its name. It was given an odd makeover in the 1980s with unique lampposts and crosswalks that are now being replaced with standard ones.
This tavern at 46th and Greenpoint Avenue preserves the name of the man who laid out Sunnyside and Greenpoint, Neziah Bliss.
The Queens Boulevard Elevated Viaduct is unique along NYC elevated viaducts built exclusively for subway cars because it is clad in concrete and terra cotta for its entire length between 33rd Street and Greenpoint Avenue. Other subway stations have concrete clad exteriors, especially where the builders deemed an important location. But in 1917, when this was built, Squire Vickers, the subways' director of operations and an artist by trade, wanted to do something special, and coated the whole thing in decorative concrete.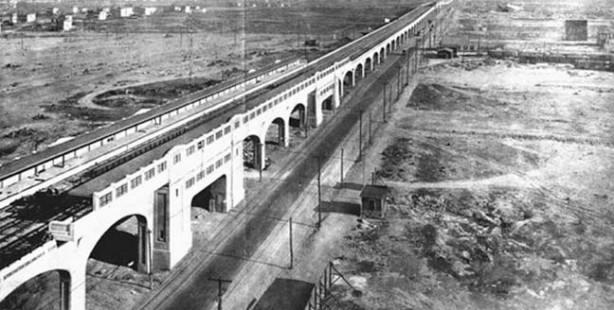 Queens Boulevard, and its elevated line, were being plunged through an area nearly entirely devoid of life. It was like building an elevated train on Mars. Real estate folks knew that Sunnyside was ripe for development and an elevated train would assure its growth.
In 1917, streets were mapped, but not yet laid out.
By the Swingin' Sixties (actually, by the 1920s) Sunnyside was completely built out. But the concrete elavted, once a crown jewel of the IRT, was in sad shape indeed. It was on;y in the 1990s that it was given a complete makeover from stem to stern with new walls, new terra cotta, and new 'Q is for Queens' station mosaics.
Photos courtesy Patrick Sweeney.
At Greenpoint Avenue the elevated turns northeast, losing the trappery and becoming a more mundane version of itself. Greenpoint Avenue becomes Roosevelt Avenue and runs all the way to Northern Boulevard in Flushing.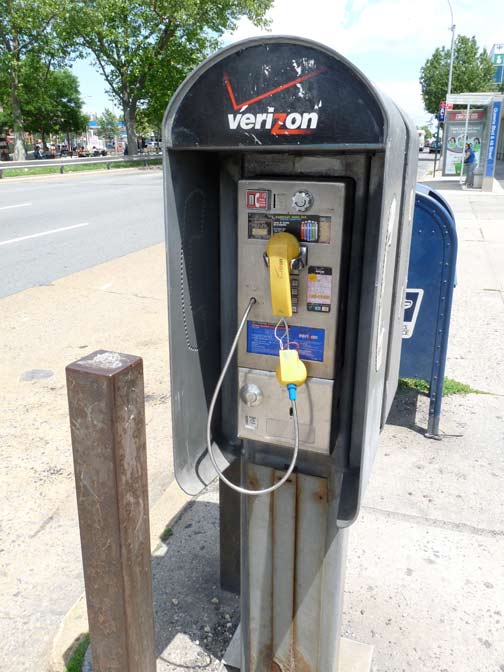 Why have handheld phones completely taken over from 'booths'? Partially because the local youth is dedicated to destroying the phones. Queens Boulevard and 48th Street.
Sabba Park is located in the Queens Boulevard center median just east of the elevated. It is named for Joe Sabba (1916-1999) who served in the Army Air Corps as a tailgunner during World War II and was later the longtime editor of the Woodside Herald newspaper.
The memorial statue in the middle of this park was built in the same year to honor "Our Glorious War Heroes." Rendered in black Vermont granite by architect Dominick Segrete and set up by Fasolino Monuments, the statue was erected under the auspices of the Sunnyside Chamber of Commerce, Kiwanis Club of Sunnyside, John V. Daniels VFW Post, and Blissville American Legion. Joe Sabba worked diligently on the project and attended the monument's unveiling, held during the bicentennial celebration of 1976. In the year 2000, almost 25 years later and barely one year after Sabba's death, Mayor Giuliani signed a bill renaming the park for Sabba in honor of his "dedication to the Sunnyside and Woodside communities." NYC Parks
All stations on the Flushing Line were sub-named for the former street names that were replaced by numbers in the 1920s. In Sunnyside Gardens, the old names are also listed on the street signs, the only neighborhood in Queens that does this.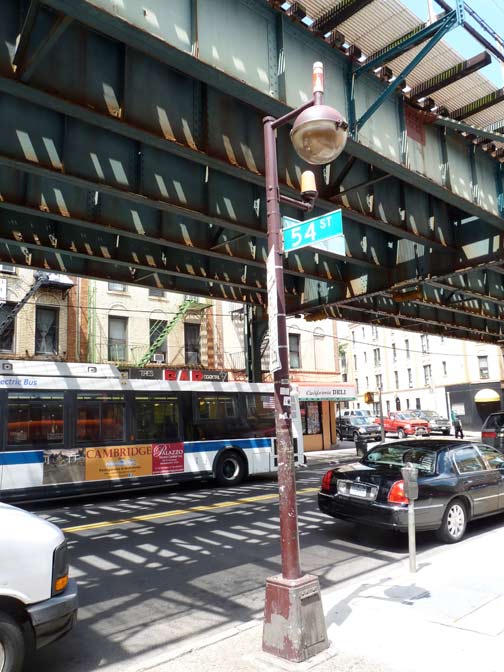 This 'new Gumball' street lamp on 54th Streets demonstrates the former and present methods for indicating the nearby presence of a fire alarm: a short mast mounted on the shaft with a conical orange plastic lamp, and a small 'top hat' fixture that glows through red plastic.
The old way was actually superior because the new red lights are mounted so close to the main lamp that they get washed out.
But I'm not running the DOT or FDNY.
8/13/12