Continuing my trip from Straus Square on the Lower East Side to Midtown's Penn Station…
WAYFARING MAP: Seward Park to Penn Station
222 Bowery just south of Prince might look a little out of place — there are not many Queen Anne-style 1884 brick buildings on this stretch, where many of the buildings are considerably older and several more are quite a bit newer. This was one of the first YMCA's in NYC, but the Y moved out in 1932 and for the next few decades it was an artists' haven when the Bowery was at its down and dirty worst as painters Ferdinand Leger and Mark Rothko, as well as Beat writer William Burroughs (he called his space here "The Bunker"), all resided here. It was dedicated a NYC Landmark in 1998.
The Bowery Mission, along with the rest of this strip, is depicted vividly in Lionel Rogosin's 1956 documentary "On the Bowery," which is required viewing for everyone who now lives along the Bowery's now-upscale residences. Though the old Bowery seems to disappear by the day, bits and pieces of it peek though here and there, from the kitchen and lighting wholesalers who were here during the worst of times, to the Bowery Mission at 227-229 which still fulfills the mission of mistering to the down-and-out as it has since 1879.
NEW MUSEUM OF CONTEMPORARY ART, 235 Bowery opposite Prince Street. I have yet to visit the major new art museum, which opened its doors in 2007. It's been uniformly praised by architecture critics and its designers, Kazuyo Sejima and Ryue Nishizawa, were chosen as 2010 laureates in the Pritzker competition, the biggest prize in the architecture game. Your webmaster, though, is a Philistine, and to me the building looks like 6 aluminum boxes from Staples stacked on top of the other, haphazardly. I'd have to go inside, though, to really pass judgment. The New Museum was founded in 1977.
Beginning at Prince we enter the Bowery's longstanding wholesale kitchen supply district. Bari, founded in 1950, was named for its family's ancestral home in Italy.
At Prince the Bowery also enters its new high-priced district, with shiny co-op towers either replacing the old walkups, built on top of them, with just the outside walls left for show, or built behind them. The building on the left, #267, now stands in the place of Sammy's Bowery Follies, a renowned Bowery legend between 1934 and 1970.
Sammy's is a dingy, crowded place. Known for its raucous parties and professional variety shows. From 8 in the morning until 4 the next morning Sammy's is an alcoholic haven for the derelicts. Bowery characters [eccentrics who had achieved local notoriety for flamboyant drinking and storytelling] acquired a professional venue at Sammy's Bowery Follies. Drunks and swells, drifters and celebrities, the rich and the forgotten. Life
Globe Slicers, one of the remaining grand old hand-lettered signs on the Bowery, at #266, and a reminder of what the Bowery is evolving out of.
Pulino's, a pizzeria on the SW corner of East Houston, has replaced the longstanding Adam's Restaurant Supplies. An entirely new addition was made to the ground floor of the building.
An empty lot and a Popeye mural now occupy the old space at the NW corner of Bowery and Houston once occupied by Billy's Antiques and Props, where I used to wind up frequently just to look through their old NYC street and subway signs collection.
Though Adam's Restaurant Supply is gone, Chef, across Houston, is still there complete with old school sign.
Between East Houston and East 1st on the Bowery, developers Avalon Bay have constructed a number of glass-fronted expensive residences. This location is the former home of "McGurk's Suicide Hall":
[McGurk's] was four stories tall, with a deep interior and a large back room, with a direct entry to the baroom for gents and one through along corridor for the women. Entertainment consisted of singing waiters and a small band; the customers were, as ever, mostly sailors. "It was said," noted a contemporary, "that his business card reached every seaport in the world." Per habit as well, the waiters, led by headwaiter Short-Change Charley, were equipped with chloral hydrate, and they were enforced by a formidable bouncer, a mayhem specialist named Eat-Em-Up Jack McManus…
McGurk's was nearly the lowest rung for prosititutes, having taken over that position from the waterfront dance houses of the previous generation; hence the suicide craze that gave it its name and, incidentally, its grisly lure as a tourist attraction. Figures are unreliable or uncertain on the total number of self-killings that went on there, but in just one sample year, 1899, there were at least six, as well as more than seven attempts. In October of that year, for example, Blonde Madge Davenport and her partner, Big Mame, decided to end it all, and so they bought carbolic acid, the elixir of choice, at a drugstore a few doors away. Blonde Madge was successful in gulping it down but Big Mame hesitated and succeeded in spilling most of it on her face; the resulting disfiguration resulted only in getting her barred permanently from the place…. Luc Sante in Low-Life
Sláinte, pronounced (approximately) SLON-cha, means 'health' in Irish and is commonly used in toasts. It's also a longstanding Bowery tavern across the street from where McGurk's Suicide hall was located.
Two buildings hosting longtime Bowery music mainstays hosted wildly divergent musical genres on the Bowery opposite Bleecker Street. The Amato Opera, left, founded in 1948 by Tony and Sally Amato, was a testing ground for young performers and also presents lesser-known operas by major composers. The Amato is situated in what many experts believe is the world's smallest opera house. It closed after its last performance of The Marriage of Figaroon May 31, 2009, after Anthony Amato retired.
Two doors down, the light brown building, was the Palace Hotel for decades but is more renowned as the home of CBGB ("Country, Bluegrass and Blues") the longtime rock club run by Hilly Kristal between 1973 and 2006. Kristal initially envisioned a country rock club, but when local bands such as Television showed up playing their original brand of what came to be called punk rock, Kristal adapted and the club became internationally renowned. CBGB is now a John Varvatos fashion outlet.
As you might expect there had been a Salvation Army outlet on the Bowery, at the northeast corner of east 3rd Street. The building has been scheduled to come down for a couple of years and an expensive hotel built in its place.
Name those cars, in front of the Bowery Hotel at Bowery and East 3rd. One's a Mercedes.

The White House Hotel, the one with the sidewalk scaffold in the top photo, was another of the old Bowery flops. It's now a youth hostel.
A man named Euzebius Ghelardi opened the White House in 1917 as a lodging house, and about a decade ago the hotel also began operating as a hostel frequented by backpackers and students. Foreign tourists, often equipped with cameras and camcorders to document their travels, provide most of the revenue.
The flophouse regulars and the tourists sometimes mingle in the spare lobby that is furnished with a few tables, chairs and vending machines. Some residents delight in offering advice on local attractions. For others, the presence of transient guests yields what one longtime resident described as "the feeling of animals being on display." NYTimes, May 2009
Professional Auto Repair, Bowery and Great Jones Street.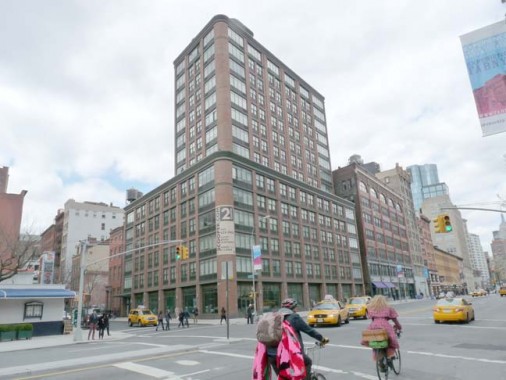 The Bowery Hotel (not pictured) at East 3rd was an attempt to build a new hotel in the same context as early 20th and late 19th Century brick buildings found in the East Village. #2 Cooper Square, at East 4th Street, is another.
East 4th is the official end of the Bowery. It does continue north, but splits in two at East 5th into what will become 4th Avenue, west and 3rd Avenue, east. The whole V-shaped mess, on both sides of the Cooper Union building, is called Cooper Square: the avenues don't assume their numbers until they reach Astor Place. 3rd Avenue is possibly the longest numbered avenue in New York City, going from here to East Fordham Road and Webster Avenue, though in the Bronx, it's called Third (not 3rd) Avenue, just because.
B Bar and Grille, formerly the Bowery Bar and before that, a gas station.
Developed by Eric Goode and Serge Becker in 1994, B-Bar was embroiled in controversy at the time. The NoHo Neighborhood Association, Community Board 2, and the SoHo Alliance were concerned that this conversion would change the character of the neighborhood and mounted a lawsuit, arguing on the basis that the neighborhood was dominated by light industry and artists (although in actuality, there was little light industry left at that time). The area had 47 one-story buildings, and there was a fear that precedent would be set for conversion of many these buildings into clubs. In 1995, the plaintiffs withdrew their challenge to the Bar/Restaurant, feeling that a ruling against them might set a negative precedent. NY Daily Photo
Looks like they were right.
Is it or isn't it? Some maps show this little space between #2 and #16 Cooper Square as Stable Court or Stable Alley, but the city doesn't mark it. #2 Cooper was an empty lot for a few years but since it was built, the space looks little more alley-ish.
The Village Voice, which has its offices here on Cooper Square, was founded a group including Dan Wolf and Norman Mailer in 1955, and the left-leaning weekly is still plugging away after nearly 60 years. The paper has received three Pulitzer Prizes, and many other honors, over the years. After its cover price had reached $1, it became free of charge in 1996.
Two giants in their field, Augustus St. Gaudens, and architect Stanford White, built this tribute to inventor and industrialist Peter Cooper, with St. Gaudens the sculptor and White designing the housing. The sculpture was unveiled in 1897. Peter Cooper laid the first transatlantic cable, ran the first successful railroad, and was the first producer of edible gelatin (the father of Jell-O). He is interred in Green-Wood Cemetery in Brooklyn.
41 Cooper Square, designed by architect Thom Mayne, is the newest addition to The Cooper Union for the Advancement of Science and Art campus. The building, originally known as the New Academic Building, stands on the site where the School of Art Hewitt Building was located. The nine-story 175,000 square feet academic center houses the Albert Nerken School of Engineering with additional spaces for the humanities, art and architecture departments. There is also an exhibition gallery and auditorium for public programs and retail space on the ground level. Construction of the building began in 2006 and was completed in September 2009.
Going to skip over my trip up 4th Avenue and 23d Street past Madison Square, but here are my pages on 4th Avenue and Union Square, to fill in.
The General William Jenkins Worth Monument is one of the oldest objects on 5th Avenue — it's about 30 years older than St. Patrick's Cathedral. And, it's NYC's smallest cemetery, with a compliment of one. (U.S. Grant is entombed, with his wife, not buried.)
This 51-ft. tall obelisk, in a plaza known as Worth Square formed by the three-way intersection of Fifth Avenue, Broadway and 23rd Street, was dedicated in 1857. (Worth had been buried temporarily in Brooklyn before being moved to the Manhattan monument.) It is the second-oldest monument in Manhattan (an 1856 equestrian statue of George Washington in Union Square is the oldest) and, along with Grant's Tomb, one of only two monuments in the city holding the remains of the person being honored.
The south face of the obelisk features a bas-relief depiction of the general on his horse, and an elaborate trophy with crossed cannons, armor, two eagles, flags and a variety of weapons. The east face has the Latin inscription "Ducit amor patriae" "Love of country leads me." The north face bears a plaque reading, "Under this monument lies the body of William Jenkins Worth, born in Hudson, N.Y., March 1, 1794, died in Texas, May 7, 1849. The cause of death was cholera."
All four faces of the monument's shaft list significant battles or postings from Worth's career.
The monument was designed by Hartford's James Batterson, whose firm supplied a large number of Civil War monuments in Connecticut.
Here's another unsung Madison Square artifact, and this one is even older than the Worth Monument. The Serbian Orthodox Cathedral Church of St. Sava was constructed here on West 25th just west of Broadway as a northern branch of Trinity Church between 1850-1855 and is yet another work by famed ecclesiastical architect Richard Upjohn, who had designed downtown's Trinity Church, which was dedicated in 1846. It was sold to the Serbian Orthodox Church in 1943 and was rededicated with its present name in 1946. Outside the church are busts of Bishop Nikolai Velimirovich, who was instrumental in founding the parish, Nikola Tesla, the inventor and entrepreneur. Tesla was of Serbian descent and was born in the Austrian Empire; his father was a Serbian Orthodox priest.
Before 6th Avenue between 23rd and 33rd Streets became a bastion of high rise apartment buildings it was a somewhat rundown region of 4-story walkups with retailers and wholesalers on the bottom floors. (No NYC avenue — not even the Bowery — has changed as much as 6th Avenue in this stretch over the last 20 years.)
When the older buildings started to come down in the 1990s, nothing was built on the empty lots for a few years, and the spaces became home to various flea markets. Outlets like the Brooklyn Flea have taken the flea market idea to upscale regions the genre never explored before, but from the looks of things, the one you find here on West 25th hews to the original flea market idea in which one person's trash is the other person's treasure.
The cuckoo clock repair place that used to be on this block of West 25th is now gone, but there is still this vestige of the Sewing Machine Repair district (which is, naturally, just south of the Garment District) of the West 20s Streets in the vicinity of 6th Avenue.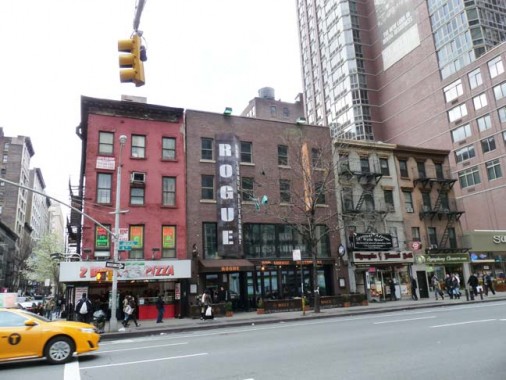 Here at 6th and West 25th is a row of holdout ancient walkups not razed by developers. When I worked in this area from 1988-1991 most of 6th Avenue looked like this.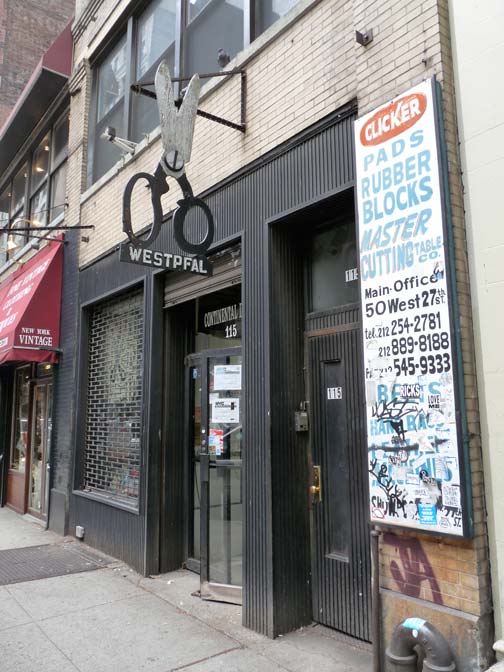 Continental Die, at 115 West 26th, is another example of the old Sewing Machine Repair area, and is marked by a large pair of scissors advertising the Westphal sharpening service. I hope it's fastened securely.
Walking toward 151 West 25th, I noticed a plexiglas (or just plain glass) awning over the door and approaching it, I thought that the 151 was in one of my favorite fonts, Futura Bold. But it's not — there is a slight flare at the end of the five, and the top finials on the ones are slanted; Futura has no slanted anything.
Now in the home stretch walking north on 7th Avenue. At #275 7th, between West 25th and 26th, is the Samuel Lefcourt Garment Building, a 1929 Art Deco classic that has housed garment shops and garment workers' headquarters.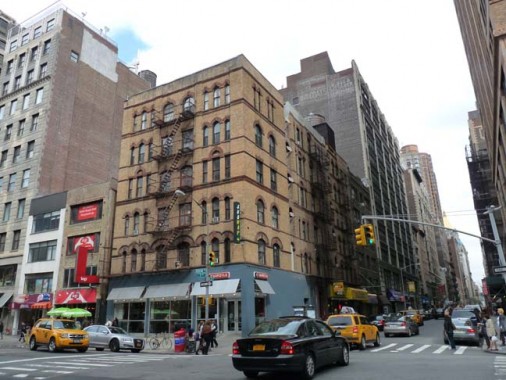 Oddly, except for the Fashion Instiute of Technology campus between 7th and 8th Avenues and 26th and 27th Streets, where I would girlwatch on my lunch hour when working in the area from 1988-1991 and again when I worked at Macy's from 2000-2004, great swaths of 7th Avenue are frozen in the 1920s, architecturally speaking, from 20th all the way north to 40th. This building on the NE corner of 26th is another example of the casual elegance of building design in the early 20th Century. Hard to make out but most of the side streets here have 'ghost ads' for long-defunct businesses on their upper floors and there are some here on West 26th.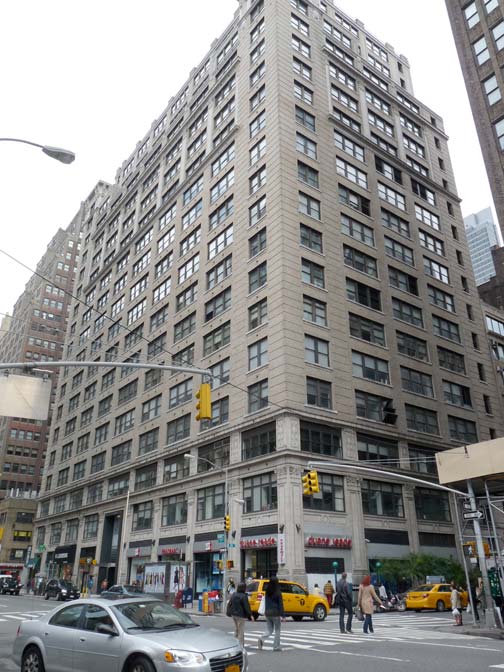 333 7th, which takes up the frontage of 7th between West 28th and 29th, has been the home of WWRL Radio and also had been the home of the New York Press, an alternative NYC weekly that itself was an alternative to the Village Voice. The Press, now available in an online-only edition, was where I scarfed up the work of columnists like Todd Seavey (politics), Paul Lukas (advertising and packaging, now sports uniforms) and Dawn Eden (rock music, now religion) that in part inspired me to write about what interested me, the results being this site as well as my own newspaper columns and books over the years. Special NY Press favorite columns were Jim Knipfel's Slackjaw and William Bryk's Old Smoke.
I worked on this block, West 29th between 6th and 7th, for three years, in a Russian type shop. I remember the block on this FNY page.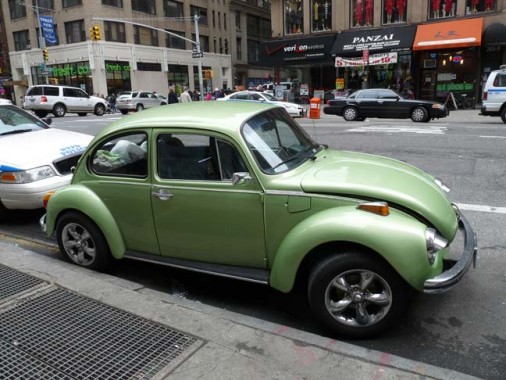 I can name this car, a pea-green Volkswagen bug. But what year?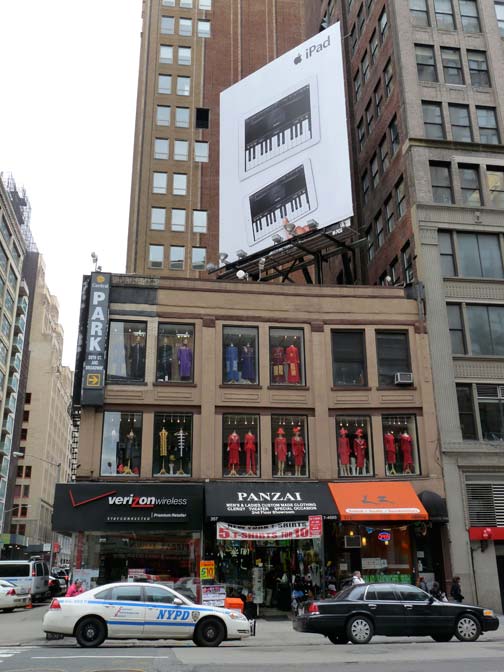 I just said 7th Avenue between 20th and 40th Street except for F.I.T. and the new Penn Station is relatively unchanged, architecturally, but in the 1920s and 1930s, not even the futurists were imagining wireless telephony, or the technology that allowed you to play piano on a handheld device.
Grand hotels sprang up along 7th Avenue when Penn Station, opened in 1910, was the gateway to the rest of the country. Before air travel became widespread you used the railroads for long distance domestic travel, even to the far west. Travelers entered the city from all points across North America here, as well. Pictured is the Affinia Manhattan, formerly Southgate, at West 31st and 7th. I haven't found one iota of architectural information on this building, so pass it along to me if you can find it.
In the foreground is the building formerly home to Matthew Bender law publishers, and in the rear is the Pennsylvania Hotel, the one whose still-in-use phone number inspired the 1940s Glenn Miller big band smash, "Pennsylvania 6-5000." In recent years, the Pennsylvania had become something of a fleabag, or in his case, bedbug-bag, and it had also been on the chopping block, destined for the wrecking ball to make way for a huge tower rivaling the King of All Buildings in height. Now (4/2013) the developer Vornado has announced plans to retain the Pennsylvania and bring it back up to standard.
Ideas have also been floated recently to move Madison Square Garden to another locale and build a more grandiose Penn Station in its place, replacing the previous Penn Station that had stood here from 1910-1963. Since MSG's owners have recently pumped a billion into its renovation that's hardly likely.
Time to jump on a train back to Little Neck.
4/21/13