Ex MTA bus driver Gary Fonville has kept a keen eye out for Forgotten items and has been a site contributor since 2000 — almost as long as FNY has been in  existence. Here he comes up with yet another selection of ancient reminders of the past to be found on NYC streets — just by looking up.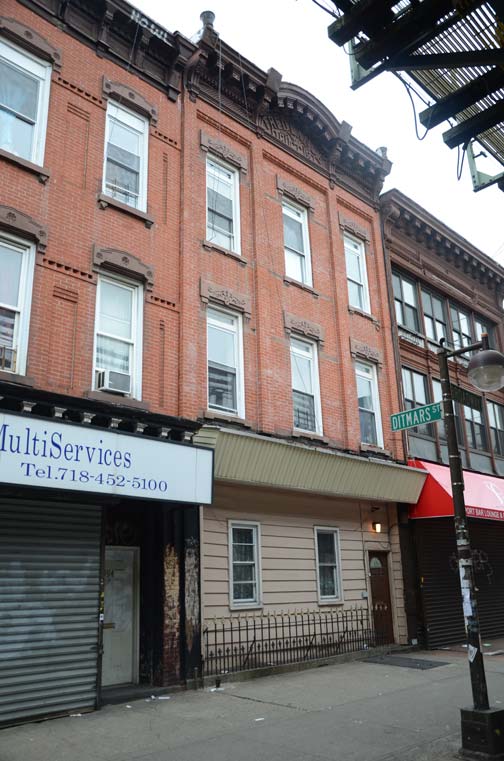 By GARY FONVILLE
Forgotten NY correspondent
If you drive down Broadway, near Ditmars Street , in Bedford Stuyvesant in Brooklyn ,  you'd never see what's special about this building. In fact, your webmaster Kevin did a shoot a few weeks ago with his camera facing the opposite direction,  making note of the elevated structure for the Myrtle Avenue BMT line.
However, while riding the J one afternoon, I noticed a unique sign that says "Fred Lance [or Lange] Druggist"  built into the cornice of a building.  I made a mental note of where  the location is, since I didn't have my camera that day.  I went  back to that location by car a few days later to get a good shot of this sign. The sign reflects the change in terminology for the word "pharmacy." The word "druggist" has a negative connotation in today's world.
Just as in banks, consolidation makes it difficult to remember company names. They seem to be always changing. For example, Verizon was once Bell Atlantic. Before that, it was Nynex. Before that, it was N.Y. Telephone. What we now know as National Grid was once Keyspan. Before that, it was Brooklyn Union Gas. Got that?  This peeling sign can be seen on the NW corner of Morgan Avenue & Grand Street in East Williamsburg, Brooklyn.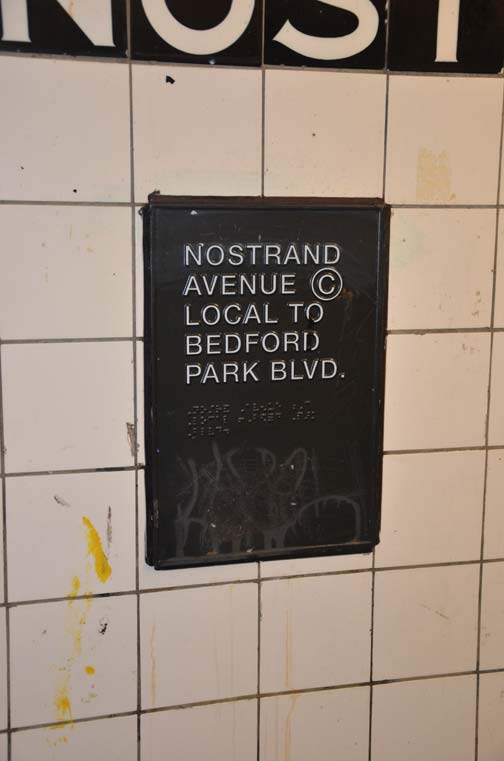 It seems that the MTA forgot to update this Braille sign on the lower level of the Manhattan-bound platform at Nostrand Avenue in Brooklyn.  The C hasn't had Bedford Park Boulevard as its northern terminus for many years.  To me it didn't make sense for the MTA to change the C's terminus to 168th Street in Manhattan and changing the B's terminus to Bedford Park. As it was before, with the B terminating at 168th Street in Manhattan or the C terminating at Bedford Park, both 6th or 8th Avenue service could be gotten from both stations without having to change trains.
To take this pic, I had to put my camera on flash mode. For you novices, flash mode on a camera is when the camera can take shots in rapid succession when the shutter button is depressed. Since the train that I was on was moving, this is the only way I could get this shot.  This great old Coca-Cola sign can be seen near the portal of the tunnel that navigates under the U.S. Capitol building in Washington, DC.  If traveling to any destination on Amtrak south of Washington, it can be seen on the right side after exiting the tunnel.
While waiting for my wife to get some stuff from Ben's Chili Bowl in Washington, I noticed this well preserved Coke sign..  Since my camera was nearby, I did what I had to to do.  It's right across the street from that world's famous restaurant on U Street, NW.
This sign on Troutman Street between Bushwick Avenue and Broadway has a "twin" that can be seen at www.waltergrutchfield.net/gaus.htm.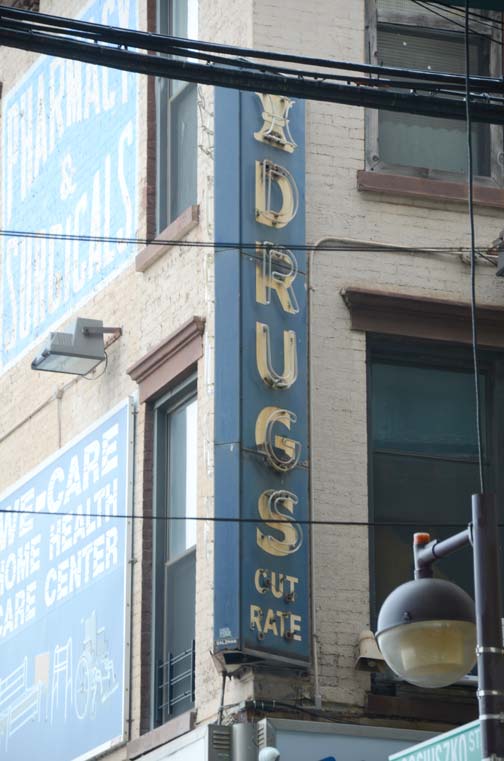 This old neon sign for a pharmacy is at Kosciuszko Street & Broadway in Bedford-Stuyvesant, Brooklyn.
Looks like this one could be reconditioned with tlc and restarted.  Location:  Franklin & Putnam Avenues, Bedford-Stuyvesant, Brooklyn.
Buckley's Self Service Markets sports a fantastic enamel sign on Nassau & Kingsland Avenues in Greenpoint, Brooklyn.
Advanced age has almost got the best of this antique sign on Lenox Avenue, near West 138th Street.  You can still discern that the concern was on 8th Avenue.
There are many old dilapidated liquor signs around NYC. This one at 124th Street & Lenox Avenue is still holding on.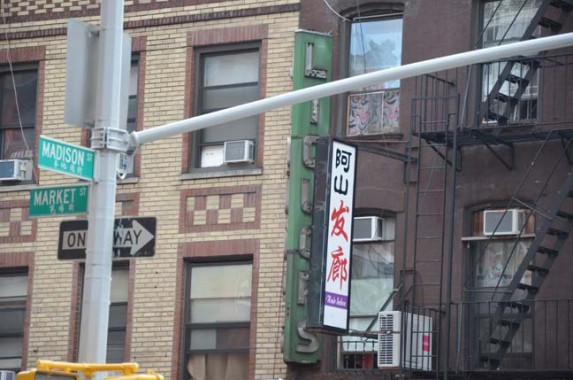 Another neon liquor store sign survives here at Market & Madison Streets in LES (Lower East Side), Manhattan.
A plumbing and heating supply company left its trace here on Bedford Avenue, near Lafayette Avenue in Bed-Stuy, Brooklyn.  If you drive along Bedford Avenue, you'll never see it because it will be behind you.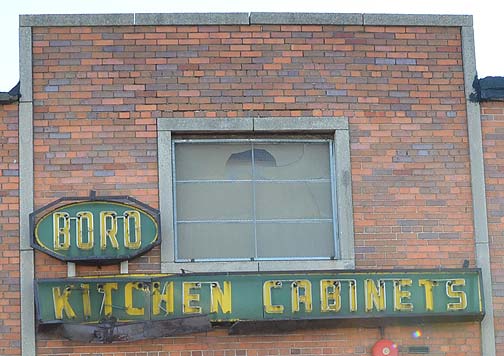 I originally thought this cabinet maker was defunct until  I passed by last week and saw activity in the yards with trucks, forklifts, etc.  Cooper Avenue near Wycoff Avenue in Bushwick, Brooklyn.
I  was going to work one cold day last year when I exited the A train at 207th Street station. The first thing I smelled was smoke. When I got to the street level, the NYFD was wrapping things up after a devastating fire at 207th & Broadway that destroyed several businsses including a branch of Citibank.  After demolition of the heavily damaged buildings, a trace of an old painted sign appeared.  I came back later to do these two shots because I didn't have my camera that day.
I saw this while driving eastbound on 125th Street between Broadway and Amsterdam Avenue.  The current business's sign almost made the older enamel sign disappear due to its placement.
This sign represents something from the past – vinyl records. Although vinyl has made somewhat of a comeback, they're still viewed as relics, as other modes of recorded music have taken its place.  Disco-Mat was located on the south side of West 34th Street, just east of 7th Avenue. I should know. I dropped many dollars in that store during the late 1960s and early 1970s.
One liquor sign on  top of another can be seen here in the bus stop for the eastbound B45 bus at the SW corner of Nostrand Avenue & St. John's Place in Crown Heights, Brooklyn.
The Salvation Army has left its trace on a building on Cypress Hills Street, near Fresh Pond Road in Ridgewood, Queens.
Time as well as sunlight has almost erased this sign on the east side of Flatbush Avenue, near Linden Boulevard in Flatbush, Brooklyn.
This Burlington Coat Factory location was heavily damaged on September 11, 2001.  It was so damaged that the suits at Burlington decided to shutter it permanently. The site was chosen to be the location for a mosque.  There was so much controvery about that decision that the NYPD had to be stationed there 24/7.
A grafitti "artist" has almost completely made this anthracite coal sign on West 28th Street between Broadway and 5th Avenue disappear. Coal for heating purposes has almost vanished in NYC due to air pollution concerns. When coal was used, anthracite was chosen over bituminous coal due the fact that anthracite burns cleaner. Are there any FNY fans who remember getting coal deliveries to their school or house?
Thom McAn shoe stores were once ubiquitous in NYC. Thom McAn dates back to 1922. It was named after a Scotish golfer named Thomas McAn. The company started small, but grew to have several hundred outlets. The company hit its stride from the 1950s to the mid-1972. However, casual footwear such as sneakers began to have a negative effect on its bottom line. This mortal wound caused them to almost disappear from the retail scene. There was once a Thom McAn store here on Pitkin Avenue near Saratoga Avenue in Brownsville, Bklyn.
[The Thom McAn brand id still available at K-Mart]
These grocery signs were once seen all over NYC.  This one survives on the SW corner of Ralph Avenue & Fulton Street in Bedford Stuyvesant, Brooklyn.
5th Avenue near Green-Wood Cemetery in Park Slope, Brooklyn.
39th Street in Borough Park, Brooklyn.
Riverside Drive (at street level, not on the viaduct) and West 133rd Street is the home of this former company.  The only negative aspect of working in this area is being bombarded by the aromas coming from Fairway Market.
Another iconic grocery sign featuring Breyer's ice cream is here at DeKalb Avenue & Gun Hill Road in Norwood, The Bronx.
Union Street near Nevins Street in Gowanus hosts this old neon sign.
Your webmaster did a picture of the Heinz sign on Bergen Street a few years ago. He, as I did, thought that was the only Heinz  sign on the building faced Bergen Street.  I discovered that there's an even larger Heinz sign on the building that faces Classon Avenue!
$125 for a rebuilt transmission? In your dreams. Linden Boulevard near Dewitt Avenue, East New York, Brooklyn.
Pittsburgh Paints'  advertised at this retail outlet at Rockaway Parkway and Linden Boulevard in Brownsville, Brooklyn.  This site has two types of sign, a hand-painted one and an enamel one.
Van Sinderen  & Atlantic Avenues is/was the home of Apex Airtronics. Can any FNY fan explain what are "airtronics"?
Woodhaven Boukevard, near 91st Avenue is the site of this photo. It appears as if the house was constructed AFTER the candy sign's installation. The part that's covered must be in pristine condition.
This must be the longest enamel sign of which I've taken a picture.  It belongs to the Palagonia Baking Co. on Junius Street in  Brownsville, Bklyn.



FNY Correspondent Gary Fonville was born in New Bern, NC on February 10, 1952 and entered the NYC Public Schools in 1958 but only attended for two years.He attended SUNY at New Paltz, graduating in 1975.  After graduation, married wife Rebecca and worked in the educational field until 1982. In October, 1982 he began working for the NYCTA as a Bus Operator and worked in that capacity until October, 2003. His new hobby, photography, came about by being a contributor to FNY and snapping many photos in the process.
4/5/13