By GARY FONVILLE
Forgotten New York correspondent
Signs featuring "Rex Cole" have appeared previously in FNY. They were installed around the time that a newfangled technology for the home kitchen appeared on the scene called mechanical refrigeration – replacing the labor intensive ice box. In my travels around NYC, I have been able to capture some of the remaining ones.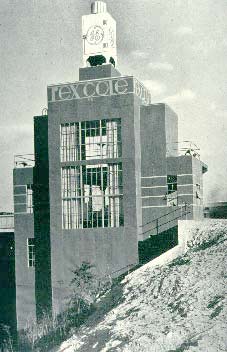 So who was Rex Cole and why is his refrigerator on so many NYC housing projects? Cole (1887-1967) was originally a lamp manufacturer, then became associated with General Electric in the 1920s and designed white enamel Monitor Top refrigerators. Famed architect Raymond Hood designed a series of buildings in Bay Ridge, Brooklyn, the Grand Concourse, and Northern Blvd. in Flushing for Cole's showrooms that either looked like refrigerators or featured them in the design! Most are still standing but have been altered beyond recognition. Enamel signs proclaiming Cole's GE refrigerators can still be found on a handful of buildings around town.
This Rex Cole showroom was at 4th Avenue and 65th Street in Bay Ridge. It didn't survive the construction of the Gowanus Expressway in the early 1960s.
Personally, I know of two Rex Cole signs that have been removed.  One was on an apartment building on Lincoln Place, between Brooklyn & Kingston Avenues in Crown Heights Brooklyn.  The other one was at Southern Boulevard & Longwood Avenue in Longwood, The Bronx.
Oops, that Rex Cole sign grew legs and walked away! Somebody clearly knew its value. A blank space is all that remains.  Location:  Southern Boulevard & Longwood Avenue, The Bronx.
The other Bronx location is here on the west side of Broadway, near 225th Street.
This apartment building stretches between Crown & Montgomery Streets, in Crown Heights and has signs near both streets. A view from Utica Avenue, looking west.
I used a zoom lens to capture the one facing Crown Street…
And the one that faces Montgomery Street.
Gloriously sitting over New York Avenue, near Carroll Street, in Crown Heights, Brooklyn.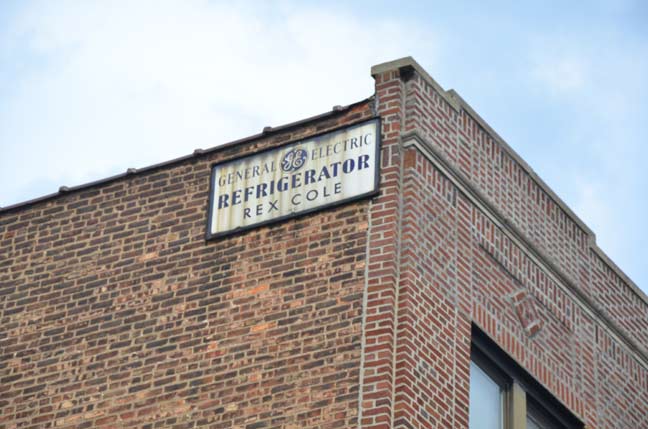 Sterling Place in Crown Heights, Brooklyn is the place where this one can be found.
7/22/13