I felt like getting out of town for awhile. Now, for some people that means a couple of weeks in Italy, or perhaps Vienna with a side trip to Macchu Picchu. For your webmaster, 'out of town' means an afternoon in someplace like Jersey City. I try to sneak out of town to Hoboken or Jersey City at least one or twice per year. Each town resembles New York City so much, aside from the things only I notice like street signs and lampposts, that I'm virtually not leaving town at all.
I suspect that even if I had the money, I wouldn't leave the North American continent anyway. I don't know the languages, and too much can happen to you, like pickpockets, uprisings and diarrhea. Eventually I do plan to visit more parts of the USA than I have. Never having acquired a drivers' license (since I'm a chickenshit), though, it's not easy.
One thing it is very easy to do is to get to the New Jersey towns closest to New York. The PATH train runs as a shadow subway, providing alternate service on 6th Avenue for a quarter less than MTA fares. And, that $2.25 will get you all the way to Newark on one fare if you want to go that far.
Despite its name, Hudson-Bergen Light Rail doesn't go to Bergen County, though NJ Transit, its parent, intends for service to get that far north eventually. At the present it runs from southern Bayonne north to Tonnele Avenue in West New York, NJ, with a branch here and there.
The HBLR is the light rail, or trolley, system that New York City transit buffs can only dream of. For much of its run it lives in its own right of way built along pre-existing railroad tracks. In downtown Jersey City it runs down the middle of some streets.
Trolleys had vanished from most NYC streets by the early 1950s, as cars and buses were considered the future, and generally speaking, once something is taken out of service in NYC it doesn't come back, no matter how much spluttering about the Rockaway Branch here or the Staten Island Railway North Shore Branch there should be reactivated for light rail. It won't happen, but happen it did in New Jersey, and it rolls along quite merrily in Boston, Baltimore, San Fran and plenty of other towns.
Above is the Jersey Avenue station, serving the Van Vorst Park section of Jersey City, which sits just to the west of the downtown skyscraper neighborhood which contains the Goldman Sachs Building, NJ's tallest, seen in the background in the photo. It's a neighborhood of 19th-Century brownstone and frame buildings that resembles large swaths of Brooklyn that I've invaded through the years.
A sign west of the platform marks the site of the Morris Canal:
The Morris Canal was a 107-mile (172-km) canal across northern New Jersey in the United States. In use from the late 1820s to the 1920s, it stretched from Phillipsburg on the Delaware River eastward to Jersey City on the Hudson River. It was considered a technical marvel for its water-driven inclined planes to cross the northern New Jersey hills. wikipedia
Edging onto Jersey Avenue, you immediately see the giant Jersey City Medical Center, established in 1882. This is a relatively new facility built in 2004 (indeed, I hadn't noticed it when the HBLR car I was in around 1999  turned south along Jersey Avenue en route to the stop serving Liberty State Park — this was pretty much a no-man's land then). The hospital claims to be the only hospital in Hudson County that does open heart surgery, so, if I were a JC-ite in 2009 when I had a heart valve replaced, I would have had it done here.
Before entering Van Vorst Park, here's an itinerary of the streets I visited:
Grand, Montgomery, and Christopher Columbus Drive are the major east-west streets in Van Vorst Park. Seen here is Grand Street looking east from Jersey Avenue toward #1 World trade Center, with the World Financial Center in front of it. The Sachs Tower peeks in on the right.
Frank R. Conwell Middle School, northwest corner of Jersey and Grand. The building is longer on the Grand Street side, where most of the windows are. The school was designed by Edwards & Kelcey Architectural & Design Services and opened in 2006.
I hadn't time for lunch, but from the name, Brownstone Diner & Pancake Factory, across Jersey Avenue from the school, sounded like my kind of joint. The diner has been in existence since at least the 1960s and had previously been known as the M&A Diner and the Newport Pancake House, and has been run under its current name by Greek immigrant Irene Paxos since the 1970s.
Yelp reviews are generally in the 3 and 4-star range.
Entering the Van Vorst Park neighborhood proper, just as in certain sections of Brooklyn, or the Upper East and West sides in Manhattan, you're in an area where just about every building is a masterpiece because seemingly, every architect working up until the 1960s, when designing buildings seemingly joined the assembly line world, was capable of designing a near-masterpiece.
I live in a brick building — always have — so seeing stuff like this on Jersey Avenue and Bright Street always is a pleasing sight for me.
The American Institute of Architects doesn't seem to have surveyed Jersey City, so details on these buildings will be sketchy, though a National Registry of Historic Places survey is helpful.
New Bethel Baptist Church, 445 Jersey Avenue between Bright and York. The building was formerly known as St. Mark's Hall.
A listing in Pitman's Journal of Commercial Education, December 16, 1899, reads:
"An introductory lecture on Shorthand and Typewriting, illustrated with lantern slides, was given by Mr. Foster…before a very appreciative audience." Isaac Pitman developed the shorthand method of writing, which among other things, enabled secretaries to take dictation at greater speeds than previously. "Lantern slides" were the predecessor of slide shows, today's Powerpoint and Keynote presentations.
Van Vorst Park proper is the centerpiece of the neighborhood, an oasis of green (although there are plenty of street trees elsewhere) bounded by York, Montgomery and Barrow Streets and Jersey Avenue.
The Van Vorst family first immigrated to the New Jersey area from Holland in the mid-1600s and remained prominent for the better part of two centuries — a Cornelius Van Vorst was mayor of Jersey City from 1860-1862.
284-286 Barrow Street, north of Montgomery, are built in the Italianate style with distinctive pediments over the doors and original step railings, complete with boot scrapers.
288-290 Barrow, bordering on Wayne Street, are simpler Greek Revival buildings going back to the 1870s.
Though the ground floor of this house on the NE corner of Barrow and Wayne has been hammered into a more mundane style, the upper floors hint at a more grandiose past.
Two 19th Century developments consisting of multiple buildings in Van Vorst Park are known by a collective name and even have their own house numbering independent of the numbering of the street they are located on. The southeast corner of Barrow and Wayne Streets is known as Hampton Court and the individual houses are numbered #1 to #7. Built around 1890, the architect pulled out all the stops and larded on Victorian-era bricabrac such as peaked gables, decorative tile panels and slanted mansard roofs. The needle-shaped windows impart a Hansel and Gretel touch. (We'll see the other such development in Van Vorst Park on Mercer Street, below.
The oldest building in Van Vorst Park is the Barrow Mansion (it was owned early on by Dr. William Barrow, for whom Barrow Street is named) at 83 Wayne Street. My sources vary on when this Ionic-columned masterpiece was built. The National Register of Historic Places claims 1834, but meanwhile at City of Jersey City:
This mansion, dating from the 1840s, is an outstanding example of high-styled Greek Revival architecture. Here a porch supported by two-story columns of the Ionic order, a Greek favorite, is arranged in a very formal way. The entrance is also composed of simple classical forms. The two piers that flank the entrance on either side support an entablature (beam). Two sidelights on each side of the door and a transom over the door provide a traditional Greek Revival arrangement for lighting the hallway with natural light. All of these features have wooden components, representative of the carpenter's dominance in the early-nineteenth-century construction industry.
The windows on the first floor are actually triple-hung sash with sills on the floor, yielding a tall vertical effect. Each sash has six panes of glass. At the second floor, the size of the windows diminishes, to double-hung six-over-six sash.
The building formerly had a twin further west on the block on the other side of St. Matthew's German Lutheran Church. Both were built by the same Cornelius Van Vorst who later became Jersey City mayor.  The twin was demolished in the 1920s so an apartment building could go up in its place.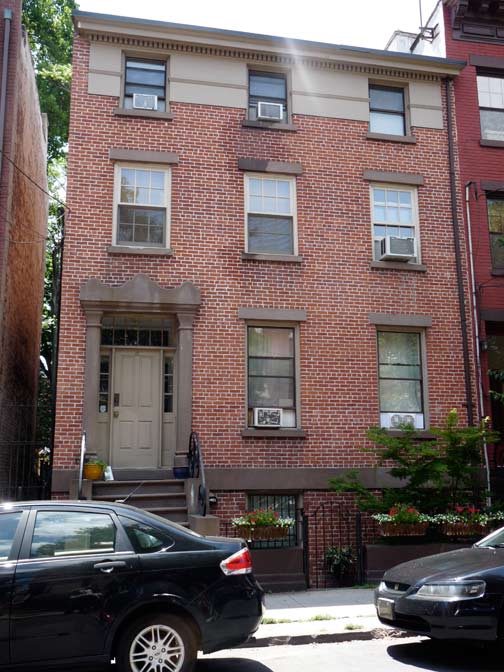 I headed east on Wayne Street again (it was named for Revolutionary War general "Mad" Anthony Wayne), paying attention to the older buildings such as #61, between Barrow and Grove….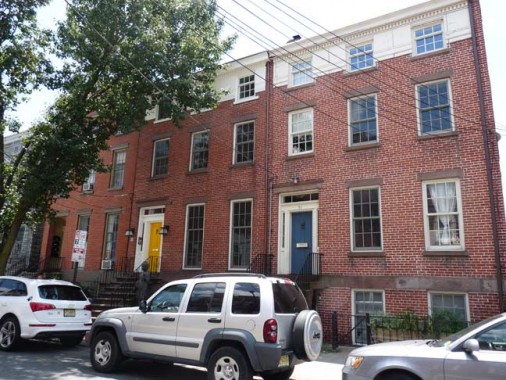 … which along with #49 and #51 are simple 3-story brick structures possibly built in the 1950s. I liked the colorful doors, blue for #51…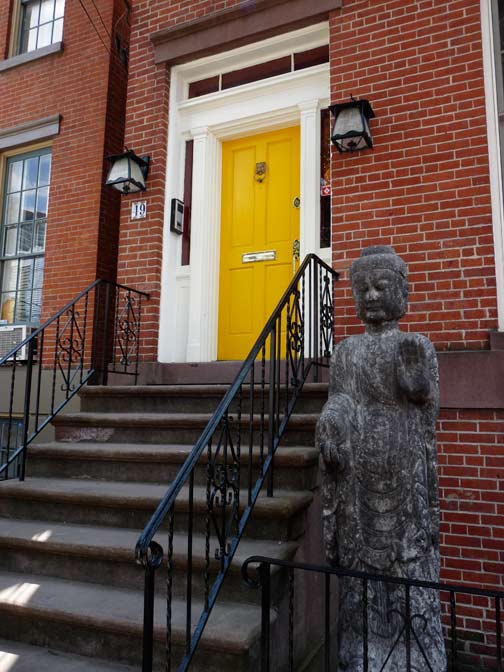 …and old gold for #49.
#62 Wayne is a timeless wood frame building. It looks as if it's been here forever. Well, the 1850s may as well be, since that's a long time ago.
The corner of Wayne and Grove Streets is unmarked by any other sign except for this pair of old school enamel and metal signs that likely go back to the 1940s or 1950s. This type of sign has been gradually disappearing around JC as the city gets with the program of installing upper and lower case lettered signs.
#301 Grove, on the west side just south of Wayne, is a tidy two-story woodframe Greek Revival house, dating to about 1840.
301 Grove faces the Congregation Sons of Israel synagogue, constructed in 1922 on the site of Jersey City's first Baptist Church.
Catanio Locksmith, Grove between Mercer and Montgomery, uses a key as a lintel post on the stoop rail.
City Hall of Jersey City, east side of Grove Street between Mercer and Montgomery, is an impressive sight.
The City Hall of Jersey City is an elaborate granite and marble structure of mixed Victorian and Classical architecture. It was designed by the architect Lewis H. Broome (1849-1927) and completed in 1896. A park-like setting and landscaping around the building, similar to that of the City Hall of New York, was planned for the city's second seat of government. An entire city block containing commercial structures and residences was leveled to make room for the new building. Jersey City Past and Present
Tastes change. When The JC City Hall was completed, the Architectural Record called the Beaux Arts structure "vile," adding that it "fairly reeks of vulgarity." When first built the edifice boasted three huge brass cupolas, but they were removed in 1955 lest they became unstable. City Hall was hit by a devastating fire in 1979.  In the 1980s, Anna Cucci, wife of then-Jersey City mayor Anthony Cucci, was an arts patron and spurred a restoration effort that netted $300,000, and City Hall was completely rebuilt outside and in, with the work finished in 2004. Tragically, Anna Cucci perished while visiting Cusco, Peru in 1988 when a tour train on which she was traveling derailed and plunged 700 feet into a ravine. Sabotage on the part of the Shining Path terrorists was suspected.
Copper friezes on the Grove Street side depict figures garbed in classical and medieval-era outfits engaged in mechanical and agricultural work.
(Here I used some pictures from a winter visit to Jersey City a few years ago — the trees are bare and you can see better)
Jersey City's Soldiers, Sailors and Marines Memorial was designed by French-born sculptor Philip Martiny and dedicated on Memorial Day, 1899. It employs a female goddess to depict victory combined with the peaceful laurel branch offering.
From the looks of things I suspected 275 Grove, across from City Hall, may have been a theater. I was right: it was the Majestic:
The Majestic Theater was built in 1907 by the Klein Amusement Company. The architect was William H. McElfatrick. The first feature film shown at the theater was D.W. Griffith's film "The Birth of a Nation" in 1915. The Majestic Theater closed as a theater in the 1950's.
Over the years, the building was used as a factory, a warehouse and a church. The building was going to be renovated but in 1995 the roof collapsed and the building was demolished. Before it was demolished, the front lobby was saved and it serves as the entrance to an apartment complex. Cinematreasures, which includes a postcard view
The two buildings on either side of the theater are old veterans as well, dating back to the 1890s at least.
The corner building on Grove and Montgomery still proudly displays its plastic  "DRUGS" sign, even though it became a grocery awhile ago.
Turning onto Mercer Street, named for Revolutionary War general Hugh Mercer who was killed at the Battle of Princeton in January 1777  (Mercer County, home of Princeton and Trenton, is also named for him):
This structure at #38 Mercer, west of Grove, looks like it could have been a firehouse, with its wide door painted red. Consulting a G.M. Hopkins 1928 atlas of Jersey City confirms that it was Engine #3, as does the "3" above the lamp over the door.
Continuing westward …
#45 Mercer is the only wood house with a porch left on the south side of the street.
#48-50 Mercer, 3×3 (bays and stories), more Greek Revival brick houses.
#47 Mercer is a 5-story apartment house with generous terra cotta, especially at the roofline. I liked the little terra cotta house number shields.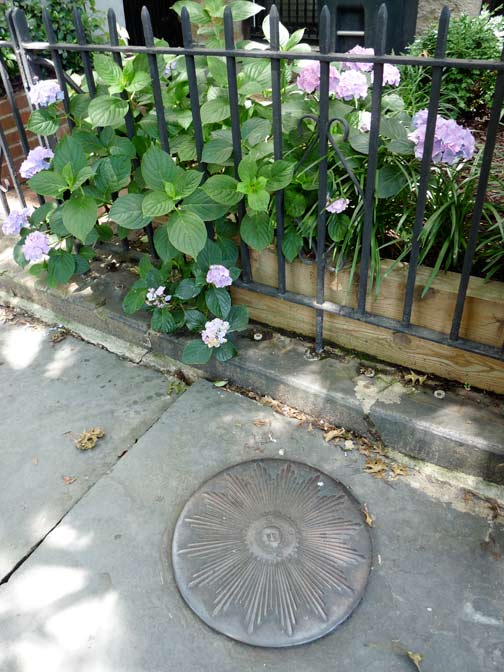 Many streets in Van Vorst Park have remaining coal chute covers, like these two on Mercer Street, but the chutes are most likely nonfunctional by now.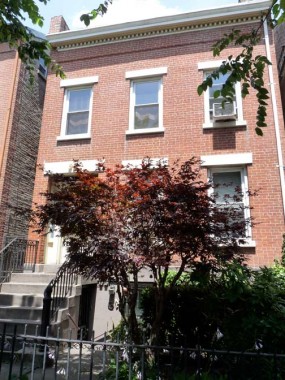 #54 (left) and #56 Mercer. They're officially two stories high, though 54 has attic windows and a slanting roof.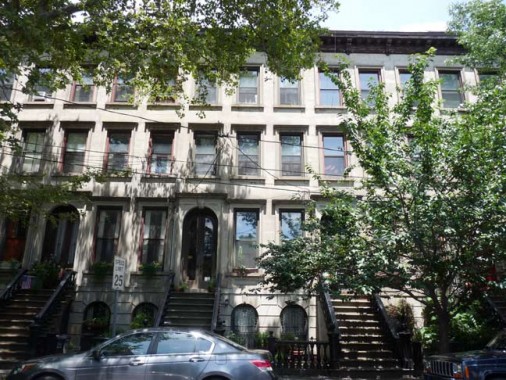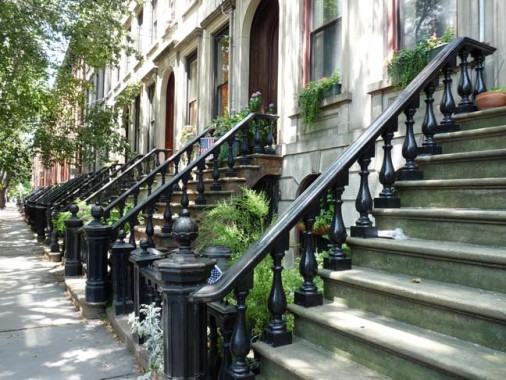 Paulmier Place, like Hampton Court above, is a set of townhouses constructed as a set on the north side of Mercer Street west of Barrow. Like Hampton Court the buildings have their own set of house numbers from #1 to #10. They were built by speculator Suzanne Paulmier before 1873 in an Italianate style and uniquely in the area, they are built with limestone facades.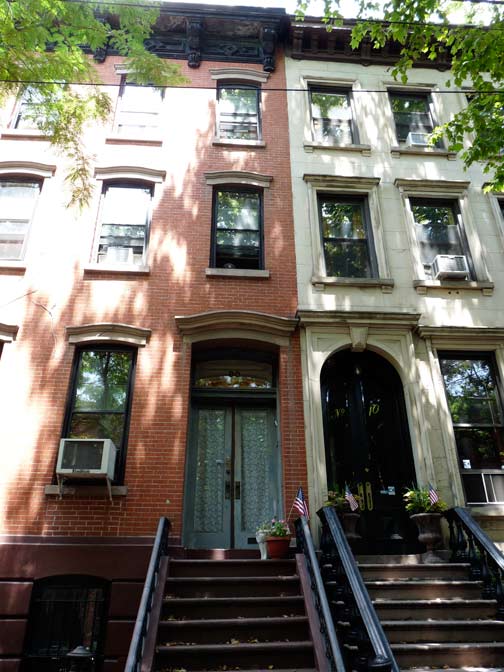 Note the abrupt change between the limestone brick of #10 Paulmier Place and the brick of #90 Mercer, where its street numbering resumes.
The Jersey City Free Public Library Main Building facing Jersey Avenue between Montgomery and Mercer Streets was completed in 1901 in an Italian Renaissance style by Brite and Bacon. Philip Martiny (see above) designed the head of Minerva and the seals of Hudson County and Jersey City that appear over the front entrance and flanking windows. Jersey City's public library was established in 1884 and occupied several buildings before constructing a permanent home here.
Heading east on Montgomery, these are from left to right, #258, 256, 254 at the corner of Barrow Street. The two dwellings on the left, 258 and 256, are Romanesque Revival and were built in 1887, among the few buildings in the Chicago school of architecture (whose main proponent was Daniel Burnham).
#254 is a French Second Empire – style building. It had a matching partner at the end of the block on Jersey Avenue, but it was torn down to build the Public Library.
A sidewalk vent at Barrow and Montgomery made by the J.L. Mott Iron Works.
Entrepreneur Jordan Mott built a tremendously successful iron works in the south Bronx beginning in 1828, centered along the Harlem River from about Third Avenue to East 138th Street. His handiwork can be still seen all over town on airshaft and manhole covers built by the Mott Iron Works. Mott had bought the original property from Gouverneur Morris II in 1849; Morris was asked if he minded if the area was called Mott Haven, a name it had quickly acquired. "I don't care…while [Mott] is about it, he might as well change the Harlem River to the Jordan." The iron works produced practical and ornamental metalwork used worldwide.
In 1850, Mott drew up plans for the lower part of the Mott Haven Canal, which followed an underground stream parallel to Morris Avenue and east of the Harlem River. When completed, it enabled canal boats using the canal to go up as far as 138th Street, encouraging the local industrial development. It has since been filled in. Residential neighborhoods, such as the one which forms the Mott Haven Historic District, are not common in Mott Haven. After 1856, Mott Haven joined with several other villages to form the town of Morrisania, although the area still continues to be known by its original name.
The iron works were in the south Bronx until 1906.
Heading south again on Barrow, we find this unusual townhouse at #272, facing Van Vorst Park. The eclectic stylings are the mark of the Queen Anne style. Note the bay window on the 2nd floor, triangular pediment, arched windows and door, and gently curving stoop. Skilled architects were able to pull disparate elements together and make them work.
This set of attached townhouses, #262-268 Barrow, contain original doors and balustrades (stoop railings).
Then west on York, again facing Van Vorst Park:
#279-293 York Street is among the oldest stretch of buildings in the neighborhood — estimated to have been built before the Civil War. Note how there are different window lintels on each floor.
#297-#305 York brings us west to about Jersey Avenue. These buildings are notable for their exquisitely carved brownstone on the doors and windows. They were built between 1885-1890.
Heading briefly south on Jersey Avenue to get a look at #446. It's hard to photograph it in the summer since the street trees are thick here.
Queen Anne asymmetry and the use of many fine materials set this house off from its neighbors. Notice the fine face brick with narrow joints. Molded brick shapes are used in the arches. A slate roof, stone and wood details, and excellent terra cotta details such as the gable top are of interest. The use of both sandstone and limestone on upper floor details and the stoop, respectively, acknowledge the favorable characteristics of each stone. The ironwork is unique to the house. City of New Jersey
Then north again…
#463 (left) and #465 Jersey Avenue, both dating to about 1880 in varied styles.
Ward-Heppenheimer Mansion, Jersey Avenue and Montgomery, catercorner to the library. It was designed by architect Frederick Clarke Withers and built in 1884 for its original owner John Ward. Its stepped gables and prominent chimneys mark its Flemish Revival style. In 1893 it was purchased by "General" William Christian Heppenheimer, who had a lengthy New Jersey political career:
He was elected to the New Jersey Assembly, representing the Fourth District in 1887 and 1889, and became speaker of the New Jersey Assembly in 1890. During the 1890s he served consecutively as Comptroller of the Treasury of the State of New Jersey, President of the Board of Finance of Jersey City, and City Treasurer. In 1928 Governor A. Harry Moore appointed him as a member of the Port of New York Authority, later Port Authority of New York and New Jersey, which he served to 1933. Jersey City Past and Present 
Heppenheimer played host to political and sports figures in the mansion such as 4-time presidential candidate William Jennings Bryan and boxing champ Jack Dempsey.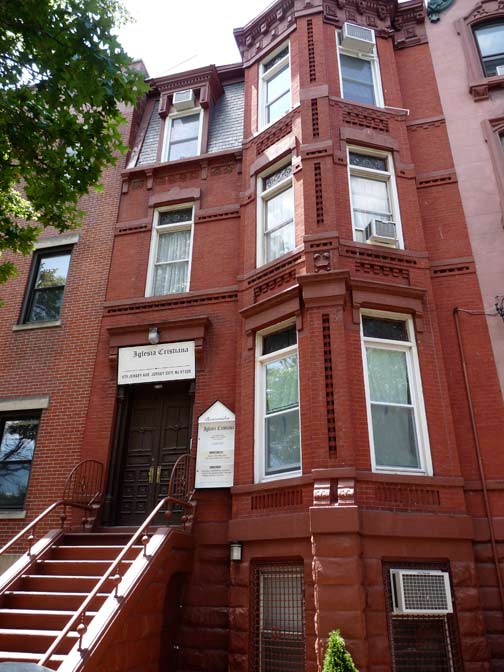 The narrow #475 Jersey Avenue looks comparatively unimpressive only at first. The brickwork is intricately detailed, such as in the toothed recesses under the bay windows — there's a different design under each floor.
#485 Jersey Avenue at Mercer Street contains both Queen Anne and Flemish Gothic elements, as well as a corner turret. They don't build them like this anymore.
Christopher Columbus Drive, the northernmost east-west route in the Van Vorst Park area, was once known as North and South Railroad Avenue and featured an elevated trestle carrying the Pennsylvania Railroad to a Hudson River-side terminal and yard. The yards, terminal and trestle were torn down or paved over by the 1950s, and today the Harborside Financial center sits on land where the yard used to be.
Murals on Columbus Drive show transportation scenes such as ferries and railroads, as well as the Colgate Clock and the Statue of Liberty, even though the nearby Lady turns her back on the city.
Grove Square is where Grove Street, Columbus Drive and Newark Avenue come together, featuring towering new residential buildings and three-story mixed-use buildings dating to the 1800s. More importantly, it's home to the Grove Street PATH station. Got to be going — it's getting hot.
If you liked Van Vorst Park in Jersey City, you'll like its neighbor to the west, the Dixon Crucible area.
7/14/13