It was the 4th of July in 2012, and crazy from the heat, I was meandering in a zigzagged fashion carrying a camera. Not in the mood for an extremely lengthy walk, I set out from Penn Station and traveled east on 27th Street, and then returned west on 24th Street. As found on last week's 16th and 17th Street's page, there are worlds within worlds, architecturally and infrastructurally, on any street in New York City you choose, and I found some tidbits of interest here.
The Radio Wave Building, at #49 West 27th just east of 6th Avenue, is one of the handsomer buildings in the area. It's called the Radio Wave Building because one of history's most unsung inventors and scientists lived here.
Nikola Tesla (1856-1943) was a Croatian-born inventor, physicist, and mechanical engineer and is widely recognized as the greatest electrical engineer in history. He arrived in NYC in 1884, becoming a citizen in 1891. Tesla developed the basis of modern alternating current (AC) electric systems, pitting him in opposition with Thomas Edison, who championed direct current. Tesla experimented with X-rays, was an early radio pioneer and founded the Nikola Tesla Company at 8 West 40th Street, on the south side of Bryant Park.
Tesla gained great fame but his last years were not happy ones. He had never married, not paid much attention to his finances and died destitute at the New Yorker Hotel at 8th Avenue and 34th Street, where a memorial plaque was dedicated to him a few years ago.
On July 30, 1891 naturalized citizenship was granted to Nikola Tesla when he was sworn in at the Common Pleas Court in New York City. His witness was Richard F. Feist of Rahway, New Jersey. At the time Nikola Tesla listed his residence as the Hotel Gerlach on West 27th Street in New York City and his occupation as Civil Engineer. This building was named "Radio Wave Building", in honor of Tesla's transmission of radio waves in 1896 from his laboratory at 5th Ave. south to Hotel Gerlach. Tesla organized his Tesla Arc Light Company of New York in 1885 and in 1887 founded The Tesla Electric Company. On two occasions Tesla lost his laboratories to suspicious fires. As the genius savant kept his inventions recorded in his photogenic mind, he was able to rebuild his laboratory. With an affiliation with George Westinghouse, Tesla lit up the 1893 Columbian Exhibition at the Chicago World's Fair. Westinghouse obtained forty patents from Tesla, breaking the monopoly held by General Electric. When Tesla realized that Westinghouse needed help, he tore up his contract with him, enabling Westinghouse to continue, but left Tesla with little finances to pursue his inventions. Tesla Memorial Society of New York
Nikola Tesla's Life in New York [Gotham Center]
In 1882 Louis L. Todd demolished the four rowhouses at Nos. 49 through 55 West 27th Street and set architect August Hatfield to work designing a modern building of French flats. Completed a year later, the Queen Anne-style structure rose ten stories to a tower. Bowed bays along the sides captured the slightest breezes in summer. A three-story base of rough cut stone supported red brick trimmed in stone. But despite the comfortable accommodations, Todd's French flats were quickly converted to a mixed residential and transient hotel…
Tesla erected his transmission equipment on the roof of the lab building downtown. With his assistant Diaz Buitrago in charge of the transmitter, Tesla set up receivers on the roof of the Hotel Gerlach. It was here that he proved that electrical energy could be received remotely.
Around 2:30 a.m. on March 13, 1895, a fire broke out on the ground level of the South Fifth Avenue building. The entire laboratory was destroyed. The New York Times lamented "The wizard and rival of Thomas A. Edison was burned out. His shop, plant, all his apparatus for conducting the scientific experiments on which the gaze of the world is riveted these days, were destroyed."
Tesla returned to the Hotel Gerlach and closed himself in his rooms, not to be heard from for days. The scientist emerged with a greater fervor for his work. Two years later journalist Franklin Chester wrote in part "The daily life of this man has been the same, practically ever since he has been in New York. He lives in the Gerlach, a very quiet family hotel, in 27th street, between Broadway and Sixth avenue. He starts for his laboratory before 9 o'clock in the morning, all day long he lives in his weird, uncanny world, reaching forth to capture new power to gain fresh knowledge."
Daytonian in Manhattan
The hotel was owned and operated by a Charles A. Gerlach for nearly 30 years, until 1899 when it was leased to Warren Leland and was overseen by Eugene M. Earle, who changed its name to the Hotel Earlington. Earle, a show dog trainer, kept 38 canines on kennels on the building's roof. During and after World War I, it was a hotel for returning servicemen for several years. After that it settled into its present use as an apartment building.
The Senton Hotel, at #39 West 27th, has conspicuously and incongruously painted the stone entrance of its first two floors a bright robin's egg blue. As we'll see, though, it's hardly the strangest hotel exterior to be seen on 27th Street.
If you want to guarantee that you are going to have a jaw-dropping story to take home with you, based on the TripAdvisor reviews it seems the Senton may be your place.
When you have a few minutes to read some of the wildest reviews we have ever seen for a hotel, take a look at the comments on TripAdvisor for the Senton. Some of the more colorful highlights from the reviews include 'clown porn', 'bizarre neighbors', 'weird screams', and one review in French that starts out with "quelle horreur" (our French is rusty but that sounds bad). Not to mention the burgundy curtains just never seem to be open on any room, ever (see arrows on the right). MadPark News
Walter Grutchfield reports that the fleabag was known as the Beverwyck Bachelors' Apartments in 1891 and was called the Senton by 1916.
5-story 1165 Broadway, at the northwest corner of West 27th, with its chocolate brown and beige paint scheme, Beaux-Arts style festoonery and bay windows, somehow belies a former importance, though the ground floors are now occupied by wholesalers as are most properties on this stretch of Broadway. It is the former Coleman House Hotel, constructed in 1867 by Danish immigrant merchant Peter Gilsey and hotelier Robert Coleman; Gilsey later built the much more lavish Gilsey House two blocks north on West 29th. The hotel was ill-fated and attracted thieves, murderers and other miscreants and by the early 1900s, its then-owners converted it into a commercial property and added the fashionable Beaux Arts treatment the building sports today.
Tenants in the early 20th Century included manufacturers of an early device that made 'talking pictures,' boxing promoters that signed the likes of Gentleman Jim Corbett to matches, snake oil merchants whose medicines promised putative cures of all manner of diseases, and the makers of early automatic dishwashers. In the Roaring Twenties clothing wholesalers began to dominate. The Daytonian has details.
Museums have been, er, ah, erected for just about everything. Even I had my museum moment a few years ago when the King of NYC Lampoosts, Bob Mulero, and I curated a streetlight exhibit at the City Reliquary in Williamsburg. This modest taxpayer building at 5th Avenue and East 27th has hosted the Museum of Sex, founded by Daniel Gluck, since 2002, expanding from its original location on 27th to a 5th Avenue entrance in 2009. "The museum focuses on a variety of sexual preferences and subcultures, including lesbian and gay history and erotica, BDSM, pornography, and sex work. Although the museum's exhibits are presented in an educational format, they sometimes feature explicit content. Because of this, visitors must be 18 years old or older." [wikipedia].
Though the Gershwin Hotel's name seemingly honors composers George and Ira, the hotel at #7 East 27th boasts terardrop-shaped artwork on the exterior that resemble Hershey Kisses and an interior devoted to an Andy Warhol hommage:
Inside, the lobby boasts original artwork from Andy Warhol and Roy Liechtenstein, and even a luncheonette-sized Campbell's Soup can signed by Warhol himself. A ride in the lime-green elevator takes passengers up 13 floors full of work from modern pop artists associated with Warhol's Factory. The artwork extends into the small and spartanly furnished rooms, which feature hardwood floors, exposed brick and primary colored Euro-minimalist/Ikea-esque furniture. This art-gallery turned European-flophouse is a favorite for travelers on a budget seeking location, location, location. The place is also popular with fashionistas: The fourth floor is designated for models only. New York Magazine
The exterior fiberglass artwork is called 'Tongues and Flames" and was created by Finnish artist Stefan Lindfors. The building itself was built in 1905 and has hosted a succession of hotels including The Broztell and The Latham (which is now a block north on East 28th).
At #13 East 27th another pleasant Beaux Arts exterior is actually the back end of the Prince George Hotel that fronts on East 28th. The hotel opened in 1904 and was designed by Howard Greenley, who gave it a British flavor in its lushly-appointed interiors, including a "Ladies' Tea Room" and "British Tap Room." Its ballroom featured "Renaissance-style murals, elaborate plasterwork, herringbone oak floors and 18-foot coffered ceilings exploded in brilliant primary colors touched with gilding." It was the first hotel in NYC to include a private bath in every suite. Diamond Jim Brady, the famed gourmand, and his good friend entertainer Lillian Russell were frequent guests.
In the 1970s the Prince George did not escape the general rot that had seeped into New York City's marrow in those years, and it became one of the more notorious and dangerous welfare residences in the city. As the crack epidemic took over in the early 1980s the place was nicknamed "hell's embassy." It was finally emptied out and abandoned in 1990, but was later reopened as a much more secure hostel for low-income workers. Its terra cotta-decorated ballroom and Tea Room were even restored in 2004 and are leased out for private parties. The old hotel has come back from over the brink.
I know nothing of this collection of buildings on East 27th just east of Lexington, other than that my camera is drawn to photograph them every time I pass by; there's just something about that arched-window apartment house with the 6-over-6 windows, and the low-rise next to it I'm amazed Edward Hopper never painted.
Broadway Alley, seen here from East 26th (so I could get the classic wall lamp in the shot) runs a block north to East 27th and has just one remaining address, #8 Broadway Alley. It's one of my favorite spaces in Manhattan. Back in 2012, I wrote all about it.
Some low-rise 3-story dwellings on 3rd Avenue and East 27th Street, very much in the vein of the ones shown above. The ground floor is home to the Rodeo Bar and Grill, the self-styled "best place to kick some shit."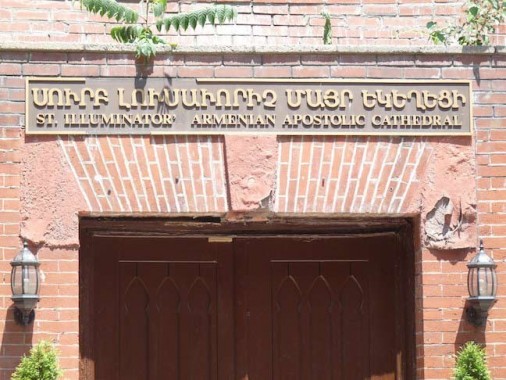 Just about all of the world's major languages can be found displayed in signage on NYC streets, and even some not-so-major ones. The Armenian language boasts its own unique script found nowhere else, invented by linguist/cleric Mesrop Mashtots in the 5th Century AD. St. Gregory the Illuminator Armenian Apostolic Cathedral, built in 1923, was once the linchpin of a prominent Armenian community on the East Side. Gregory was the evangelist who in large measure converted Armenia to Christianity about 300 AD; the religion, according to legend, was first introduced three centuries before by the Apostles Jude Thaddeus and Bartholomew.
Built in 1923, the building was originally a Protestant church, but by 1935 the Armenians took over and named it St. Illuminator's after the church's founder, St. Gregory the Illuminator – so called because he "enlightened the nation with the light of the Gospel." Today, the church has roughly 450 parishioners, but there are surprisingly large numbers Armenian adherents in the rest of New York City. Fordham University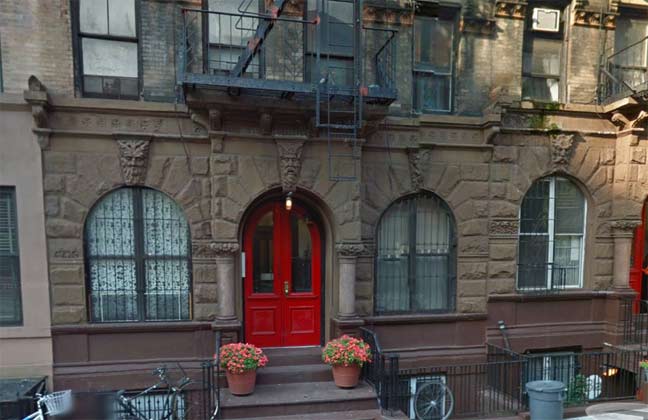 Across the street from the cathedral we see a selection of old-school tenement buildings with arched ground floor windows, columned sheltered entrances, and best of all, bearded heads, all with different expressions.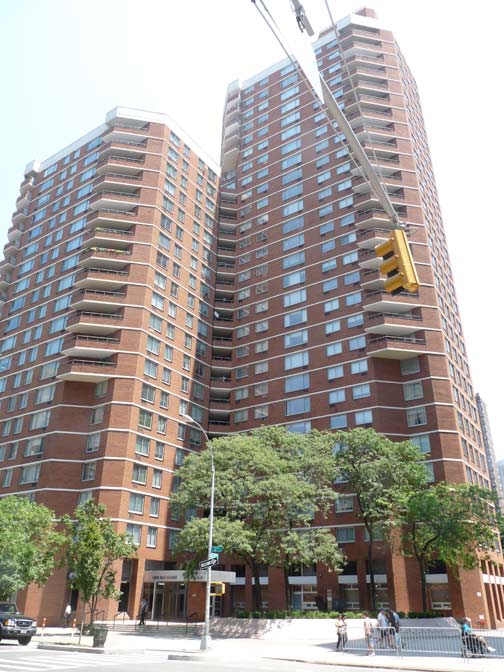 Is it possible for me to like the exterior of a Corbusian-sytle high rise apartment building? I like the Kips Bay Court complex on 2nd Avenue and East 27th, as well as the curved Corinthian a few blocks further uptown. Kips Bay Court was built in 1986 as Phipps Plaza West Apartments and were originally 'affordably' priced for folks of modest means — believe it or not.
East 27th Street actually comes to and end at 2nd Avenue, but its path is traceable through Bellevue South Park, which reminds us of the nearby venerable medical complex. Though the park is actually west of Bellevue Hospital, it is south of the Bellevue Urban Renewal area, for which it is actually named. That renewal project was responsible for the razing of several blocks lined with tenements, replacing them with what became Kips Bay Court (above).
On the east side of the park we find a short, two-block street called Mount Carmel Place. This street has not made either the Hagstrom or Geographia Manhattan atlases, though Google Maps admits to its existence. This street harks back to a Forgotten NY experience. I seemed to recall a church facing the north end of the Place on East 28th Street in the late 1990s when I first started canvassing streets to scout the website. Indeed a church did stand there: the Our Lady of the Scapular Church, established by the Carmelite religious order, in 1889; the church, as well as its accompanying priory, were razed in favor of the Berkley Apartments, which went up in 2000.
The church, and its priory, played a role in the Irish independence movement of the late 1910s and early 2000s: smuggled Thompson machine guns were hidden in the priory, bound for the old sod, before they were seized by the US Government; and revolutionary Eamon de Valera (born in NYC but emigrated to Ireland with an uncle at age two), later the prime minister and even later president of Ireland (until age ninety!), sought refuge in the church in 1921.
The Carmelite order were chaplains at Bellevue Hospital from 1889 through 2007. Only this short Place remains of the legacy of the Carmelite order, the Carmelite church, and their service there.
The Bellevue Hospital complex on 1st Avenue is deeply rooted in NYC lore and legacy as the place where drunks were brought from late night binges. In an era when hospitals are shutting all over town, it's one of the few full-service hospitals remaining in lower Manhattan, especially with the shuttering of Greenwich Village's St. Vincent's in 2010.
The original hospital opened as an almshouse in 1736 on the lot now occupied by City Hall. In 1811, New York City purchased Belle Vue farms, which [was] located at 27th Street and 1st Avenue. The land became the Bellevue Institution, in effect, a community center with an almshouse, a pesthouse, a soap factory, a greenhouse, a penitentiary, a school, a morgue, a bakehouse, an icehouse, and a shop for carpenters and blacksmiths. The institution was dedicated in its entirety in 1816.
Bellevue had already established a reputation for innovative medical technology by the mid-1800s, and treated soldiers from both the Civil War and the Spanish American War. Bellevue doctors pioneered the use of hypodermic syringes (1856), performed the nation's first cesarean section (1867), and developed the first hospital-based ambulance service (1869). Specialized units holding 2,700 total beds, a variety of outpatient clinics, and four schools were founded as the hospital expanded. During World War I and II, Bellevue organized hospital units to serve overseas. Today, the hospital is affiliated with the New York University School of Medicine. NYC Parks
I don't know about you, but I find most mid-20th Century sculpture unnecessarily cold and soulless. Theodore Roszak's "Sentinel" stands on 1st Avenue, where 27th Street used to intersect it. I've actually previously devoted a One Shot to it in November 2012. I'll admit I like Roszak's revolving "Free Form" sculpture in Flushing Meadows, a relic of the 1964 World's Fair.
1/5/14
Sources include Jim Naureckas' New York Songlines