Former MTA bus driver and current employee, Brooklyn's Gary Fonville, has been a Forgotten NY correspondent almost from the very beginning, in 2000. Gary still gets around town quite a lot and he has produced several more dozen images that somehow have escaped my notice… all notes and photos on this page by Gary, unless otherwise indicated.
This Furs By Novick neon sign harkens to a different era. It was a fur retailer and very likely offered fur storage services. For those who don't know, fur can deteriorate if not stored properly during the warm months. This retailer on Flatbush Avenue near Linden Boulevard in Flatbush, Brooklyn had two strikes against it.  One, the demographic of the neighborhood changed gradually, that by the early 70s, it was inhabited mostly by African Americans and people from the Caribbean.  Generally speaking, furs were not on their shopping lists.  The second strike against them was the fact that furs were no longer socially acceptable to wear , as many people equated using furs with cruelty to animals.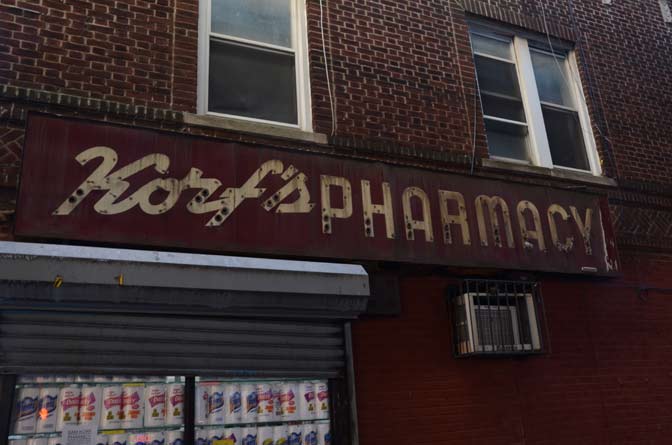 Again here, changes in a neighborhood's  demographics are shown here at the SW corner of Livonia and Rockaway Avenues in Brownsville, Brooklyn. This location is no longer a pharmacy but is now a variety store. When this neon sign was installed, Brownsville was largely Jewish.  If you have time to explore Brownsville, you will find many former synagogues displaying the Star of David somewhere in the stained glass windows, cornerstones, plaques or even fences. They have almost all been converted to churches.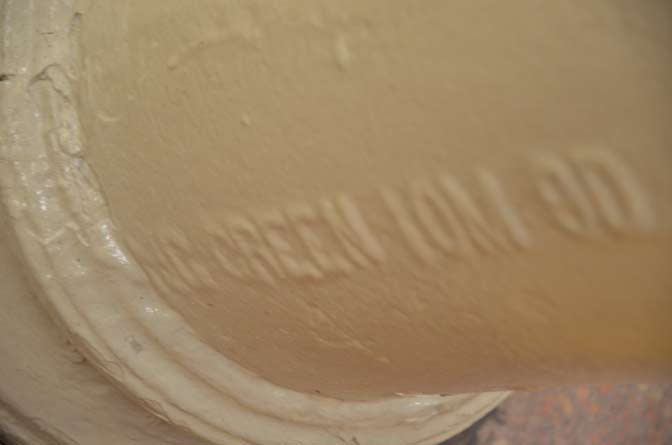 I did a piece a few years for FNY where I chronicled the many places on the IRT where support columns had the station's name at floor level.  I guess it was the builder's intent that these columns were designed for specific stations.  I thought I had taken shots of all the IRT columns with the station's name in an earlier piece in FNY , until one day I was headed to the Staten Island Ferry when I saw this on the Brooklyn bound platform at Bowling Green station for the 4 & 5 trains.
The north side of East 149th Street between Prospect and Union Avenues in the Bronx is the location of this liquor store.  The Art Deco style of the lettering suggests that it likely dates from the 1940s or so.  It seems that throughout NYC, liquor stores seem to have the most neon signs, working or non- working!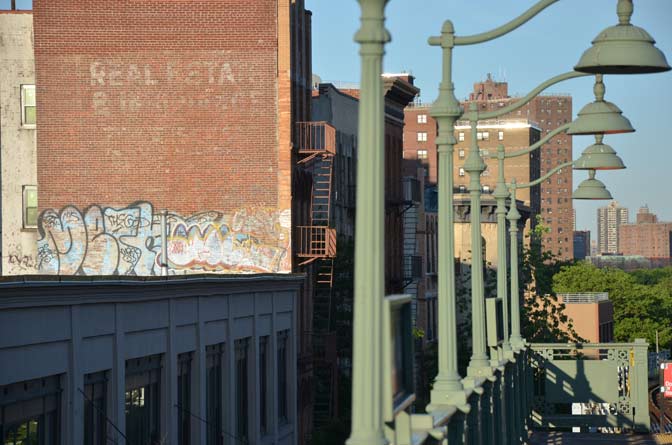 Taking a shot of this sign on Westchester Avenue near Prospect Avenue in the Bronx is the reason why it's important for me to always have my camera with me. I got off the Wakefield bound #2 train early one morning this past summer and saw this sign as I was walking for the exit to transfer to the newly minted BX46 bus to Hunts Point, The Bronx.
Prospect Hospital in Longwood, the Bronx ceased operations in 1985. The privately owned hospital was located in the Longwood Historic District and was constructed in 1963.  It could accommodate 175 patients, but had 167 patients and over 300 employees near the time of closing. It was an economic blow to the struggling community.  Unusually, the hospital had a sign advertising itself on Hunts Point Avenue, near Spofford Avenue.
The Interborough Rapid Transit Corp., in building a subway system, needed enormous amounts of steel in its construction. At the time, building a transportation system of that size and complexity was thought to be  a major undertaking, considering it was the early 1900s.  In my opinion, it would be a HUGE undertaking TODAY! Look at how long it has taken for them to construct the extension of the #7 Flushing line over to the Javits Center from Times Square.  Add to the fact that the subway ran from City Hall up to 242nd Street/Van Cortlandt Park — a distance of about 15 miles.
Much or all of the steel needed for construction was purchased from Carnegie Steel. Andrew Carnegie (1835-1919) started the company in the 1870s.  Even if the IRT ordered only some of the steel from Carnegie, it still would have been a very large contract.
As his company prospered during his ownership, Carnegie  became immensely wealthy.  He sold the company to the United States Steel Corporation in 1901 for $480,000,000, of which he retained half. I don't know about you, but I can't even imagine what $240,000,000 must have been like then! As a philanthropist, he left his mark on literacy and culture, especially here in NYC.  There are many library buildings that he built that are still in use today.  And let's not forget about his other huge and lasting gift — Carnegie Hall.  The still standing Carnegie-funded libraries are a possible subject that Kevin, your webmaster, or I may tackle in the future.
I saw this Carnegie imprint on the support structure at the downtown side's staircase at 207th Street on the #1 line as I was going up the stairs.  I didn't have my camera that day,  But I did return with it at a later date.
There used to be a luncheonette right here at South Road and 150th Street in Jamaica, Queens.
York Street (one block south of Canal Street) & Avenue of the Americas (6th Avenue) is where you'll see this old liquor store sign.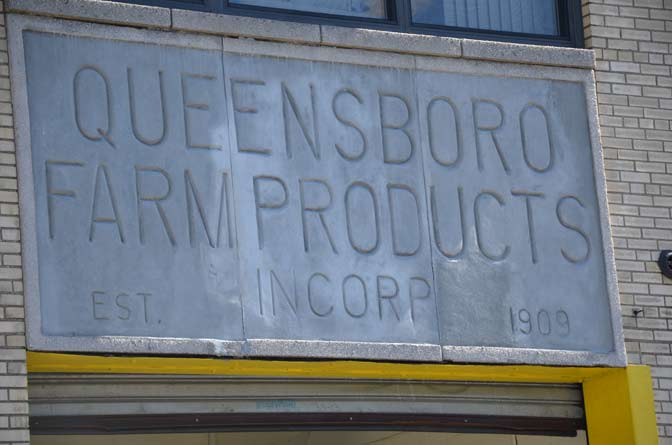 Queensboro Farm Products had a presence at in Long Island City, Queens.  The company is still in operation as a third generation family owned business based in Conastota, NY, getting its start over a 100 years ago.  Changes in technology and consolidation in the dairy industry made this location redundant and no longer needed. Hmm, sounds like the fate of all of Brooklyn's many breweries over the years. Do the names Schaffer, Rheingold or Piels ring a bell?  Location:  41st Street near 35th Avenue, Long Island City, Queens.
Fischer & Co. on 2nd Ave near 100th Street in Spanish Harlem, Manhattan has made a previous appearance in FNY.  However, the part of the building that says PURE PORK PRODUCTS was covered up.  Well, here it is uncovered!
Looks like the paint ran out when they were painting this wall on Eastern Parkway in Ocean Hill, Brooklyn .  Thanks to that, the  sign for the Charter Bus Service can be still be seen.
At St. Anns Ave. & E. 134th Street in Port Morris, The Bronx, this transportation company's sign is there for all to see.
They don't make 'em like this anymore here on Utica Avenue, near St. John's Place in Crown Heights, Brooklyn.
Another dysfunctional neon liquor sign here at Willis Avenue at 136th Street, in Mott Haven, The Bronx.
Time and the sun has made this old school painted sign almost disappear on the west side of Avenue of the Americas near West 8th Street in Manhattan.I can't discern what it says.
Who woulda thunk that there were apartments in the building that was formerly the Alhambra Theater at Adam Clayton Powell, Jr .Blvd. (7th Ave) & West 126th Street in Harlem, Manhattan?  The building was designed by John Baily McElfatrick (1829-1906) and opened  in  1903  with a seating capacity of about 1,600.
The theater as a venue for vaudeville and was converted to a movie theater around 1930. The Alhambra operated as a movie theater until the late 1960s or early 1970s.   Upstairs was a huge ballroom that hosted many African-American entertainers.  The ballroom eventually fell into a state of disrepair.  In 2006, Harlem Lanes opened as bowling alley, but eventually shut down a few years ago.
How many of these are still in use in the NYC subway system?  This manhole cover can be found on the Union Square platform for the L train, near the front end of the Brooklyn bound train. It bears the mark of the Jordan L. Mott Iron Works, which gave its name to Mott Haven in the South Bronx.
Are there any FNY fans that could give some info about Value City Discount store on Flatbush Avenue, near Nostrand Avenue in Flatbush, Brooklyn?
Two for the price of one here on Fulton Street near Somers Street in Ocean Hill, Brooklyn.  The top part of the sign advertises a Loew's theater in Brooklyn.  I did a picture of it a few years ago for FNY.  However the bottom is for Swift & Co.  Swift was started in 1855 by Gustavus Franklin Swift in Chicago. Swift was a formidable company in its heyday. As in other industries such as dairy, brewing, broadcasting, aviation, and banking, consolidation is commonplace. Meatpacking was no different. Swift over the years has been owned by such food giants as Beatrice Foods and Conagra. It was even owned at one time by a private equity firm. Swift is now owned by JBS S.A., a Brazilian company that is the world's largest processor of fresh pork and beef.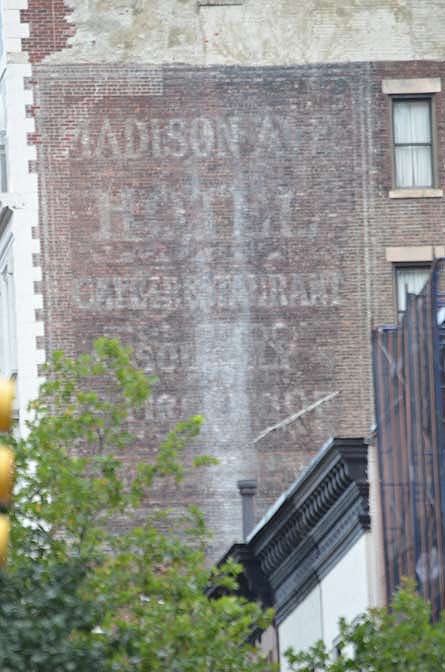 The Madison Avenue Hotel was likely at this location on Madison Avenue in the E. 80s. The shot was taken looking west from Park Avenue.
At the 16-story Madison Avenue Hotel, which was built in 1926 – the same year as the American Stanhope – one of the chic names that will have prominence is New York's Sports Training Institute, which has leased space in the building's basement for a spa. New York Times, 1985
Hey, what happened here?  On the east side of Avenue of the Americas, looking downtown from West 30th Street, this butchered sign can be seen.
Raskin Carpets, 2248 3rd Avenue at East 122nd in Harlem, has a secret at its roofline: it's a former Kresge dime store locale. Kresge was founded by Sebastian Spering Kresge.  It grew to be #2 to F.W. Woolworth & Co.  It was renamed K-mart in the late 1970s.  K-mart has been consolidated with Sears to form Sears Holding Corporation.  Traces of Kresge can also been seen on a building on the east side of Broadway, near Quincy Street in Bed-Stuy, Brooklyn.
3rd Avenue under the Gowanus Expressway at 31st Street in Sunset Park is where this sign is almost hidden. Gunderman serviced household appliances and sold car parts.
Stay tuned for more from Gary soon…
2/15/14