After my annual spring visit to Coney Island and its boardwalk Nathans, I decided to have a look around Brighton Beach and its latticework of laneways between what is now its rapidly decreasing bungalow collection.
Brighton Beach, like neighboring Coney Island and Manhattan Beach, started out as a seaside resort in the 1860s and 1870s, when William Engemann, rich from his career as a war profiteer, acquired land adjoining the ocean and built the Ocean Hotel and bath house, as well as what came to be called the Brighton Beach Race Track (built in 1879 and surviving till 1907). Joining Engemann was Henry Murphy, who named Brighton Beach after the British seaside resort town and built the Hotel Brighton and the New York and Brighton Beach Railroad to bring people to it in 1878. The NY&BB evolved into the more prosaically named B and Q train. Around the turn of the century followed the Brighton Beach Music Hall and New Brighton Theater, the first vaudeville theater featuring acts speaking Yiddish.
As Brighton Beach attracted more immigrants, developers built huge apartment buildings between the newly extended boardwalk and Brighton Beach Avenue in the 1920s and 1930s, several named after socialist leaders such as Mother Jones (above). (There were others, but I couldn't find any.) The apartment names have nothing to do with Brighton Beach's large Russian immigrant population, which arrived after the Soviet Union relaxed its emigration policies in 1979.
After the race track was demolished the empty land was replaced with large bungalow colonies, which were later winterized to be able to be occupied year round. It's in those bungalow colonies between Brighton Beach Avenue, Neptune Avenue, Ocean Parkway and Coney Island Avenue that you will find a plethora of walkways, all of which have names. In fact, all of them have had at least two names during their existence.
Above: Brighton 2nd Lane
They don't show up on printed maps because rendering such short lanes would be impossible, but Google Maps has made it easy to show them. Numbered streets Brighton 1st to 15th run north and south in Brighton Beach, with east-west streets Brighton Beach Avenue, over which the elevated runs, Oceanview Avenue, and Neptune Avenue.
Between Brighton 1st and Brighton 2nd Streets, north of Brighton Beach Avenue, are a number of short lanes, some walkways, some navigable by auto: Brighton 1st Walk, Terrace and Lane, with Brighton 1st Place and Brighton 1st Path connecting them vertically.
The pattern shifts a bit after that, with the bungalow laneways between Oceanview and Neptune Avenues. Between Brighton 3rd and 4th Streets you will find Brighton 3rd Court, Walk and Lane; between Brighton 4th and 5th, you find Brighton 4th Court, Walk and Lane, and so forth, in general, east to Coney Island Avenue. Not every laneway in the pattern names an appearance.
Most of them, as stated, are mere walkways, though a couple are navigable by auto, such as Brighton 2nd Lane above. North of Neptune Avenue, there are a couple of drivable Brighton lanes, though not in as strict a pattern as between Neptune and Oceanview Avenues.
But, that's not the whole story. As you can see on this plate from the 1929 Belcher-Hyde Brooklyn atlas, every street in the area, except the main avenues, has been renamed since then. North-south "East" numbered streets were renamed "Brighton" numbered streets, while the bungalow lanes, which formerly carried actual names such as Pine Court, Cedar, Hemlock, Linden, Spruce, and so on, all received "Brighton" numbered Place, Lane, Court, Terrace, and so on.
Around the same time, in the 1920s and 1930s, the city was busy renaming Queens named streets under an overall numbered street plan, which sometimes led to awkward situations such as neighborhoods where every street is named "60."
While I believe the Queens occurrence was an unhappy coincidence, naming every street and lane in Brighton Beach as "Brighton 1st this and that" and "Brighton 2nd this and that" would seem awfully confusing, and begs the question why the old names weren't kept. As we'll see, there's one place in Brighton Beach that seems to have done that.
Brighton 2nd Walk between Brighton 2nd Place and Brighton 3rd Street continues east as Brighton 3rd Walk between Brighton 3rd and 4th Streets. See how confusing it is to write about them?
The city doesn't provide lighting for these walks, so some locals have done it themselves with makeshift arrangements.
Some of the bungalows in the area, and the higher-rise multifamily dwellings replacing them.
Brighton 3rd Court and its bungalows.
The old and new side-by-side at Brighton 5th Street and Oceanview Avenue. You would think there would be zoning preventing this sort of thing, but no.
301 Oceanview Avenue, at Brighton 3rd. This looks like a parking garage, but it will probably feature professional offices.
I mentioned that there were still a few surviving old Brighton Beach bungalow names. There's a small triangular section of Brighton Beach wedged up along the old NY&BB right-of-way, which now has an elevated train, the B and Q lines, running in its place. The wedge is south of Neptune and east of Coney Island Avenue and has all "Brighton 10th" names: Street, Court, Path, Terrace, and Lane.
Brighton 10th Path
Brighton 10th Court
OK. Take a look at the same area on the 1929 Belcher-Hyde atlas plate. Brighton 10th Street was called Arnold Court, while Brighton 10th Lane was Bell Court; Brighton 10th Terrace, Cole Court; Brighton 10th Path, Day Court; and Brighton 10th Court, Elgin Court. Pretty straightforward, eh?
Take a closer look at both Elgin Court and Brighton 10th Court on the maps. Four more Courts can be seen on both maps: Fay, Gray, Holt, and Ide. They are still there.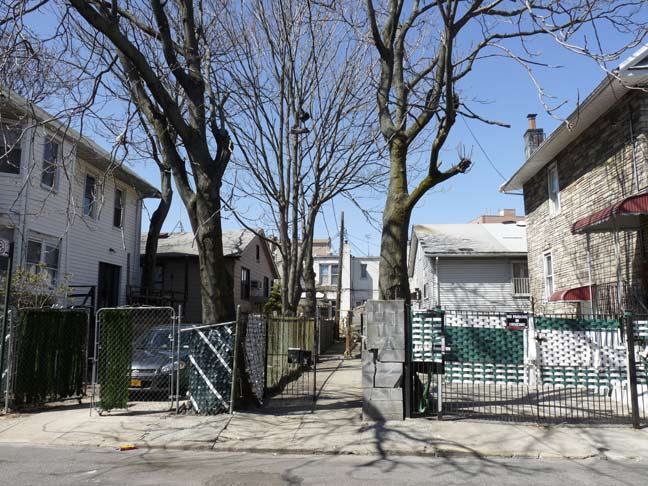 Three of the walkways, Fay, Holt, and Ide Courts, dead-end off Brighton 10th Court, while one, Gray Court, runs all the way to Neptune Avenue. The city doesn't sign them (so I provided them with signs using the old Brooklyn black and white street sign scheme). They were never named, since perhaps there were no more names left for Brighton  10th, though "Alley", "Close" and "Way" weren't used.
A true Brooklyn anomaly.
Elsewhere in Brighton Beach
Naturally, the bungalow lanes weren't the only things I saw in Brighton Beach, here are a few others…
The Ocean Parkway station
This subway station servicing the B and Q lines at Brighton Beach avenue and Ocean Parkway got the concrete arch treatment that subway builders reserved for the most important stops.
This artwork, created in 1996, consists of 128 large reliefs in concrete depicting "the unusual characters who call Coney Island home." It was to be installed by 2000 at Ocean Parkway but structural defects found at the station have delayed its installation. In 2001 some of the pieces were displayed at a gallery show at Long Island University. It was kept in storage at a bus depot in the Bronx until 2009, when the pieces were installed after the completion of the viaduct and station reconstruction. NYC Subway
The reliefs, by Deborah Masters, show Coney Island life, with beach scenes, rides, and a Neptune and mermaid. Station renovations, completed in 2009, renewed the concrete and terra cotta construction used on the BMT and IRT's more important overpasses.
There are a couple of unusual lamppost species remaining in Brighton Beach. Double-mast posts are becoming rarer and rarer still are the pair on Seabreeze Avenue and West 1st and 2nd Streets that are ten feet tall, instead of the usual twelve.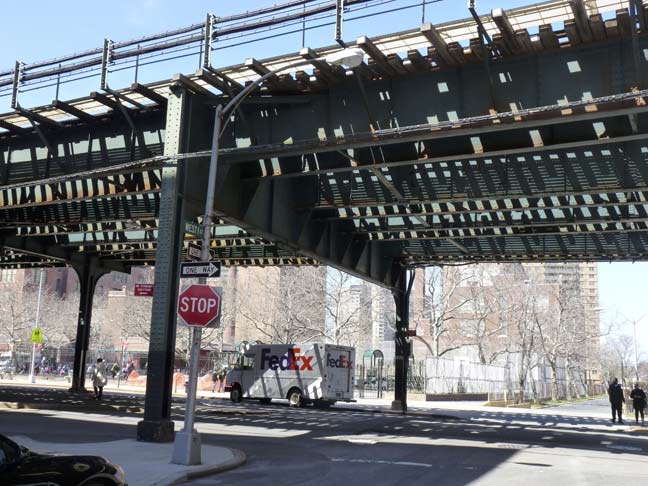 In addition, here's a curved mast post at West 1st and West Brighton Avenue. Curved-masts, which have a thinner support bracket, were introduced in 1950 but only a few dozen remain around town. Trump Village, in the rear, was built by Fred Trump, father of Donald, in 1964.
The Belvedere Apartments, Ocean Parkway and Oceanview Avenue, have an unusual painted sign facing northbound traffic on the Ocean Parkway service road. I wonder if it once showed rates.
Some of the housing stock on western Oceanview Avenue. "Silgen" Apartments is likely a compound word formed from the names of the original builders.
So long, for now, to Brighton Beach as the "shining city" glitters afar.
5/11/14