Astoria…Ditmars Boulevard…the subway roll signs on the R train advertised these outlandish, far-off locales when I boarded it in Bay Ridge when I lived there for the better part of three decades, but I never really thought to trouble this northwest section of Queens, except for the occasional bicycle ride through, until I actually moved to Queens in 1993. Newcomers will find it extraordinarily hospitable, with Astoria Park, and its Olympic-size pool, facing Hell Gate and the landfilled island once known as Wards and Randalls Islands; a bustling Greek neighborhood (but now increasingly upscale) centered along the main shopping drags, 30th Avenue and Broadway; spectacular views of midtown Manhattan and the Triborough and Hell Gate Bridges. In recent years, Astoria and its neighbor, Long Island City, have become increasingly welcoming to major museums such as the Museum of the Moving Image, as well; even the Museum of Modern Art set up shop in nearby Sunnyside from 2002 to 2004.
I'm in Astoria quite a bit. For the last 3 years (since 2011) I have been reduced to occasional freelance work as a 40-hours a week job with benefits is increasingly becoming a dream, and I have been volunteering at the Greater Astoria Historical Society, which partners with this website. In May 2014 I plumbed several Astoria depths I hadn't before, including, amazingly, Astoria Park.
Debarking from the Long Island Rail Road at Woodside I walked north along 61st Street past the Playbill Magazine office, and I bet you didn't know it was here.
Playbill is a venerable institution in the theater community in New York and many other cities; its familiar yellow-and black-bannered magazine is distributed at all Broadway and some Off-Broadway plays, as well as at theater productions in many cities throughout the country. Its current circulation is in excess of four million annually. When distributed on the opening night of a Broadway play, the cover is stamped with a special seal and the date is printed on the title page of the magazine. Theatergoers as well as performers hold onto these keepsakes for years as proof that they were there on opening night for several productions that later went on to be blockbusters with thousands of performances.
Playbill, first printed in 1884, features articles on actors and new plays and musicals, surrounded by a wraparound section that contains listings and biographies of the cast, authors, playwrights and composers, lists of songs and who performs them for musicals, and setting and theater information regarding the play at which it is given out. The daily press run numbers over 80,000 issues.
Not many know that the Playbill printing press is in Woodside, on 61st Street just south of 37th Avenue!
Mitch Waxman got inside, knowing some of the employees, and wrote about it in Brownstoner Queens.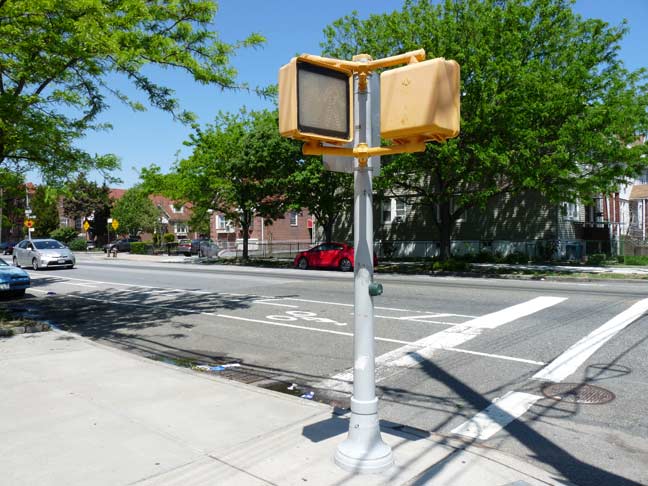 Why highlight this pedestrian control signal pole at 61st Street and 34th Avenue? Clearly, it's one of the older ones. How can you tell? The base is curved and fluted.  Beginning in 1965 the bases were produced in a rectangular shape, so you can tell the older ones by this rule of thumb.
I have to tell you that despite the lack of historic artifacts, this is one of my favorite photos taken in 2014. I liked all the hand-drawn signs, and you would think that after the endless jokes, sign makers would learn different phrasing for the "slow down, there are kids playing here" messages.
Corpus Christi Roman Catholic Church, 32nd Avenue and 60th Street, is housed in a Modernist one-story brick building cornerstoned 1940. It's a forward-looking structure that doesn't appear to be quite that old.
The Latin term "corpus Christi" means "body of Christ." Roman Catholics believe that the bread and wine used in the ceremony of the Mass is transubstantiated into the actual body and blood of Christ.
The corner of 31st Avenue and 57th Street is designated Teddy White Place. White was a Woodside firefighter who perished at the World Trade Center on September 11, 2001. Further tributes are painted on walls underneath the railroad trestle that brings Amtrak trains to the Hell Gate Bridge.
Boulevard Gardens, entered at the NE corner of 54th Street and 31st Avenue, was founded in 1935 as part of the United States' New Deal initiative. T.H. Engelhardt designed Boulevard Gardens in 1933 in concert with renowned landscape architect C.N. Lowrie for the Cord Meyer Development Corporation, and based on a design Engelhardt developed for Forest Hills Gardens. The complex won an award for architectural merit from the Queens Chamber of Commerce in 1936. Ten six-story buildings comprising 960 apartments occupy approximately two square blocks between 30th and 31st Avenues, Hobart Street and 57th Street, with only about one-quarter of the property taken up by brick and mortar; the remaining property is open space and parkland. It was heralded as a "model village" when it first opened.
The Gardens was founded largely by a Federal loan of $3,450,000 from Queens' Public Works Administration. In a modern era when "affordable housing" is being given at least some lip service, it's interesting to note that initial rents at Boulevard Gardens were a mere $11.00 per month per room, with the average family paying between $35 and $50 per month depending on number of rooms in the apartments. An accompanying strip of retail stores were constructed along 31st Avenue in 1935, which remains today. At least at first, Boulevard Gardens management was bound to rent to families not exceeding a certain income threshold, and tenants whose income exceeded five times their annual rental cost were evicted.
Today, Boulevard Gardens is a 960-unit co-op.
Jack Hastings Square at 31st Avenue and 55th Street honors a World War II veteran and longtime NYPD detective who after his retirement tended bar at the nearby Garden Grill, and who was well-regarded by local neighbors in the Gardens and the surrounding neighborhood who was murdered in October 1991.
At 31st Avenue, 54th Street also intersects Hobart Street, a small piece of the colonial-era Bowery Bay Road, which in the colonial era up to the early 20th Century once ran continuously from Calvary Cemetery north to Bowery Bay, an inlet in the East River just west of LaGuardia Airport. The triangle formed by the three is now Strippoli Triangle, named for Pfc. Joseph Patrick Strippoli (1946-1968) a local soldier killed by a land mine near the Cambodian border with Vietnam.
In NYC, the appellation "square" is rarely applied to simple two-street intersections, but makes an exception here at 31st Avenue and 48th Street, as William Cullen Bryant High School is across the street.
The namesake of Manhattan's Bryant Park was poet, editor and civic reformer William Cullen Bryant (1794-1878). Famous since his teenage years for poems like "Thanatopsis" and the Civil War elegy "My Autumn Walk" he was for over 50 years the editor of The New-York Evening Post, which had been founded by Alexander Hamilton in 1801.
City Light Church, 31st Avenue and 47th, meets in the former St. Andrew's Church building. City Light has a website, but as with many churches, it's maddeningly nonforthcoming about its history, or the history of its church building; many churches would rather you concentrate on worship rather than architecture.
I noticed the orange signage on the prewar brick apartment building at 31st and 42nd Street. It's virtually the same 'saffron' color that Christo installed on his Central Park Gates project in the winter of 2005. Striking stuff for a delicatessen.
At 31st Avenue and 38th Street there's another pre-war apartment building with a little more ornamentation than you'd expect, especially the presence of gnomish figures wielding quill pens. These sort of whimsical figures were common on buildings before the 20th Century entered a more jaded and cynical state of collective mind.
FNY has always noticed gnomes of this sort.
37-09 31st Avenue began its existence as a Ukrainian church in the early 20th Century. Daytonian in Manhattan or Francis Morrone could tell me what architectural style is employed here, but I'll just say it looks like a catering hall, which is pretty much what it eventually became. Since 1994 it has been the home of Casa Galicia, an organization promoting Spanish and Galician culture. It's a private club (even the website is locked!) but the restaurant, which features Spanish fare, is open to the public and has been Yelp-reviewed by folks who have talked their way in or been invited in by members.
Trinity Evangelical Lutheran Church, 31st Avenue and 37th Street,  was organized in 1890 as a society for German Lutherans who lived in the village of Astoria, Long Island. Originally affiliated with the Lutheran Church – Missouri Synod, the congregation is now part of the Evangelical Lutheran Church of America (ELCA).
The first edifice for Trinity Lutheran was a wooden frame Gothic church that had been built by Jacob Mueller of Astoria. The cornerstone was laid on May 4, 1890, and the completed church, which contained a $1600 organ, was dedicated on September 8th the same year. Mr. Mueller offered the entire property of five lots and the building to the new congregation for $10,000, although he had spent $17,000.
By the end of World War I, Trinity had outgrown its frame building and plans were made for a new church that would be erected on the corner of 37th Street and 31st Avenue. On October 17, 1926, the cornerstone for the $200,000 church was laid by the Rev. Frederick H. Lindemann, pastor. Designed in the English Gothic style, the new granite edifice was opened for worship in November 1927. NYC Chapter American Guild of Organists, which is indispensable for church information. The church still maintains its original Skinner Company organ installed in 1926 and rebuilt in 1967.
Scuttling around the corner onto 37th Street, I noticed this somewhat tacky remake of an older building. Of note, though, is the word "Aristotelion" rendered with Greek and Roman characters above the entrances, as well as a representation of the philosopher between them.
Continuing west on 31st Avenue, which becomes pleasantly tree-lined, you find many examples of early 20th Century architects' techniques constructing multifamily dwellings. While today they're uniformly bland back in "the day" they were intricately ornamented especially at the rooflines. This sample is on 35th Street.
The old blackletter above the entrance proclaims it the Wohl Apartments.
Most liquor stores like this one at 34-16 31st Avenue leave no doubt about what they are on the signage. No store anem ios even necessary, just some huge letters in Cooper Black.
Astoria is known not only for its Greek immigrants, but those from other Balkan states. The words at left say, in Bosnian, "here you may eat well." A burek is a baked pastry with various fillings popular in Balkan and Middle Eastern countries.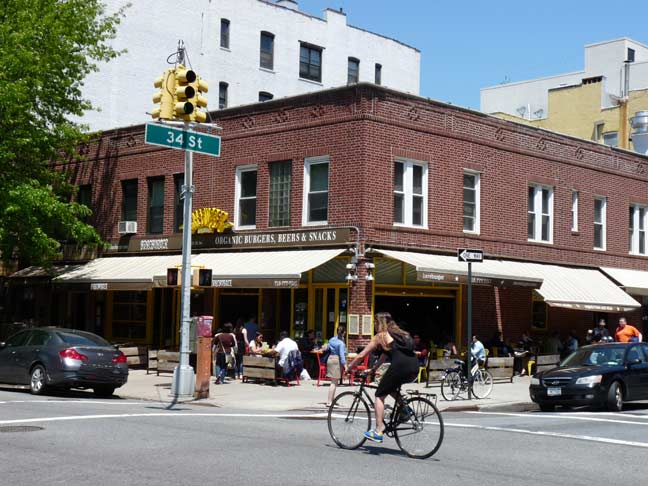 The popular Bareburger franchise originated in Astoria in 2009 when Euripides Pelekanos opened a burger restaurant in which all the meat and other comestibles use no artificial preservatives or additives. The restaurant doesn't restrict itself to beef for the burgers, using other meats such as elk, ostrich and boar. The franchise now comprises 20 restaurants (in 2014) and has locations up and down the east coast.
Turning north on 34th Street, I found an apartment building named the Woolsey. In Astoria, I usually expect an unusually named apartment to be named after a former street name, as Astoria received the overall Queens street numbering system in the 1920s.
I was partly right here. 34th Street's former name, seen on this 1909 map, was Briell, but 24th Avenue, a few blocks to the north, was formerly known as Woolsey Avenue. A nearby post office at 22-38 31st Street is also called the Woolsey PO.
14th Street in Astoria Village was also called Woolsey Street prior to the 1920s.
FNY Street Necrology — Astoria
30th Avenue is the true restaurant row in Astoria. Restaurants such as Ovelia on 30th Avenue and 34th Streets are overflowing with business, especially in the warm months. Officially a Greek restaurant, like many NYC spots, it specializes in brunch.
Picking up  a few blocks away on 29th Avenue between 29th and 31st Streets, where we find the Bohemian Hall beer garden. I have been here several times, though oddly, not in the past ten years.
For many Astoria denizens, lazy summer evenings mean downing pitcher after pitcher of pilsner, seated on wooden picnic tables in the concrete beer garden of Bohemian Hall to an oompah soundtrack. (Any embarrassing behavior can't be viewed past the high brick walls!) The 24th Avenue institution was opened by the Bohemian Citizens' Benevolent Society in 1910 and its garden by 1919, when most of Astoria was still meadow and farmland.
The menu has to be carefully scrutinized, as the large print is in Czech and the small print in English. The beer garden had been the last of a once-numerous New York City breed, but new beer gardens have sprung up over the past decade in hotspots like Williamsburg and Bushwick. This remains the original and best.
Turning north again on Crescent Street I passed under the Hell Gate Bridge approach used by Amtrak trains to get to Westchester County and New England. The tracks are supported on huge masonry and steel arches that allow local streets to pass through. Here at Crescent Street the tracks have attained sufficient height to pass over the street with plenty of room to spare and the roadbed is supported by a series of even taller consecutive arches.
St. John's Prep is a Catholic high school located on Crescent Street between Ditmars Boulevard and 21st Avenue. It was named for St. John the Baptist, a central figure in the Gospels, a preacher who foretold of the coming of Christ and in the Gospel of St. Mark was beheaded at the behest of Salome (rendered in the gospel as Herodias), a daughter of King Herod.
The school had its origins in 1870 as a prep school for St. John's University, but today there is only a marginal affiliation between the two schools. Located in Bedford-Stuyvesant, Brooklyn, the original prep school was all-boys and closed in 1972. However, later on in the 1970s Mater Christi High School (constructed on Crescent Street in 1961) merged its boys' and girls' divisions and took over the name St. John's Prep in 1981.
Ay, yi. I almost never make a Gallery this large, but I was entranced by the colorful plaques mounted on the side of one of the school buildings. I had to shoot through the chain link fence to get them. There are the usual ecclesiastic symbols, including a crowned cross, the chi-rho (which is taken from the first two letters of "Christ" in classical Greek) with alpha and omega (Christ referred to himself as the Alpha and Omega, the first and last letters of the Greek alphabet in Revelations, known to Catholics as The Apocalypse). There are symbols of the arts, math and science departments, the boroughs of Brooklyn and Queens, the dove representing the Holy Ghost and tongues of flame symbolizing Pentecost, and much more. The plaques were likely produced by St. John's Prep students.
In Part Two I will invade Astoria Park and beyond.
11/30/14