Believe me, this page has been a long time coming. It's not that it's been heavily researched and photographed; no more so than most FNY pages. These photos were taken in June 2009, just a few weeks after my heart surgery to replace a valve on May 20th. They have been in the archives since then and I just didn't get around to using them, but they were shot as part of a three-part walk I did up Brooklyn's longest (non-expressway) road, Bedford Avenue, which beats out Flatbush Avenue by a fraction of a mile. It was my first lengthy walk during my recovery, which took about a year and a half.
Part 1, finished in June 2007, went north on Bedford Avenue from Emmons Avenue in Sheepshead Bay to the landmarked Sears department store on Beverly Road in Flatbush. Part 2, completed August 2009, picked up there and went north as far as Atlantic Avenue.
When I look at these pages, I amaze myself at how  much I used to rattle on so much. In recent years, due to better editing. limited time (or maybe a shorter attention span perhaps?) I don't go on nearly as much, but when I have a lot of info to get through, the prose gets a bit denser. I also make more liberal use of sources, as in quoting them verbatim with a linked credit.
This stretch of Bedford Avenue takes us through the neighborhood for which it is named, Bedford Corners, a small crossroads village named either for England's Duke of Bedford or Bedfordshire, though other interpreters say it is a transliteration of the Dutch Bestevaar, "where old people meet." Decades ago the neighborhoods of Bedford Corners and Stuyvesant Heights were combined into the larger Bedford-Stuyvesant. (The trend these days is to atomize or subdivide neighborhoods into smaller sections with their own names.)
In Williamsburg, Bedford Avenue assumes the route of former village and city's Fourth Street; some years after the city of Brooklyn annexed the city of Williamsburg in 1855, north-south numbered streets were given names, some of them northern extensions of preëxisting streets like Kent and Bedford Avenues.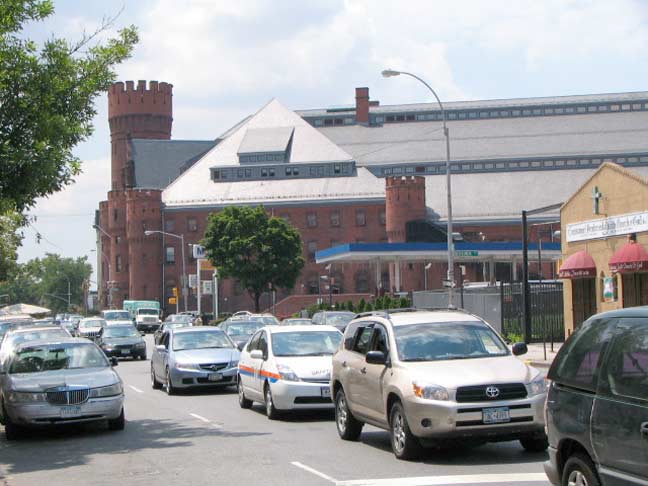 So, where was I? Walking north on Bedford from Atlantic Avenue and the 23rd Regiment Armory.
It was built from 1891-1895 by the firm Fowler and Hough with an assist from Isaac Perry. It has perhaps the grandest corner tower in Brooklyn, and one of the tallest at 136 feet in height.
The 23rd Regiment was established at the outbreak of the Civil War and was housed in the old Clermont Avenue armory in Fort Greene from 1873-1895, when it moved into this vast new building. Nancy Todd, author of New York's Historic Armories: an Illustrated History reports: The once lavish interior appointments, including the WPA-era officers' lounge, have been nearly lost due to deterioration, vandalism and alteration.
I really should devote an entire page to this structure.
There are many storefront churches along the length of Bedford Avenue with hand lettered signs. This one at Herkimer Street is called the Blazing Star Lodge, as well as other names. The moniker probably has something to do with the star that the Magi followed to find the Christ child in the Gospel stories, but I am also reminded of the "Blazing Star" names in Staten Island; in the colonial era, there was a tavern and a ferry by that name in the southwest section of the island, and today an old cemetery in Rossville overlooking the so-called Witte "ship graveyard" also bears the name.
In 1660, Hendrick Janszen (ca. 1630-?) left his home village, Bredevoort (meaning "broad ford"'), in the region of Guelderland, the Netherlands, with his wife and children, and sailed for New Netherland. In keeping with the custom of being identified by one's town of origin, he acquired the surname van Brevoort, or Brevoort. Nearly every Brevoort living in the United States is descended from him.
Hendrick's son Jan Hendrick Brevoort (1644-1714) bought property in Harlem, where he served as overseer of the town in 1678 and 1679. At the beginning of the 18th century, Jan Hendrick left Harlem for lower Manhattan. Upon his death, he bequeathed equal shares of his farm in the Bowery to his children. His son Hendrick (1670-1718) came to own most of the property, which in turn went to his son, also named Hendrick (1711-1771), who expanded the family holdings to nearly 80 acres. The property stretched from the Bowery to Sixth Avenue and from what is now Ninth Street to Eighteenth Street. When the Brevoort lands were broken up and sold, they yielded a fortune to the family, which was by then an established social force, headed by Henry Brevoort (1747-1841). NYC Parks
It was Hendrick, or Henry, Brevoort whose Bowery farm stood in the way of the city's proposed northern extension of Broadway in the early 18th Century, so the road was turned northwest at 10th Street at the present Grace Church.
In Brooklyn, there's the short Brevoort Place, Brevoort Playground, Brevoort Houses and the former Brevoort Savings Bank.
Looking east on Fulton Street from its intersection with Bedford the Slave Theater is in the center. It was built as the Regent Theater in 1913, presenting vaudeville and motion pictures, among Brooklyn's first to show movies directed by African Americans. In 1984 it was purchased by Judge John Phillips and converted into the Slave Theater. In its early years it was home to political rallies sponsored by Al Sharpton's Action Network. The Slave was shuttered in 1998, though there was a brief, unsuccessful attempt at reopening it in 2012 as the New Brooklyn Theatre. Fulton-Halsey Development Corporation then purchased the property with the intention of building luxury condos, while retaining a theater. We shall see…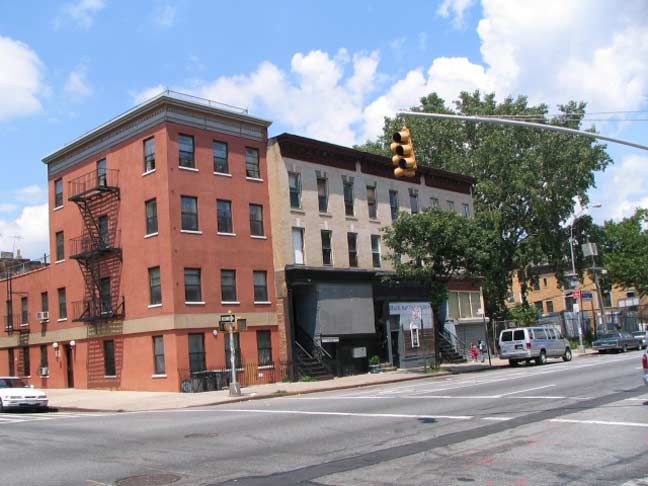 Former Grace Baptist Church, midblock between Jefferson and Putnam Avenues.
Piquantly named joint at Putnam. This has since become the Ink Well Jazz & Comedy Club. The corner is named for local artist Thomas Feelings.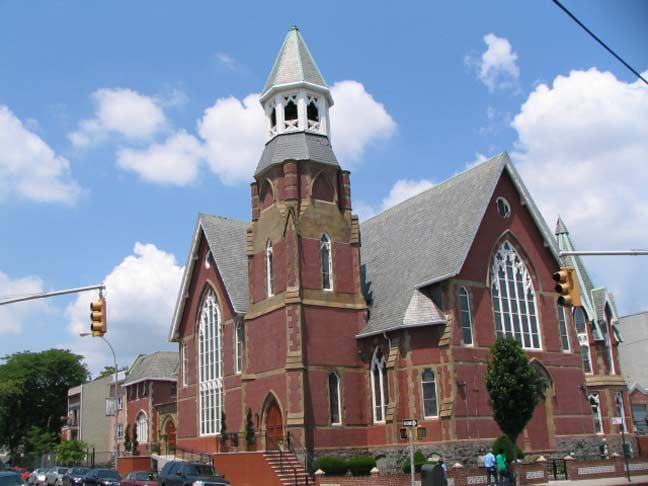 The Miller  Memorial Church of the Nazarene at Bedford and Madison Street, a brick and sandstone church constructed in 1877. A Masonic group purchased a previous church on site, the East Reformed Church, and constructed this building.
This addition, with a  lot of dormers fitted into a small space, was added in 1888. The church has since become the Church of the Nazarene and now, the somewhat generic "Community Worship Center."
According to the Gospels, Nazareth was Jesus' childhood home. Today, the town in north Israel is called its "Arab capital" with a predominantly Arabic population that is 99% Muslim or Christian.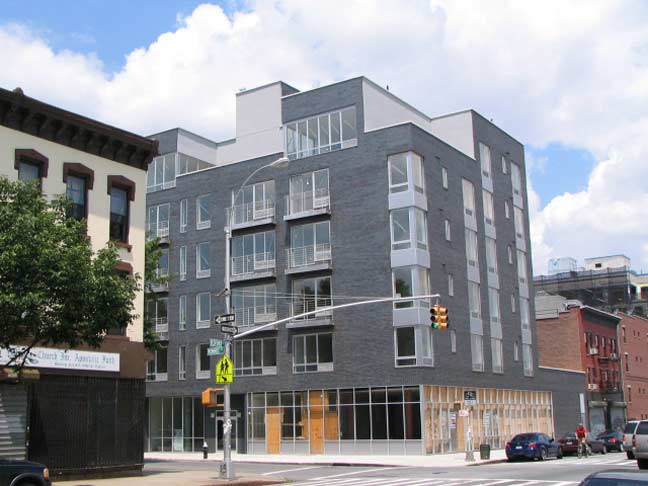 Modern apartment house construction has come to Bedford-Stuyvesant here on Bedford and Monroe Street. The ground floor is currently [12/2014] home to a supermarket.
A.J. Waldron Real Estate (1113 Bedford) painted ad was recently revealed by an adjacent teardown. A listing for Waldron appears in this 1905 Real Estate Record and Builders' Guide though I'm not sure the ad is quite that old. The building in the foreground had been demolished by 2013.
However, unless the building at Bedford and Monroe Street has been demolished or renovated, this ancient painted ad can still be seen. I can only make out the words "never used."
A look at Lexington Avenue. While Manhattan's Lexington may be more famous, Brooklyn's Lexington Avenue, between 1885 and 1950, was completely overshadowed by the Lexington Avenue El, which connected the Myrtle (which it predated) and Broadway els before being deemed superfluous and demolished. Today there is virtually no reminder of its former presence. By 1950, the Myrtle was still in operation, though the Fulton and Lexington els had been demolished. Relatively new subway lines, the A and GG, had been built in the 1930s.
A grouping of painted ads at Greene and Bedford Avenues. These seems to be for hardware and automotive concerns.
This lengthy sign for a storefront church stretches across three doorways. The sign seems to be imitative of the Americana font.
A plumbing and heating company had a painted ad on the same building. I can't make out the name of the company, though. Monroe?
Passing by Bedford Avenue and Clifton Place in 2009, this new structure stood out starkly.
Since then, it's been completed and a more conventional brick structure has been built on the corner.
Also at Clifton Place, Rand Liquor, "Brooklyn's biggest discounter since 1936," has since removed the illuminated liquor bottles, but put back the "Rand."
Street art of a different type. The three words, rendered in different styles, have appeared not only in the NYC area but also in New Orleans, LA, Portland, OR and in the California Bay Area. The artist, I have seen, is male, but that's all I know.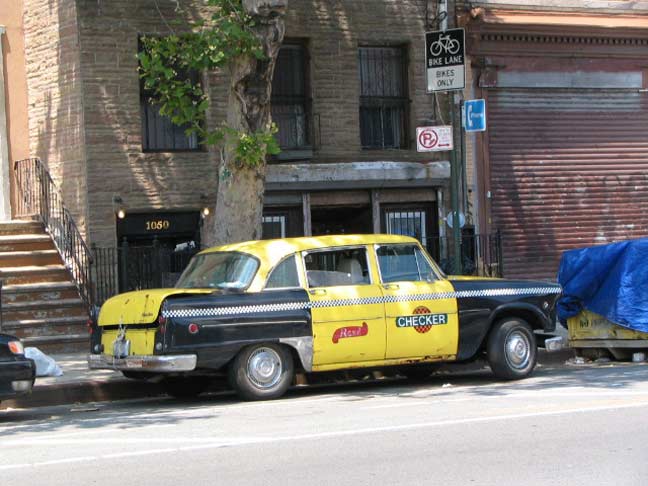 Spotted a vintage Checker between Clifton Place and Lafayette Avenue. Though production of Checker cabs ended in the 1980s, the Checker Motors Corporation continued to make auto parts until 2010.
At Lafayette and Bedford is my favorite KFC in the city, design-wise, solid red, with white trim. It could have been a brick building given a new cladding. The subway entrance is for the IND G train Bedford-Nostrand stop.
In recent years, the KFC logo has been redesigned to make founder Harlan Sanders look a bit younger.
This abandoned church at 1006 Bedford Avenue and Kosciuszko Street has been available for redevelopment for some time. It was constructed in 1887 as the first German Evangelical Lutheran Church of St. Peter.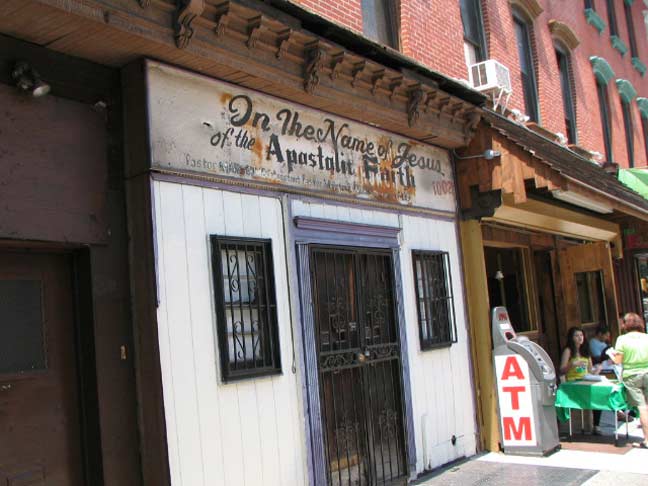 The storefront church next door has since had its awning sign removed to reveal stained glass panes underneath. The Colador cafe next door seemed to be doing well at least in 2009.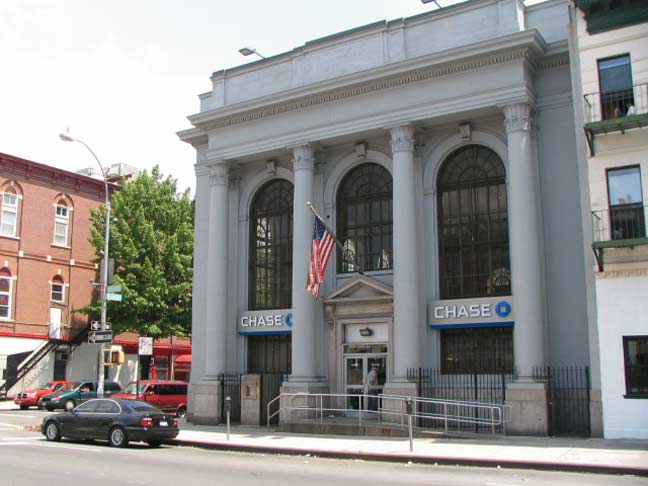 Corinthian-columned Chase bank at Bedford and DeKalb Avenue reveals nothing about its original institution.
Trinity Apostolic Church, across DeKalb, has since added red window shades and a red covering on its fire escape.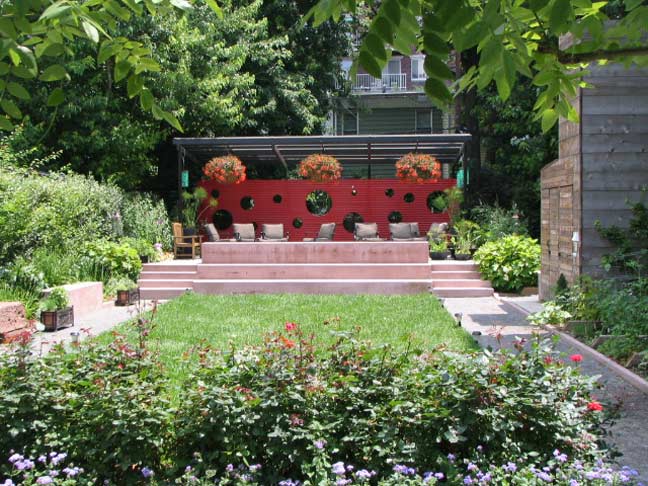 Target Community Garden, 931 Bedford between DeKalb Avenue and Pulaski Street.
In 2007, the garden was beautifully restored with generous support from Target. Nationally acclaimed garden designer and horticulturist Sean Conway partnered with New York Restoration Project (NYRP), local community groups – including the Bedford Garden Group and Block Association – and neighborhood residents to create the garden's stylish and innovative design.
As a result of these combined efforts, the Target Community Garden – Brooklyn bursts with flowering bulbs and fruit trees each spring and features vegetable and ornamental planting beds. The garden's most prominent feature – a paved patio with comfortable seating, protective awning and steel arbor, all located at the back of the garden – is designed to function both as a gathering and performance space and is reached by bleacher-style steps constructed from stucco. Other garden highlights include crushed-gravel paths and a rainwater collection system with a wooden water tower. In addition, a recycled brownstone slab on-site has been used to create a bench inspired by the neighborhood's historic architecture. In the front, four gates and two flowering pagoda trees provide a beautiful and open welcome to neighborhood residents and intrigued visitors. New York Restoration Project
This ancient motorcycle dealer/garage and repair shop at Bedford and Willoughby Avenues has two sets of signage — the blue and white for the garage is the older, while the cruder hand-rendered sign for the motorcycles was placed on top of it.
North of Willoughby Bedford Avenue's aspect changes considerably, as we begin to get near southern Williamsburg, for decades a bastion of Orthodox and Hasidic Jews. You can love the religion, but despise the architecture, and in these blocks you will find some of NYC's ugliest new residential architecture. Because of the "bad" neighborhoods to the south, these bland brick structures were built with no ornamentation or esthetic flourishes whatever, and bars cover the windows.
To protect yourself from criminals not yet in jail, you must construct prisons of your own to keep them out.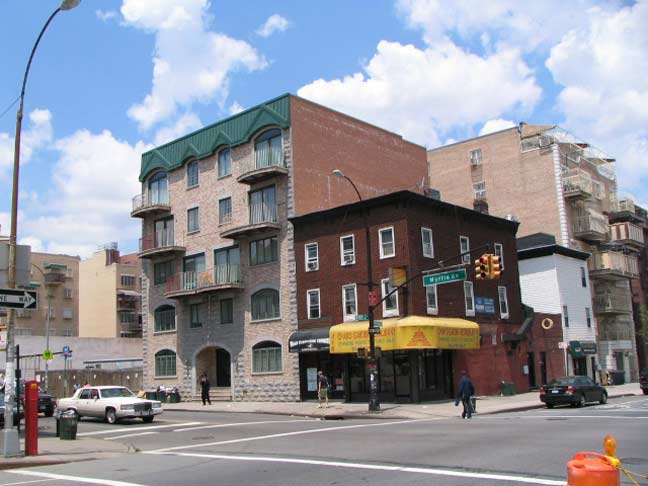 Some more of the same at Myrtle Avenue, which used to have an elevated all its own.
The Many Faces of Myrtle: a walk the entire length of the avenue from downtown Brooklyn to Richmond Hill
Withering Myrtle: The Last Days of the Myrtle Avenue El
Former Blocker Pharmacy, Myrtle and Bedford. No remnant of the drugstore remains, as the space has been converted to the Winecave Liquor Store.
Note that Department of Transportation One Way signs now come in a deluxe extra large size, but I don't know under what circumstances they are used.
Moving up a block at Park Avenue we encounter a large structure on the corner, likely a catering hall. Can anyone translate the Hebrew inscription over the door? Let me have it in Comments.
We have now passed two avenues possibly named for Manhattan counterparts, Lexington and Park. We also crossed Madison Street.
More structures in the Flushing and Bedford Avenue areas. Sorry folks, I can't see anything esthetically pleasing at all in these buildings.
Speaking of Flushing Avenue, here's a look down the Long Hard Road: walking Flushing Avenue from Maspeth to downtown Brooklyn.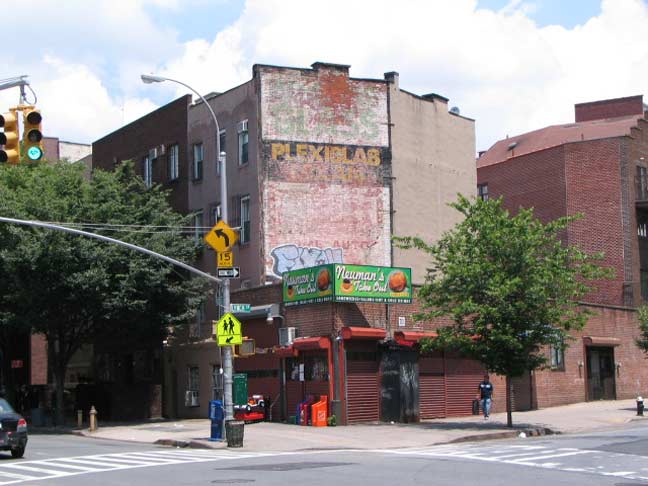 Entering Williamsburg proper once north of Wallabout Street, Bedford Avenue takes a turn to the northwest as it assumes the old 4th Street route. A painted ad with one intelligible word, "Plexiglas," can be seen at Lynch Street. The place on the corner is still a coffee shop, but it's been given a complete makeover and the "Newman's Take Out" sign is now gone.
Skipping a head a few blocks, at Hewes Street is  what looks like a relatively new synagogue. Help me out again with a translation; then I may be able to provide some detail.
Also at Hewes, the apartment building on the NE corner has a rust-encrusted sign by the entrance. I wonder if P. Krausz, real estate broker, is still there.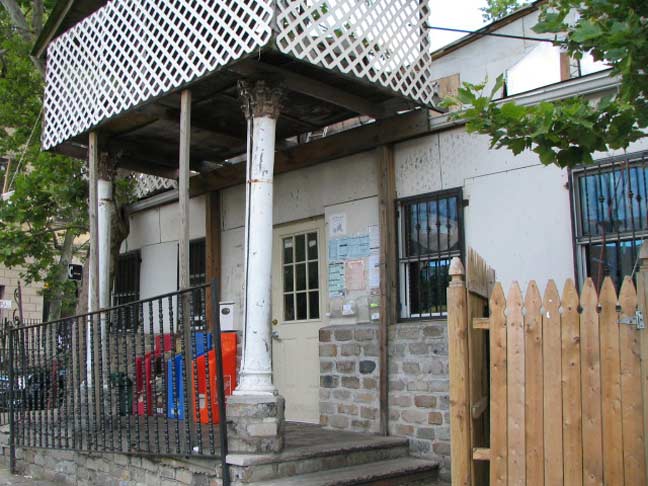 I've always been intrigued by the ramshackle building with a stone foundation found in the triangle formed by Bedford Avenue, Williamsburg Street East, and Keap Street. A sign prolaims it as a restaurant, though the pediment and Corinthan columns shown here have been removed.
A number of streets in the Williamsburg area are named for signers of the Declaration of Independence, but there never was a signer named Keap. The street was originally going to be McKean, for Thomas McKean of Pennsylvania, but a long-ago administrator or mapmaker mistook a handwritten transcription as being "Thomas M. Keap", and misnamed the street, which has never been renamed.
On the SE corner of Bedford Avenue and Rodney Street is the former Hawley Mansion, built in 1875 in the French Second Empire style popular at the time. It later became the Hanover Club and is now the Bais Yaakov, or House of Jacob of Adas Yereim school for girls.
The NE corner building at Bedford Avenue and Rodney Street is one of Williamsburg's finest residential units. The AIA Guide to NYC calls the 1890 building "an imposing terra cotta castle."
Looking northwest on Bedford avenue and Ross Street toward the Independence Towers, a six-building housing project completed in 1965.
Built in 1896 at Taylor Street and Bedford Avenue as the Frederick Mollenhauer mansion, this 4-story stolid Italian palazzolater became the Congress Club and is now a yeshiva.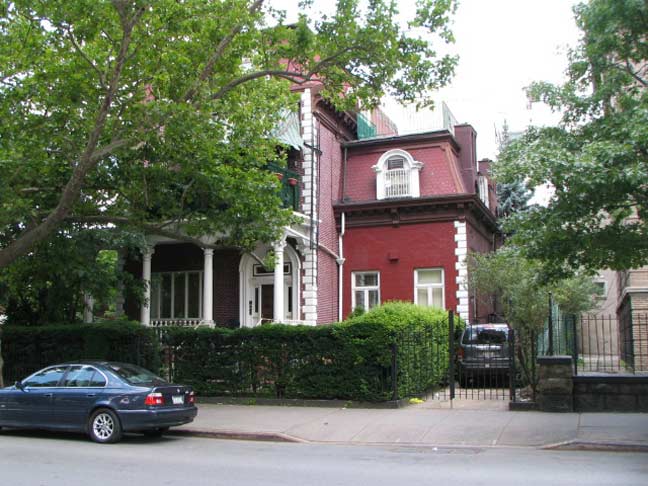 Next door is another handsome Second Empire-style dwelling, #499 Bedford, known as the Marvin Cross House after a former Brooklyn parks commissioner who resided there when it was new.
At Division Avenue, Bedford Avenue takes yet another turn, this time to the northeast, forming a traffic island called Cohn Triangle.
This park honors legislator and judge Harold W. Cohn (1913-1974). At age 31, Cohn saw active duty during World War II throughout Europe. He helped push back the Nazi counter-offensive at the Battle of the Bulge (December 16, 1944-January 31, 1945) as a member of the Fighting 69th Rainbow Division. After the war, he became an active member of the Williamsburg and Greenpoint communities, serving as a New York State assemblyman (1959-1968), chairman of the Motor Vehicles Committee, and a New York civil court judge. NYC Parks
While the triangle is plain grass these days, it's been home to some hardware over the years. In 1922 the site was named  "Joseph A. Wynn Circle" after a local WWI hero who died in action. A bronze plaque and a captured German cannon were installed on the site, but they were appropriated for the World War II effort and melted down for ordinance.
The triangle has also seen two fountains: a marble fountain installed in 1859 at the occasion of the opening of Ridgewood Reservoir, replaced by an iron fountain in 1878. Both have long vanished.
I couldn't pass Division Avenue by without mentioning this section of Williamsburg's collection of nonstandard NYC lampposts. They have always been painted blue since their mid-1970s installation and seem to be one of the first efforts on behalf of the DOT to reintroduce 'classic' lamppost stylings. While most of the tall lamps now carry sodium-vapor bucket lights, they were originally fitted with spherical "new gumball" fixtures. They are now about 40 years old, but most are still amazingly still in place.
The former Kings County Savings Bank built in 1868 at Broadway and Bedford Avenue has become one of the focal points for Williamsburg's burgeoning art community, but it's a uniquely  handsome structure in its own right. Architectural critic Francis Morrone has called it "probably the finest Second-Empire-style building in Brooklyn." Second-Empire architecture, so called because it arose during the "second empire" of Louis Napoleon in France, featured sloped mansard roofs, the better to admit light onto the grand boulevards being built in the city by Baron Georges-Eugene Haussmann in the 1850s and 1860s; mansard roofs had been invented in the 17th Century by François Mansart. The Art and Historical Center features amazing detail such as an Indian wigwam on its pediment, and demonic masklike carven figures. Look for "KC Savings Bank" on the mansard roof.
I wandered into the gallery to see the bank's well-preserved wood cabinets and clocks. There was a flea market that day — some old VHS tapes and  a stuffed fox were among the offerings. Take that Brooklyn Flea!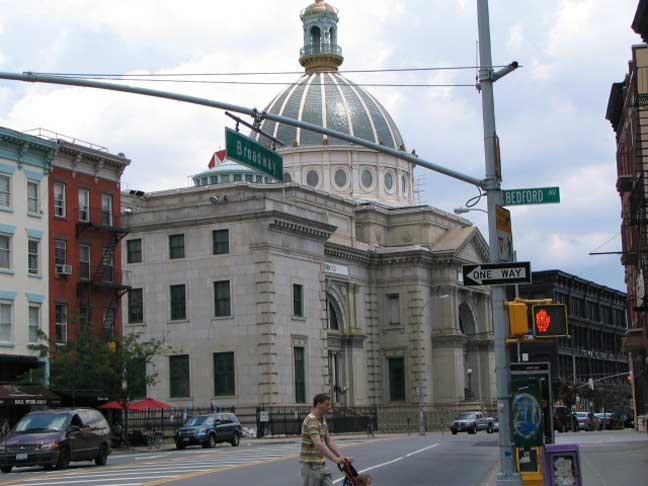 Visible for dozens of blocks away at Broadway and Driggs is the dome of the Williamsburg Savings Bank, built between 1870 and 1875 by George Post. Other than the Capitol dome in Washington, and the gilded dome of the Charles Bulfinch-designed State House in Boston, this may be the most beautiful domed structure in the USA. The building in the last few years has been converted into an event space called William B. Seymour's, a name made up from the bank's initials.
This stretch of Brooklyn's Broadway, the only few blocks of the lengthy avenue not covered by an elevated train, sees a few cast-iron front buildings reminiscent of those in Tribeca, Manhattan. The largest one is a former warehouse for Smith-Grey Furniture at #138 Broadway that was one of Williamsburg's first conversions to residential apartments. In 2012 a one-bedroom cost $675,000 and things have probably gotten more expensive since. From here it's a bit of a hike to the nearest elevated station at Marcy Avenue.
A look west on South 6th Street toward the Williamsburg Bridge, the second major bridge to cross the East River.
When the bridge was reconstructed about 20 years ago, new bicycle paths were built on either side of the roadway/subway tracks (that carry the Broadway el/J and M train). The south path empties out here on to Bedford Avenue. Despite what the sign says, few bikes really yield to pedestrians.
Contrary to what many people believe, not all of Williamsburg has become yuppiefied or hipsterized. There is still a large Hispanic neighborhood concentrated in the "south" numbered streets north of the Williamsburg Bridge and south of Metropolitan Avenue.
Change, however, is a constant. This pizzeria at South 4th had by 2014 become a bagel shop.
The previous photo showed an apartment building that dated to around 1915, if that late. At South 3rd, we see the new face of multifamily construction, with open air balconies and substantially more light allowed in.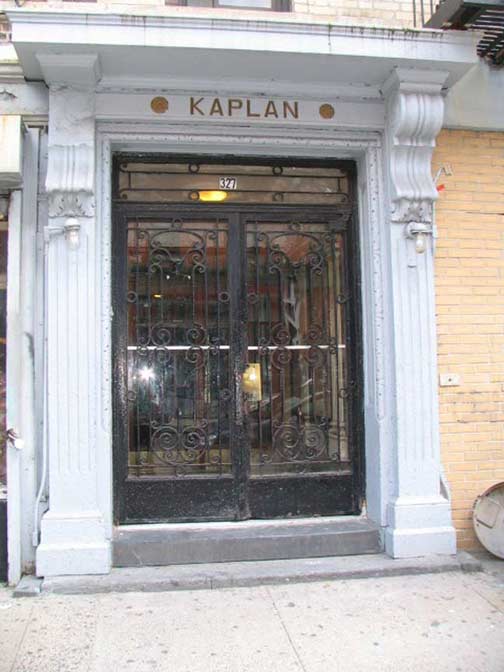 Many apartment buildings have titles or names. Many are patriotic or named for a neighborhood landmark. Some, like the Donac in Chelsea, Manhattan, are abbreviations: Don Alonzo Cushman built it. In this case, it's likely that the developer put his name on it.
The kung fu palace in the same building also seems to have vanished since 2009.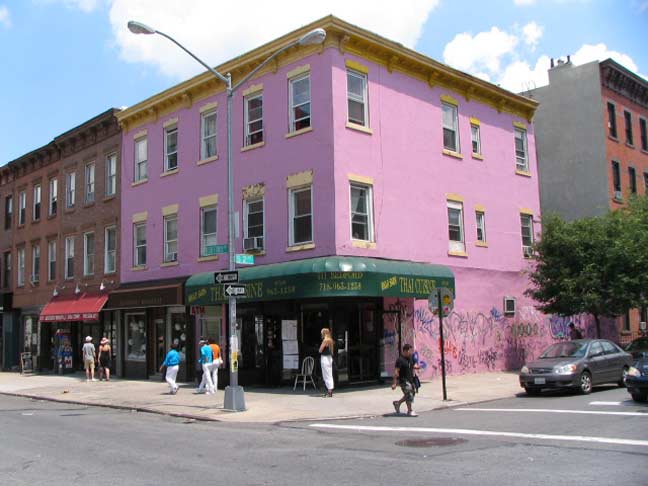 At South 2nd, when the pink paint job was new. It has cracked and peeled since.
There are more pink houses around than you think. In Park Slope an elderly homeowner was painted bright pink (and repainted) for many years until he finally sold it and the new owner matched the surrounding brownstone color, and the neighbors sighed with relief. It recently was sold again for several pretty pennies.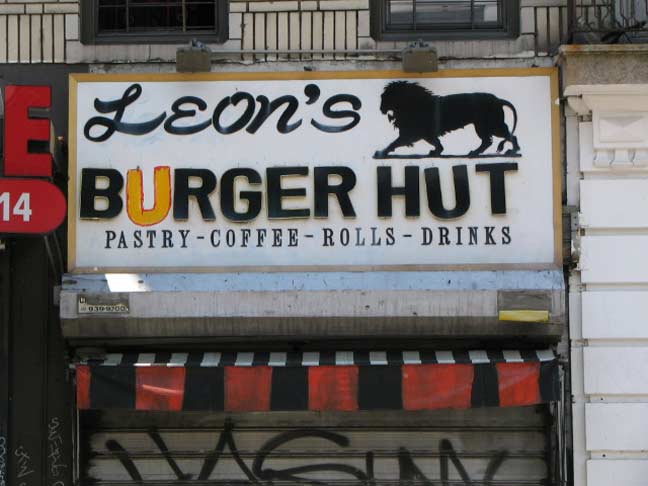 The Bedford burger wars continue as Leon's Burger Hut (between South 1st and Grand Street) competes with Dumont Burger a block away (the photo of which refused to download here).
"…Leon's is a burger hut owned by a wizened old Lion of Judah who is excellent at burger craftsmanship, but not so hot at the whole regular-business-hours or sometimes-ANY-business-hours game." Free Williamsburg
Looks like Dumont emerged victorious, since Yelp reports that Leon's has closed. Nice sign is still there though.
Red Stripe Beer painted ad at Bedford and Grand. These ads are pretty ephemeral and are painted over for something else every month or so.
Paper-billed ad for Ray-Ban sunglasses, same intersection.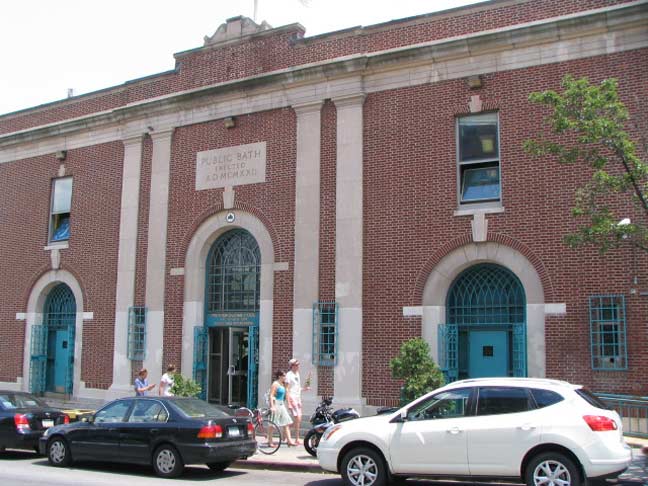 One of New York City's few remaining public swimming pools can be found in a former bathhouse at Bedford and Metropolitan Avenues. Though bathhouse structures are still scattered around town, most were long ago given over to other purposes.
Metropolitan Pool, in the Williamsburgh section of Brooklyn, was built under the auspices of Borough President Edward Riegelmann in 1922. The pool and bath, constructed at an original cost of $148,272, were designed by the noted architect Henry Bacon (1866-1924). It was the eighth of nine municipal bath houses erected by the Department of Public Works, in order to promote public health, hygiene and recreation. In 1922 annual use of the city's bathhouses was a remarkable 13 million visits. Overseeing Brooklyn municipal construction were Joseph A. Guider, Commissioner of Public Works and James J. Byrne, Superintendent of Public Buildings, each of whom later served as Borough President.
In 1935 the structure was turned over to the Department of Parks to operate as a recreational facility. At that time the pool had lockers for 248 males and 37 females. Average monthly attendance in the mid-1930s was 20,620 and shower usage was 7,675 a month. The building underwent repairs in 1936 and again in 1977, prior to the massive reconstruction completed in 1997.  NYC Parks
Architect Henry Bacon also designed the Lincoln Memorial in Washington, but perhaps his most notable achievement was the early 1910 design for NYC's Type B park lamps, which have been installed continuously since then — NYC's longest-surviving lamppost design.
In Coney Island, the boardwalk is named for Riegelmann, and an avenue is named for Guider.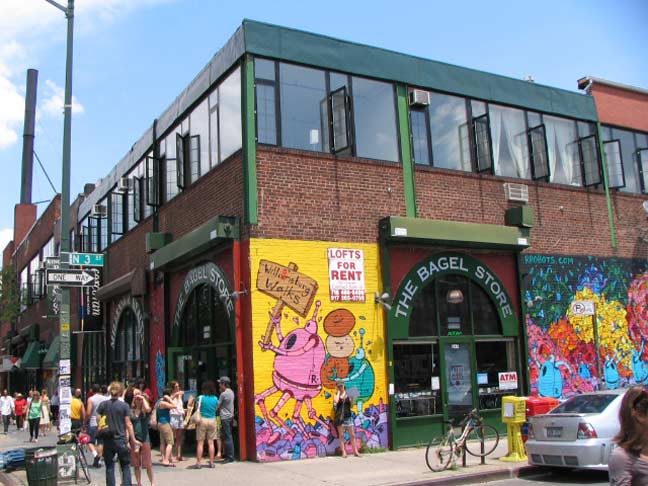 North of Metropolitan Avenue is where Williamsburg become "Williamsburg!" with local businesses and tourist traps. At the Dawn of Forgottening in 1999 I'd come through here and it was dead as a doornail, as it was when I was in high school and we'd pile into the van and motor through here to long-gone bowling alley on Humboldt Street, where our league met.
I've mentioned this "artisanal," or homemade, cheese shop before, since I remember when it was the ancient Downer's Pharmacy with an old Ex-Lax ad on the window. This also used to be the very strange corner of 4th and North 4th. As we have seen, Bedford Avenue follows the route of Williamsburg's old 4th Street.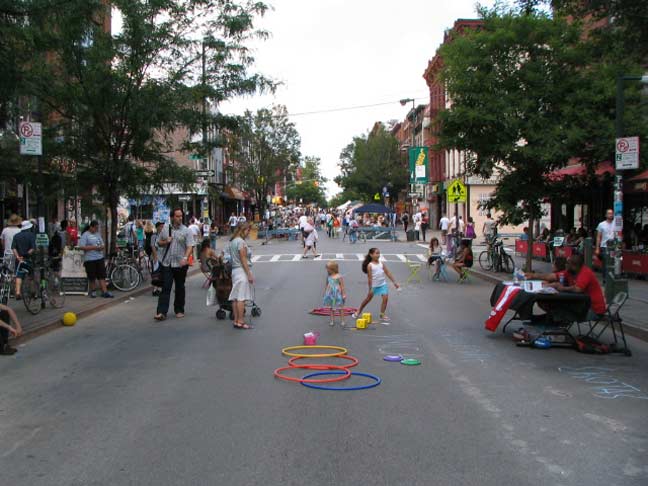 I had the run of Bedford Avenue today, since this was one of those midsummer car-free Saturdays.
This stretch of Bedford is lit by square-shafted "shoebox" lamps, called thus because the lamps are mounted in rectangular-shaped boxes. Midblocks, the sidewalks are lit by these cylindrical lights that usually find work under elevated trains. At first they all carried spherical "new gumball" lamps, but these days the Department of Transportation places whatever is lying around in the streetlamp yards on them.
This small-scale mall/office building at Bedford and North 5th Street is located in a former girdle factory. The vinyl record store Earwax, seen on the ground floor here, has decamped to North 9th Street.
According to some studies, vinyl is the fastest-growing music medium, though few manufacturers make turntables anymore.
Senko Funeral Home, one of the surviving businesses from the pre-development days. There's always business! The funerary was founded in 1928. This is one of the "shoebox" lamps I was mentioning. These were installed in the 1970s, when streamlining was important.
Locals blanched when Subway and other chains began horning in.
The kidz have had a field day with an airline ad. "Bamboozelb" seems to be a mix of "bamboozled" and "Beelzebub."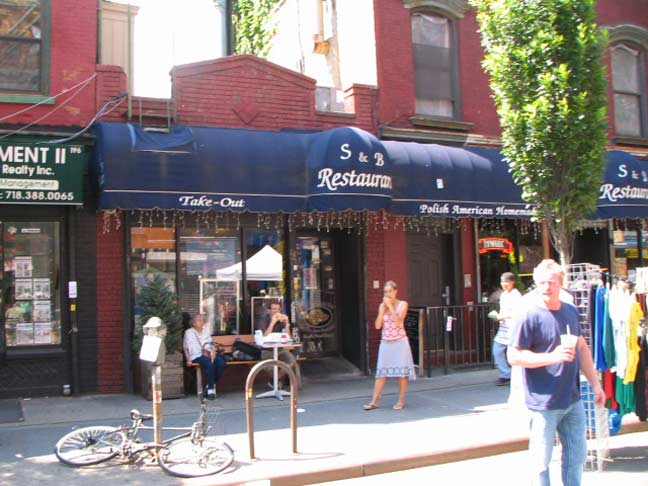 Williamsburg, like its neighbor Greenpoint, remains home to many Eastern Europeans, Czechs, Slavs and Poles. S&B is one more of the old-line businesses that have benefitted from the recent push.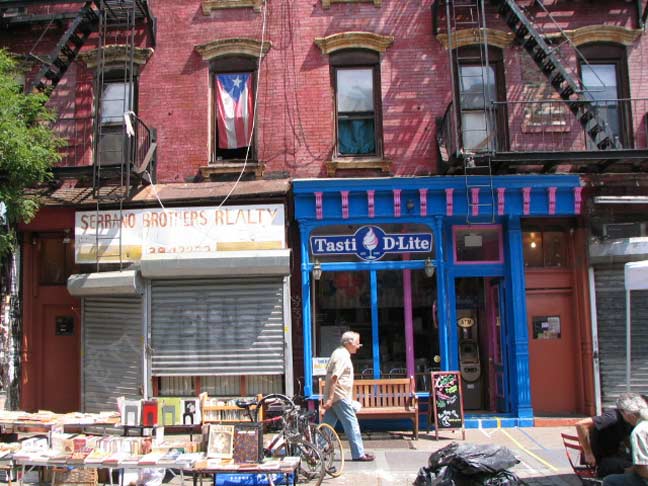 Ancient awning sign for Serrano Brothers realty alongside another franchisee.
The intersection of Bedford Avenue and N. 7th Street has become one of NYC's busiest, because of the presence of the Canarsie Line L train Bedford Avenue stop here.
The boarded-up building with the Salvation Army consignment store on the ground floor was razed since 2009. I'm unsure what will rise in its place.
The aspect of the red-bricked building on the NE corner has also changed. It used to be festooned with electronic ads, but they have been removed, and the building is now white with brown window lintels. The garish ads by the subway entrance are also gone, and things look a bit less "Blade Runner"-ish.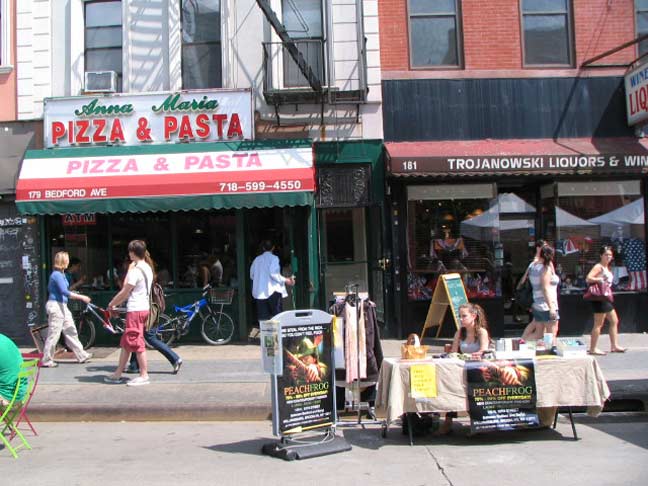 These are likely a pair of Bedford's veteran businesses. Peachfrog, though, isn't.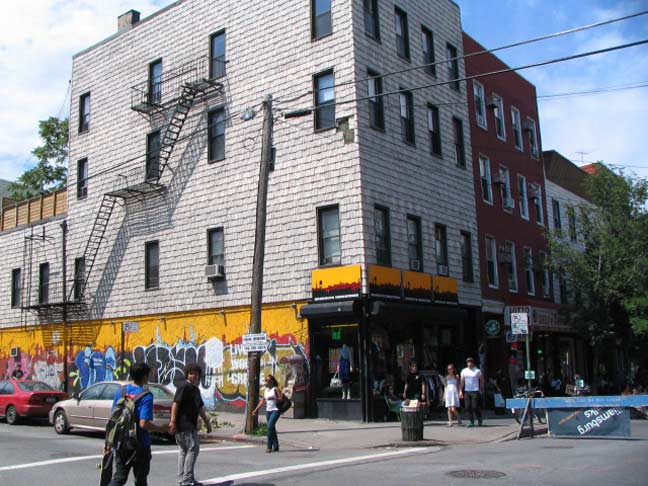 Brooklyn Industries, a clothing franchise at Bedford and North 8th, always has interesting wall art.
Pressing further north above N. 8th, Bedford Avenue features a set of stooped residences and more shade trees. Vigorous ornamentation mark them as structures from 1890-1915.
The old-time locals who remember Williamsburg before it became the East Village gather at this no-frills sports bar on the edge of McCarren Park. Mullets and thick Brooklyn accents are common among a hard-partying crowd of women and bearded men screaming for a makeover. (In fact, one-time "Queer Eye For the Straight Guy" guest Kevin used to live in an apartment above the tavern.) Middle-aged regulars tend to watch one of the bar's eight TVs or stand outside smoking (sometimes as early as 8am), while twenty-year-olds in various states of ironic garb gather around the small billiards table and video games like Big Buck Hunter II. Despite appearances, the crowd is surprisingly hipster-friendly. Gregarious bartenders serve even newbies in under a minute, and we've seen boys with backpacks full of vinyl hop off their bikes to check out Yankees scores (though we suspect Mets fans might not have such luck). And you've got to love a place where the bartender actually laughs at you for asking—at a very non-happy hour—if the twenty you gave him for four beers is enough.  NY Magazine
I have been in here a few times and never noticed any bearded hipsters. A few years ago I was in here and ran into a guy I knew from college, Ken P., who I hadn't seen for twenty years. You pretty much drink beer from a Styrofoam cup, shoot the sh!t and watch the game, which is all I want from a neighborhood place.
Bedford Avenue is entering its final leg as it enters the largest park in northern Brooklyn.
Here, Bedford Avenue enters perhaps its greenest stretch, and that includes its entire length all the way to Sheepshead Bay.
McCarren Park was developed between 1903 and 1905 and is named for Patrick McCarren, state legislator & Williamsburg Bridge promoter in the late 19th Century.
Just outside McCarren Park is the onion-domed Russian Orthodox Cathedral of the Transfiguration, on Driggs Avenue and North 12th Street, built by architect Louis Allmendinger between 1916 and 1921, a few years before the pool.
In McCarren, the catcher wore tights.
Stephen Gilroy, the name on the sign, was a Brooklyn NYC police officer shot dead during a robbery at a sporting goods store in 1973.
Automotive High School at #50 Bedford Avenue opened in 1937 (the building is severely Art Moderne) and besides offering a full high school education, has always offered classes in automobile maintenance and repair.
At the triangle formed by Bedford and Nassau Avenues is Father Jerzy Popieluszko Square.
This square is named for the late Father Jerzy Popieluszko (1947-1984), a Roman Catholic priest who lived in Poland. He is best remembered for his ardent support of the Polish Solidarity Movement. During the Soviet occupation of Poland, which lasted from the end of World War II until 1989, the Solidarity Movement fought for the personal rights of the Polish people and for Polish independence.
Father Popieluszko vehemently spoke out against the Soviet-controlled government from the pulpit in his small church, Saint Stanislav Kosta, in North Warsaw. Large numbers of people filled his church to hear his sermons, which were even broadcast over Polish radio. Popieluszko became an extremely popular Polish nationalist. He was arrested on several occasions and warned to limit his sermons solely to religious materials. Boldly ignoring the threats, he continued to publicly reproach the tyrannical government. At one point during the Solidarity Movement, Polish factories went on strike. Popieluszko crossed the police lines, entered a factory and gave communion to the workers in the courtyard.
On October 19, 1984, Popieluszko was kidnapped by the Polish Security Police. He was subsequently found beaten and murdered, at the side of a river with a rock tied around his neck and his hands bound. Public outrage over Popieluszko's murder turned into to demonstrations and riots, and the government-employed murderers were later found, tried and convicted. NYC Parks
All-things Greenpoint blog New York Shitty proprietress Miss Heather has a cat named Jerzy, which is Polish for "George."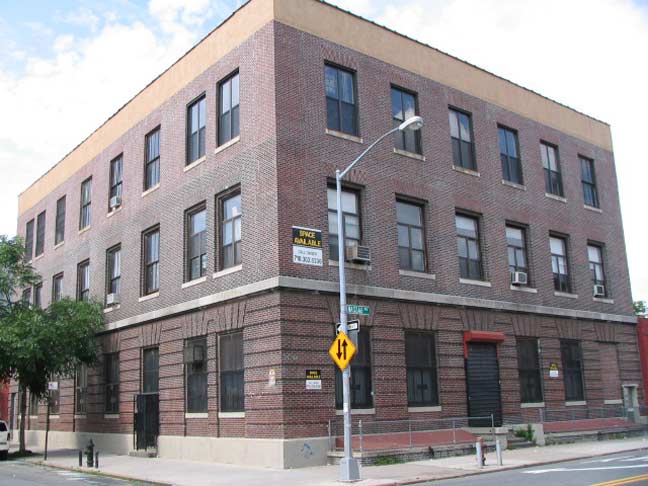 This former NY Telephone building at Nassau Avenue and Guernsey Street is now home to an upscale clothing store called Oak. Since there's an Oak street in Greenpoint maybe they should've called it Guernsey?
Though Lokal, at the confluence of Bedford, Nassau and Lorimer, seemed to be doing a brisk sidewalk business in 2009 it has since shuttered.
Bedford and Nassau Avenues here make an X, with Bedford ending (Or beginning, according to the street numbering) and Nassau continuing east toward the noxious and noisome Newtown Creek. Its route will soon be chronicled on an FNY page.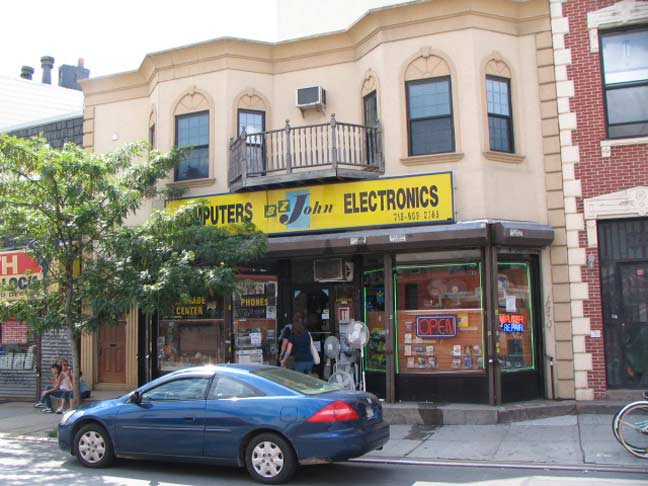 We are now down to single digits on Bedford Avenue addresses. #6 Bedford had been a computer and electronics shop in 2009 but in ever-changing Brooklyn, in 2014 it's home to Brooklyn Woodwind and Bass, selling musical instruments.
However, the first address on Bedford Avenue, #1 Bedford, is in the triangle building formed by Manhattan, Bedford and Nassau Avenues and it is fittingly home to the Polonia Restaurant.
The food… wow… absolutely delicious! We ordered the goulash & stuffed chicken with mushroom. We spent about $17 for 2 meals & 2 drinks. Perfect portion! Not too much or too little. Everything we ordered were just tasty. From the goulash, the stuffed chicken, the salad, the mashed potatoes… everything were just perfect! —yelp.com review
Bedford begins.. or ends… at a Brooklyn avenue called Manhattan. Could you imagine a Brooklyn Avenue in Manhattan?
12/14/14