I have visited Greenpoint a great deal for FNY pages, and have conducted two FNY tours in the Garden Spot of Brooklyn over 15 years. My last major survey, though, happened in 2005, almost 10 years ago! There have been plenty of other pages devoted to Eckford, Milton and Noble Streets and the shop signage on Manhattan Avenue (search FNY for those). This new initiative rambles to Greenpoint's eastern and southeastern regions: I have not yet done anything substantial in that part of Greenpoint except for a couple of things here and there. Also, the neighborhood layout will be changing over the next decade as a new Kosciuszko Bridge will be built to replace the current one that opened in 1939. I have heard a 2017 completion date, but that's obviously not going to happen and my estimate is 2025 or so, when I'll be 68. Still alive and ambulatory, I hope.
When we left off in Part 1, I had attained the end of Meeker Avenue at Newtown Creek, the site of the long-lamented Penny Bridge, and discovered a long-decommissioned trolley car turnaround, and was preparing to turn south on Gardner Avenue.
GOOGLE MAP: Greenpoint and East Williamsburg
In this rather bleak area of Brooklyn, there's warehousing and industry, and not much else. This is a part of town called by my colleague Mitch Waxman at the Newtown Pentacle as DUKBO, or "Down Under the Kosciuszko Bridge Overpass." Barbed wire that has caught innumerable fluttering pieces of plastic wrappings crowns the tin fences separating you from where you would rather not go in any case.
DUKBO is bracing for a massive construction project over the next decade, as a new Kosciuszko Bridge, a twin, cable-stayed span, will be built to replace the present span that was opened in 1939, the same year that the first World's Fair in Flushing Meadows opened and Gone With the Wind hit the nation's movie screens. The Kosciuszko is indeed showing its age, as the pavement on the span has worn so thin in spots that the metal deck is showing through and a bone-rattling ride is enjoyed by all.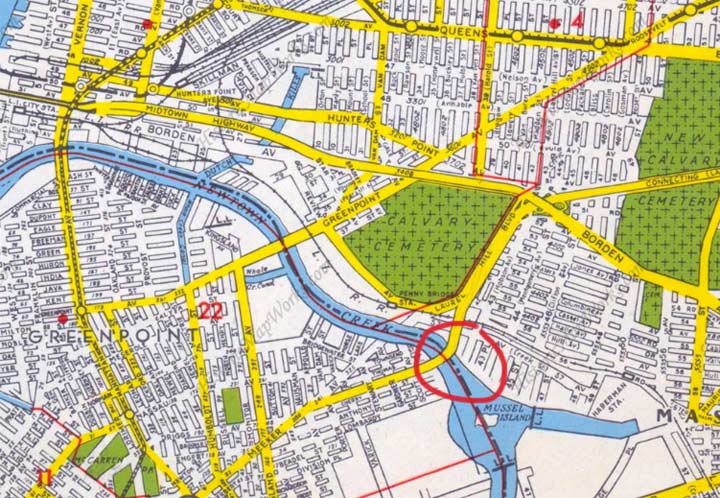 Today the Kosciuszko Bridge, circled in red on this 1949 Hagstrom map, is a key component of the Brooklyn-Queens Expressway. However, that wasn't always the case. Originally, the Meeker Avenue Bridge, later named for Tadeusz Kosciuszko, a Polish-born military engineer who provided key assistance to the patriots during the Revolution — honoring the Polish and Eastern European populations on both sides of the Creek — ran from a ramp at the intersection of Meeker and Vandervoort Avenues over the creek to the Connecting Highway, which got as far as Queens Boulevard.
Over the next 25 years under the direction of NYC traffic czar Robert Moses, what would become the Brooklyn-Queens Expressway would gradually extend north and south, culminating with the extension of the Gowanus Expressway to Staten Island via the Verrazano-Narrows Bridge in 1964. But the Kosciuszko was the first big piece in the puzzle.
The Kosciuszko is a fixed span 341.5 feet in length, 90 feet above Newtown Creek. Amazingly (to me at least) for its first couple of decades it actually had walkways, but after its connection to the BQE the walkways were closed and demolished for the most part, though some of the walkways survive at the peak of the span.
Cherry Street has become a virtual dirt road and heavy equipment, preparing for bridge construction, runs up and down the route. The intersection of Gardner Avenue and Cherry Street has been renamed "Lake Skanska" by Mitch Waxman after the contractor tasked with the bridge job.
A number of short streets, most of them interrupted, were plotted through over a century ago with names like Townsend, Thomas, Cherry, Anthony and Lombardy. The north-south streets are Vandervoort, Porter, Varick, Stewart, Gardner and Scott, which also turn up south of here on the East Williamsburg-Ridgewood border. Originally they were planned to run all the way through, but all but Vandervoort and Varick were wiped out by the massive gas works plot (originally Brooklyn Union, now National Grid) that extends to the creekbank. These streets were likely named for landowners decades, or over a century, ago.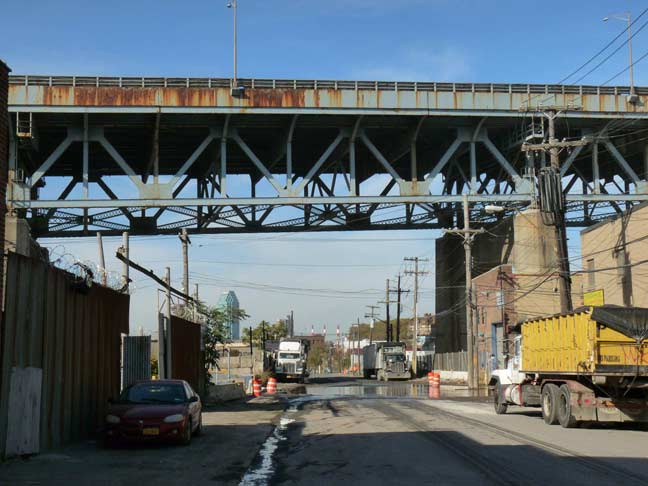 By 2025 or so, these photos will document a streetscape that no longer exists, as the new Kosciuszko will be replacing the old one at about the spot where I stood to take the picture.
In this part of town any semblance of a drainage system has broken down, and one steps carefully on small sections of mud that form an archipelago amid the rushing waters.
Lombardy Street at Gardner presents a plethora of original Belgian block paving materials.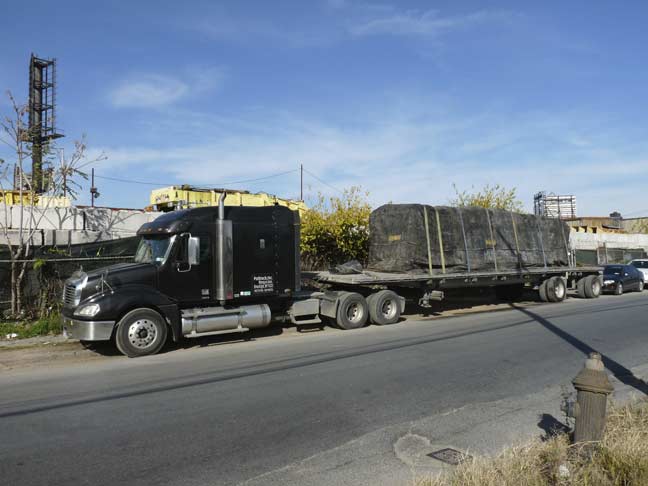 Sitting on Lombardy at Porter Avenue was a tractor trailer. Under the canvas covering was an object or objects emitting one of the most unholy stenches imaginable, permeating the cold clear November air. Whatever entity was under there, I hoped it had been freshly killed and would no longer be able to trouble the populace. But I feared it was not yet dead. Why else would the restraints be in place?
This artwork had been left at the corner of Lombardy and Porter, likely for any comer to claim it. I didn't have enough room in my backpack for it.
One block south of Lombardy along Porter Avenue is Beadel Street. No explanation is given anywhere I have looked for this name, but it reminds me of the word "beadle," defined as "a ceremonial officer of a church, college, or similar institution." In Charles Dickens' Oliver Twist, the beadle, Mr. Bumble, gives Oliver his name.
Mitch Waxman of Newtown Pentacle:
Moses Beadel was a Wallabout coffin ship patriot, his son and grand sons were also named Moses Beadel… They farmed, not so successfully, but got involved with the rendering game and became largish manufacturers (for the early 1900's) of tallow for candles. Like all the old families, they had huge upland holdings.
His grand daughters married well, and carried deeds for most of the former "Arnheim" into the marriage as their dowry. The new in-laws were named Cooper, and that's how Peter Cooper ended up owning the vast tracks of land on Furman Island, which is where the Cooper Houses are, which is where his factory was. Nearby, Martin Kalbfleisch had established a very large chemical factory nearby the modern corner of Vandervoort and Metropolitan not far from the south west side of the Met Avenue Bridge. 
Turn the corner and you are in a Brooklyn oasis, given the relative desolation that otherwise surrounds. Beadel Street between Vandervoort and Porter Avenues is one block of the tidiest, neatest, well-maintained brownstone and brick buildings you could ever hope to see, a respite in this land of tractor trailers.
One Beadel Street resident, an individual called Valdemar (I met him one day, accompanied by Miss Heather of Newyorkshitty) takes special care of his brownstone unit, flamboyantly decorating it. This is actually toned down from an earlier occasion in which he had featured leopard print.
I'll say it if you won't. Here's a VW Beetle on Beadel. The plate indicated it was from Mexico.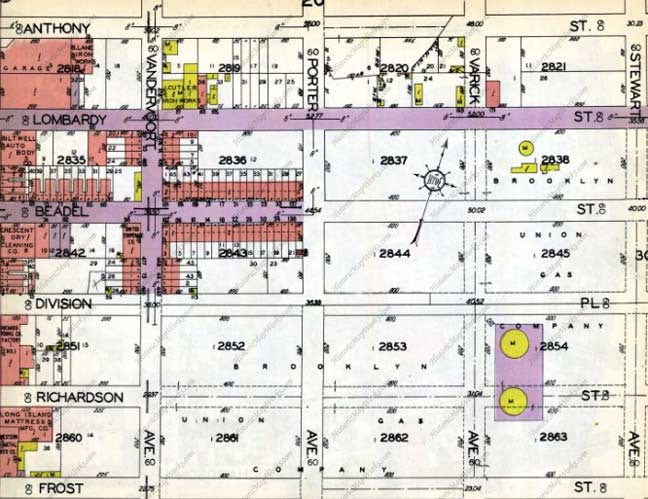 This 1929 Belcher Hyde atlas plate shows the situation starkly. Development, shown by the maroon boxes indicating brick buildings, has extended east on Beadel ahead of its parallel streets, which were on the map but not yet constructed, certainly not paved. Streets shown in purple were paved either in Belgian blocks or macadam.
Even the Beadle block between Morgan and Vandervoort has its moments. These buildings are built with blond bricks, though probably not the Kreischer bricks used in Astoria and Ridgewood, and have an attractive terra cotta ornament.
Turning south on Morgan Avenue, here's a formidable brick factory building taking up an entire block front between Division Place and Richardson Street. It's still home to a die factory but as gentrification creeps east, how long before it turns into luxury residences?
Morgan and Jackson Street, Signs and Decal Corp., established 1971. Signage, graphics, identification. I worked briefly at a sign production shop for three months in late 2011 and early 2012 — they made signage for Barnes and Noble shops. I found it fascinating work.
Morgan Avenue is lined with warehouses and storage buildings in the stretch between Cooper Park and Grand Street. The largest is at Grand: the former Consolidated Lithographic Corporation building.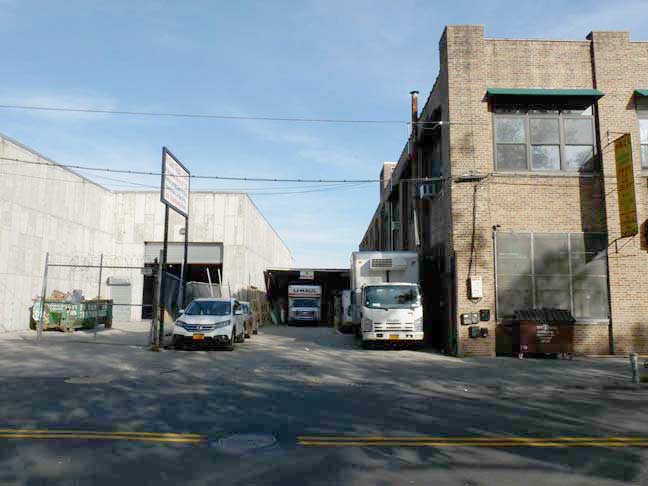 On the east side of Morgan opposite Cooper Park is a driveway that appears to have been a former street. A look at the Belcher Hyde atlas linked above confirms that this was once a mapped section of Orient Avenue (explored in Part 3, to come).
In the rectangle formed by Bushwick, Morgan, Maspeth and Metropolitan Avenues can be found a small network of streets that seemingly lead only to each other, and they all feature some eclectic architecture and some odd features. Plopped in the middle is Cooper Park, of which the one-block Sharon Street marks the southern border. The genesis of the name is likely interesting, but unknown to me.
The street is lined with attached 2-story brick buildings. The fall colors were in full effect.
Name that car! Buick, what year?
Someone's always got to be different. This addition was probably made years after the original construction.
The ghost of Greenpoint Hospital looks out over Cooper Park, one of three major Greenpoint parks along with McCarren and McGolrick Park.
Cooper Park looks rather desultory, bounded as it is by the near-abandoned Greenpoint Hospital and the industrial wastelands of Maspeth and Morgan Avenues along its eastern end. Things seem to be perking up at its southern end as we see some new high rises sprouting, much as they are along larger McCarren Park about 10 blocks to the northwest. The park was named for Peter Cooper (1791-1883) , the industrialist-inventor who conceived of the transatlantic cable, the steam railroad engine, and Jell-O. He established Cooper Union, the architecture, art, and engineering school still going strong in Cooper Square, Manhattan. He is buried in Green-Wood Cemetery.
Why is Cooper honored here, at this far redoubt? Cooper Park was the site of his successful glue factory for about 40 years:
In 1821 Cooper purchased a working glue factory in Kips Bay, and manufactured high quality glue economically. He stated, "I determined to make the best glue, and found out every method and ingredient looking to that end, and so it has always been in demand." In 1838 he relocated the business to Maspeth Avenue in Brooklyn, a strategic site which had access to roads connecting with New York-bound ferries and Long Island farms. Cooper retired from the glue business in 1865 and sold the factory to family members. The company moved to Smith Island (since filled in –ed.) in Newtown Creek in 1878 and left Brooklyn for good in the 20th century. The Gowanda, New York headquarters of the Peter Cooper Glue Company closed in the early 1990s. NYC Parks
Most of the former Greenpoint Hospital, along the north side of Maspeth Avenue east of Kingsland Avenue, is awaiting repurposing except for the outpatient center at the corner of Kingsland, now the Greenpoint Renaissance Center, which has converted some of the buildings to affordable housing.
The buildings functioned as a hospital for 72 years, between its 1912 opening and closure in 1984. In the 80s and 90s, the buildings served as a homeless center.
Today, Maspeth Avenue comes in two pieces: the Brooklyn half, which runs from Bushwick and Metropolitan Avenues east to Newtown Creek, and the Queens half, which runs from the creek to the confluence of Flushing and Grand Avenues in the titular neighborhood. It's a very old road once known as Maspeth Plank Road, once bridged over Newtown Creek (a fragile wood structure that was torn down in the late 1800s) and once ran along the path of today's Grand Avenue all the way to the Newtown town center at Thomson Avenue (now Queens Boulevard) and Broadway in Elmhurst.
Beginning in the late 1990s, massive apartment buildings began to appear on its south side, one of which is apparently bringing back the flying buttress as an architectural element.
I'm not done yet — there's more to come in Part 3 next week.
12/27/14