I have visited Greenpoint a great deal for FNY pages, and have conducted two FNY tours in the Garden Spot of Brooklyn over 15 years. My last major survey, though, happened in 2005, almost 10 years ago! There have been plenty of other pages devoted to Eckford, Milton and Noble Streets and the shop signage on Manhattan Avenue (search FNY for those). This new initiative rambles to Greenpoint's eastern and southeastern regions: I have not yet done anything substantial in that part of Greenpoint except for a couple of things here and there. Also, the neighborhood layout will be changing over the next decade as a new Kosciuszko Bridge will be built to replace the current one that opened in 1939. I have heard a 2017 completion date, but that's obviously not going to happen and my estimate is 2025 or so, when I'll be 68. Still alive and ambulatory, I hope.
Anyway I left off at my previous page, which finished my Bedford Avenue survey, at Manhattan Avenue. So, we'll just continue east on Nassau Avenue, which picks up where Bedford leaves off.  On this trip I obtained over 150 photos, so this will likely be a 3-part entry.
GOOGLE MAP: Greenpoint and East Williamsburg
The genesis of Nassau Avenue's name is not listed in Leonard Benardo and Jennifer Weiss' excellent Brooklyn by Name, but given the Dutch past of colonial NYC and environs, it's fairly obvious that the avenue, the lower Manhattan street and the county are named for the Dutch House of Orange-Nassau, to which the British King William III (1650-1702) belonged, the William of the College of William and Mary  and "KIng Billy" to the Irish.
Greenpoint is still, and will remain for the foreseeable future, dominated by Poles and Eastern Europeans (and there are a sizable amount in Williamsburg to the south and Maspeth to the east). Myriads of store signs are in the Polish language or are operated by Poles with their names on the awning signs.
Irish bars are everywhere.
Dueling pharmacies, catercorner on Nassau Avenue at Leonard Street. Note that each awning sign bears the heraldic coat of arms of Poland which features a white eagle on a red background, in varying amounts of detail from sign to sign. The eagle has a gold crown and talons in most representations. The story of a white eagle as a Polish symbol goes back to the Middle Ages.
Adam's Delicatessen, #112 Nassau, has an old-school awning sign (we will see more of those on Nassau Avenue) and the Friday fresh fish special is touted in a small sign on the window, lower right.
The competition is keen. Greenpoint Fish & Lobster Co. is next door at #114, the corner of Eckford. It is a combination restaurant, raw bar and fish market. It opened in the sumer of 2014 and has a fashionable minimal awning sign.
Past Eckford, one of the Polish signs I was referring to. "Obiady" is "lunches."
They make the best pierogi in Greenpoint, absolutely. They're clearly handmade (to order, by the way!), and come covered in butter and caramelized onions. I love the carrot and beet salads as well, and the atmosphere is unique. yelp.com review
Eastern European food, from Germany on east, is usually satisfying and filling, which is enough for my unsophisticated tastes.
Until just recently WASCO auto supplies shop held down the NE corner of Nassau Avenue and McGuinness Boulevard. I discovered that the auto parts were gone and Raizes Churrascaria, a Portuguese restaurant, had moved in. The place looks high-end, but the lunch menu is affordable. Some ghosts of WASCO are still there, like the car on the roof (car buffs tell me it's a 1962 or '63 Chevrolet Chevy II (a/k/a Nova) or a Ford Fairlane. Signs adjoining the empty lot across Nassau Avenue are still for WASCO as well. I like that the restaurant kept the car on the roof and it even looks like they gave it a paint job.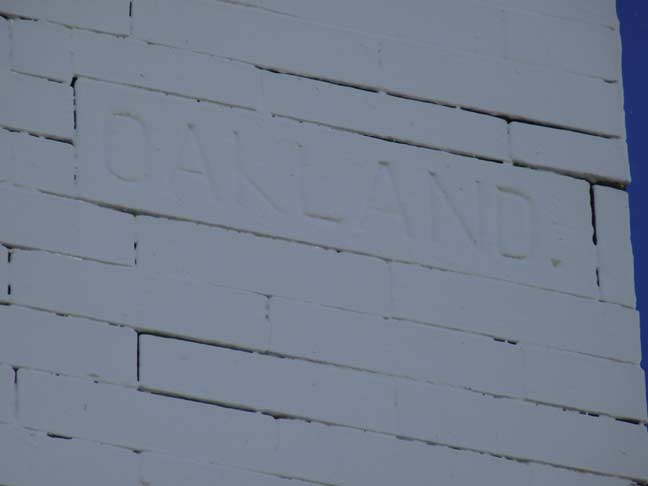 I had to strain to see the carved "Oakland Street" sign on the corner. Were my eyes going? No, it had just gotten a thick paint job and now the sign is pretty well obscured. When the road was widened in 1964 it was named for local Democratic honcho Peter McGuinness (1888-1948) who was the first to call Greenpoint the "Garden Spot of the Universe" not just Brooklyn!
Miss Heather of Newyorkshitty has published extensively on the great man.
The primary feature of this pre-war apartment building at Nassau Avenue and Diamond street is its massive corner turret.
You are hard pressed to decide what the primary attracter to #176 Nassau Avenue, Star Deli & Bakery is — that handlettered red and white sign with its Polish eagle, or the fresh comestibles displayed in the front window.
According to yelp.com the place gives Peter Pan Donuts on Manhattan Avenue a run for its money, but they're blocks apart, so you go to whatever is closer.
Me, I stay away from bakeries. Too much temptation.
I don't think Nassau Avenue is on the NYC Marathon route, but there's definitely a marathon enthusiast at #177 Nassau Avenue. Note the World Trade Center towers on the roof, too. Apparently the sign painter is now 76 years old, as of 2014.
As for me I agree with Mitch of the Newtown Pentacle. I only run if there's something after me.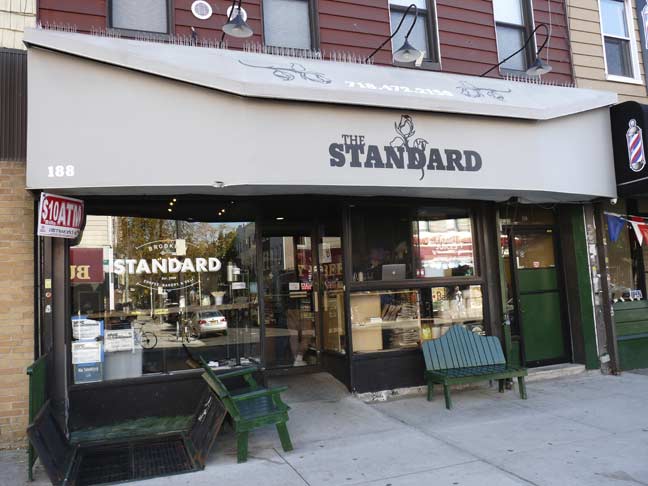 The Brooklyn Standard, #188 Nassau Avenue at Jewel Street (Greenpoint has two rhyming streets 2 blocks apart, Jewel and Newell) isn't a name you would associate with a bodega, but that's what its owner, Cody Utzman, likes to call it despite the fare, which includes "organic egg sandwiches and jars of kombucha, a health drink made from an Asian fungus."
Blimpie and a Sprite is my speed, but I'm a food Philistine.
Nassau Avenue skirts the north end of McGolrick Park between Russell and Monitor Streets, which is the largest public park on Greenpoint's east side. I devoted a page to the park a few years ago:
The park was set up by the City of Brooklyn in 1889 with a funding assist from assembly Winthrop Jones; when it opened in 1891 the park was duly named Winthrop Park — possibly, there was a pre-existing Jones Park. The park was renamed Monsignor Edward J. McGolrick Park, in honor of the pastor of the nearby St. Cecilia's Roman catholic Church from 1888 until his death in 1938. McGolrick, an Irish immigrant, was a major fundraiser for the parish, which built new church, convent, rectory, hospital, lyceum, school, and playing field under his direction. 
I did take a few new photos of the park on this walk but I'll save them for future online photo galleries.
One park attraction I didn't mention on that page was the Paul Clinton Garden, just off Nassau and  Russell.  Clinton, an immigrant from England, served as a NYC Parks Supervisor and maintained an office at McGolrick Park before his decease at age 47.
I'm happy to say the the  "abandoned luncheonette" I found in 2012 at Nassau Avenue and North Henry Street is no longer abandoned . I'd have to think that the classic rusted sign will  be replaced along the way as well as the sticker adverting the Sunday Daily News for $1.
In Comments:
The "abandoned luncheonette" isn't technically open for business, it is used for film and tv shoots. They've been shooting there a lot the past few weeks, which is probably why it looked open. I was living there when they used it for various "Rescue Me" episodes. But I am 99.9% certain it is not a functioning eatery.
This 3-story conical tower at Nassau Avenue and Monitor Street appears to have been a building of some importance like a school or precinct, but it's just the corner building in a decades-old real-estate development consisting of several brick buildings extending south on Monitor.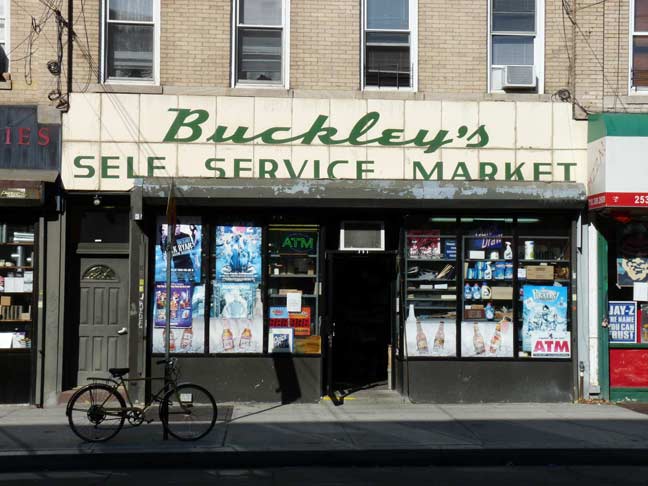 I hadn't seen this incredible linoleum-tiled sign at Nassau and Kingsland Avenues before in person, though I had seen photos here and there on facebook and other sites. Really, there's no need to replace it, though I'd have to say the Buckleys no longer run it.
I wonder if, in the 1930s or 40s when the sign was installed, 'self-service' markets were a novelty, since just about all markets are self-service now. You pick up what you want and bring the items to the cashier. For that matter, I wonder what the arrangement was like before that.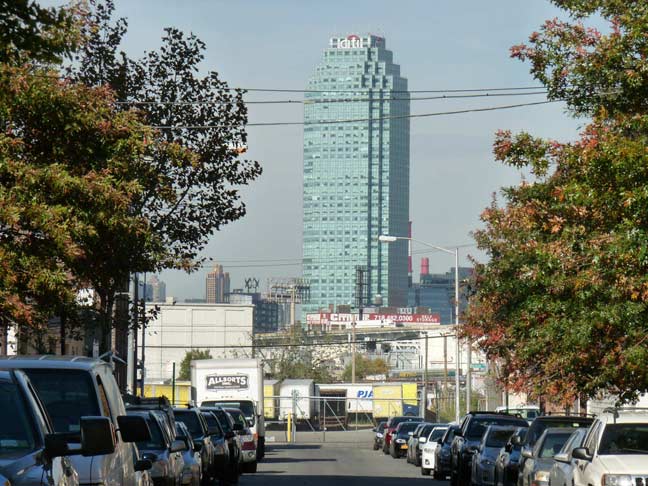 The sea-green Citicorp Tower in Long Island City is framed perfectly looking north on Sutton Street from Nassau Avenue using a zoom lens. The tower, home to bank offices, is the tallest building in Queens and the tallest on Long Island. It opened in 1989.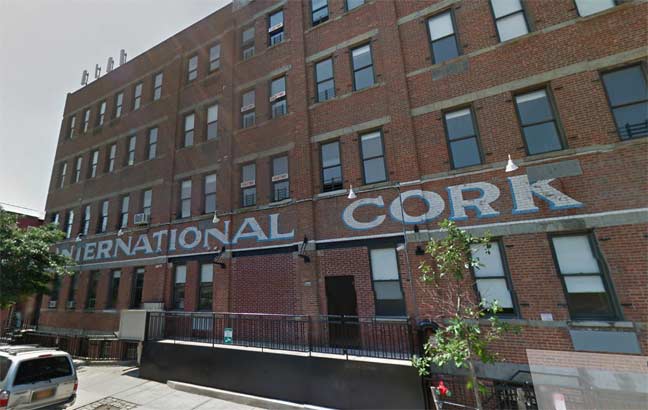 A brief trip up Sutton Street reveals an interesting sight at #99: though it's now home to luxury residences, the building was originally a cork factory. The owners thought it would be attractive to paint a new sign on the building illuminating its history.
Here's a plate from a 1929 Belcher Hyde atlas showing the factory, which was located in two buildings, both of which survive. On the left side of the map, the brick building at Sutton St. and Norman Avenue, home to American Rattan Reed Company (rattan was used to furnish and upholster chairs) is also still there. It has also been converted to residential use.
A new multiunit building at Nassau and Morgan is here contrasted with 1910s-era attached buildings between Hausman and Apollo Streets. Similar attached housing is also found on Morgan.
Ghost sign for a long-gone deli between Morgan and Hausman.
The street names in this part of Greenpoint are of some interest. Morgan Avenue is named for 19th Century Brooklyn surveyor brothers, Hausman for a Dutch colonial settler, Monitor for the Civil War Union ironclad vessel built in a Greenpoint East River shipyard. I don't know why a 2-block street would be named for a Greek/Roman god, but Apollo, I'd gather, was also a business of some kind in the past.
Van Dam Street runs for just two blocks in Greenpoint. But if you put a finger on the map and move it across the Newtown Creek into Queens, you find a Van Dam Street there, a traffic-choked road running from Greenpoint Avenue north into Queens Boulevard. Coincidence? Perhaps but I'd bet there's something there to connect the two.
There were a number of Van Dams in the early Dutch colonial period, including a governor with one of those all-time great names: Rip Van Dam.
With the Kosciuszko Bridge (difficult for English and American tongues, since we're used to vowels, but it's close to Ko-SHOOS-ko) looming into view, Nassau Avenue meets its end at truck-choked Varick Street, named for an early NYC mayor and earlier secretary to George Washington, Robert Varick.
Oddly, in Brooklyn Varick is a "street" for 2 blocks, since south of Meeker Avenue it becomes an "avenue."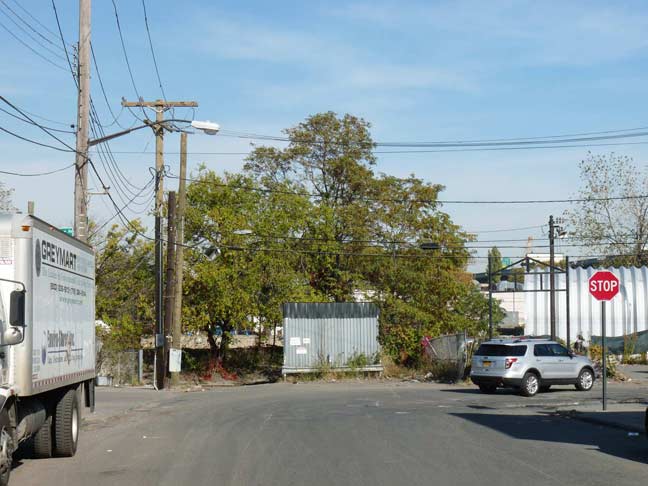 Meeker Avenue cuts through Greenpoint diagonally to the street grid. When the Brooklyn-Queens Expressway was built through in the mid-20th Century it was built above Meeker Avenue, which before the construction extended only from Manhattan Avenue to Newtown creek. The expressway helped to extend the avenue west a few blocks to Metropolitan Avenue.
Today only a few blocks of the avenue from Van Dam Street to the creek are in full sunlight. This photo is the current end of Meeker avenue where it meets Gardner Avenue, with the creek just behind the trees.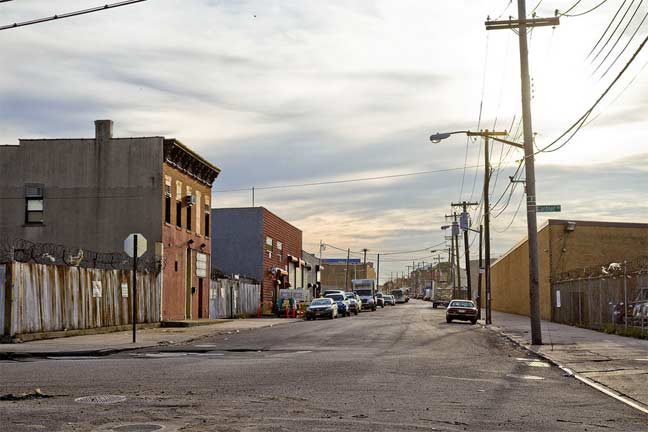 photo: Mitch Waxman
Meeker Avenue looking west. The brick building at left is purportedly quite old and once contained a tavern or roadhouse.
1929 map of the end of Meeker Avenue. The purple color indicates that it was the only street that was paved at the time. The brick building in the photos shows up as a maroon-colored box on the south side of the avenue.
At the creek, Meeker Avenue is bridged over to Queens over what the mapmakers call the "Meeker Avenue Bridge" but was actually Penny Bridge, a two-lane iron swing bridge that was initially built to allow visitors to Calvary Cemetery convenient access. There were two separate Penny Bridges over about a century, but the 2nd bridge was demolished when the "new" Meeker Avenue Bridge, later known as the Kosciuszko, was opened in 1939. There was originally a walkway on the bridge but it was soon closed to pedestrians; it's hard to imagine how pedestrians would fare on the traffic-choked-exhaust-fumed Kosciuszko these days. It's reported, though, that any new bridge will include walk- and bikeways.
Today the only trace of Penny Bridge is the concrete bridge abutments found on both sides of the creek.
Also, note the two tracks shown on Meeker Avenue on the map…
There are definite traces of a trolley route at the end of Meeker Avenue, as there are exposed Belgian blocks and tracks, and iron posts that used to hold trolley wire but now used to mount floodlights.
Brooklyn's #29 trolley route, according to James Greller's Brooklyn Trolleys book, plied Marcy, Metropolitan, Graham and Meeker Avenues between the Williamsburg Bridge trolley terminal and Penny Bridge until April 17, 1939. Most Brooklyn trolleys hung in there at least 10 years later than that.  Today the B48 bus runs from Ocean Avenue at Prospect Park north and northeast to the same spot, employing Nassau and Meeker Avenues.
In Part 2: the wilds of East Williamsburg
12/21/14