Arrochar, the first part of Staten Island that the S-53 bus visits when it comes off the Verrazano Bridge from Brooklyn, is often the starting point for my Staten Island peregrinations. From my 2009 page Arrochar to South Beach:
Arrochar, on Staten Island's easternmost extension, encompasses Fort Wadsworth, now a Gateway Recreation Area (we'll do a whole page on the fort sometime soon) as well as the northern section of South Beach and its lengthy boardwalk. The area was settled by Scottish immigrant W. W. MacFarland in the 1840s; he named his estate, Arrochar, after the small village NW of Glasgow he hailed from. MacFarland's home still stands on the St. Joseph Hill Academy campus.
I'll discuss Midland Beach when we get there.
And, as with that previous FNY page, I got off the bus at McClean Avenue and Railroad Avenue and started walking. Railroad Avenue fascinates me because there's no railroad of any kind to be found there, but it used to border an open cut used by the Staten Island Rapid Transit South Beach branch. I won't dwell on it much today, since I have other fish to fry, but do consult my Arrochar to South Beach link for photos of the branch, which closed in 1953, as well as Steve Owen's page for a comprehensive review of the SIRT South Beach branch. In many cases the infrastructure is still there if NYC ever wants to revive the line, but housing has replaced the open cut here.
Here's my route for the day on Google Maps. It follows roughly the S51  and S52 bus lines, but this walk takes you places you can't see out the bus window. On this page, I'll be heavier on insights than information, as my research on the outlying areas of Staten Island is sketchy, right down to the street names. I can tell you this: most streets on Staten Island had different names until about 1912, when they received new names. I do not know the reason for this global renaming.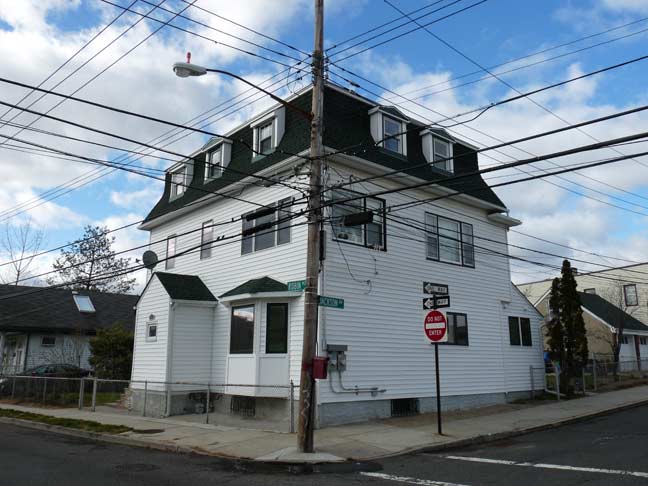 Railroad Avenue takes a band and becomes Jackson Avenue, and here at Robin Road is a building that hints at being quite old. It has a mansard roof, which became popular in the 1870s. I don't think it's quite that old, though the H.H. Richardson house on Lilypond Avenue a couple blocks away is. A relatively new siding also serves to mask the building's age.
One of the very few reminders that there ever was a Staten Island Rapid Transit South Beach Branch still spans Robin Road between Austin and Doty Avenues. And, while that line ran at grade from the late 1890s until 1936, much of the line was placed in an open cut or iron trestles that year to get rid of bothersome grade crossings as urbanization began to filter into eastern Staten Island. Just a slim seventeen years later this part of the line went out of business!
I noticed for the first time that the Verrazano Bridge and the SIRT trestle can be shoehorned into the same photo.
Here's Robin Road a little further north, with the south VB tower looming over it.
Turning down Sand Lane, formerly the site of South Beach's entertainment and amusement area
On June 30, 1906 the Happyland Amusement Park opened its boardwalk doors. Taking full advantage of the summer closings of most Broadway theaters, Happyland's amusements, stage productions, and vaudeville shows attracted 30,000 visitors on opening day. The amusement park continued to draw summer crowds for many years with attractions like the Japanese Tea Gardens, the Carnival of Venice, and the shooting gallery. Though the boardwalk resort thrived throughout the 1910s and 20s, fires, water pollution, and The Great Depression (1929-1939) took their toll on the beachfront resort area and the crowds eventually disappeared. NYC Parks
I have noted before that the rear of the Chinar on the Island Restaurant (which features Russian and Mediterranean fare) there's a small circular cobblestoned building with a tower. A former church, or part of one? Anyone want to guess?
Addendum: I'm told it was part of St. Cuthbert's chapel.
From the text of Staten Island and Staten Islanders (1909) by Margaret Louise Lynd:
One of the most interesting places of worship on the Island is St. Cuthbert's-by-the-Sea, at Arrochar. It was commenced in 1901 by Mr. Mills from his own design, and under his own direction, by day labor. It was built entirely of rough stone collected on the Island, and driftwood collected on the beach. Owing to the death of Mr. Mills this chapel has never been completed. 
There are a number of avenues that appear in Arrochar, South Beach, and Midland Beach in separate pieces, some of them separated for miles. Among them are Nugent Avenue, Olympia Boulevard, Patterson Avenue, Quincy Avenue and Oceanside Avenue. Just a stub of Quincy Avenue is accessible from Sand Lane.
It's likely they were originally mapped to be continuous by a developer. You'll note that some of them are in alphabetical order. Another set of avenues in Arrochar are also in alphabetical order: Jerome, Kensington, Lamport (Boulevard), Mallory, Norway, Oberlin (Street), Parkinson and Quintard (Street). In the vicinity, though not lining up with those streets, are Ruth Place, Scranton, Tacoma and Urbana Streets, and Vulcan, Winfield and Xenia Streets. The A-I streets and Y-Z streets seem to have vanished. I cannot believe this list of alphabetical streets is coincidental. (There's another set of "alphabetical" streets in Midland Beach, but I'll get to those presently.)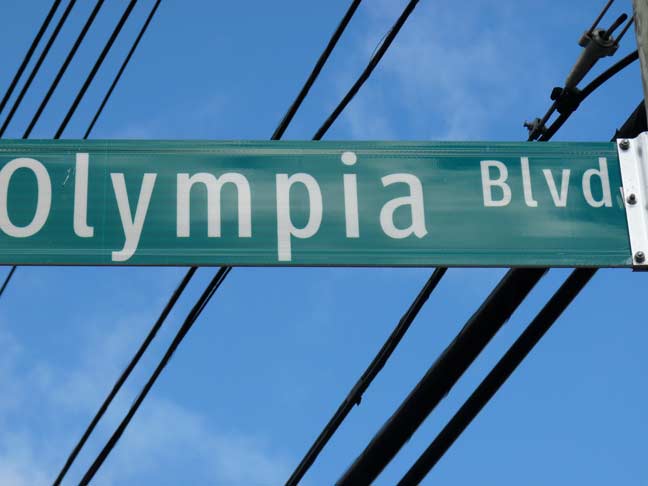 Olympia Boulevard is an odd name for a Staten Island road, since Olympia is the capital of Washington State. In ancient Greece, it was the home of the Olympic Games, and was home to a large gold and ivory statue of Zeus that was one of the seven wonders of the ancient world.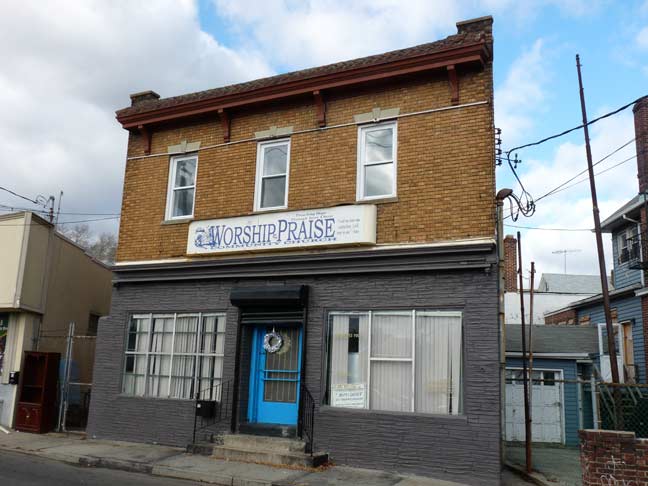 Another building of indeterminate, though perhaps great age is the home of a storefront church.
A view of the Chinar "steeple" from a remove on Olympia Boulevard.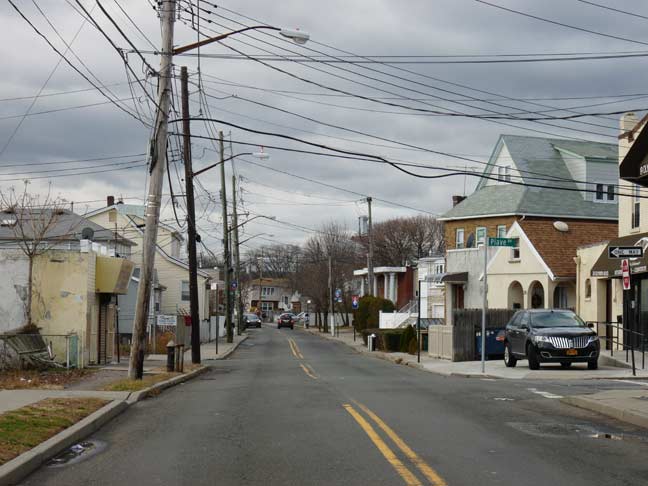 Olympia Boulevard, a 2-lane road, angles southwest toward what was once the State of NY Department of Mental Hygiene, a large tract now about evenly divided between protected wetlands and Staten Island University Hospital. In the years between those two designations, some maps in the 1970s show an immense blank white space there! We'll see some of it later.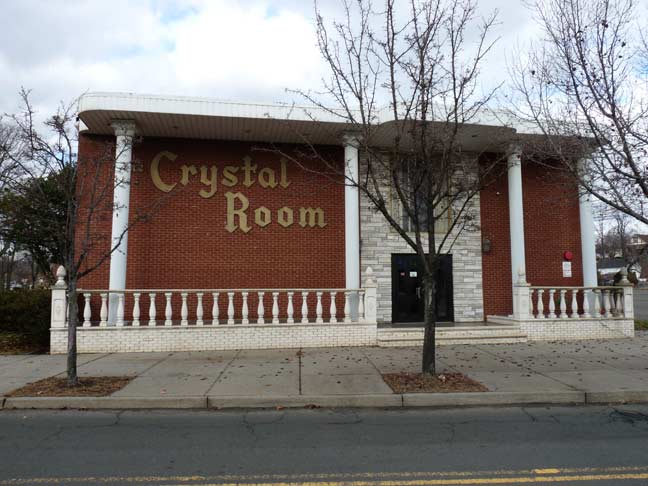 I know it was quiet weekday afternoon when I passed the Crystal Room at Olympia and South Beach Avenue, but it didn't look as if anything entertaining ever happened there. Appearances can be deceiving, as the catering hall gets mostly favorable reviews.
This object was in an Olympia Boulevard front yard. I imagine it has something to do with lawn care. Help me out and identify it in Comments.
This is Wentworth Avenue, which these days trails off to a dead end before it reaches the boardwalk or beach. I mention it here because Wentworth Avenue was once the end of the line for the SIRT South Beach Branch, and it was a short wood platform able to fit only one car length! (In those days SIRT trains were sets of two.) Steve Owen's page has some photos.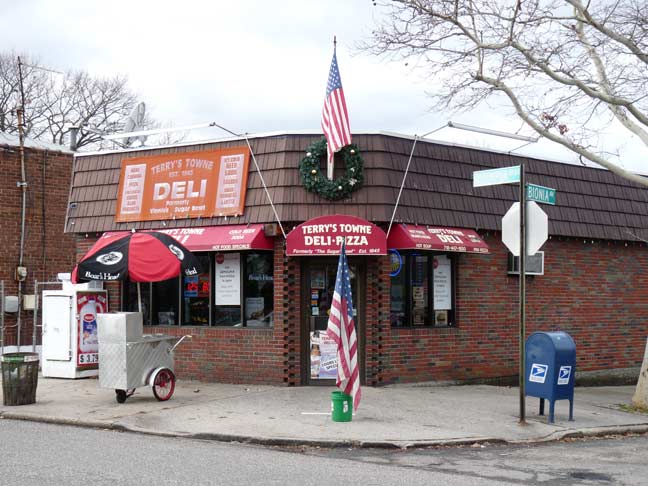 Terry's Towne Deli, at Olympia and Bionia Avenue, has been here since 1945, when it was established as The Sugar Bowl.
A pair of the smaller homes along Olympia Boulevard. Again, they're probably several decades old, perhaps a century, and show traces of more ornamentation sometime in the past.
You cannot walk in Arrochar, South Beach and Midland Beach without sensing the ghost of Sandy, the "megastorm" (technically, not a hurricane) that toyed with the Northeast, especially New Jersey and Staten Island, in late October 2012. Later I passed several more examples of the storm's unprovoked wrath.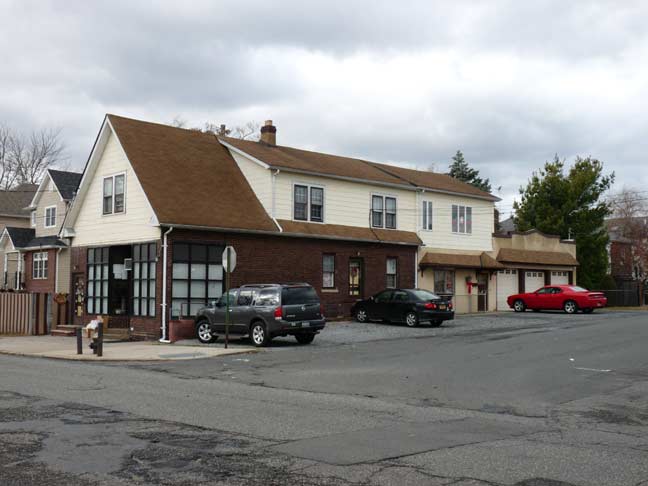 This is a somewhat lengthy building at Olympia Boulevard and Lamport Boulevard whose ground floor currently serves as Gallagher & Company Process Servers (the most unwelcome guests at any party). My guess is that this used to be a roadhouse or tavern of some kind, adn may have had bowling alleys at one time, given the building's length.
Olympia Boulevard, at least this portion of it, ends at Quintard Street, which forms the northern border of Ocean Breeze Park, a pretty much undeveloped tract of protected wetlands, complete with hiking trails, that was initiated by NYC Parks after the property was ceded by the NYS Department of Mental Hygiene.
It would have been a good day to explore the trails, overcast and mild for December (probably no mosquitoes or gnats!) but, I had a different agenda today.
NYC has plans for Ocean Breeze Park:
Ocean Breeze Park spans more than 110 acres and was originally part of a vast tidal meadow through which a network of winding tidal creek channels traversed.  It is located within a close distance to Midland Beach and the Ocean Breeze Fishing Pier and is the site of the future Ocean Breeze Track and Field facility, a 135,000 square-foot athletic complex that will draw competitors from all over the region once it is completed in early 2015.
Construction has also begun on a new $5.8 million therapeutic horse riding arena in Ocean Breeze Park, the first of its kind on Staten Island.  The arena will provide year-round support for physical and occupational therapy programs and will include a nearly 5,800-square-foot riding arena, stables, areas for feeding and grooming horses, and an observation room for visitors.  NYC Parks
There's nothing to write home to Mother about regarding Xenia Street, which runs for one block between Hurlbert Street and Mason Avenue. It's lined with pleasant-enough tract houses with at least some grass in front. It is, though, one of two streets in New York City that begin with the letter X, the other being in Corona, Queens… another Xenia Street.
"Xenia" is the ancient Greek term for hospitality (pronounced in Greek as ksee-nee-a, not zee-nee-a).  A xenophobe is someone fearful of, or hostile toward, people they do not know.
On Hurlbert Street and Evergreen and Laconia Avenues I encountered groups (their numbers were too small to say "flocks") of wild turkeys, who were savvy enough to scurry away apace when approached by a human, but also savvy enough to know which local homeowner was ready with bird seed.
These birds were too scrawny to worry about Thanksgiving, had they that capacity, but Thanksgiving had already passed, at any rate.
"The legend that I've been told is about 10 or 15 years ago, there was a gentleman who had five or 10 of these turkeys in his backyard," Karopkin says. "And he didn't want to keep them anymore, so he let them go. That's 10 or 15 years that these turkeys have been living on the south shore, on the beach, reproducing and so their numbers grew." NPR
Also on Evergreen near Laconia, I found a light blue 1959 Edsel Ranger. The 1957-1960 Edsels, named for Edsel Ford, son of Henry Ford, were considered one of Ford's biggest flops, despite a heavily-promoted rollout. Around this time they were selling for between $2,500 and $3,000. Edsels were sold in four different stylings, the Rangers, Pacers, and the higher-priced Citations and Corsairs.
Why did the Edsel fail? It was a poorly-designed product not in line with what the public wanted at the time. Theories are provided on the Edsel wikipedia page, as well as at Classic Cars.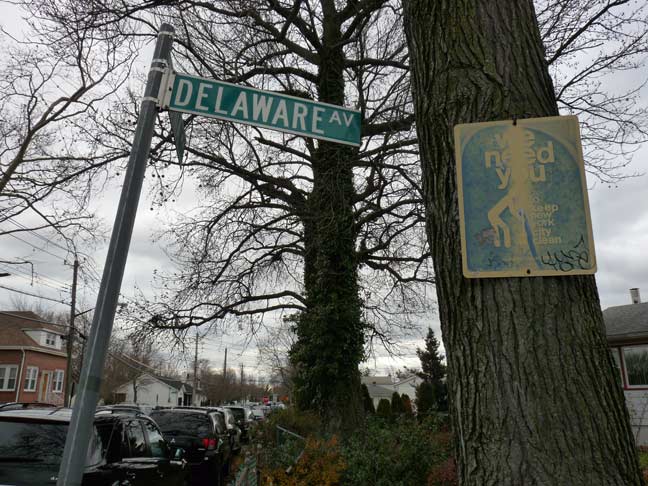 At Laconia and Delaware Avenues, a sidewalk-less home has a Curb Your Dog sign that's at least a couple of decades old nailed to a tree.
On the southern edge of the old NYS Department of Mental Hygiene tract, Staten Island University Hospital, founded in 1861 and moved in 1890 to the now-demolished Samuel R. Smith Infirmary in New Brighton, SIUH's most recent relocation was here on Seaview and Mason Avenues. Much of this space is also taken up by the South Beach Psychiatric Center, which succeeded the Department of Mental Hygiene.
Across Seaview Avenue from the hospital, there's a dead-end stump of Nugent Avenue, which appears in six separated sections in Arrochar, South Beach and Midland Beach. However, at this corner there's a very idiosyncratic dwelling, shall we say.
492 Seaview Avenue is a house of indeterminate age, but it may be over a century old (one site I consulted says 1925, and that;s indeed older than most houses in Midland Beach). The owner has chosen to place a collection of rough-hewn timbers as a fence.
The driveway looks like this.
A number of rusted implements have been affixed to some of the timbers that make up the fence.
This piece, affixed to the telephone pole on the sidewalk, reminded me of the sculptures on the Prince's Bay beach at Mount Loretto, arranged by Staten Island Zoo employee Doug Schwartz, which have been removed since I investigated them, or so I hear.
The owner appears to be fond of Rubbermaid trash can lids. Various aphorisms are scribbled therewith and affixed to various surfaces. The sign on the exterior hedge is changed over time. In December it was 'Live in Gratitude" while in 2013 it was "Hope Springs Eternal."
The turkeys abide…
Because there are few through streets around here, you turn right onto Olympia Boulevard again, right on Buel, and then left on Slater Boulevard, one of the few streets that traverses the New Creek Bluebelt. Here all pretense to urbanity falls away, and unless you're in a car, it's just you, the creek, the phragmites and the ducks.
The Staten Island Bluebelt Program is preserving and restoring streams, ponds and other wetland areas — called Bluebelts — in 16 of the island's natural watershed systems. These watershed systems are being used to collect storm water runoff during rainstorms, hold it, filter it and gradually release it into the Raritan Bay and Arthur Kill.
During a rainstorm, water on the streets needs to be able to drain off into a storm sewer system so that roads, homes and businesses do not flood. In many parts of Staten Island, there is no such system and the rainwater has no place to go. 
In the areas served by a Bluebelt Program, conventional storm sewers are built in the beds of city streets, but instead of draining into a large trunk storm sewer, the water is channeled into the Bluebelt wetland systems. US Army
As Slater Boulevard runs further east, signs of civilization begin to reappear, and tributaries of New Creek are crossed and recrossed. The creek runs from Last Chance Park in Dongan Hills east to Lower Bay separating Staten Island from Brooklyn.
I felt a sense of content, stalking around the back roads of Staten Island like this. I hadn't been in this part of town since February 2000, when I got a photo of Olympia Boulevard for my Back Roads of Staten Island page. Some of the roads on the page have changed since then, but Midland Beach hasn't — vast swaths of it are just too swampy to build on.
I do feel the need to go someplace and plant my flag.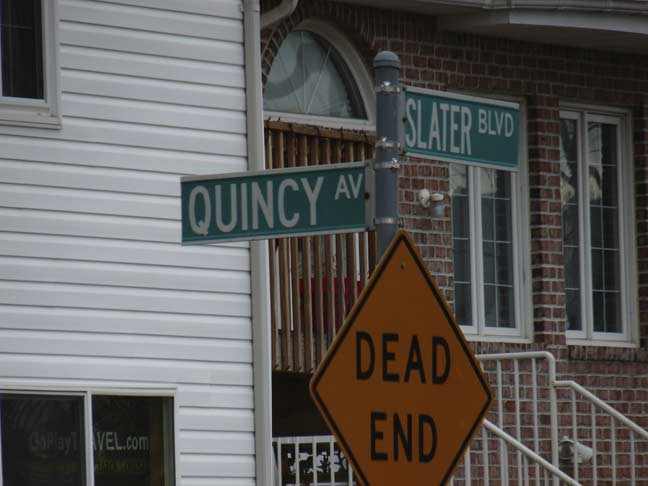 If you look again at the Google map I made of my route, you'll notice a small cluster of streets along Quincy Avenue (the same one that began as a dead end stump back in Arrochar) all named for Indian tribes. I had never walked these particular streets before, though I was aware of this area from studying maps for 50 years.
Along this stretch of Quincy Avenue there's poor drainage after rain.
Quincy Avenue and Iona Street. This part of town was particularly hard hit by "Hurricane" Sandy.
Small woodframe houses at Quincy Avenue and Cherokee Street.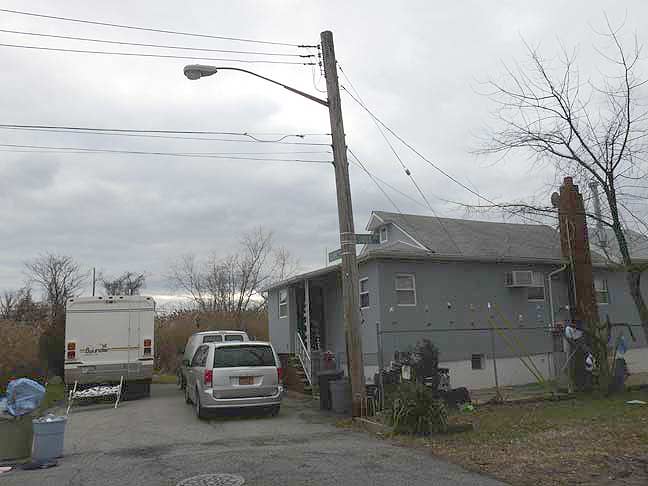 Quincy Avenue trails off into the phragmites a bit past Sioux Street.
Sioux Street is lined with tiny frame houses and bungalows, some still lived in, others still in need of repair.
Sioux street ends at Father Capodanno Boulevard, the main dragstrip of the South Beach area. It runs along the shoreline, paralleled by the FDR Boardwalk, from Lilypond Avenue to a dead-end past Greeley Avenue at Miller Field.
It was originally part of a Robert Moses master plan to build an expressway along Staten Island's southern shore. The road was originally called Seaside Boulevard, but in 1975, the boulevard was renamed for Father Vincent R. Capodanno, a Navy chaplain who died in action, bringing Sacraments to wounded soldiers during the Vietnam War's Operation Swift in the Que Son Valley in 1967.
Will I get back to "civilization"? I did, but not before visiting the seaside and investigating New Creek further. That will be shown in Part 2.
1/18/15