Forgotten NY correspondent Gary Fonville, a former NYC bus driver, points out an anomaly on this building at Atlantic Avenue and Wyona Street that has me stumped….
…if you look up at the second floor, there are a couple of chiseled signs denoting the cross streets, common practice on buildings of a certain age. However, the sign says "Wyckoff Av" not Wyona Street.
Now, there is a Wyckoff Avenue in Brooklyn, on the Bushwick-Ridgewood border. It's in Brooklyn most of its length, but the borderline runs down the middle for about a dozen blocks, and then it's entirely in Queens.
Now, if you wanted to get creative, and draw a curved line through Evergreens Cemetery and then south, you could connect Wyckoff Avenue and Wyona Street, which runs from Jamaica Avenue south to Linden Boulevard, but I'm pretty sure that's not what's happening here.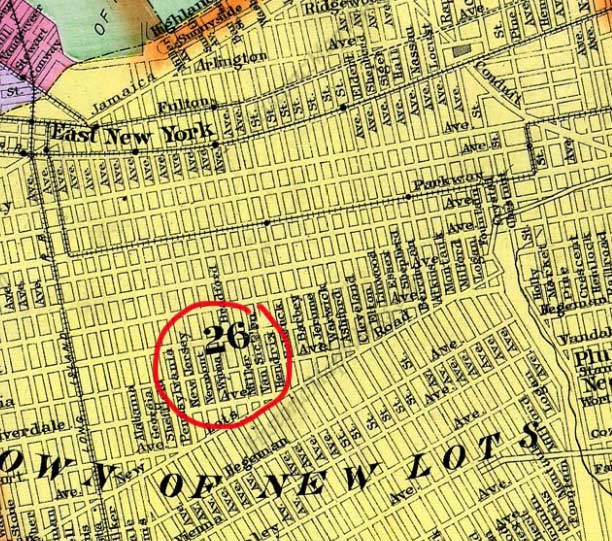 This atlas plate was made in 1890, when the town of New Lots hadn't yet been annexed by Brooklyn (and then by NYC in 1898). Even then, the street was called Wyona Street.
So what gives here? The redoubtable Eugene Armbruster had nothing to say about Wyona Street in his street list. The etymology of "Wyona" is also a mystery to me; it could be a Native American word.
Historian Joe Ditta, in Comments:
"The list of streets credited to Armbruster seems to come from the 1912 version of his book, but its 1942 expansion, BROOKLYN'S EASTERN DISTRICT, includes this information:
WYONA STREET
Was formerly Wyckoff Avenue, laid out about 1854 by Charles R. Miller."
In addition, Ditta provides this atlas plate from Robinson's 1886 atlas of Brooklyn showing Wyckoff Avenue. There's also a list of proposed street name changes in the 26th Ward (East New York) in 1887 that mentions a change from Wyckoff Avenue to Wyona Street.
1/28/15